Inside how to get good grades in middle school, high school or college.
A common problem that I see with teenagers and young adults in my office is poor grades. Sometimes poor grades in college were preceded by poor grades in middle school and high school.
Other times, I see college students who were A students in high school failing in college. There are many reasons for getting poor grades. They include:
This post may contain affiliate links, if you buy a suggested product I will earn a small commission. We are a participant in the Amazon Services LLC Associates Program, an affiliate advertising program designed to provide a means for us to earn fees by linking to Amazon.com and affiliated sites." Read the full
disclosure policy here
.
1. Learning disability
2. Dislike of teacher
3. Unrealistic expectations
4. Lack of parent support
5. Poor goal-setting skills
6. Poor planning
7. Procrastination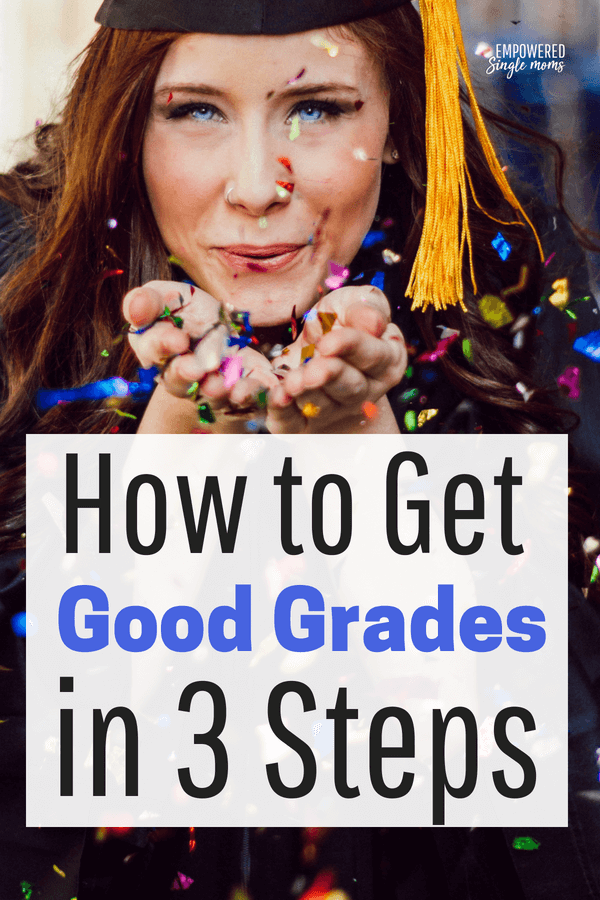 Photo by Logan Isbell on Unsplash
Regardless of the cause of poor grades, there is a 3-step process for students to get good grades. When your kids follow this process they will be able to get good grades as middle school students, high school students or college students.
If they have severe learning disabilities, they will make progress or it will become obvious that intervention, such as an IEP (Individualized Education Program), is needed.
Related: Get the Grades You Are Capable of Getting
1. To Get Good Grades Define the Results
The first step in improving grades is to define the results. Usually, results are defined as having all grades at a certain letter grade or above. Depending on the middle school or high school student, C and above or B and above would be a reasonable expectation. Some middle school or high school students define the results they want as passing.
As a parent, I would not agree with this result, because if a student is not capable of more than a D average they have some deficits in ability and need special help. For college students, an occasional C is acceptable; however, a goal of B average or above is more realistic for a college student.
If a college student is not capable of a B average or above he or she is probably in the wrong field and it would be useful to consider changing majors or taking another career path. On the other hand, if the college student follows this 3-step plan he or she may be able to earn a B average or above.
I have heard this popular statement from college students: "Cs get degrees." Unfortunately, it is not likely that anyone wants to work with a professional who is able to grasp (on average) only 70 percent of the material.
In most cases students with a C average in college will have more difficulty getting a job after college than students with a B average or above. Setting a realistic goal is an important first step.
2. Make a Plan
The three most common problems to address when making a plan to get good grades are:
1. Lack of ability
2. Missing assignment
3. Lack of studying
If a student lacks ability, a special education assessment or additional tutoring may be needed. However, inadequate organization and lack of effort are often the cause of poor grades. Many school districts have online access to the grade book so it is easy to check if there are missing assignments.
Handing in assignments on time is a crucial step toward improvement. Using a calendar to plot out when assignments are due and when tests are scheduled can be a great tool for the student to use to set priorities for studying and getting assignments done on time.
Can You Get Good Grades Without Studying?
Reviewing the online grade book makes it easy to assess what the problem is and make a plan to remedy the problem. This remedy often requires scheduling more study time. There is usually a big jump during middle school, high school, and later college in the amount of time needed to earn acceptable grades.
For most students a half hour here or there is not enough time. I used to be surprised when a high school student getting Fs and Ds thought an hour per week was sufficient. It is very rare to be able to get good grades without studying.
Expecting positive outcomes from such a small amount of effort is unrealistic. I usually suggest a minimum of one and a half to two hours per night of study time when grades are low and adjusting the amount of time as necessary.
It takes less time to maintain acceptable grades than to catch up. When a test or big project is due, two hours per night may not be sufficient, but most D/F students are studying less than two hours per night.
3. Work the Plan to Do Better in School
A plan needs to consist of at least two things:
1. Complete and hand in all assignments, and set goal dates for turning in missing assignments.
2. Schedule specific study time at least six days per week until grades reach an acceptable level.
Once this is done, work the plan and adjust the amount of study time as needed. Plans are most effective if students have support and encouragement in assessing and revising their plan. Plans are significantly less effective if an authority figure dictates the plan.
Remember, to improve grades:
1. Define desired results.
2. Make a plan.
3. Work the plan.
If students are able to meet desired results, they are making good plans and working those plans; if not, they need more support in developing plans and/or working those plans.

What else would you do to encourage success in getting good grades?