Free printable master grocery list pdf by categories and free meal planner template. This tool is just what you need to plan a cheap grocery list for healthy, budget-friendly meals. Even your kids will eat these delicious meals without complaining.
A few weeks ago I wrote a post on how to make a cheap grocery list when money is tight. I wanted to make it even easier for you to keep your grocery list as low as possible. That is why I made this free printable master grocery list and free meal planning printable. You can choose the color of your meal planning template with the grocery list. I have one in blue and green and one in red and gray. Both are in my members only resource library as a thank-you for joining my mailing list.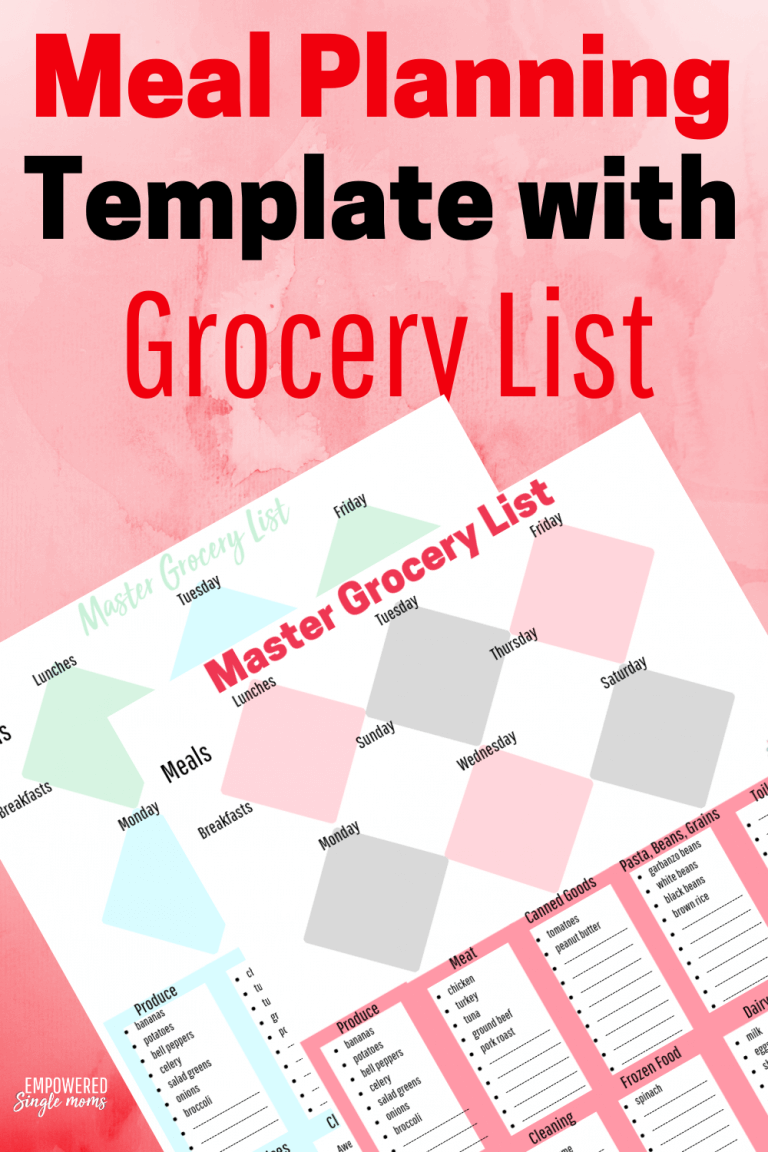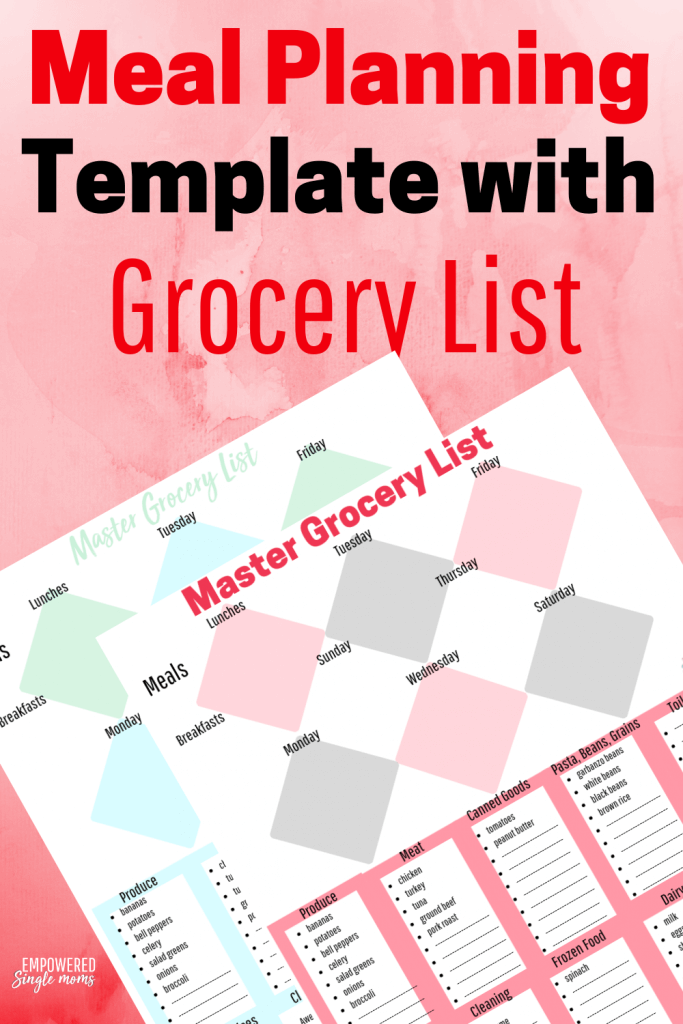 This post may contain affiliate links, if you buy a suggested product I will earn a small commission. We are a participant in the Amazon Services LLC Associates Program, an affiliate advertising program designed to provide a means for us to earn fees by linking to Amazon.com and affiliated sites." Read the full
disclosure policy here
.
Get the free printable master grocery list and meal planner template by signing up for my newsletter. This free printable is in the members-only resource library.

What should I buy for a week of groceries?
Print off the meal planning template and master grocery list.
Use the meal planning sheet to plan your meals around cheap, healthy ingredients. Some of the most frugal grocery buys are fruits and vegetables in season, eggs, beans, rice, oatmeal, and potatoes. How to Make a Cheap Grocery List When Money is Tight will give you the best cheap, healthy ingredients to plan your meals around and several ideas on how to use each ingredient to make meals your kids will want to eat.
How do I plan a meal plan on a budget?
Using the printable meal planning template and grocery list will ensure you have what you need to make economical meals at home. It will also minimize extra trips to the store which will save money and time.
It is unbelievable the number of times I get home from the grocery store and I forgot something I needed. That means another trip to the store facing another temptation to buy something I don't really need.
I can't be the only one who can almost hear the chips, ice cream and candy bars pleading with me to buy them. The more times I set foot in the grocery store the more opportunities to give in to the temptation of empty calorie food costing money and more food to go to my waist.
This list will save you frustration by having your meal plan for the week and your grocery list all in one place. I've already listed some of the most frugal ingredients you will want to plan your meals around to keep your food costs as low as possible.
How do I save money on cleaning products?
Under cleaning supplies, I've put Awesome it is a great cheap all-purpose cleaner. My mother told me about it years ago. I have a spray bottle in each of my bathrooms, the kitchen, laundry room and one at my office. Get your spray bottles here or if you can't find it at your grocery store.
In the kitchen, it is great for getting ice tea stains out of my plastic pitcher. At my office, it is the best stain remover for preventing stains in my carpet when a client spills their tea or coffee. In the laundry room, I use it for removing stains from my clothes, because light colors are not a good choice for me, but I get tired of black and navy. In the bathroom, it is fantastic for cleaning sinks, bathtub, and mirrors.
There are directions on the bottle that tell you how much to dilute it for each different kind of cleaner. It is the best stain remover I have ever used.
Sign up for my newsletter and access to the resource library where you will find this free master grocery list and meal planning template along with many other free printables.