Make a cheap grocery list, get free food and eat well when you are poor or just want to save money on groceries.
When money is tight this healthy, budget grocery list will ease your anxiety about not having money for food. As a single parent with only one income these ideas will make your grocery money stretch until the end of the month.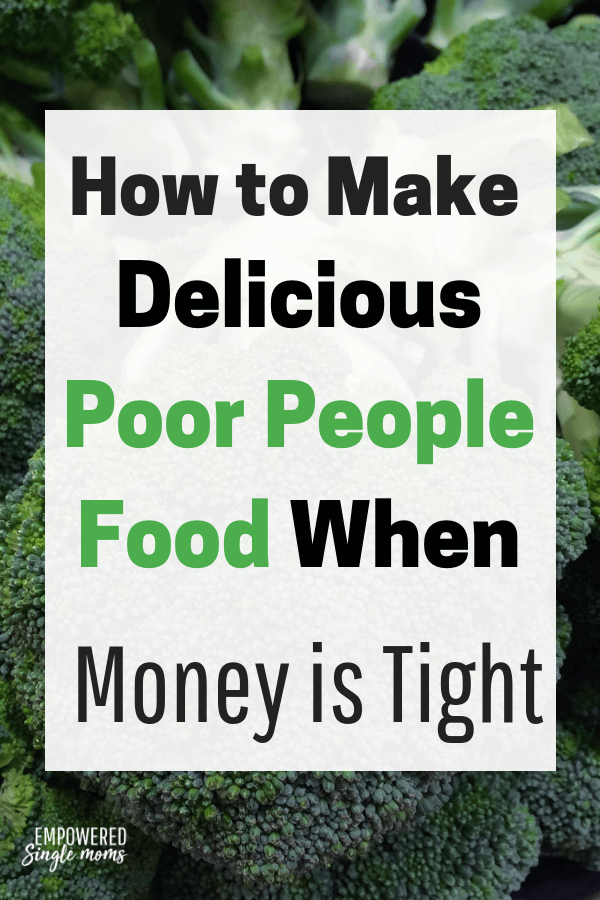 I was talking to a mom the other day. She didn't have any food at home to feed her child. She was relieved that her parents were going to loan her money, but she was already anxious about what she would do for food in a couple of weeks.
This post may contain affiliate links, if you buy a suggested product I will earn a small commission. We are a participant in the Amazon Services LLC Associates Program, an affiliate advertising program designed to provide a means for us to earn fees by linking to Amazon.com and affiliated sites." Read the full
disclosure policy here
.
This is a scary and difficult situation, but there are options for free food and several foods that are great to put on a cheap grocery list that will make delicious, healthy, cheap meals.
Where to get free food
There are places to get food where you don't have to pay for it. I know it can be hard, but sometimes you just need to swallow your pride and do what you have to do.
In the United States apply for food assistance including, food stamps, free lunch and free breakfast for your kids at school.
Most communities have shelves or food pantries where you can get free food. What kind of food and how often you can go varies widely from community to community.
Many towns have free community meals open to all regardless of income. Some of them even have extra food like bread or brown bananas they will send with you for a snack the next day.
If you are not aware of what is available local churches or social service agencies are often good places to find out where to get free food.
Our local community has a program called Ruby's pantry where there are no income guidelines. For a $20 donation, you get two large laundry baskets of food. This is available in many Minnesota communities. Ask at a local church or county social services to see what is available in your community.
If you can have a garden where you live plant one. Seeds and sets are cheaper than produce. If you don't have a garden or even if you do let your gardening friends know you would love there extra produce. Gardeners usually have extra produce and are glad to share.
How do you plan a meal on a tight budget?
Look at what is on sale at the grocery store
Sign up for Ibotta to save money at several grocery stores
Sign up for Target Red card and save 5%
Plan your meals around poor people food that is often a good buy
Buy fruits and vegetables in season, i.e. squash and apples in the fall, berries in the summer
Find grocery stores with the best prices. If you are an Amazon Prime member have you tried these coupons on Prime Pantry
Get a great budget cookbook like Dining On A Dime Cookbook
Here are some ideas to get you started planning your meals around food that is typically a good buy.
What food to buy when you are broke?
These foods are usually the cheapest foods to buy.
Vegetables: potatoes, onions, cabbage, broccoli, carrots (the large ones you peel & cut up yourself), cauliflower, bell peppers
NonMeat Protein: eggs, cheese, beans, lentils
Meat: turkey, chicken, ground beef, pork roast, tuna
Fruit: bananas and what is in season
Related:
17 Comforting, Savory Soups to Make in Your Instant Pot
19 Awesome Ways to Save Money on Groceries
What are the best foods to buy for a cheap grocery list?
Typically these foods are good buys all year round.
Get this system and bonus meal planning template with meals designed around cheap ingredients.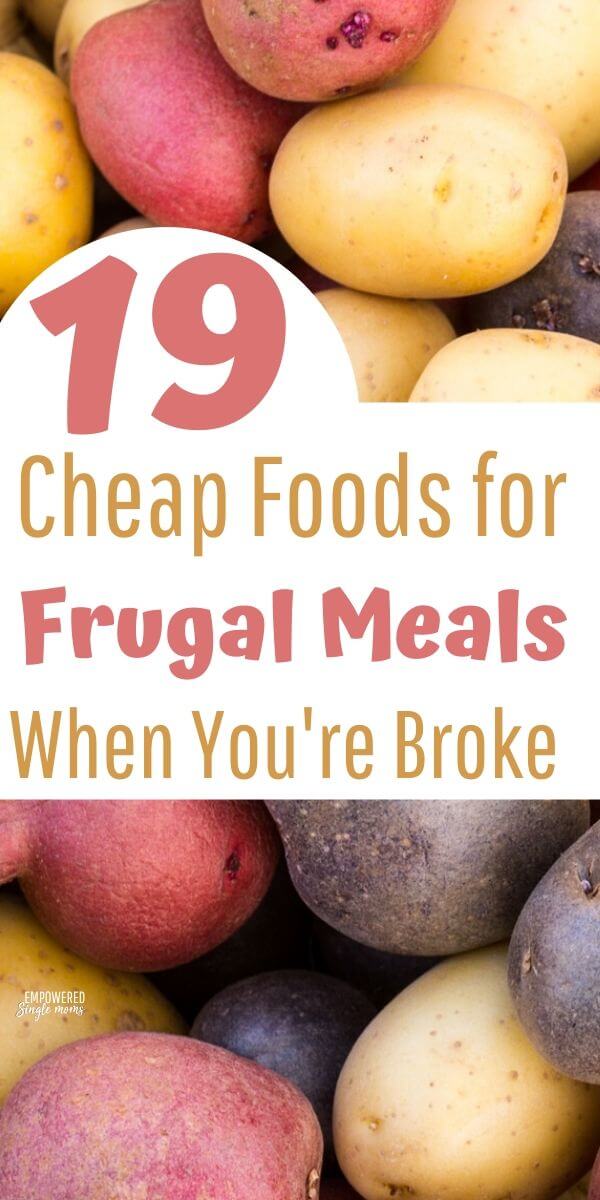 Potatoes
Potatoes are healthy, filling and versatile. You can add potatoes to your meal and fix them in a different way every day of the week. Oven fries go great with sandwiches or eggs of any kind. Baked potatoes are great as a side dish or as a main dish if you stuff them with cheese & broccoli or chili and cheese or cheese and a little bacon if you find bacon on sale.
Scalloped potatoes seem fancy as a side dish or add a little ham and you have a main dish. Potatoes can make the basis of a filling casserole. Fried potatoes are yummy as a side dish or make potato pancakes. Potatoes soup is filling and you can make it very basic with potatoes, broth, milk, and seasoning or dress it up with a little cheese and bacon.
Onions & Celery
Both add good flavor in stir-fry, soup, fried rice, and casseroles. Celery is great raw with hummus or peanut butter.
Cabbage
Get a whole head of cabbage, not the bags of coleslaw you don't need to pay someone to cut it up for you. Get a good chef's knife and you are good to go. I've had one like this for decades. That and a cheap pairing knife I got from the hardware store are the only knives I need.
Cabbage is a good source of vitamin C and fiber. I often put it in my potato soup. unstuffed cabbage roll soup is another delicious soup. Coleslaw is one of my favorite salads and it goes with everything. I often have coleslaw for a side at dinner and add tuna or chicken to it for lunch the next day. You can cut cabbage in slabs and roast it in the oven with a little salt and pepper.
Eggs
Eggs aren't just for breakfast. You can have fried egg sandwiches, creamed boiled eggs on toast or french toast for lunch and dinner too. Frittatas are one of my favorite ways to eat eggs. I like peppers, mushrooms, and spinach or broccoli best. Almost anything goes in frittatas, whatever is on sale or in your garden or friend's garden will probably work.
Related: 14 Cheap Kid-Friendly Egg Recipes for Dinner
Milk
Drink a glass as a beverage and it provides a lot of the protein you need. It is great in smoothies for breakfast or to fill out a light lunch or budget dinner. Milk is delicious in a cream soup.
Milk, flour, and sugar are the basis for pudding, which is a great tasting frugal dessert. Don't bother with the box just make it from scratch. You can also make your own yogurt with milk and some starter.
Beans
Buy the dry kind in a bag, cook up a bunch at once and freeze them this is a much cheaper grocery list option than buying canned beans. Again no sense paying someone to soak beans and boil water when you can do it yourself in a pan or Instapot. Baked beans and brown bread is a classic meal.
Pulse cooked beans in a food processor or Ninja blender to make delicious "refried" beans in a minute. Beans and rice is a traditional poor person's meal add some cheese and salsa for flavor or add lettuce & tomatoes for a burrito bowl, sauteed bell peppers are good if you have them. Black beans are one of my favorites to use for burritos and burrito bowls. I think they give those meals added flavor.
With garbanzo beans, you can make your own hummus, roast garbanzo beans for a snack or add them to a soup. Use several varieties of beans to make a colorful and interesting 7 bean soup.
Related: 77 Cheap, Easy, Good Tasting Lentil & Bean Recipes
Lentils
Lentils are a legume, they are a lot like beans, but not quite. Lentil soup is delicious and quick to make. Lentils don't need to be soaked like beans before cooking, just a quick rinse.
You can add lentils to rice, put some stir-fry vegetables on top and you have a complete meal. Dahl is a classic Indian dish with many variations.
These lentils are the cheapest variety and are what I usually use for lentil soup. Sometimes I use them for dahl other times I use red lentils because they give the dahl a prettier color.
Rice
Rice is a classic budget food. Serve it with stir-fry, curried vegetables, meat or lentils. Add rice to soups like stuffed pepper soup. Rice and raisins is a classic depression-era dessert.
Oatmeal
Healthy, hot, filling breakfast, or have it for lunch, dinner or evening snack if you are too tired to cook.
Peppers, Carrots, Broccoli
These are often 4 of the cheapest vegetables. You can use them in stir-fry, soup, salad or eat them raw with a little ranch dressing or hummus.
Roast vegetables are another great way to eat any vegetable and leftover roast vegetables are an interesting addition to a salad or add them to quinoa with a vinegarette dressing for lunch.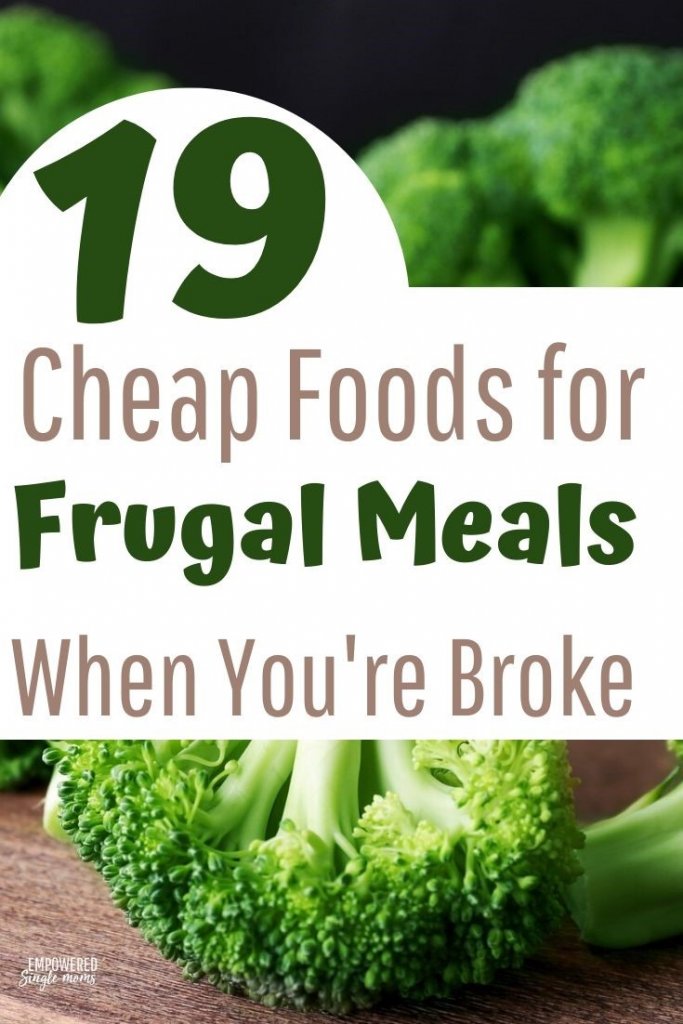 Peanut Butter
Great for breakfast, sandwiches, peanut Thia sauce over pasta, stir fry or salad. Peanut butter banana smoothies are a favorite breakfast of mine.
Flour
Use it to thicken a soup or make gravy. Pancakes make a filling meal. I like pumpkin pancakes and it makes me feel virtuous to get vegetables with my pancakes. Try them with sauteed apples. It tastes amazing even if it is poor people's food.
Making homemade bread is a good skill to have and makes the house smell delicious. It always makes me think of my mother when I smell bread baking. She raised 6 kids and bought flour in 25-pound bags.
Chicken or Turkey
The variations on how to prepare chicken or turkey are almost endless.
Soup is probably one of the most economical options. You can make lemon, chicken, rice soup, chicken noodle, chicken dumpling or chicken tortilla soup. Try making your own broth with the leftover carcass from a roast chicken or turkey.
Creamed turkey or chicken over toast with vegetables in a quick, filling and delicious meal.
If you need some more inspiration on how to fix chicken and turkey you will find it in 31 Plus Budget Meal Planning Ideas for You to Try
Ground Beef
This is only a good buy when it is on sale where I live. Sometimes it costs almost as much as steak, so watch for sales and when it is on sale stock up.
What to do with Leftover Taco Meat Easy Affordable Recipes
Tuna
Tuna casserole, tuna sandwiches, tuna melts or in lettuce or coleslaw salad.
Pork Roast
Pork roast is often on sale for less than ground beef. You can use it to make pulled pork sandwiches, pork burritos or add it to a stir fry.
Related: 11 Easy, Cheap Meals to Make with Leftover Pork Roast
Bananas
Bananas are great for an after school snack or to go with a salad or soup for lunch. Roll them in peanut butter and a little cereal or chocolate chips and you have a messy, but a fun snack.
One of the kids thought he invented this when he was a preschooler. Look to see if there are some brown ones perfect for smoothies
If you want more ideas on how to have a cheap grocery list you will find them in Dining On a Dime Cookbook.
What is your favorite budget meal planning cookbook? What are your favorite foods to put on a cheap grocery list?
To be the boss of your money get one of these free printable budget worksheets.
Related: Eating at Home vs. Eating Out