Leftover taco meat is a great beginning to a quick easy meal. If you buy the ground beef when it is on sale your leftover taco meat meals will be economical too.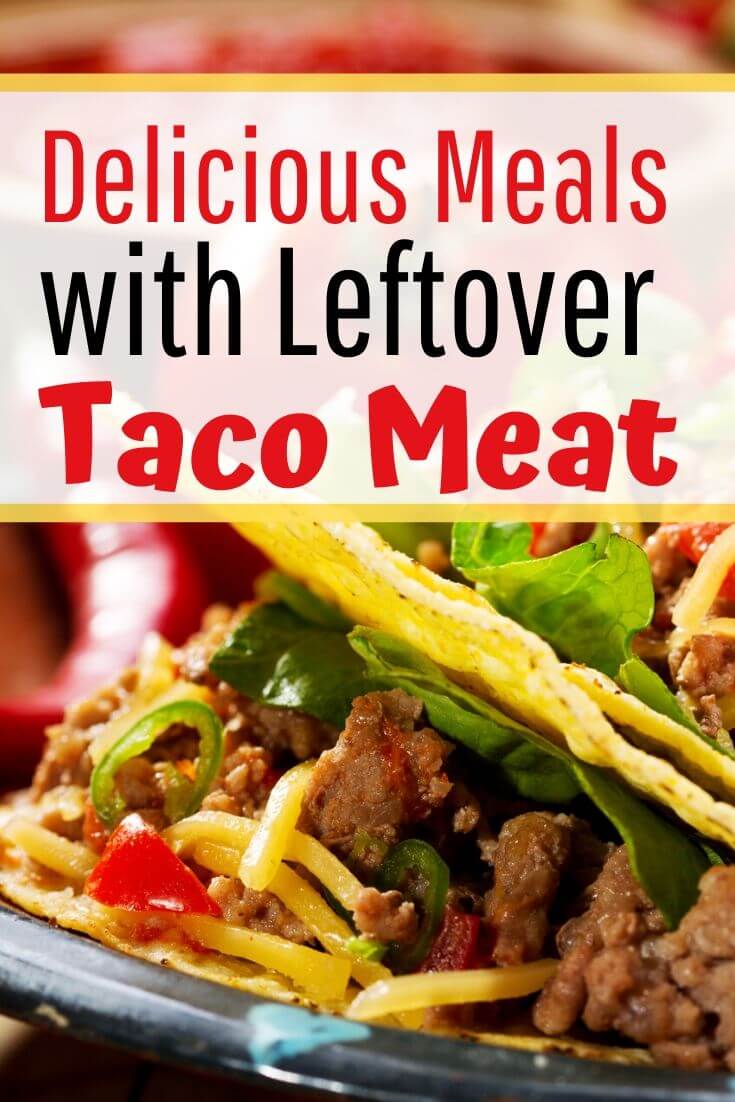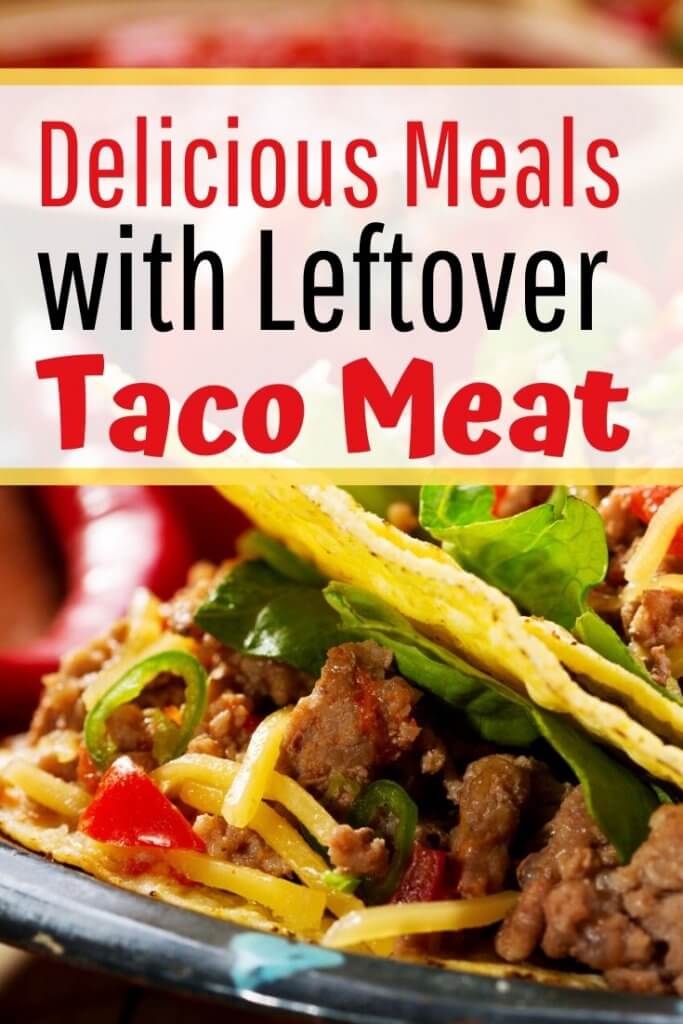 Life was busy when I was raising kids. Being the only adult in the house, working full time and running kids left little time for cooking and since money was tight going on to eat or ordering in was a once a week treat not a regular thing. I made home-cooked meals a reality on all but the most hectic nights by planning ahead. On the super hectic nights, we resorted to sandwiches and raw vegetables or a chef salad.
I use a recipe for taco meat that allows for more versatility than the traditional taco meat recipes I usually see on Pinterest. My recipe is 3lbs of ground beef (buy it when it is on sale).
This post may contain affiliate links, if you buy a suggested product I will earn a small commission. We are a participant in the Amazon Services LLC Associates Program, an affiliate advertising program designed to provide a means for us to earn fees by linking to Amazon.com and affiliated sites." Read the full
disclosure policy here
.
Versatile Taco Meat
3 lbs of ground beef
2 small bell peppers (red, yellow or orange all work, choosing 2 colors gives it more color)
1 large onion
4 cloves of garlic
start browning the meat, chop the vegetables and throw them in with the meat to saute.
drain grease from the meat
Bag up the meat in meal-size portions.
To make tacos for a pound of meat you can add 1/2 t of cumin this is optional. If you like your taco meat saucy you can add 1/2 cup of mild salsa. When you add the salsa and cumin at the end it gives you much more variety in how to use the leftover taco meat.
Ground beef is economical if you watch for it to be on sale. You can really cut your grocery bill when you plan your meals around economical foods.
What to Do with Leftover Taco Meat
These meals would all work if you chose to use some green bell pepper in your taco meat.
Enchiladas
Enchiladas are easy. You need canned enchilada sauce. Poor it in the bottom of the greased pan. Take tortilla shells and put some taco meat in it pour on a little enchilada sauce and cheddar cheese. wrap it up and put it in the pan seam side down. continue this process with as many enchiladas as you want to pour more enchilada sauce on top and top with cheese cheddar, mozzarella or pepper jack all work great. You can add some more sliced peppers with the meat if you want to, but that is optional. Bake in the oven at 350 degrees until the sauce starts to bubble about 30-45 minutes.
Serve with: rice and a lettuce salad, refried beans are optional
Tortilla Stack
The ingredients are a lot like enchiladas, but quicker. grease the pan put a tortilla shell on the bottom of the pan, then put taco meat, bell peppers and optionally black beans, salsa and cheddar cheese. add another tortilla and repeat. Bake in the oven for about 30 minutes at 350. This cuts like a dream with a pizza cutter.
Serve with a green salad or raw vegetables.
Nachos
This really isn't very healthy for a meal, but once in a while it is just fun food or have it for a snack. Put tortilla chips on a plate, sprinkle with taco meat, grated cheddar or Mexican cheese blend an microwave until cheese is melted about one minute. You can give a nod to health if you add cut up tomatoes, and lettuce.
Black Beans and Beef Burritos
Tortilla shell (I like whole wheat) heat taco meat and black beans. You can heat the tortilla shells in the microwave for a few seconds. Put taco meat, beans cheese lettuce and tomatoes in the shell and wrap it to eat.
Quesadillas
Put taco meat and cheese between two tortilla shells and grill in a large frying pan. You can add sauteed bell peppers if you want to.
Leftover Taco Meat Soup
This is one of my favorite soups. Since you already have bell peppers in with the meat I would cut down to one green bell pepper.
The recipe doesn't call for bell peppers, but it is fine to use the taco meat you have with the bell peppers.
Chili
Add a can of chili ready diced tomatoes, a can of chili or black beans and 1/2 a small green pepper to 1 bound of taco meat. Add chili powder start with a Tablespoon and adjust according to your taste.
Serve with: cornbread, fresh bread (it is okay to use a frozen loaf or plan ahead and make Artisan bread.
Related: 161+ Dirt Cheap Poverty Meals for When Money is Tight
Single Mom's Ultimate Guide to Making Ends Meet on a Tight Budget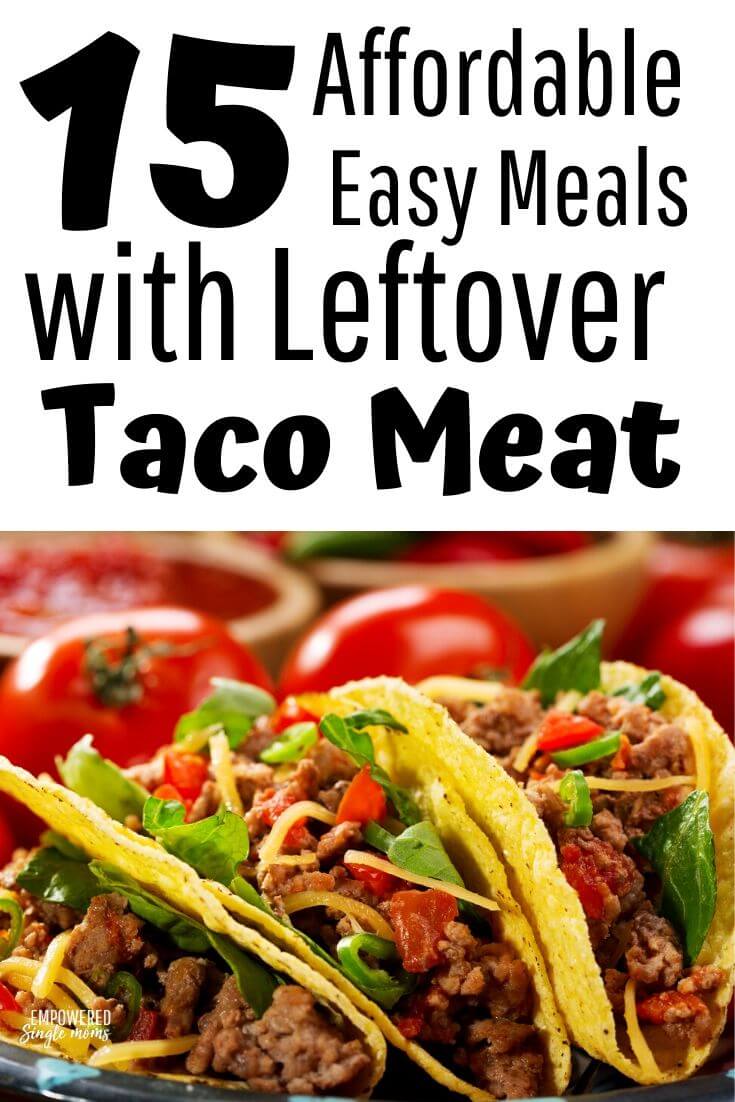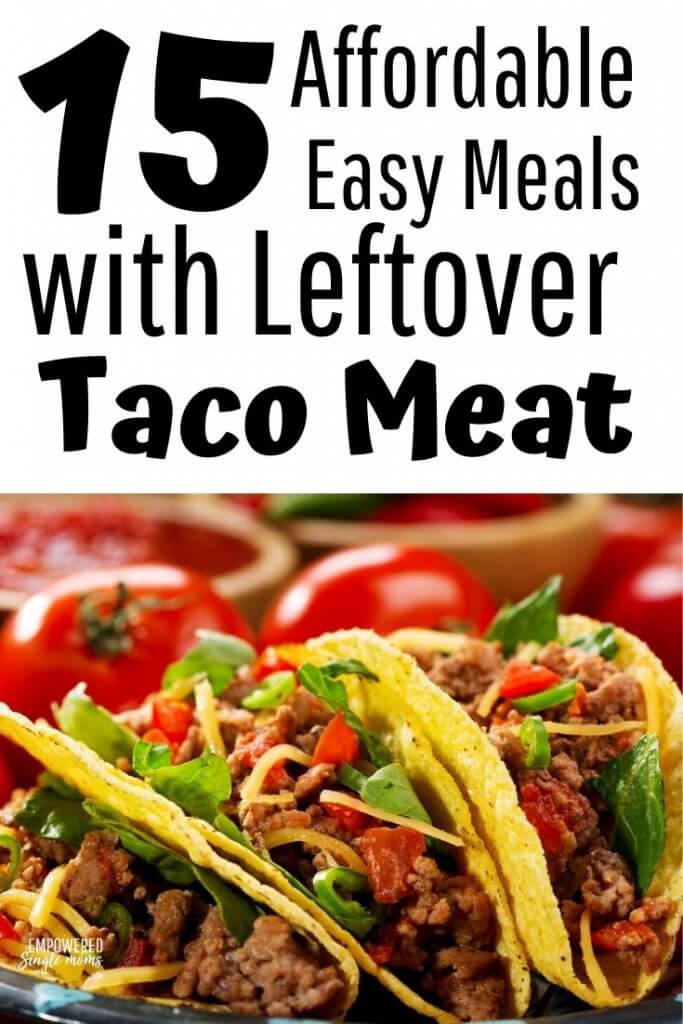 Tamara's Leftover Taco Meat Recipes
When all you have in the meat is onion, garlic, and peppers these meals are great options. These meals are best if you haven't added salsa and cumin
Stuffed Potatoes
Bake one large potato for each person. Heat the taco meat add a little tomato sauce. Shredded cheddar cheese is good on the stuffed baked potato.
Stuffed Sweet Potatoes
Top a baked sweet potato with the taco meat and add a little low-fat sour cream.
Tater Tot Hotdish
In a casserole dish layer taco meat, fresh or frozen vegetables (our favorite is chopped fresh broccoli). Mix 1 can cream of mushroom soup and 1/2 can of milk spread this over the vegetables and top with tater tots. bake for a few minutes longer than the package directions for the tater tots.
Sloppy Joes
Add tomato sauce, a dash of Whorshire sauce, 1 teaspoon of vinegar, 2 teaspoons of brown sugar to 1 pound of taco meat.
Serve with oven-roasted potatoes and sweet potatoes.
Pizza
For the crust, you can use a premade pizza crust, Naan bread, English Muffins or make homemade pizza dough. Spaghetti sauce works great for pizza sauce or you can buy pizza sauce. You can make your own sauce, but I really don't think it is worth the time and effort especially not on a work night, add taco meat. You can also add pepperoni or Canadian bacon. Top with mozzarella and parmesan cheese. Add any vegetables you want on the pizza and a little more Parmesan cheese.
Serve with raw vegetables or green salad.
Leftover Taco Meat Pasta
Goulash
Add 8-16 ounces of tomato sauce or 1 can of diced tomatoes, 1/2 cup of chopped celery to 2 1/2 cups of dry macaroni cooked. You can also add corn if you want to.
Serve with a green salad
Spaghetti
Boil Spaghetti, drain add a jar of your favorite spaghetti sauce and taco meat
Serve with: garlic bread and a green salad
Tips for Meal Prep
Get Food in a Flash a system that saves time and money when it comes to getting dinner on the table.
Pro Tip: Have the kids help you make these simple meals and it will give you a chance to have someone on one conversation with one of them, teach them how to cook and cut down on the possibilities of the kids fighting while you are cooking dinner.
I hope these ideas help you when you are trying to figure out what to make with your leftover taco meat. Pin this post for later. I will be adding new ideas as I think of them.