Do you feel like you are struggling to make ends meet as a single mom? These frugal living tips are just the guide you have been looking for to make ends meet as a single mom.
When you're a single mother, making ends meet may seem like the equivalent of climbing Mt. Everest or running an ultramarathon. People have done it, but how to do it may seem like a superhuman task. You are not alone. More than half—52%—of Americans are struggling to make ends meet, according to a new report from the FINRA Investor Education Foundation.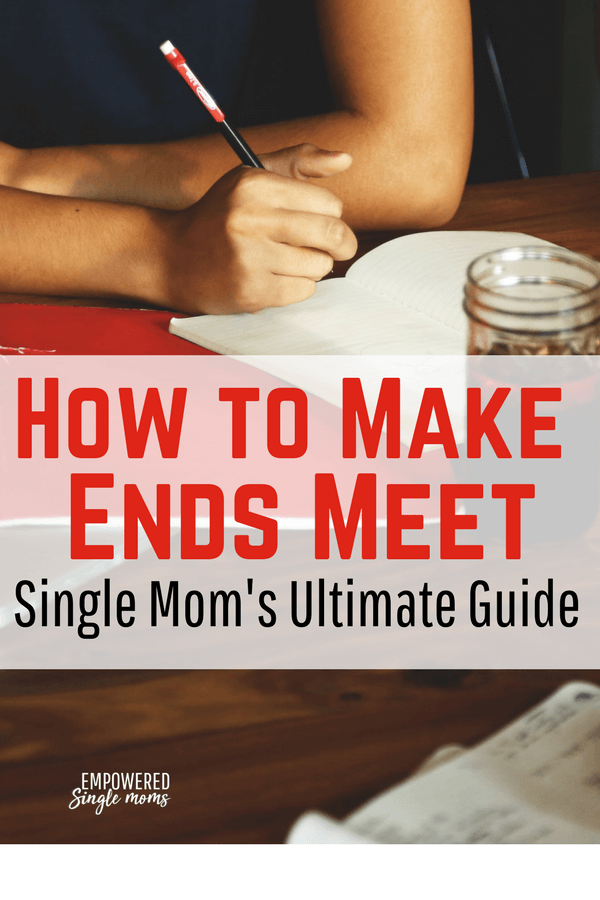 Rest assured, other moms have done it and so can you. At first, you may be struggling to make ends meet, but it will get better. I know this from experience. In the middle of my divorce, I lost my job. I made it through that crisis and no matter what your circumstances are, you can make it too.
Focus on how you will make ends meet, not if you will make ends meet. Your only other choice is to give up, but you have children to take care of, so giving up is not really an option. You are strong and you will do this.
It will not be easy at first, but once you have a plan, everything else will fall into place. Let me show you the three-step process for making ends meet.
1. Best Frugal Living Tip: Choose Your Mindset
Mindset is the most important of the frugal living tips. It is a financially successful single mom's most important asset. First of all, you need to believe you can make ends meet. It is not a question of if you can do this it is a question of how you are going to do this. When obstacles arise, and they will, ask yourself, "What do I do next?" and "What is the solution to this challenge?" Remember this and you will find a way.
Stay focused on your goal. This book and this book offer great ideas for staying focused within the correct mindset. You will make mistakes along the way. These are learning experiences. Learning is part of any journey, and that is what you are on. Pick yourself up and keep on going.
Single Mother Stories of Inspiration and Success will give you confidence that you can overcome the challenges you face too
2. Best Frugal Living Tips to Make Ends Meet on a Single Income
Going from two incomes to one means you will need to cut your expenses, but frugal living does not need to be sad or depressing. Most people already have more stuff than they need.
The most important step to living frugally is to make a budget and stick to it, here are some printable budget worksheets to get you started. If you need someone to walk you through how to set up a zero based budget Cash Fueled Life is a great class that will help you make it happen one step at a time.
I tell you more about the class and one of my favorite books on spending less in Single Mom Budget Your Way to an Amazing Life. If you make a plan, you will not always need be as restrictive with your spending, but for now, cut your expenses.
How to Save Money Every Month gives you the resources you need to cut your expenses and live within your means.
Check out this review if you are sick of the high cost of health insurance. This is a great alternative to health insurance for some.
Increase Your Income
Work Whenever You Want Jobs from Home
How to Save Money When You Need to Buy Things
How to Start Investing When You Have Little Money ($5 is all you need to start)
My Favorite Way to Get Free Money Now
Try Ibotta you can earn cash back by using Ibota with this referral link, you get a $10 credit to start.
Try Ebates you can earn cash back when you shop online. Use this Ebates referral link and get a $10 credit to start. If you add the browser extension it is super easy.
Make Ends Meet by Cutting Your Food Budget
One great way to cut expenses is to plan your meals. Food in a Flash is a fantastic resource for frugal meal planning. This is my favorite app to save money on groceries. It is free to try and I'm surprised how fast the savings add up, so much easier than old-fashioned coupons. You can connect it to your Walmart or Target app, but I just take a picture of my receipt, because I haven't gotten around to connecting it to anything else.
More Meal planning resources:
31 Plus Easy, Healthy Meals for Your Budget Meal Planning
77 Cheap, Easy, Good Tasting Lentil & Bean Recipes
14 Easy Kid-Friendly Egg Recipes or Dinner
Easy, Inexpensive InstaPot and Cheap Crockpot Meals
161 Poverty Meals Eat Healthy When Money is Tight
Tools Single Moms Use to Make Dirt Cheap Meals
More Ideas to Save Money on Food:
How to Make a Cheap Grocery List When Money is Tight
This One Thing Will Slash Your Food Costs
Money Saving Worksheets: Feed Your Family for $65 per Person per Month
More Ideas to Make Ends Meet
How to Prep for Financial Emergencies
10 Places to Get Dirt Cheap Books
Best Frugal Living Christmas Ideas
How to Have a Magical Christmas on a Tight Budget
Family Christmas Traditions to Start for $5 or Less
DIY Christmas Decorations Cheap to Make Easy Enough the Kids Can Help
Cheap Gifts People Actually Want to Receive
Cheap Gifts for Guys $5 or Less
To make your life easier, access to my resource library including the 5 steps to financial independence on a handy printable.
Frugal Fun
How to Enjoy Your Vaction at Home (23 Ideas Perfect for Sinlge Parents)
How to Afford Travel as a Single Mom
Have friends over and make it potluck or try a hot cocoa bar.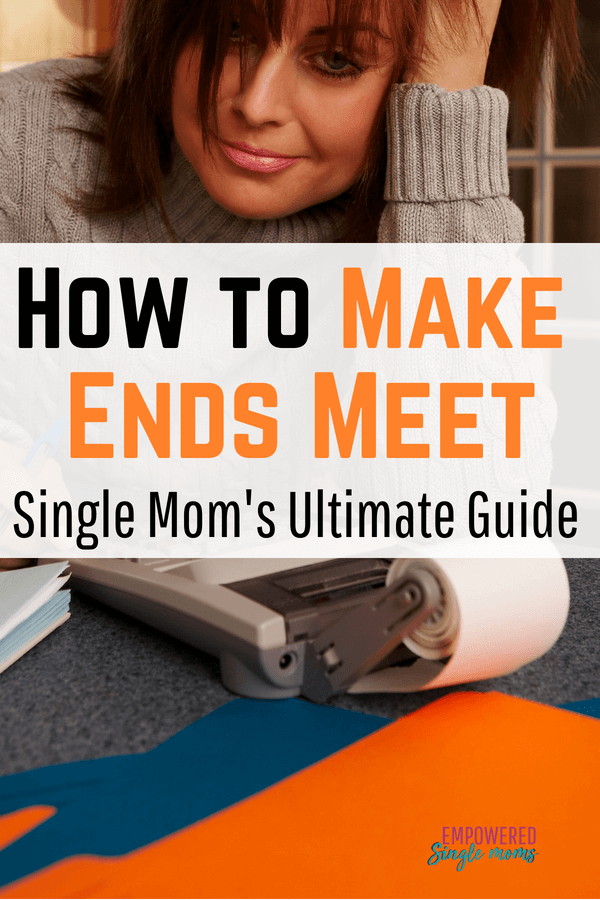 3. The One Thing You Need to Do to Make Ends Meet and Have a Fantastic Life
Living frugally is important; however, while you create a life you love, you must maximize your earnings. No amount of penny-pinching will give you financial security if you are not earning money. Some moms look at their income as something that pays for the extras, but not the bread and butter of life. That is no longer your reality. Now you are the breadwinner of your family.
Evaluate your earnings. Do you need to put in more hours at your current job? Will you need to look for something that pays more or offers more hours and benefits? Yes, changing your employment is yet another big life change, but it may be crucial to your success. It's better to start considering your earnings right away rather than waiting until you find yourself in dire need.
You may be getting child support or spousal maintenance, but it is a mistake to depend on these sources of income. According to this article, 39% of dads do not even pay the full amount of child support. I don't mention this to vilify fathers.
Often, there is a legitimate reason such as a job layoff or injury that causes dads fail to pay child support. Simply, depending on another person to support you is not a good plan–especially when you and that other person do not even like each other.
Mixed Feelings
I have mixed feelings about whether or not to pursue child support and spousal maintenance. There are different, valid arguments for both sides.
I believe that spousal maintenance is an outdated idea from when women had far fewer earning options than they do now. I also know that depending on your ex to support you will likely breed resentment and make amicable co-parenting more difficult. Regardless, figuring out how to support yourself and your family will make you feel stronger and more confident, which can do wonders for all aspects of your life.
Consider that spousal maintenance is usually short-term, and your children will eventually be 18 and you will no longer receive that support. At a minimum, you need a financial plan to provide the life you want to live when your children grow up and move out.
For further reading on the topic, this author takes a bold stand against child support and spousal maintenance.
Clever Ideas to Make Extra Money as a Single Mom
Remember these three steps to stop struggling and make ends meet as a single mom:
Believe you can finance the life you want to live. Ask yourself, "How will I do this?"
Cut expenses to give yourself breathing room and reduce stress.
Earn the money you need. It will increase your confidence, reduce stress, and allow you to be more independent.
Everyone who successfully climbs Mt. Everest or completes an ultramarathon has self-confidence and a plan for reaching their goal. Every great feat is a collection of steps. Your new, financially independent, and joyful life is already underway. Follow your plan. Before long, you will reach the summit and enjoy the view.