Do you dream of the day you can work whenever you want from home, but don't have a clue how to make that dream a reality?
One of the scariest things about being a single mom is having enough money to make ends meet. You either went from a 2 income family to a one income family or from a stay at home mom to being responsible for financially supporting yourself and the kids on what you can earn. Now you feel guilty when you are at work because you aren't with the kids and guilty when you pass up opportunities to earn money, because you worry if there will be enough to pay the bills.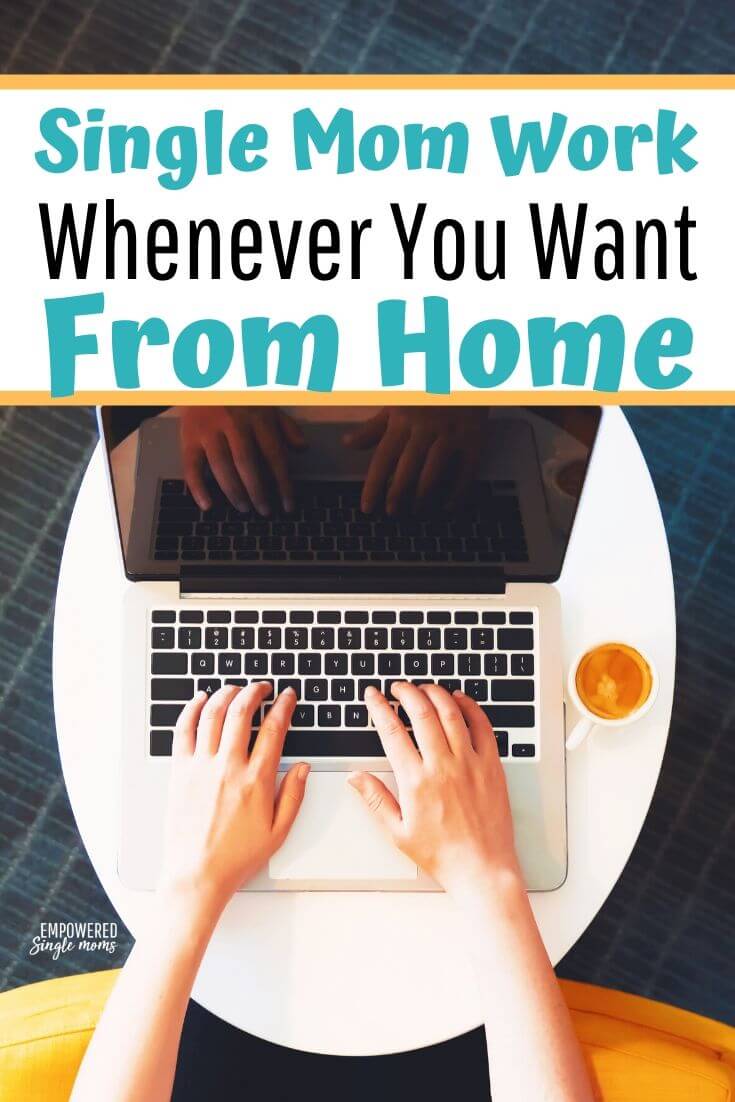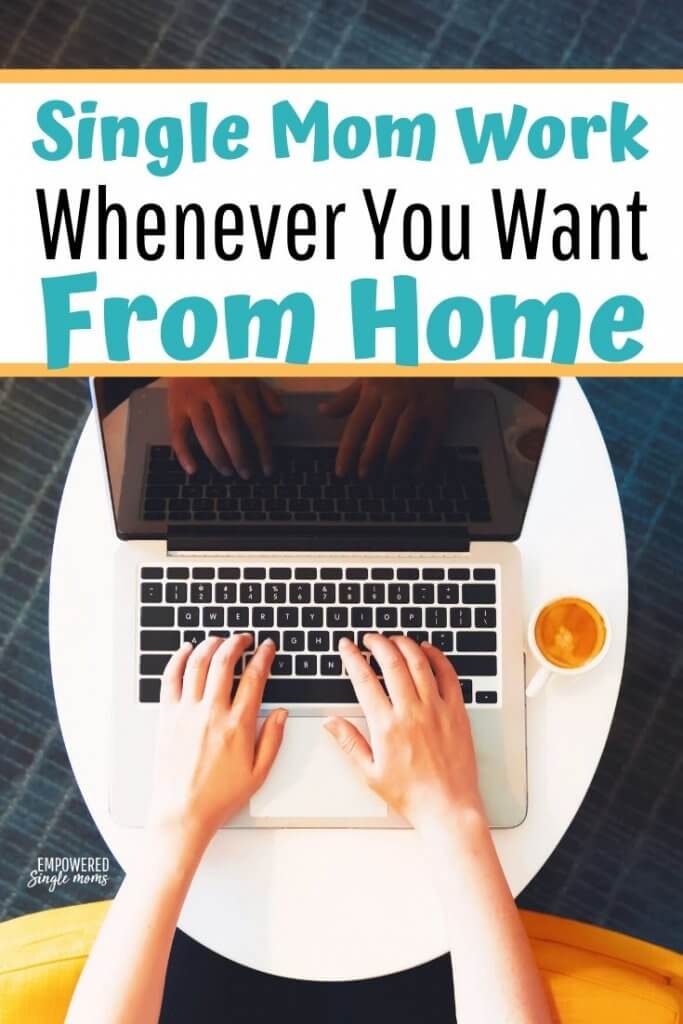 All of a sudden your financial safety net just got a whole lot flimsier. When I was in that situation against conventional wisdom I started my own business. The advantage was I had a ton more flexibility than working for an agency even as a supervisor. I quickly identified several disadvantages: I no longer had a guaranteed income, no paid sick time, no paid vacation time and I was totally responsible for paying for my medical insurance.
This post may contain affiliate links, if you buy a suggested product I will earn a small commission. We are a participant in the Amazon Services LLC Associates Program, an affiliate advertising program designed to provide a means for us to earn fees by linking to Amazon.com and affiliated sites." Read the full
disclosure policy here
.
The process of starting my own business was scary, but the risk was worth it. My own business gives me more flexibility and more income than I ever had working for someone else.
I did some research and came up with some ideas you might want to consider to start your own business. My advice is to start small and make it a side hustle until it builds into enough income you can feel more comfortable leaving your job to work your business full time.
Work at Home Jobs No College Degree Needed
Call Center Worker
In a quick search, I found work from home call center jobs from $14 to $29 per hour. Do a search for work from home call center jobs or check the job listing on Indeed.
At Home Day Care
You can do anything from watching someone's children for a few hours a week for a few extra dollars to a full-time business as a daycare provider. If you decide to make this a full-time business you will probably need to work more like 7:00 am to 6:00 pm, so not just school hours, but you can have your kids at work with you.
Work From Home Jobs During School Hours
I absolutely love this mom's story about how she went from a teacher and military wife to a single mom living in Bali with a work from anywhere job. Even if you don't want to be a virtual assistant her story will inspire you that life is full of possibilities and you have more options than you thought you did. You can do this too with her 90 Day VA Course
Do you love photography and want to learn how to make money from it? Blogging and social media marketing have become big business. Thousands of bloggers, online publishers, and content creators need help developing, creating, styling and photographing recipes and crafts. There's a real need for quality content. You could fill this need and make money from your home using your DSLR camera and a few supplies.
If you are interested then Pretty Focused is for you.
If you have no interest in working for a blogger or content creator, but being a photographer sounds like a possibility this banker turned single mom came up with another creative way to use her camera to make money.
Freelance Business
Do you have a skill you can turn into a business, but you aren't sure how to go from having a skill to having a business? Some skills that you could use to develop a work from anywhere business are virtual assistant, social media manager, copywriter, photographer, or graphic designer.
I found some free resources to help you start making a plan. Get your free work at home starter kit here. Free 101 video class to leverage your current skills into a freelance business.
Work When You Can Jobs
Dog Walker
Walk dogs and be paid to get your exercise. There are apps that connect people who have dogs they want to be walked and people who want to walk dogs. Check where you live to see what is popular in your area. Or you could start a dog walking business.
Pet Sitter
You can find opportunities to pet sit at Rover and DogVacay.
Delivery Driver
You can deliver for Amazon or deliver restaurant food for one of the apps that do that. Door Dash and Uber Eats are a couple of popular apps that connect drivers with restaurants and hungry people.
Best Jobs to Set Your Own Hours
Blogging is not a fast way to make money. If you are you like me and enjoy helping people and writing, blogging can be a great way to have fun and make money too. I learned so much from starting a blog you can save some time and money by reading about the mistakes I made so you can avoid them. Do you wonder how much income is possible? I know bloggers who make between $0 and $145,000 per month. When you start a blog having a mentor and a community is a must. Try out this Mentored Membership Community, it is an economical way to get the support and education you need to start an online business that includes a blog.
There are all kinds of things on sale on Etsy. Jewelry, art, wooden signs are all possibilities. Explore Etsy or walk through an art and craft fair to see what is there that you think you could make. Focus on making Christmas decorations and you can have a virtual Christmas shop.
Online Jobs to Do From Home Without and Investment
Tutor
If you have a college degree VIP Kid is a good option for you to tutor kids in English as a second language. A teacher friend of mine did tutoring before she went to her teaching job in the morning and made money to support starting her online business. You can make up to $22 per hour as a tutor for VIP Kids.
Transcriptionist
There are several companies that hire transcriptionists. I am most common with a medical transcriptionist, but there are also other transcriptionist jobs.
How Do You Cover Medical Insurance When You Are Self Employed?
Initially, I bought medical insurance from a local insurance agent. It was expensive and the deductible was high, but it was doable. I also opened a health savings account to pay for medical expenses not covered by insurance like the deductible and copayment.
When my medical insurance premium neared the cost of my house payment and I had medical expenses one year in the several thousand dollar range (my deductible was $7,000, which I didn't meet that year) I decided I needed to do something different.
I switched to a Liberty Health Share, which has saved me thousands of dollars a year. You can learn more about it in my Liberty Health Share Review.
If you need to increase your income I hope these ideas inspire you to take control of your destiny. Try one of these options to make extra money and ease your financial stress or use them to come up with a different idea. If you are tired of your job or need to get back to work after being home full time for a few years use one of these ideas to start a side hustle and turn it into a full-time business making a full-time income.