I've noticed a lot of women who are making an extra income by selling DIY crafts. I started wondering how many easy crafts that make money could I find with a little research?
As I talked to friends and looked around Pinterest I came up with a lot of options for crafts to make and sell for extra money.
One of the biggest stresses for single moms is making ends meet.
This post may contain affiliate links, if you buy a suggested product I will earn a small commission. We are a participant in the Amazon Services LLC Associates Program, an affiliate advertising program designed to provide a means for us to earn fees by linking to Amazon.com and affiliated sites." Read the full
disclosure policy here
.
The great thing about making and selling crafts is that most of the work can be done from home. The projects are easy enough that your teens can help you. Teens may even want to make and sell these on their own.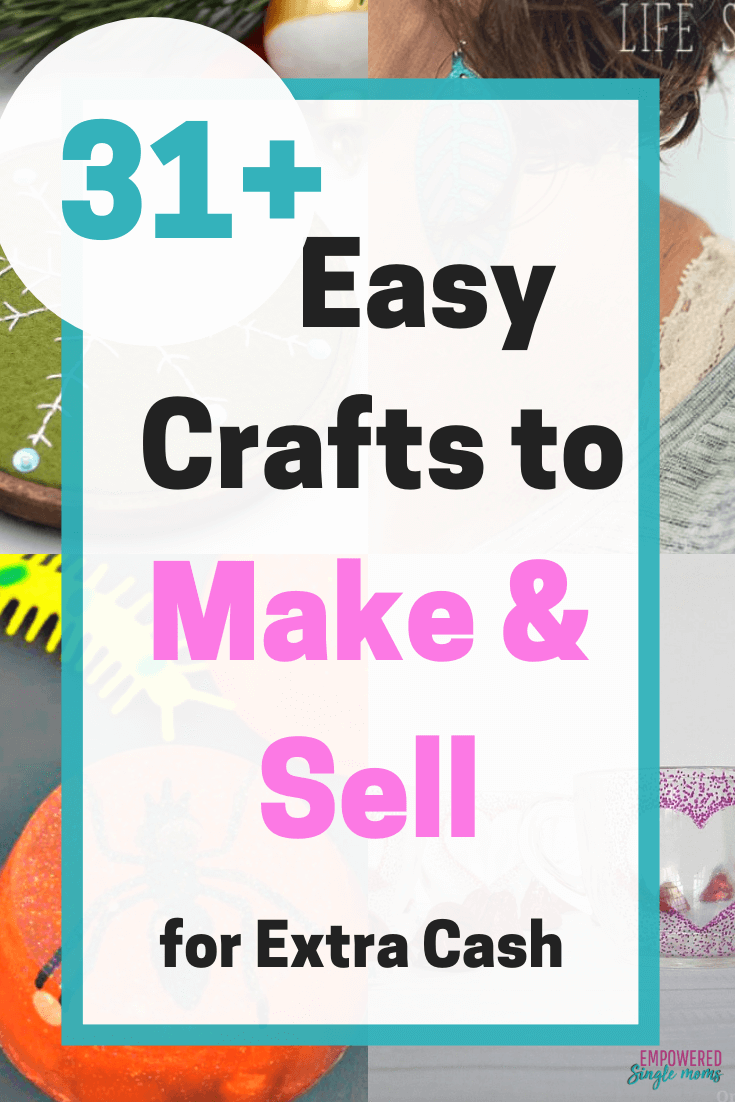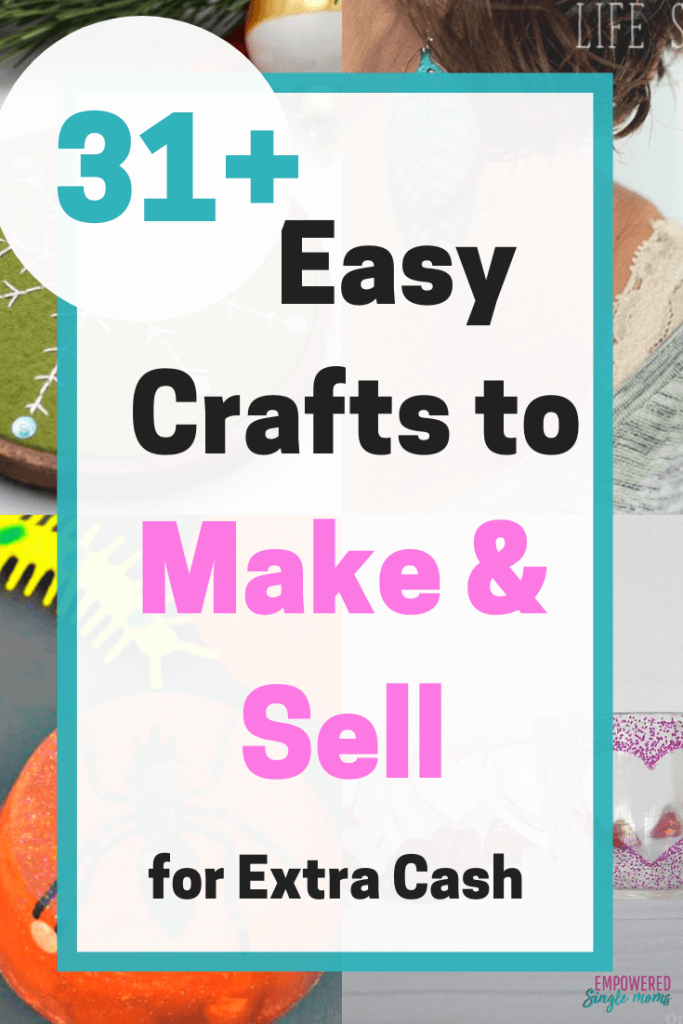 If your kids are too young to help your or not inclined to help you they are simple enough that you can make them when the kids are asleep, with their dad or doing something else in the same room with you.
Where to Sell Handmade Items
Craft Fairs & Farmer's Markets
I love going to craft fairs and I always see so many ideas of how to make money mostly from home. The making happens at home and then people spend a few hours selling the things they have made. You could do this too.
There are always craft fairs in late October, November, and December giving people opportunities to buy Christmas decorations and Christmas presents. Keep this in mind when you are choosing DIY crafts to sell.
Summer is also a good time to find arts and craft fairs. Christmas crafts sell in the summer too, but not as well as in the fall. Many farmer's markets allow crafts to be sold, so check the rules and you will be able to find one where you can sell your wares.
Etsy & Creative Market Your Online Store for Crafts
It can be overwhelming to set up and Etsy Shop, but the folks at Etsy have a free guide here that gives you the step by step process.
I don't know a lot about Creative Market, but it seems to be mostly for photography and printables.
Facebook Page
There are a couple of options with Facebook. You can make your own business Facebook page and sell things to make extra money. Another option is to go to local online selling pages.
Blog or Website
This blog is hosted on SiteGround which I highly recommend. Find out here how to set up your own website.
Local Shops
Often locally owned gift shops will sell crafts you make for a commision. Check with some of the gift shops in your area and see if it is possible. You can decide if it is worth what they charge you to sell your wares.
This is a new section of Amazon. You can look into it and see if this option is for you.
What are Easy Things to Make and Sell for Profit?
I've collected recipes and tutorials from around the web of DIY crafts to make money for you and your family.
Canvas Wall Art on GYCT Designs
She shows you a Valentine's Day example. You can use this same technique to make Christmas, St. Patrick's Day or Easter mugs.
Lotion Bars on Eco Living Mama
Get the recipe and five variations. She has sold these at craft fairs and says they were good sellers for her.
Snowflake Ornament from Swoodson Says
Upcycle old furniture tutorial from Thirty Eighth Street
Holiday Doormats on Diary of a Debutante
Jewelry to Make at Home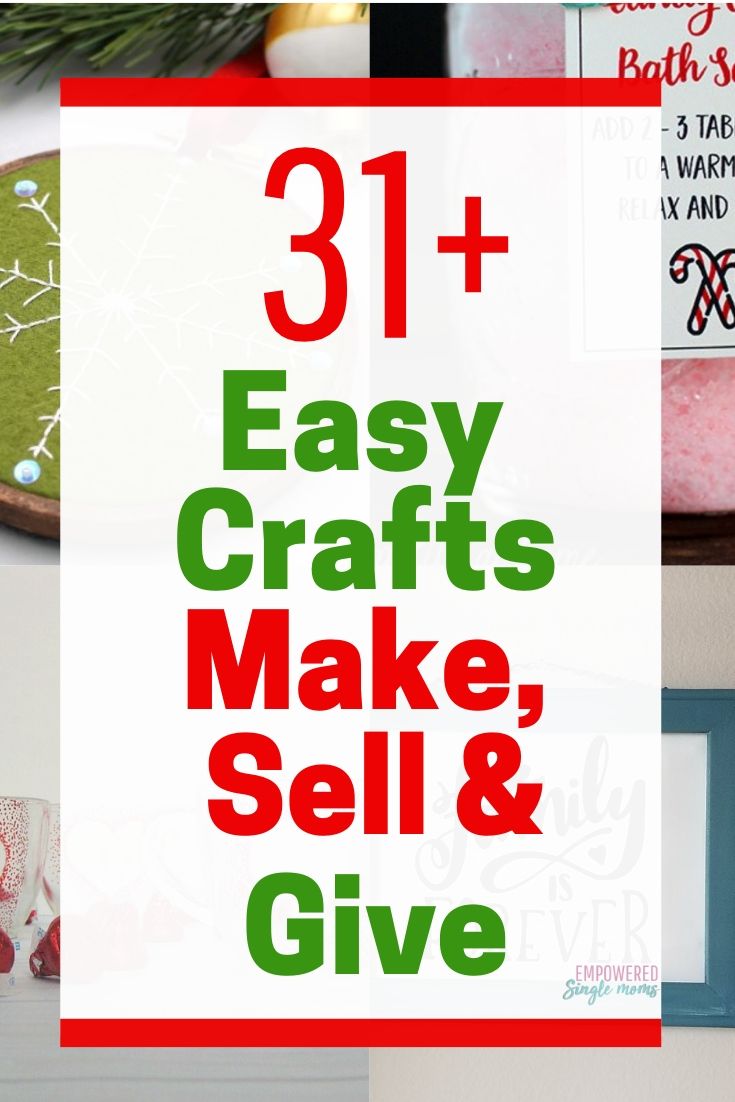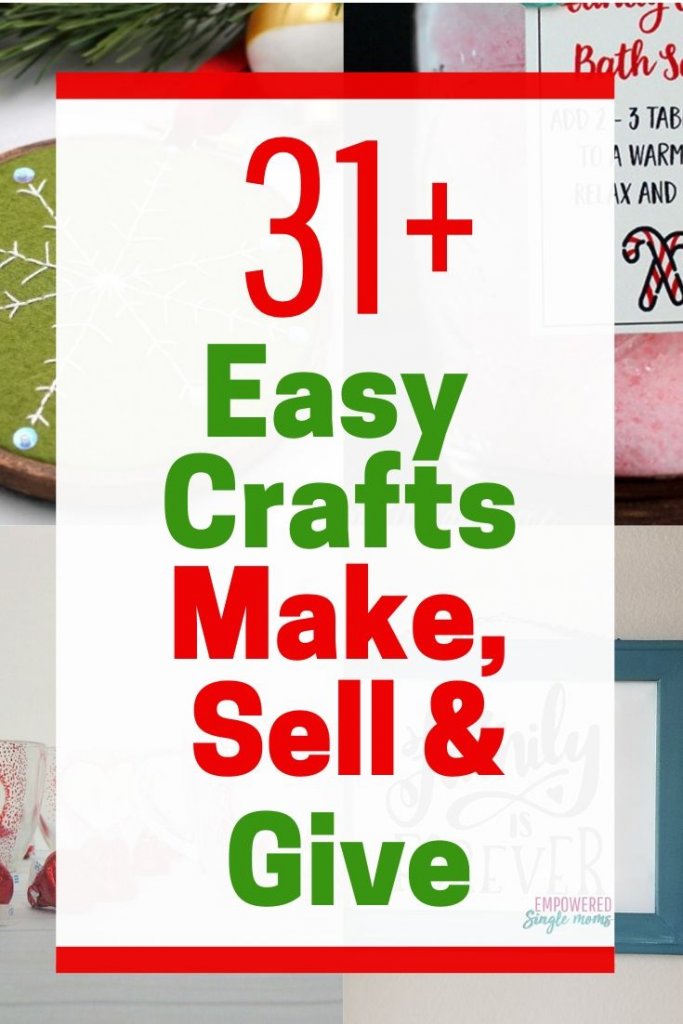 Leather Earrings on Life So Savory
Essential Oil Diffuser Earrings on Down Redbud Drive
Resin Jewelry with Flowers by Sustain My Craft Habit
Wood Projects That Make Money
Blanket Ladder from One Crazy Mom
Easy to Make Welcome Sign from One Crazy Mom
Use this tutorial to make welcome signs or expand on her idea and make all kinds of signs to sell.
Wooden Ramps and Roads for Toy Cars from Buggy and Buddy
These look super easy and so much fun. If you decide to sell these be sure to set up a demonstration area for the kids to play. It will give you an unfair advantage.
Articulated Robot from Adventure in a Box
These are easy enough your kids can make them. You could make them and sell them already made or put together kits for kids and parents to make together. It might be a good idea to do some of each.
Driftwood Mirror on Sustain My Craft Habit
This would be amazing to give your house a lake or beach vibe.
Farm House Christmas Tree Decorations
Chantal shows you how to make these in less than an hour. You could easily paint them different colors so that your craft fair stand had variety.
Essential Oil Crafts to Make and Sell
You could do a whole business on at home spa gifts. These could be sold separately or they could be put together in cute baskets for gifts. Here are just a few of the easy essential oil crafts I found to make and sell.
Bath Bombs on Crayons and Cravings
Mermaid Bath Bombs on Ruffles and Rain Boots
Lemon Sugar Scrub on Thrifty Jinxy
Chai Vanilla Sugar Scrub on The Rising Spoon
Coconut Oil Salt Scrub on 3 Boys and a Dog
Peppermint Bath Salts on Real Life at Home
Includes a printable gift tag.
Raspberry Lemonade Coconut Oil Sugar Scrub on Encouraging Moms at Home
Rosemary Vanilla Soap on Thrifty Jinxy
These are adorable and will have kids asking for bath time. What boy wouldn't want to have a bug in his soap?
Jelly Soap on Steam Powered Family
Layers of the Earth Soap on Steam Powered Family
This is a beautiful richly colored soap.
Bug Repellant Lotion Bar on Encouraging Moms at Home
Rice Heating Pads on Organized 31
More Things to Make and Sell
Cheap, Easy DIY Christmas Decorations to Make at the Last Minute
Creative Ways to Earn Extra Money as a Single Mom
Amazon has a new feature where you can find handmade one of a kind items. Check out Amazon's Handmade Gift Shop here to inspire your next DIY project.
Etsy Inspiration
Rock Art an example here and here
I saw these for the first time a couple of years ago at a craft fair. They are adorable. I will be on the look out for rocks to make one at least for myself.
This is another way to sell rocks that is totally different than the rock art above.
A friend made personalized etched pie pans for a fundraiser at church. I saw a kit at the local hardware store that last time I was there or you can get one here.
Making mittens out of old sweaters is really popular and they sell for between $15 and $50 depending on where they are being sold and how fancy they are.
Are you inspired yet? Have you ever tried selling crafts? I would love to hear your stories of selling your creations for extra cash.
Related Posts:
Single Mom's Ultimate Guide to Making Ends Meet
Work Whenever You Want Jobs from Home
Creative Ways to Earn Extra Money for Single Moms