Do you need single mom inspiration as a newly single mom? You need to hear from single moms who have been there, done that and survived or better yet are thriving. A single mother who has been where you are can show you how to be a successful single mom.
Some of the biggest challenges in being a single mom are the beginning when you are a newly single mom and the exhaustion is overwhelming, finances, having teenagers, and loneliness. Like most single moms you need to know these things will get better.
All of these challenges will get easier and I am here to tell you how to make that happen.
This post may contain affiliate links, if you buy a suggested product I will earn a small commission. We are a participant in the Amazon Services LLC Associates Program, an affiliate advertising program designed to provide a means for us to earn fees by linking to Amazon.com and affiliated sites." Read the full
disclosure policy here
.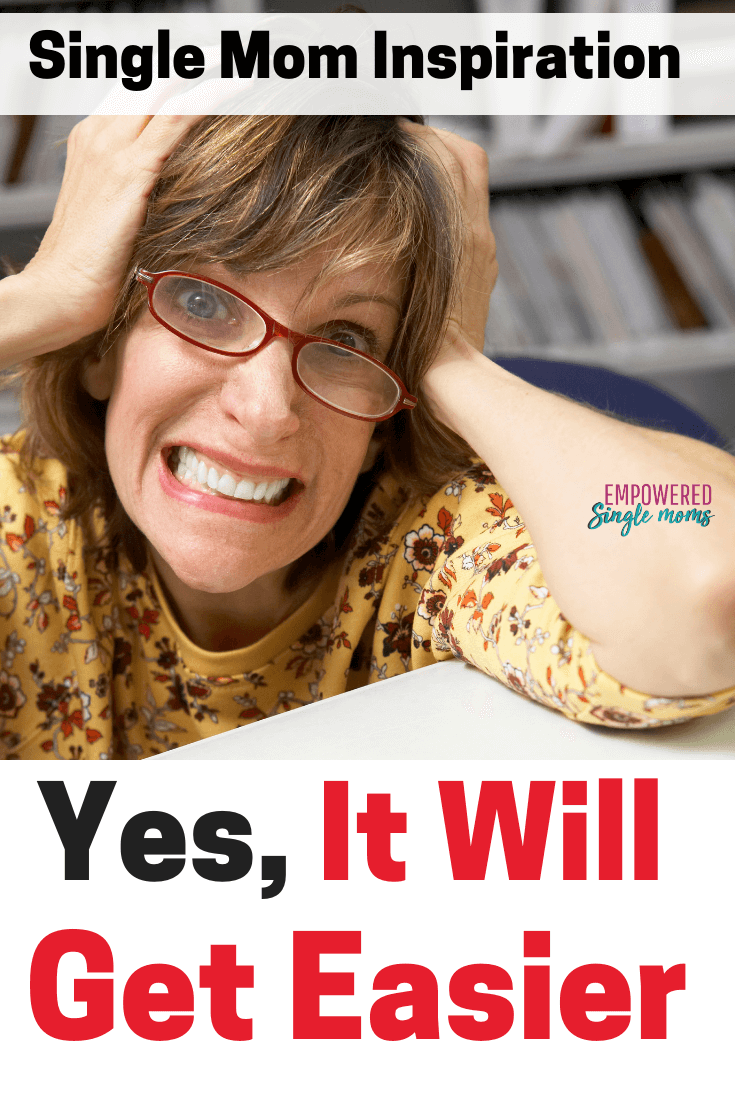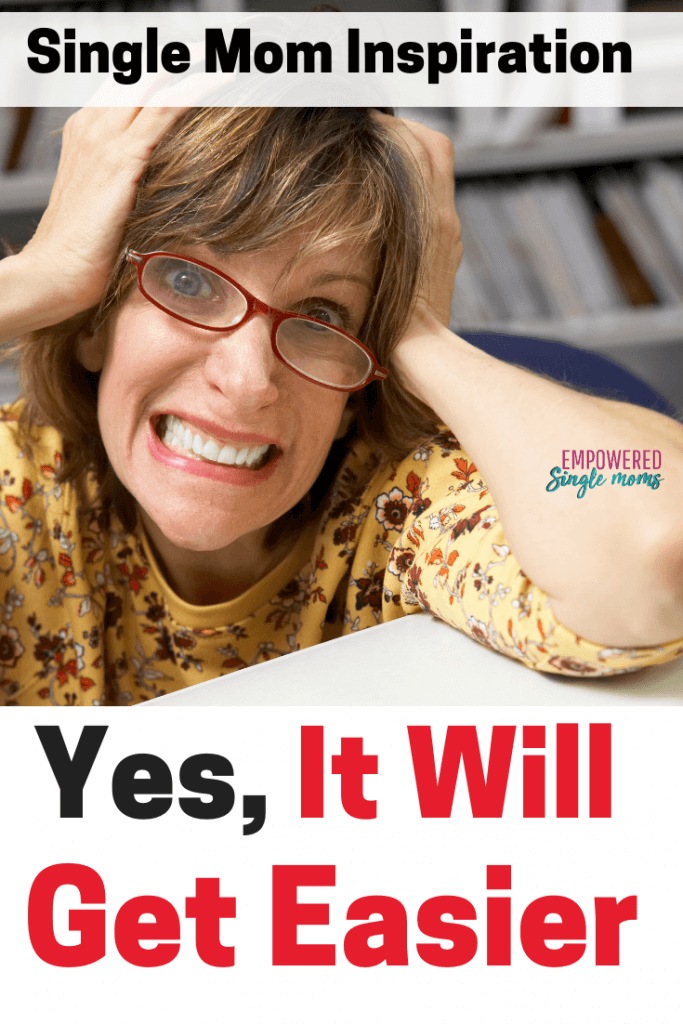 The answer from experienced single moms is, "Yes!! yes, it will get better after a break-up and we understand, we have been where you are. We know what it is like to hide from our children so that we can have a good cry. We have given our children and the world our strong, happy face when we were falling apart.
Related: Inspirational Quotes for Single Moms When You Need to Be Strong
Songs About Persevere Through Heartbreak
Newly Single Mom Inspiration
The beginning of your single mother journey is the most difficult. Everything is on you. You were used to getting some help with the parenting, running your household and providing financially. Now all of that is on you.
You are thinking it must get better "I can't possibly endure this pain and exhaustion forever. I am here to tell you it will get better.
I remember the first time I experienced emotional pain being physical pain. Our marriage was over and I had accepted that reality. I felt like I had been hit by a truck. I barely got out of bed for 3 days.
But life continued on and I had to get up wash my face and go on with life. That is the first step to making your life better just keep putting one foot in front of the other. You don't need to move fast, but you must keep doing the small things that need to be done. Keep going to work, feeding the kids, keep doing the laundry.
Eventually, you will wake up and realize you've got this single mom thing. Life is more doable than last month, maybe not easy, but easier.
There are even some advantages of doing it all. You get to decide how you want things done. When you are a single mom with no help you decide. There is a bit of adventure in figuring things out and living life on your own terms. Never forget single moms are superheroes.
Related: How to Survive the First Month Being a Single Mom
12 Books You Will Want to Read When You are First Divorced
Dealing with the Stress of Single Mom Finances
The first step is accepting that providing financially is up to you. I know it is hard, but even if you are getting child support that will not last forever and a significant amount of the time your ex will not pay all the child support he is ordered to pay. You need to have a plan to provide for yourself once the children are grown.
It is best to provide financially for the needs of the children and yourself. Depending on someone you don't live with who probably doesn't like you much for your basic needs makes you way too vulnerable. Make a plan and work that plan until you can provide for what you and the children need.
If you need help figuring out a plan I've put together a resource guide for you in How to Make Ends Meet: A Single Mom's Ultimate Guide.
Related: Dreams and Goals: How to Make Your Dreams Easily Come True
Inspiration for Single Moms with Teenagers
Just when you've got things fairly figured out the kids become teenagers or maybe you are starting your single mom life with teenagers. If so you are dealing with two of the most difficult times of being a single mom at the same time.
Having teenagers is probably the second hardest time of parenting even in the best of situations. Adolescence is a time when it's the kids' job to figure out who they are as a person different and separate from you. It is a lot like having a two year old in an adult body with almost adult verbal skills.
Trust me this will get better too. Teenagers grow into adults eventually. It may seem like forever, but it will happen. When you were potty training or trying to get them to sleep it seems you will never be done with diapers or have a child who willingly goes to bed. That phase ends and so does adolescence.
Hang in there with your teen. Have rules and boundaries that keep them safe, but let them make as many decisions as you can and be there to help them figure life out when they make mistakes.
You want them to be well-functioning adults that make good decisions so they need practice. Allow them to have natural consequences. Have few rules and enforce the ones you have.
I am experiencing the harvest time of parenting with young adults and it is so worth the work during the turbulence of adolescents.
It is amazing how a few years of hard work and constant exhaustion will pay off with amazing adult children, who like you and want to talk things through with you. They may even from time to time seek out your opinion on important life issues.
Related: How the Best House Rule Will Change Your Life
How to Parent with a Toxic Ex and Not Go Crazy
Single Mom Inspiration to Deal with Loneliness
Another hard thing about a relationship break-up is the loneliness and losing friends. This will get better too. I know your time is limited, but you will make new friends. Make connecting with people and nurturing relationships a priority. You will probably be surprised like I was that people I didn't know I could count on were there for me in surprising and wonderful ways.
You can also meet new people and reconnect with friends you've lost touch with. This doesn't happen by itself, but it can and will happen if you make it a priority.
Related: How to Make Friends After Divorce
How to Deal with Loneliness After Divorce
I don't want you to have to do this alone. I made a private Facebook group just for you. We share information and encouragement to make the single mom journey easier and less lonely. Join us in Empowered Single Mom Tribe.
Yes Life Can and Will Get Better
Remember when you are looking for single mom inspiration there are a lot of moms who have been where you are. There are so many single moms whose plan A didn't work out. They went on to build a wonderful life and so can you.
It won't always be easy, but yes it will get easier. You can do this. Keep putting one foot in front of the other and doing the next thing that needs to be done.
Life may not be what you think it "should be", but it is what it is and it is up to you to make the best of it. You can do this and it will get easier. Use the Thriving a Single Mom Journal to identify your strengths, make a plan and start working towards that plan.
There are always people who have it easier than you do and there are people who have a harder life than you have. Don't waste your precious time and energy worrying and fussing about them.
You have your life to live make it count. You can do this. If you need more support psychotherapy and life coaching are great resources to help you move forward. Find out about my life coaching services here.
Related: 15 Simple Habits to Improve Your Life