Don't let anyone else's opinion, criticism or judgment define who you are.
To stop letting others define you, you need to let go of your emotional baggage. There are 5 common pieces of baggage that single moms carry around. Today I am going to tell you how to toss out that baggage and live life on your own terms.
This post may contain affiliate links, if you buy a suggested product I will earn a small commission. We are a participant in the Amazon Services LLC Associates Program, an affiliate advertising program designed to provide a means for us to earn fees by linking to Amazon.com and affiliated sites." Read the full
disclosure policy here
.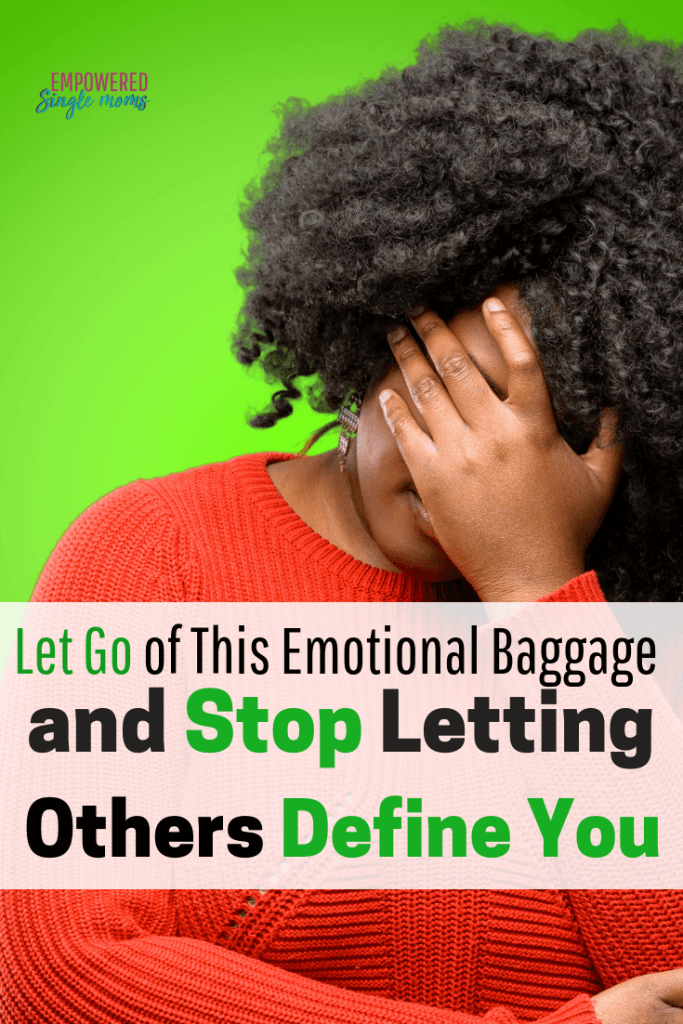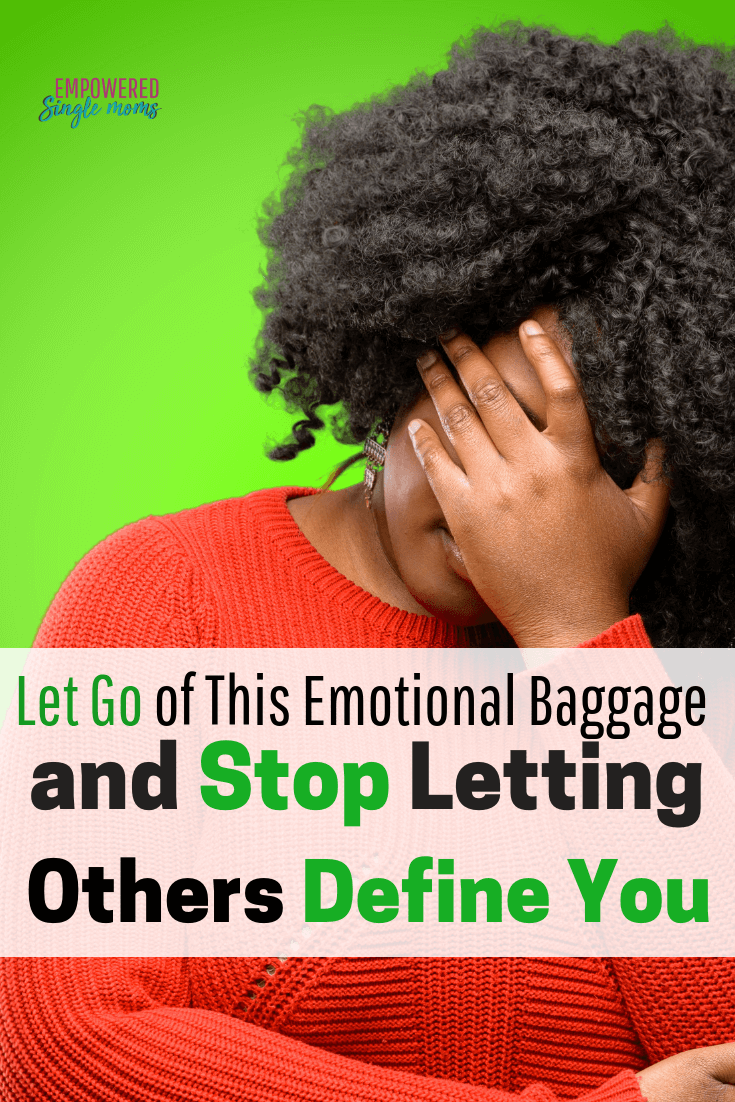 There are common irrational beliefs we buy into that undermine our self-worth. This is emotional baggage to let go of. All of these beliefs have one thing in common they give your power away.
What Does It Mean to Let Others Define You?
When you let others define you, life is lived on someone else's terms, according to someone else's priorities. You trust someone else to know what is best for you. There are many ways to live life and the older I get the more apparent that is to me. What is right for one person may not be right for you. You need to learn to know yourself, your values, your priorities, skills, and abilities. Once you know yourself trust yourself.
Related: What Happens When You Give Away Your Self Worth
1. Need to Be Perfect
When you need to be perfect you beat yourself up for being human. Humans are not perfect. We make mistakes. The goal is to deal with those mistakes and do our best to make them right.
Another time when the need to be perfect is a problem is when it doesn't allow us to try something new. We need to accept that we will not be as good at something the first time as we will be the 100th or 1000th time. Give yourself grace. Allow yourself to be a beginner.
Related to this don't compare the beginning of your journey to the middle or end of someone else's journey. We often want to be as good at something as our hero is, but wouldn't you be disappointed if you kept at whatever you are trying to learn for 3, 5 or 10 years and didn't improve. Keep this in mind when you do something less than perfect. It could be a hobby like sewing or learning a musical instrument or your profession, whatever it is practice will make you closer to perfect.
Strive to be the best you can be. That is enough. Don't let others define what is enough for you. You can read more about how I used McDonald's to teach one of my sons he didn't need to be perfect here.
2. Fear of Change
Change is hard, but change is part of life. All of life is change. In 100 years we go from being an infant who can't talk, walk or feed herself to a child who can read and ride a bike, to an adolescent who thinks she knows everything, to a young professional who has so much to learn, to a competent professional who mentors others. Along the way we become mothers, friends, musicians, artists, writers, cooks, or knitters, and so much more.
We go to school, we change our hair, our looks change from baby, to child, to teenager, to adult, to middle-aged, to old and finally if we live long enough elderly.
All of nature teaches us that changes are a part of life. Look at the trees that grow, bud in the spring, lose their leaves in the fall and go dormant in winter or the flowers that bloom, die back and rebloom. Even rivers and streams that seem more constant change course over time.
Change is life and life is change. It is an essential part of living our fullest life to learn to deal with change. The thought that we can live and not have change is irrational. It is how we deal with change that matters.
3. Regrets about the Past
The past is over. You can not change it, but you can learn from it. There are many opportunities to make mistakes in life. Strive to learn from those, move on and make the future for yourself and your family better than the past.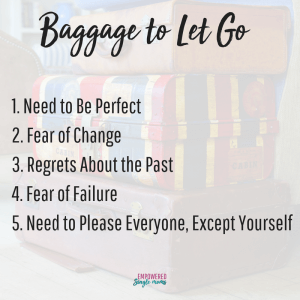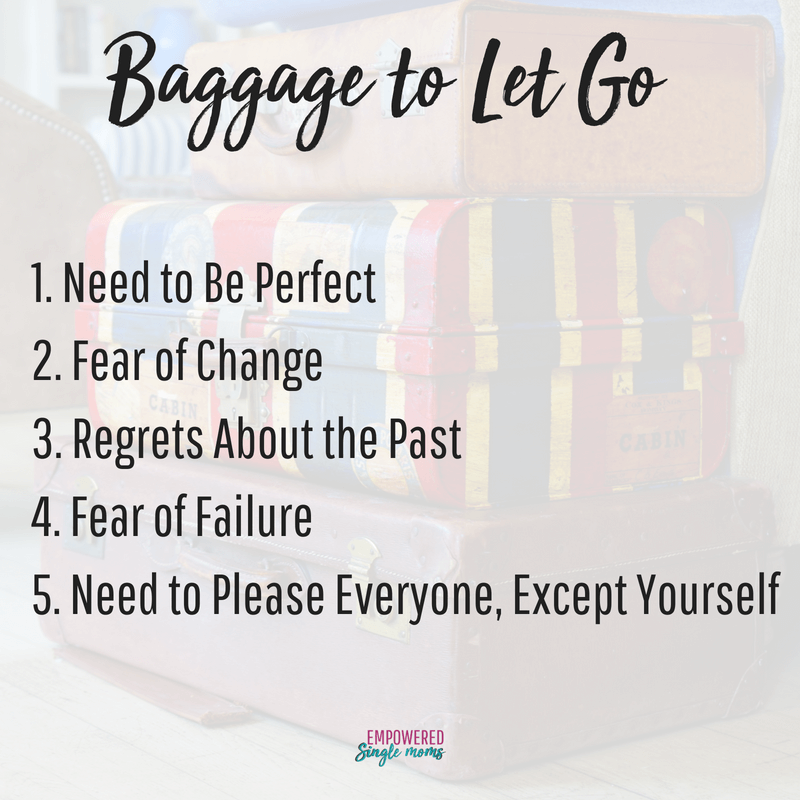 4. Fear of Failure
Many famous names have been linked to the following quotes about the fear of failure including Benjamin Franklin, Theodore Roosevelt, and Albert Einstein.
The person who never made a mistake never tried anything new.
A fellow who never makes a mistake must get tired of doing nothing.
Only those who dare to fail greatly can ever achieve greatly.
It is impossible to live without failing at something, unless you live so cautiously that you might as well not have lived at all – in which case, you fail by default. ― J.K. Rowling
The point here is that there are endless stories about people who have achieve greatly, but before they were successful they had many failures. Does it make sense to you if you have never failed you have never tried to push yourself to beyond what is safe and easy to achieve?
If you agree to achieve greatness is to risk failure then you must face your fear of failure and try things that you aren't sure you will achieve. Even if you don't achieve a stretch goal you will achieve more than you would have had you never tried.
5. Need to Please Everyone, Except Yourself
Nothing lets other people define who you are and your self worth like being a people pleaser. I hear women all the time say to me, "I am a people pleaser" like it is a badge of honor. It is not. Being a people pleaser puts the key to your happiness and worth in the hands of another. Stop this NOW.
You are a people too. Please yourself. By this, I do not mean at the expense of other, but make pleasing yourself at least equal to the need to please others. Get in touch with what your priorities are. What your dreams are and what you want from life.
If you aren't sure what your dreams are or what you want from life I have some tools that will help you. Remember you can never be successful at pleasing other people. Everyone wants something a little different so to have your goal be to please other is sure to end up in failure. You can be successful at pleasing yourself if you have realistic goals and expectations.
Tools to know yourself & stop letting others define you
5 Day Thriving at Life Challenge
How Do You Deal With Someone Judging You?
Often you let someone else define you because you fear their negative judgment. Remember you will never be able to please everyone, but you can learn to please yourself not in a hedonistic way, but in a way that gives your life meaning and purpose.
Many of the great people in life were judged poorly by others. Think about Christ himself, many people were and still are against him. He was the closest to a perfect human that ever was, so you are in good company if you are not pleasing others, but are living according to good morals and values.
Check in with yourself. Are you living a life where you are striving to live with meaning and purpose? Are you striving to make the world a better place whether it be by creating beauty, helping others, raising fabulous children or by some other means? Do you strive to care about yourself and others? Are you striving to live a life that is in line with your values? If you can usually answer yes to these questions then consider yourself a success.
This is your life. You define your success and happiness. Other people get to live their lives and define their happiness.