Inside: When the weather turns to spring it is time for you to pick out flowers and plants to make easy DIY front porch planters and add planters to your front door to turn it from blah to fabulous. Choosing plants for my planters is one of the best parts of spring.
I like to go to four or five greenhouses near me as soon as it gets warm and look for inspiration. I find it cheaper to have my own large front door and porch planters, then pick plants that are interesting and make up my own pots.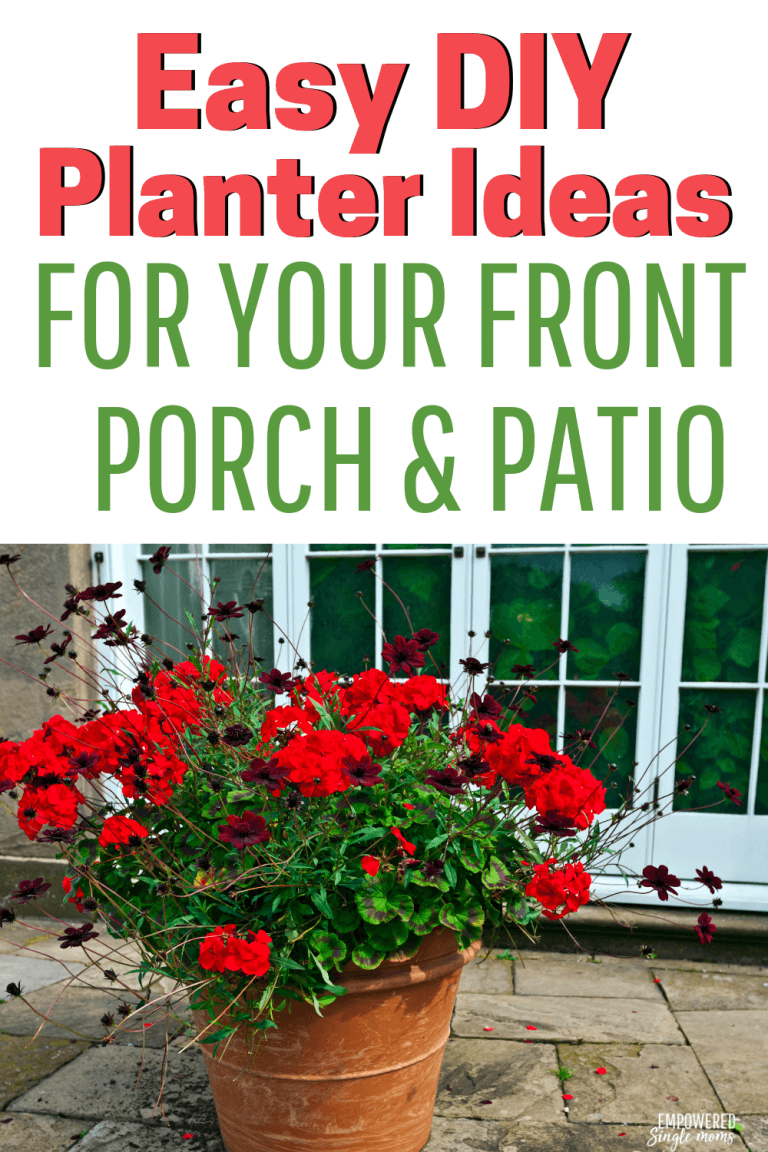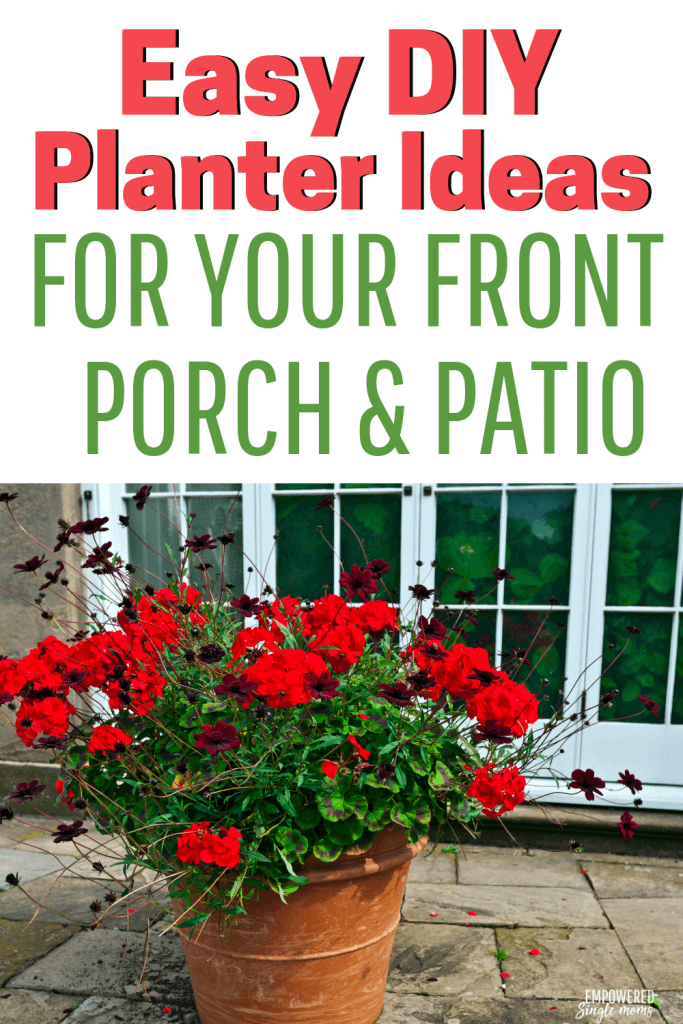 This post may contain affiliate links, if you buy a suggested product I will earn a small commission. We are a participant in the Amazon Services LLC Associates Program, an affiliate advertising program designed to provide a means for us to earn fees by linking to Amazon.com and affiliated sites." Read the full
disclosure policy here
.
What are easy plants for front porch planters?
Which plants you choose depends on how much sun you have on your porch or patio. Some of my favorite flowering plants for sunny front spots are geraniums and petunias. When I plant geraniums I sometimes plant a variety of red, white and pink. Other times I will do a pot in pink or red. It depends on my mood when I go plant shopping in the spring.
Petunias smell great but need a little more time to keep them looking their best. You need to pick off the dead flowers regularly. Petunias come in a variety of colors including red, purple, white, yellow and orange.
Easy plants for shady front doors and porches
I used to hang a dragon wing begonia in a pot next to my front door. By late summer it cascaded over the pot a couple of feet. A few years ago I lost my 200 year old oak tree that shaded my front door to a storm. When I lost the shade I needed to switch to sun-loving plants like petunias and geraniums for the front door planters. My other begonias also got moved to my shady flower gardens in my back yard.
Martha Washingtons (they are in the geranium family often a bright pink and white) are another favorite of mine for pots with a mixture of flowers. S
hasta daisies come in a wide variety of colors and are a cheery choice. I like to make up a pot of Shasta daisies in a variety of colors to put next to my back steps.
With plants that don't have as many flowers, adding a plant with colorful foliage adds interest to the pot. Coleus is an obvious choice for this. Coleus plants come in a variety of pinks and purples with different shaped leaves.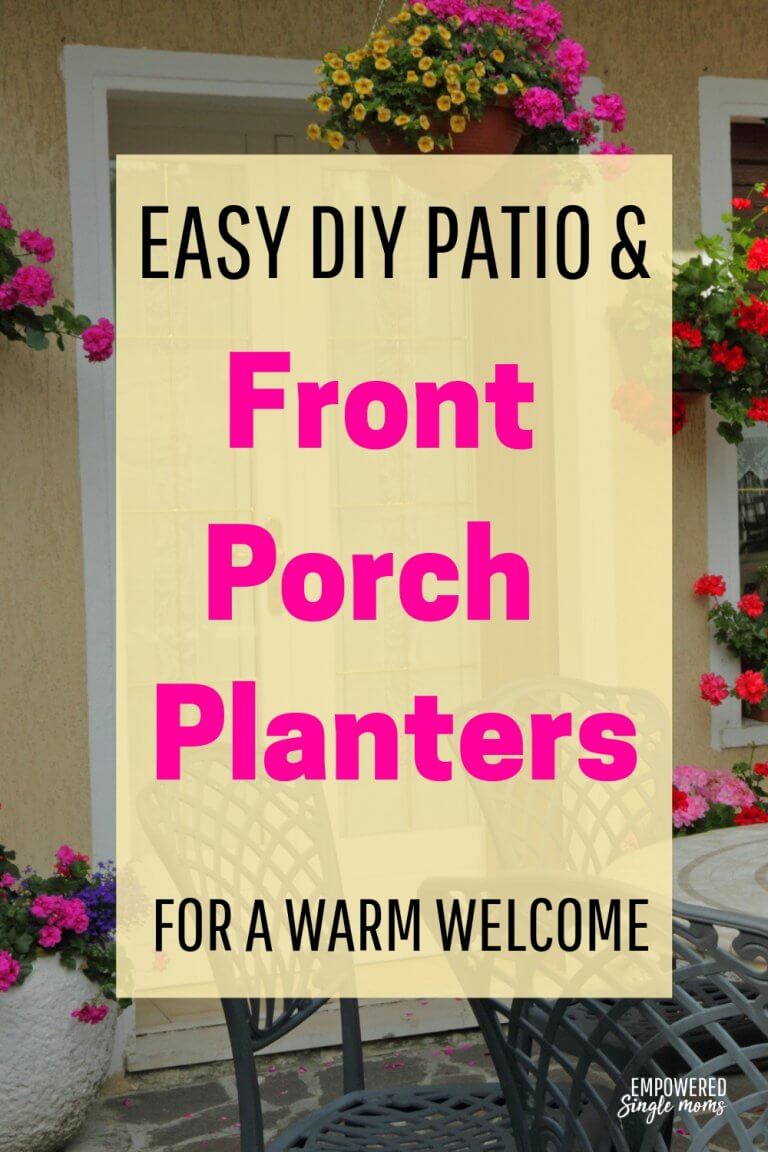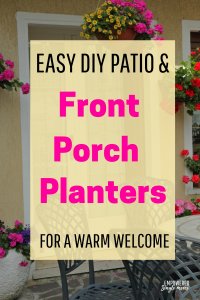 Tall Front Door Planters
Set 2 Flower Pots, 20″ Each, Patio Deck Indoor Outdoor Garden Resin Planters, Gray
Casablanca (2 Pack) Planter, Black
Related: How I Decorated My Front Porch On A Budget
DIY Front Porch Pots to fill yourself
Choose pots that fit your style from elegant to rustic.
Trenton Gifts Chippendale Planters | Set of 2

Suncast Resin Outdoor Large Round Planter – Lightweight Modern Flower Pot – Blue and Brown
Whiskey Barrel Planter, 20.5″ Kentucky Walnut
This is the best price I have seen on a whiskey barrel planter.
Pots for your front porch table
If you have a table on your front porch you could choose a hanging plant that spills over the sides of the pot. If you want to have lunch at your porch table like I often do smaller pots with an artistic touch are the best option.
Click on the photo to learn more about each pot.
25 Fun Things to Do By Yourself
9 Quick Ways to Make A Rental Feel Like Home On a Budget
I used to do put a few tomatoes in pots, but now I get my tomatoes at the farmers market or from my neighbors. I only put flowers in my porch, patio and front door planters. When the weather turns cold I bring my pots in for the fall and winter. That way I get a few more weeks to enjoy my flowers.
Theoretically, you can keep geraniums through the winter. Here in northern Minnesota, I find they don't bloom as early as the ones I get from the greenhouses. I've heard all kinds of different things people do to carry geraniums over, but my neighbor just brings hers inside they seem to do fine. I will admit her thumb seems to be greener than mine because my luck is not as good as hers at carrying my outside flowers over the winter. I think part of my problem is that my house doesn't get enough direct light during the winter for flowering plants to do well.
What are your favorite flowers for your front porch or patio planters?