Small front porch decorating ideas on a budget a fun weekend project.
My front porch is one of the favorite parts of my house. The porch floor was a boring gray when I bought the house, but I knew it had potential. I wish I'd taken a picture of it so you could see how drab it was, but I didn't think of that before I painted it.
I am not much of a decorator or do it yourself project person, but I had seen a painted floor that inspired me. Decorating my front porch was fun and easy. If I could make a boring room cute and cozy so can you.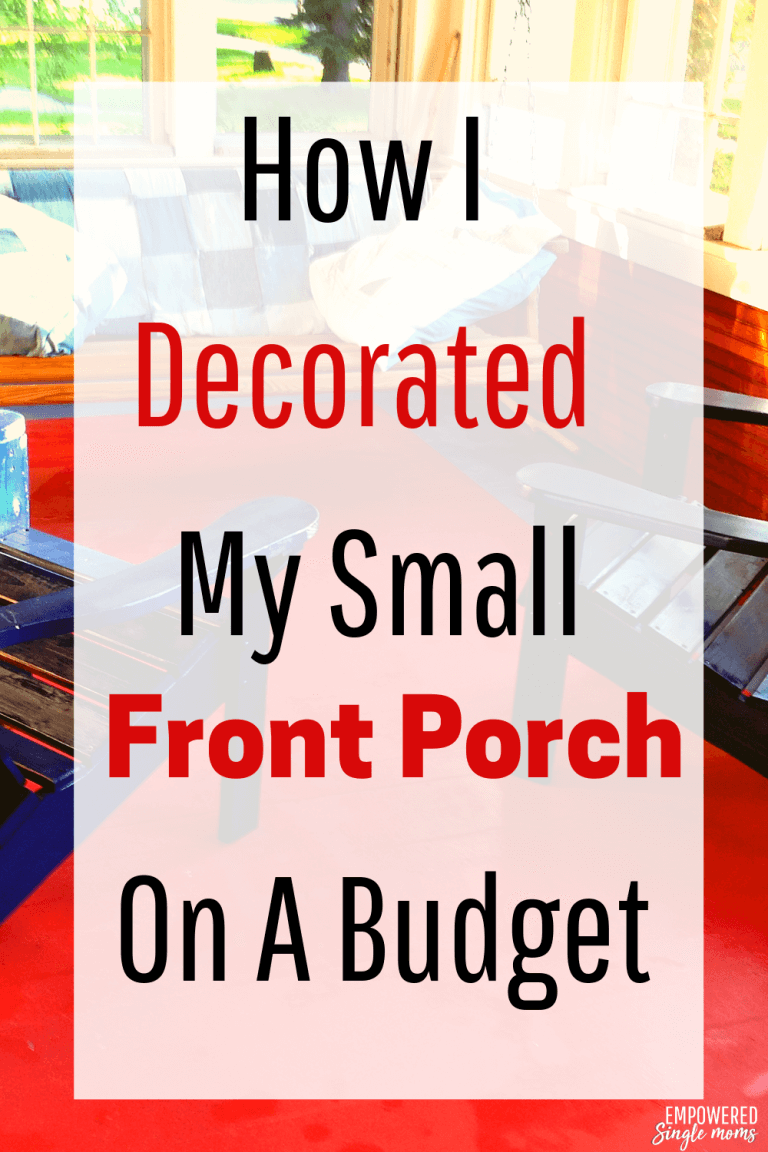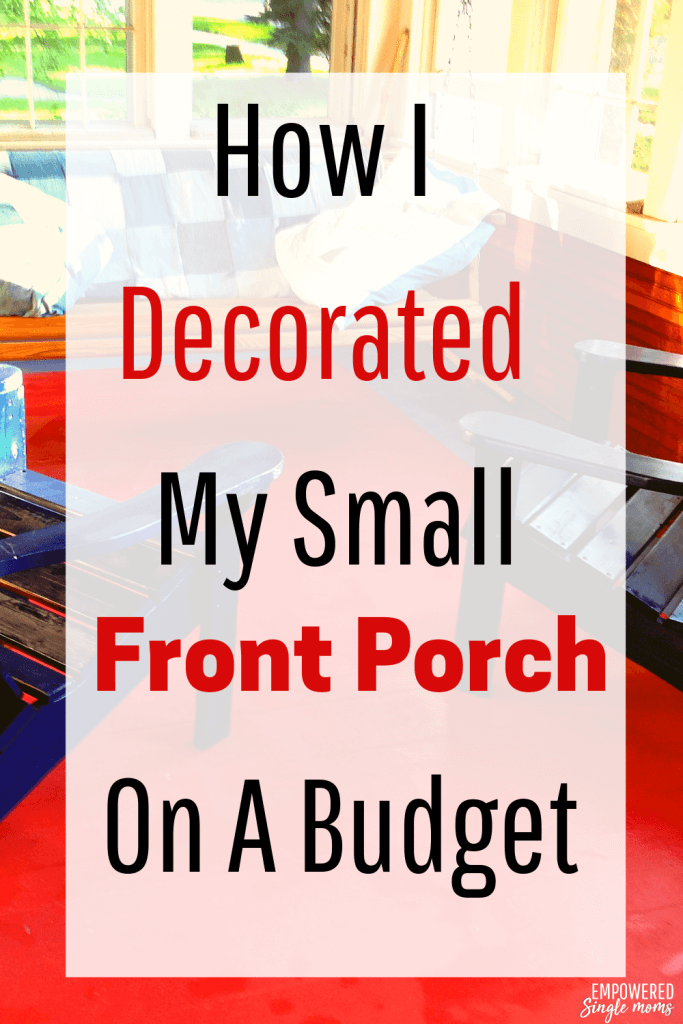 This post may contain affiliate links, if you buy a suggested product I will earn a small commission. We are a participant in the Amazon Services LLC Associates Program, an affiliate advertising program designed to provide a means for us to earn fees by linking to Amazon.com and affiliated sites." Read the full
disclosure policy here
.
My front porch is a great place for me to have lunch (I usually come home for lunch) or relax after work. In the summer I like to read or journal on my porch.
It has also been a great place for the kids and me to have memorable talks or for them to hang out with friends.
What to do with the porch floor on a budget?
My first task in redoing the porch was to deal with the floor. I had seen one I liked a fun shop.
The floor is my favorite part of the porch. I had an idea to turn that boring gray floor into a painted rug like the one I saw at a crafty shop. I used painter's tape and saved a line of the old floor making a gray line in the center with a muted blue border and a red square on the inside. When I repainted the floor a few years later I did away with the gray line between the red and blue. Mostly because it was easier than repainting the gray line. and to change things up a bit. Porch paint is a must for the floor because it wears better.
I painted the porch floor in less than a day with most of the time being drying in between coats. Once the floor was painted I was ready to find furniture for the porch.
Furniture for my front porch on a budget
I have 3 elements on the front porch a swing, Adirondack chairs, and a small table and chairs. Initially, I had a hammock on the porch, which was a hit with my boys, but I prefer the swing.
I found this one on Amazon that is a lot like the one I have. There are a lot of cute swings to choose from. If you hang your swing make sure you anchor it into a support beam. I added a couple of 2 X 4s to the porch ceiling to distribute the weight at the suggestion of a carpenter friend. If you don't want to mess with hanging a swing a glider will have a similar feel for your porch.
The Adirondack chairs started out natural wood and stayed that way for years, but last year I decided to paint them a dark blue and I really like how they turned out. Mine came in pieces and it was a fun project for my youngest son and me to put them together. I thought about using chalk paint to paint them, but I used spray paint instead. It was faster and easier. I like how they turned out, but chalk paint would have probably given them a more artsy, shabby-chic look.
The small table and chairs I got from a fundraiser for the local homeless shelter. The director had a chair auction event. There were all different kinds of chairs auctioned. off and I got a set for my porch. You can also look at second-hand stores or garage sales to find fun tables and chairs to go on your front porch. Before I had the table and chairs from the silent auction I had a large low table that I picked up at a flea market for less than fifty dollars. I think it found its way to one of the boy's college houses.
Cozy decorating touches for your front porch
I decorated the swing with a denim patchwork quilt I got at a silent auction at church for a fundraiser and pillows from an old chaise lounge that wore out, but we kept the pillows.
My mom graciously agreed to make the covers for the pillows knowing sewing is not my forte. My family loves denim quilts so she had a stack of jeans and I had a couple of denim dresses that I had saved for something special, so my pillows and their covers were free.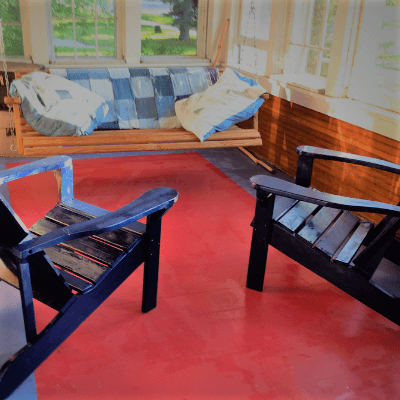 The pillows and blanket give the swing a cozier look and are also useful. The pillows make the bench swing way more comfortable. The blanket provides a little padding on the back of the porch swing. That makes it more comfortable than a bare wooden swing.
When I am reading out on my front porch on a chilly evening the blanket keeps me warm. In northern Minnesota where I live we use sweatshirts year round so evenings do get cool even in July and August.
If you are a sewer or want to try your hand at sewing you can make your own patchwork pillows and quilt. If you don't sew maybe you are lucky like me and you can talk your mom or grandma into making your pillow covers for you. You can also find some adorable patchwork pillow covers and blankets on Etsy if sewing isn't your thing. These buffalo plaid pillow covers are another fun option.
I am really happy with how my front porch turned out. I'm also happy with the price it cost less than five hundred dollars to do the whole thing. In the summer I usually move my house plants to the porch. It clears space in my house and gives my plants more sunlight.
I looked at some of these signs, but since my porch is mostly windows I decided against a welcome sign. I do hang a wreath like this one on the door at Christmas time. If you like summer wreaths here are some cute ones you can find one to use all year here.
I just saw these lights and I think they would look amazing in the porch.



More Porch & Patio Ideas
Rugs are a great addition to a porch. They add a feeling of coziness and are much easier to switch out than the painted rug on my porch floor. Here are some fun porch rugs to get you started thinking about what rug might look good on your porch floor. I've even used porch rugs in the living room or under my dining room table. It seems like they are much more durable than a normal living room rug
Palm Leaf Indoor/Outdoor Rug
Bohemian Medallion Area Indoor/Outdoor
I think this one would be especially pretty in a living room. An added bonus it looks like it would hide stains like a champ and with kids that is always a great thing.

There are so many cute welcome mats. They have them for summer, fall, Christmas, winter, and spring.
Patio Firepit Idea
My boys had hours of fun having bonfires in the yard making s'mores, grilling hot dogs, and bacon. Yes, making bacon over the fire was a thing for them. If you haven't tried roasting bacon on a stick it is quite the challenge for teens and tweens.
We have easy access to wood living in the north country people often have old dead trees to cut down and are happy to share the wood. We had a fire pit in the yard when we moved in and in the spring one of the boys would dig it out.
If you don't have easy access to wood or you rent and digging a hole in the yard isn't an option they make great portable fire tables. Watching a fire is so relaxing and provides hours of fun family time.
Related:
9 Easy Ways to Decorate with Wooden Crates
Easy DIY Front Porch Planter Ideas
Free Printable Wall Art, Vintage, Modern and Inspirational Quotes