Decorating with wooden crates is perfect if you are moving often or as a versatile element for a growing family. They give your home a cozy and are perfect if you like a farmhouse or shabby chic style.
When I was researching ideas to make your rental feel like home I kept running across ways to decorate with crates. I love this idea because of the flexibility they offer. As a bonus, if you are in a position where you will be moving they are handy to use as moving boxes. You will also be able to easily use them in different ways when you move to a new home.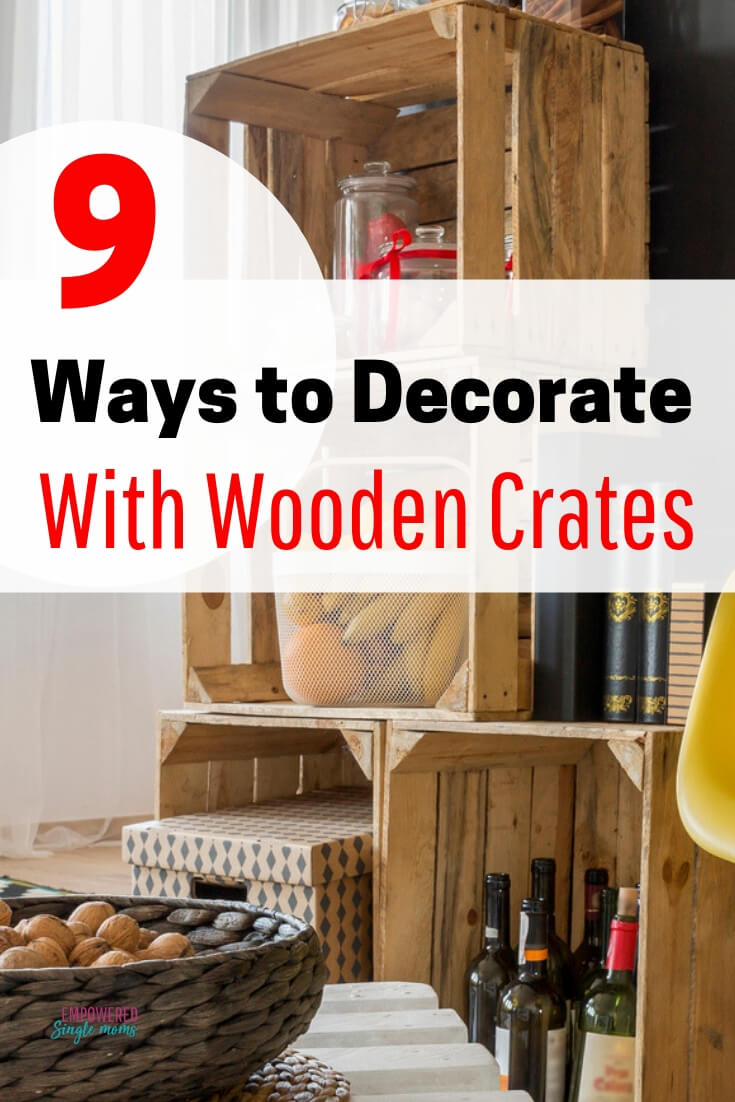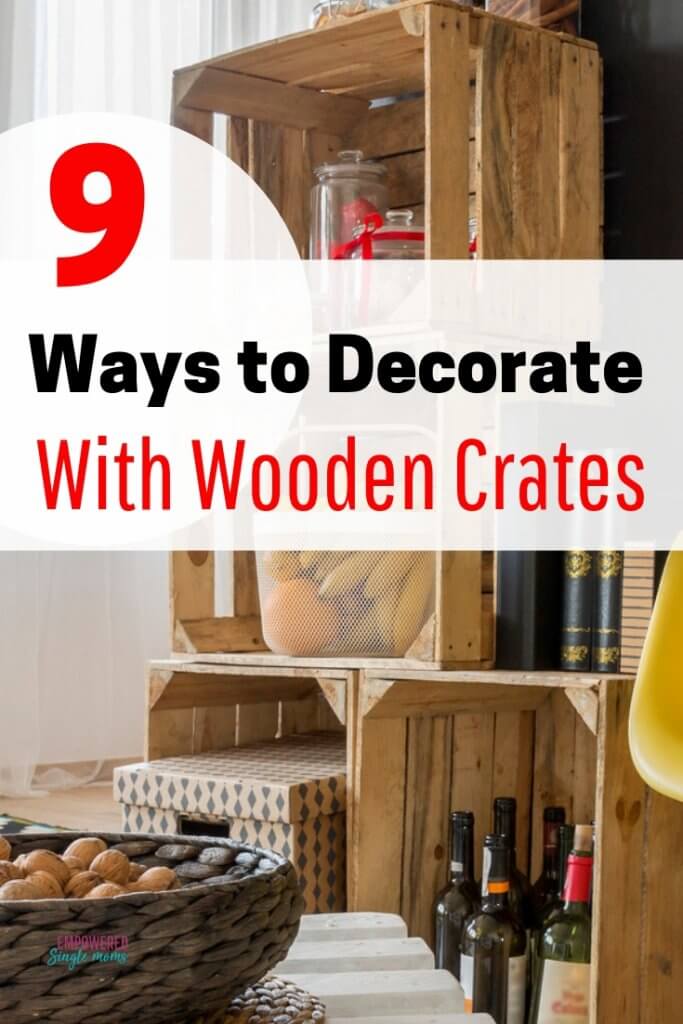 This post may contain affiliate links, if you buy a suggested product I will earn a small commission. We are a participant in the Amazon Services LLC Associates Program, an affiliate advertising program designed to provide a means for us to earn fees by linking to Amazon.com and affiliated sites." Read the full
disclosure policy here
.
One of the great things about wooden crate furniture is that you can use them plain, stain or paint them. Each finish will give your furniture a different look.
Wooden Crate Furniture for the Living Room
You can buy wooden crate furniture already made like the coffee table and bookcase below.
When you make a coffee table out of wooden crates it can double as storage or a bookcase which is wonderful if your space is limited. You can use a small medium or large crates depending on the size of your living room.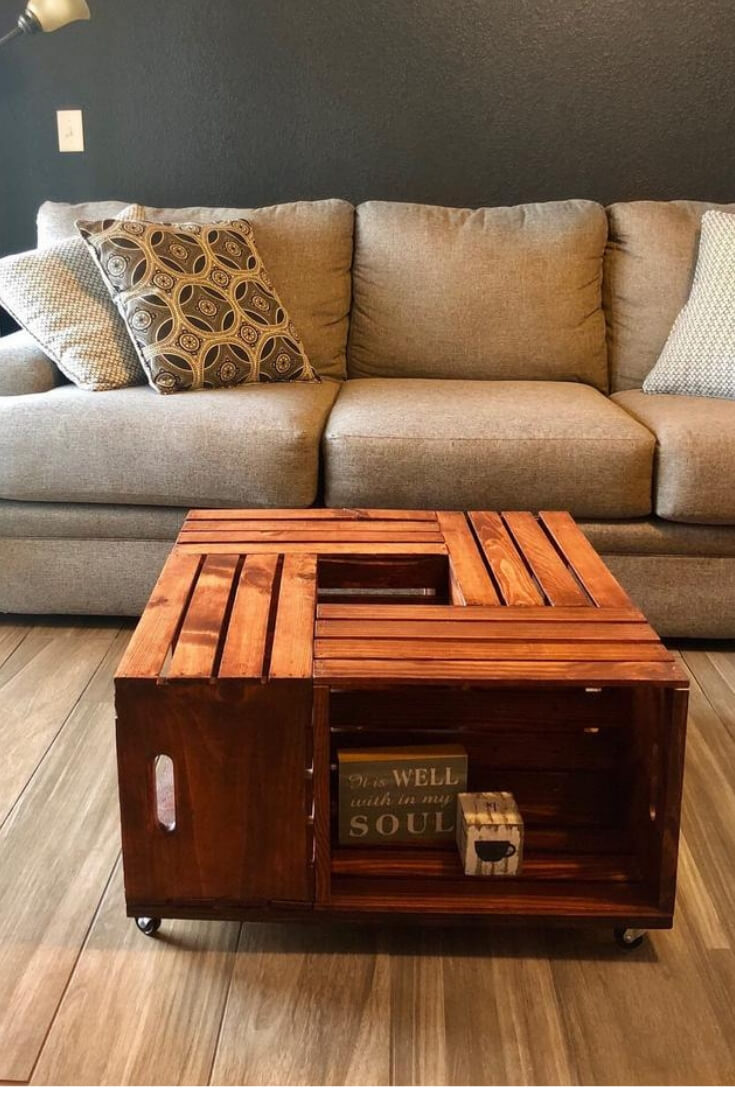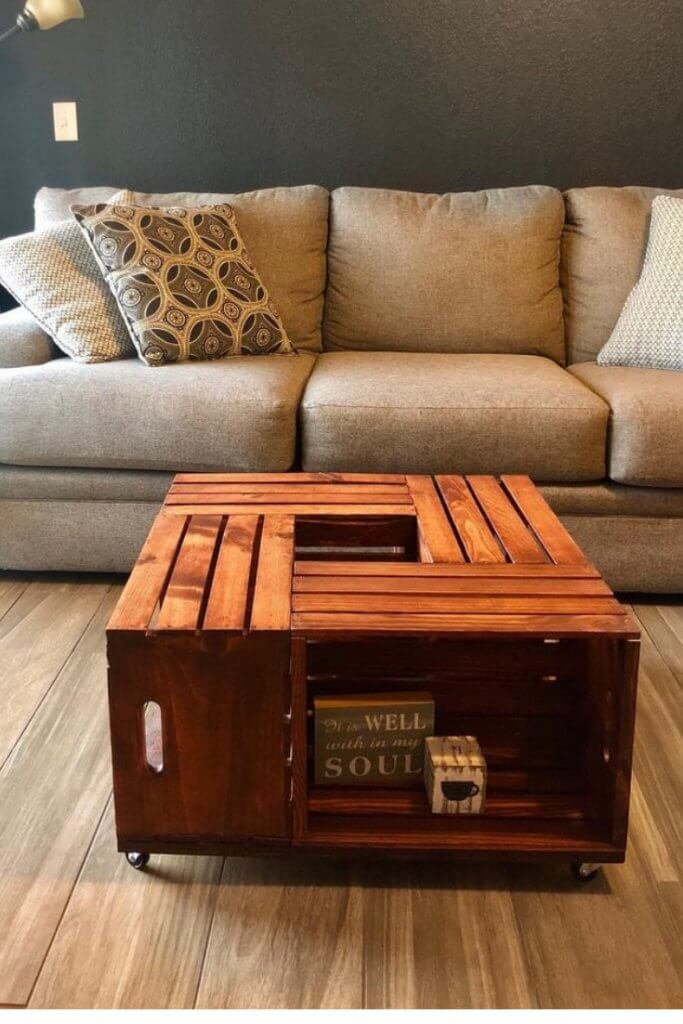 Or get plans to make your own coffee table here.
You can arrange the crates in several different ways depending on what you need for storage and how much room you have.
These will work great for books or special treasures.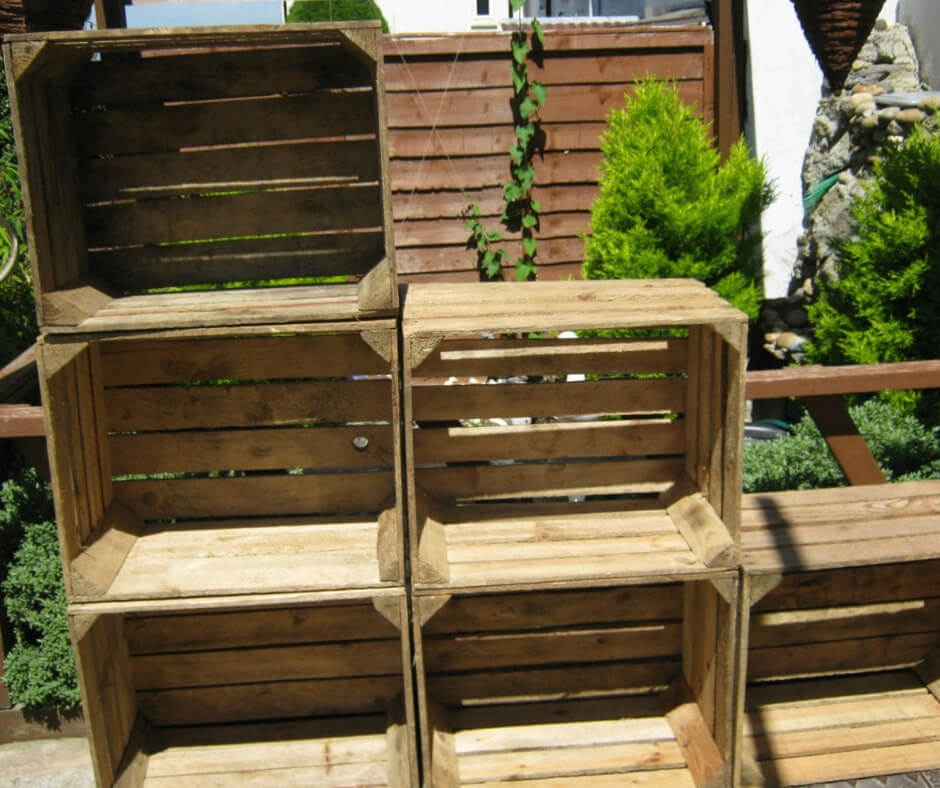 You can make your own furniture with wooden crates. It is a good idea to use a screw gun like this one to attach the crates to each other, the wall or other elements of the furniture you are making. This makes it much easier to take the pieces apart than if you use nails. That way you can easily reuse them in the next home you live in. Another option is to take them apart and use them in the garage if you are done with them in the house.
Where to Find Wooden Crates
You may be able to find free wine crates or apple crates at a winery or orchard. If you are lucky enough to find some crates for free snag them. Free crates are a hot commodity, so you will probably need to buy your wooden crates.
You can get interesting vintage crates here with all kinds of old labels or new wooden crates here or a variety of sizes here.
Living Room Furniture Made with Wooden Crates
3. Wooden Crate T.V. Stand
Stack the crates two or 3 high and put a board across the top. You can use the crates for storage if you put the open side to the back or bookshelves if you face the open side out. This is also a great place to display family photos or collections.
This ottoman also makes a great extra seat when you have guests visits.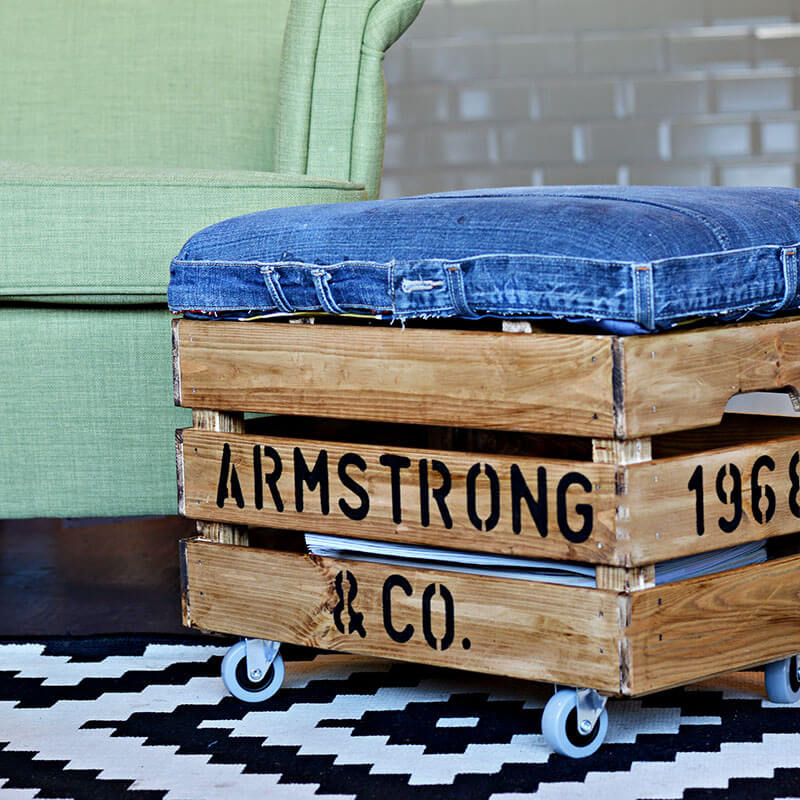 Bedroom Furniture Made with Crates
5. Headboard
For a child's room, you could just screw two or three to the wall above the bed depending on the size of the crates. For a queen bed, you can stack a row of one or two on each side of the bed and then make two rows above the bed.
You can use the crates for storage, collections, books or put decorative baskets in the crates to hide what is inside or give your creation a cleaner look.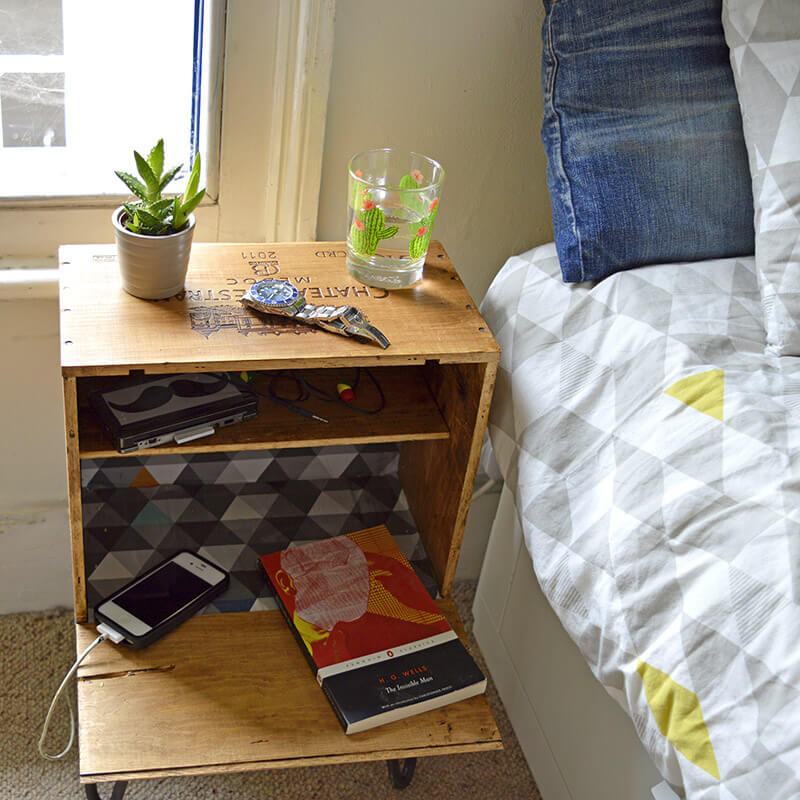 Wine Crate Furniture for Your Home Office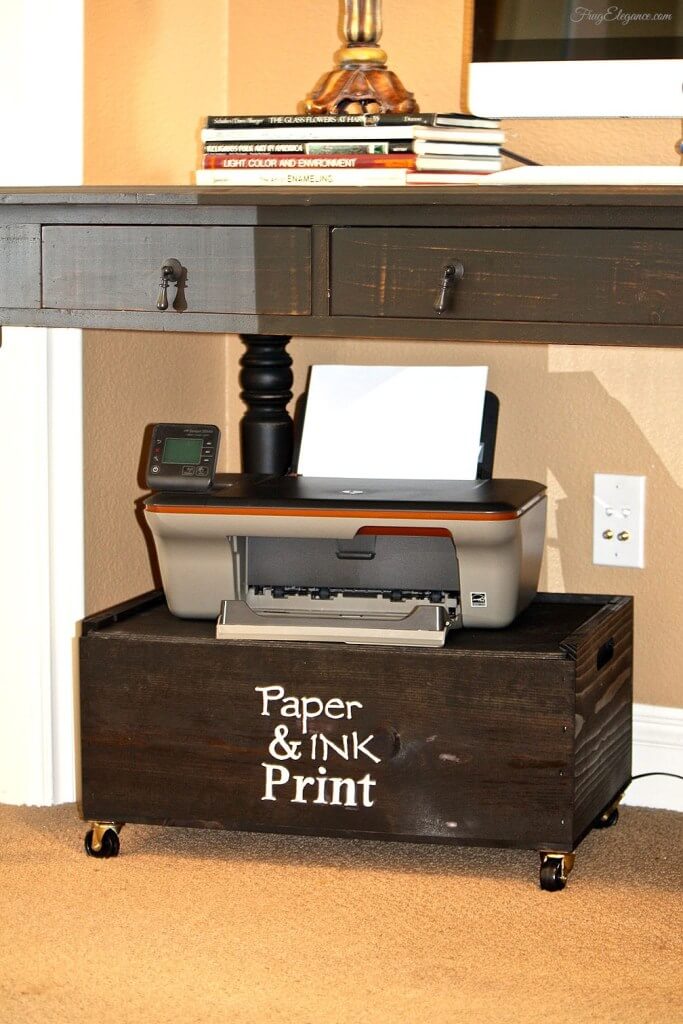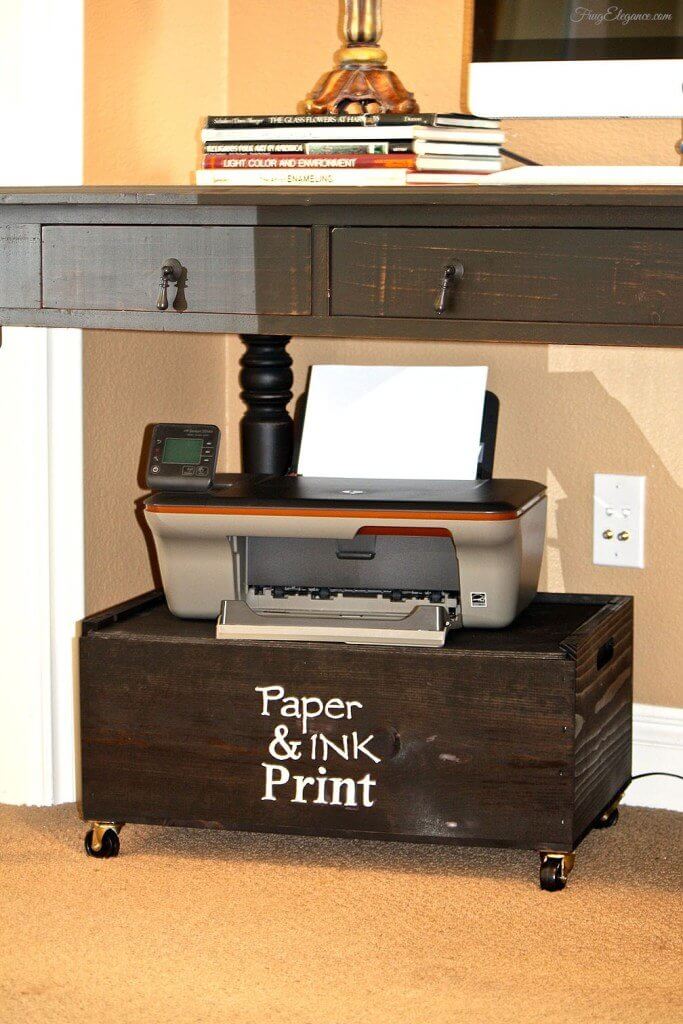 8. Desk
You can make a desk by stacking four crates two on each side of a piece of plywood. A small piece of countertop or an old door would also make a good desktop. The desk can be used in the den, a child's room or the corner of the kitchen for a bill paying station.
9. Free Floating Shelves
To make free floating shelves screw the crates to the wall. You can use these in any room you want a small floating shelf. One by the back door with a basket in it would make a great catch-all for mail and keys. In the living room or bedroom, it would be a nice place to display special photographs.
If you like a shabby chic look vintage wine or apple crates are a perfect material to use. If you are at a place in life where you are renting and will be moving soon wooden crate furniture will make it easy to make your temporary housing feel like home. As bonus crates will make it easier to move when the time comes because your crates will act as durable boxes.
More Decorating Ideas:
How I Decorated My Small Front Porch on a Budget
Easy DIY Planter Ideas for Your Porch, Patio or Deck