How to use journaling prompts for self discovery to build confidence and a life you love.
When you are going through a huge life change like a divorce or becoming a widow your life has turned upside down. You have lost a big part of your identity. You are no longer a wife. You are no longer part of a couple. You are single.
This is true of other major life changes like becoming unemployed, the death of a child or a major illness. Your identity has changed. You no longer have the life you planned. Using these journal prompts for self discovery is a great way to figure out who you are now and develop your plan B.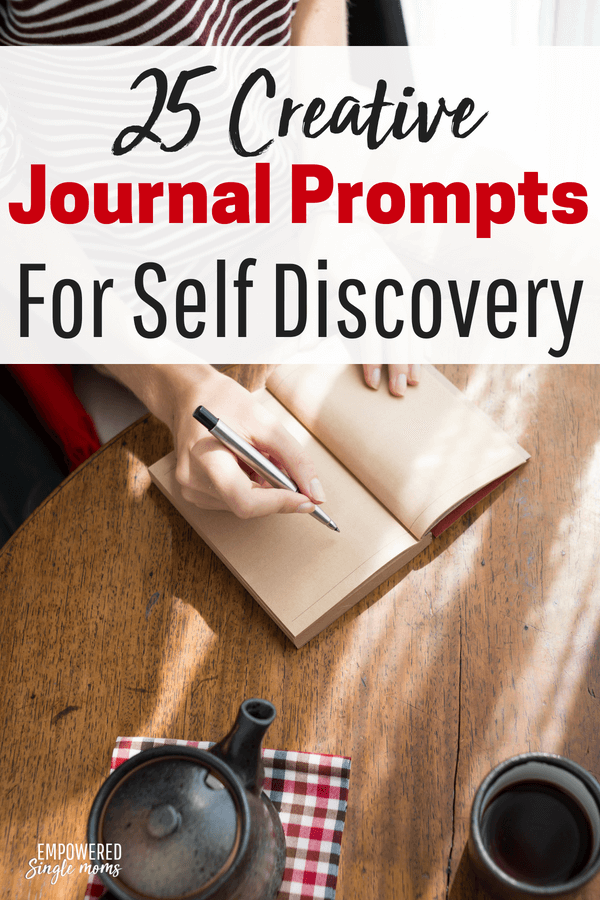 This post may contain affiliate links, if you buy a suggested product I will earn a small commission. We are a participant in the Amazon Services LLC Associates Program, an affiliate advertising program designed to provide a means for us to earn fees by linking to Amazon.com and affiliated sites." Read the full
disclosure policy here
.
Journal Prompts for Self Reflection
The first four written prompts are great for both teens and adults.
1. Write a bucket list of 100 things you want to do in your life.
This is one of my favorite journals prompts for self-discovery. It helps you figure out what you want from life and stop living to please other people. This is a journal prompt for kids, teens, and adults. Take it one step further and use it to make a vision board.
2. If I knew I could not fail this is what I would do:
Often we stop ourselves before we even get started by expecting to fail. Ruth Soukup's Podcast Do It Scared is an inspiration to dream big. Listen to it for added motivation.
3. On my ideal day this is what I would do:
Now reflect on how you can make 1 or 2 small changes to bring your life closer to your ideal day and start doing it.
4. The best piece of advice I have got was__________, because
When you join my email list one of the free gifts in the resource library is a guide to developing your own self-care plan.
5. Write a letter to your 20-year-old self.
You will be amazed at how much wisdom you have to share.
6. Write about a failure and what you learned or how it turned out for the best.
This book gives some of my favorite examples.
7. If I were an animal I would be__________ because:
I like this journal prompt because it gets you out of your logical brain and encourages your creativity. You might be surprised at what you learn about yourself. This is a great journaling prompt for kids too.
8. Reflect on what you have learned from a mentor, parent or grandparent.
Here is an example of what I learned from my maternal grandmother.
9. What are my 3 most important values and how do I live them out.
10. If you have children write a letter for them to read at age 21.
11. Write the eulogy you hope to have.
Related: Thriving Single Mom Journal
Journal Questions
12. What do I want my life to look like in 5 years? In 3 years? In 1 year?
You are in charge of your life. The first step is figuring out the life you want to live.
13. What is the most important goal from the above list and what is the first step to reaching it?
Think tiny baby step here. Every journey starts with the first step.
14. What have I learned from each of the relationships I've had?
You can focus on just romantic relationships, friendships or relationships with family members who you are closest to.
15. What would your ideal partner relationship be like?
16. What is a quality you admire in someone else? How can you develop that quality?
17. Is there something in your life you would like to do over? How would you do it over? Did you learn or grow from this experience? How?
18. If you had to do something else to make a living what would it be?
I made a private Facebook group for single moms where you will have people to celebrate your wins and stand with you as you figure out this new life. It is a place just for you. Please join us in Empowered Single Mom Tribe. You are not alone on this journey of building a new life.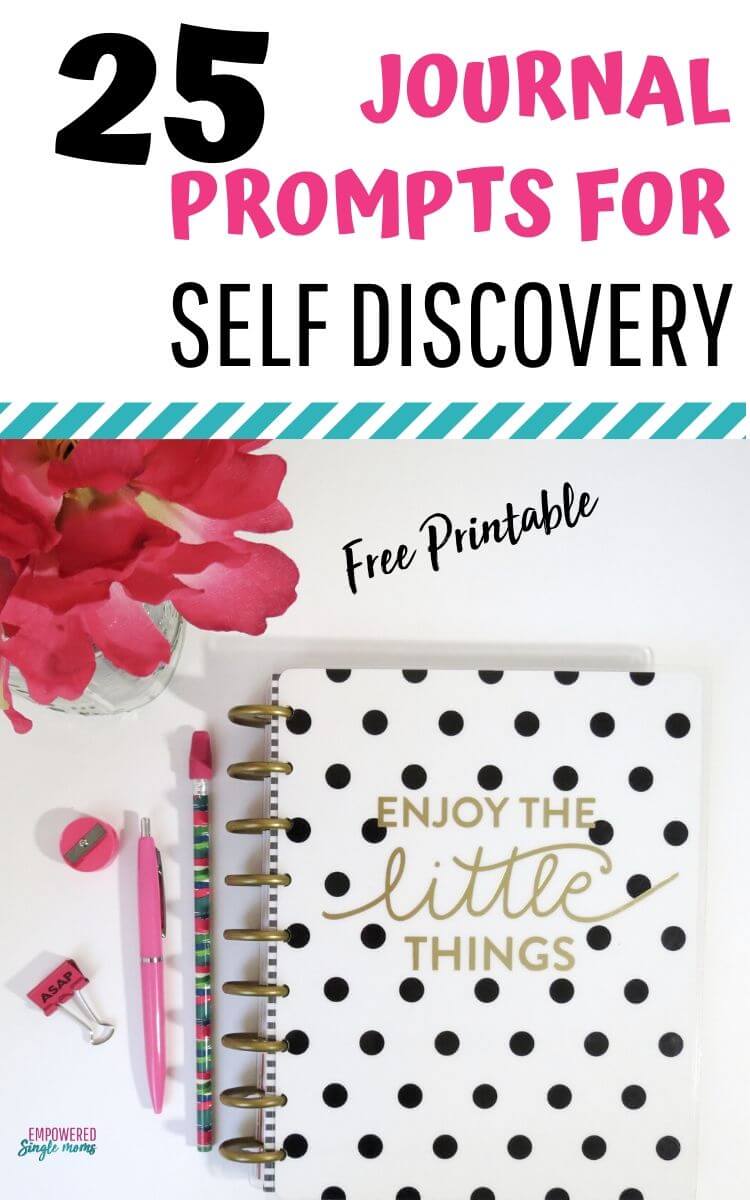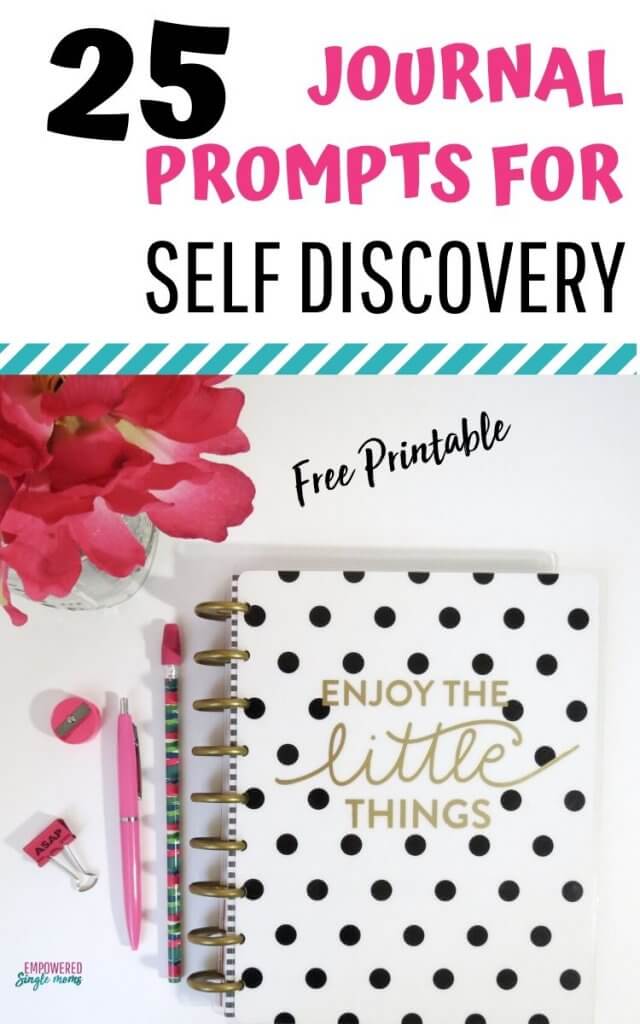 Subscribe to Empowered Single Mom Resource Library and get access to journaling prompts.
Journaling Prompts for Mental Health
Journaling can help you heal, grow and thrive.
Sometimes our negative thinking feeds anxiety or depression. These journal prompts for adults are ways to change your thinking and help you focus on what is going right or what you have control over instead of what is going wrong.
19. What are your unique gifts or talents? How are you meant to use them to improve the world?
20. Write about a decision that changed your life for the better.
21. My greatest strength is_______________an example of how I used it is:
This one might be hard for you to do, but it is worth the effort. If you really want to challenge yourself try to come up with 3-5 strengths and write about each of them.
22. What is a limiting belief I have? Is it a rational belief? How could I change this belief to be more positive or life-giving?
23. Reflect on how you have changed for the better in the past 5 or 10 years.
24. If you wrote a book what would it be about?
25. Write 3 things daily that you are grateful for. After a month reflect on what this says about you. This is an especially good journaling prompt for depression because it helps you focus on the positive instead of the negative.
I put together even more journaling prompts to help you with your mental health here.
Related: 9 Tips You Need to Overcome Depression including a free printable worksheet to develop your own plan to overcome depression.
Try using a different one of these journaling prompts for self-discovery and journaling for 20-30 minutes daily for 3 weeks. You will know yourself better, be a stronger person prepared to redesign your life. You will have a plan to make the most of your 80-100 years on this earth at the end of those 3 weeks using these journaling prompts for self-discovery.
Get more support in your single mom journey in Thriving a Single Mom's Guide to a Happy Positive Life.
Do you want individualized support in your self-discovery process?
I provide coaching services and two great times to get coaching services. Life coaching is a great tool when you are in transition or want to take your life to the next level. More information about Tamara's coaching services here.