Single mom's guide to dreams and goals. How to dream a new dream and make your dreams come true.
I remember when it became obvious that there was no hope of avoiding divorce. One of the most painful things for me was the loss of the dream.
This was an unbelievable disaster. It was so unfair. I wanted and deserved my happily ever after.
And then, just as I was getting used to the idea of being a single mom and managing all of the parenting, child chasing, laundry juggling, cleaning, cooking, and money earning, I was hit by another disaster. I no longer had a job. Terrified seems inadequate to describe the state I was in.
This post may contain affiliate links, if you buy a suggested product I will earn a small commission. We are a participant in the Amazon Services LLC Associates Program, an affiliate advertising program designed to provide a means for us to earn fees by linking to Amazon.com and affiliated sites." Read the full
disclosure policy here
.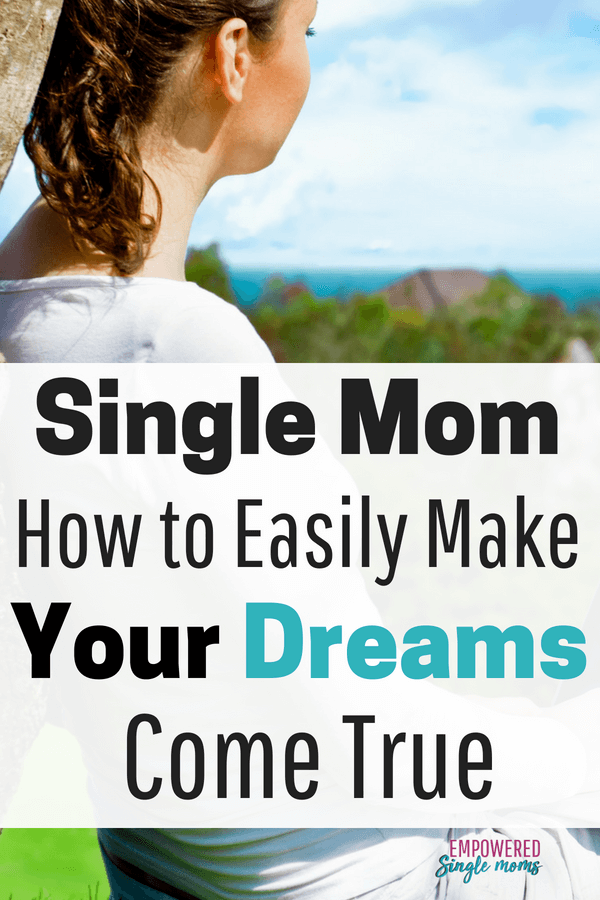 Luckily, I was numb for the first several weeks. Otherwise, I am not sure how I would have made it through. I not only survived this double whammy of unexpected loss and devastation, but I went on to have a much better life than the one I had as a wife.
It All Worked Out
My life now is so much different. The kids are grown, one with a great job and going to graduate school part-time and the other back from a year working overseas and figuring out his next step. Both of my sons have great friends and a wonderful connection with each other, their dad, and me.
As for me, I started a private psychotherapy practice and within one and a half years was making more money and enjoying more flexibility than I had in my agency job.
I love sharing what I have learned with you on my blog. You deserve to have a great life too, and there are tried and true steps to developing a new dream and turning your new dreams into reality.
I developed the Thriving Single Mom Journal and Free 5-day Thriving at Life Challenge to walk you through the process of changing your mindset from loss, lack, and overwhelm to strength and positivity. I invite you to use these tools to devise your plan for a great life.
Difference Between Dreams and Goals
The difference between a dream and a goal is that dreams are merely wishes. We think about our dreams and wish they would come true, but we may not believe it is possible. When we dream without also setting goals, there's little chance that dream will materialize.
Goals, on the other hand, can be achieved but require planning. The more specific the plan, the more likely you are to reach your goal. Break large goals into small steps with deadlines. If you really want to smash your goals, find an accountability partner. Your accountability partner could be a friend, a colleague, or a coach.
Inspiration for Making Your Dreams Come True
Many people have overcome adversity to accomplish great things. You can do great things too. When I hear stories about the Underground Railroad, I am inspired. It took so many people dreaming, and so much courage and hard work. Think of someone you know who has achieved what you want to achieve and use their story as your north star.
A new life takes more than a dream; it takes a plan and a lot of hard work. Sometimes we look at the lives of successful people and think "My life could never be like that." Or we are jealous and think that their life just happened for them as if by magic. I have found that luck (or magic) happens more often when I am working hard.
Before the Dreams and Goals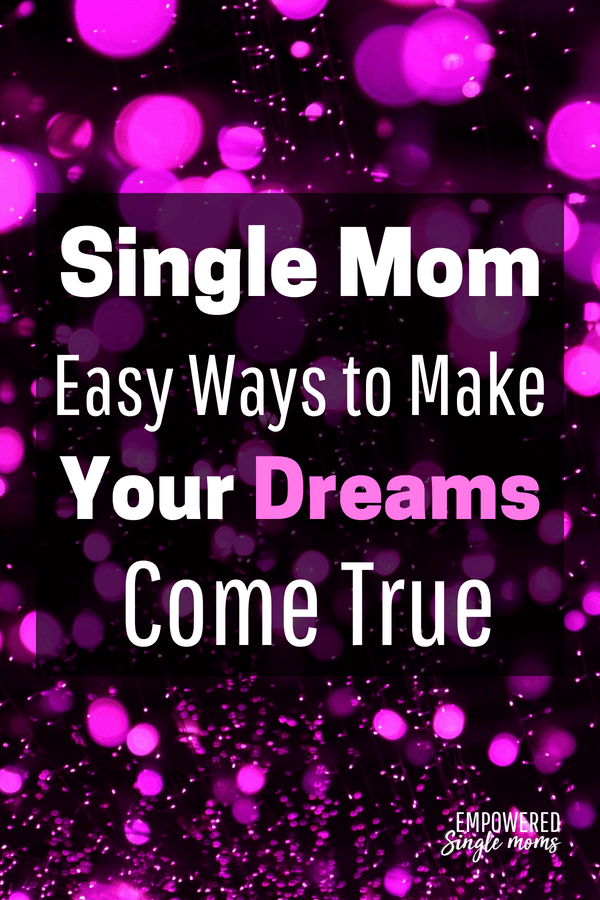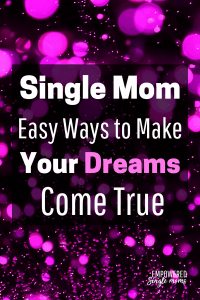 After a loss like a divorce, death, or losing a job, we need to grieve and let go before we are ready to dream again. After letting go of the past dream, we need to believe in ourselves. We need to believe good things can happen for us.
If you are focused on the negative and the lack or loss in your life, it is hard to dream a new dream and turn that dream into reality. The first step to dreaming a new dream is to take stock of your strengths and build on them.
Related: Best Life Planners for Busy Single Moms
How to Set Future Family Goal & Why It's Important
Finding Your Dream
When I was out of work and floundering trying to figure out what to do, I thought about different ways to start earning money to support my family. Now I know working in the IT field is very lucrative. I know that accountants have security. I wanted both security and a good income.
It only took me a nanosecond to decide a job in IT or accounting was not for me, even though both would have provided something I desperately craved. I am not too tech savvy now and at the time I was even less so. My knowledge of computers stopped at typing and turning it off and on again when it stopped working.
I have a moderate aversion to math. Balancing my checkbook is one of the tasks I dread. That is a good indication that being an accountant would be similar to a root canal without novocaine. Instead, I looked at my talents and experience and built my dream on that foundation.
Next Step to Making Your Dreams Come True
To make your dreams come true:
Let go of the past
Have a positive attitude
Take stock of your strengths
Dream big
Turn your dream into a goal
Get an accountability partner to improve your chance of success
I have two tools to support you in turning your dreams into reality.
Buy the Thriving Single Mom Journal and sign up for the free Thriving at Life 5-day Challenge. I will walk you through the process of believing in yourself, dreaming a new dream, turning that dream into a goal, and making that goal reality. I am excited for you to start making your dreams come true.