This post may contain affiliate links, if you buy a suggested product I will earn a small commission. We are a participant in the Amazon Services LLC Associates Program, an affiliate advertising program designed to provide a means for us to earn fees by linking to Amazon.com and affiliated sites." Read the full
disclosure policy here
.
Inside: Gifts for cooks that will make them smile. You will find unique kitchen gadgets, funny gifts for cooks, and my favorite recipe books.
Whether you have a cooking enthusiast on your list or someone who is an inexperienced cook you will find just the right thing here.
I love kitchen gadgets and cookbooks. Reading cookbooks and looking at the recipes is one of my guilty pleasures. I like to page through cookbooks and think about what new recipe I can try. Even though I have a Pinterest board with ideas for fast meals I love the feel of paging through a book and making a note or two on the recipe.
This post may contain affiliate links, if you buy a suggested product I will earn a small commission. We are a participant in the Amazon Services LLC Associates Program, an affiliate advertising program designed to provide a means for us to earn fees by linking to Amazon.com and affiliated sites." Read the full disclosure policy here.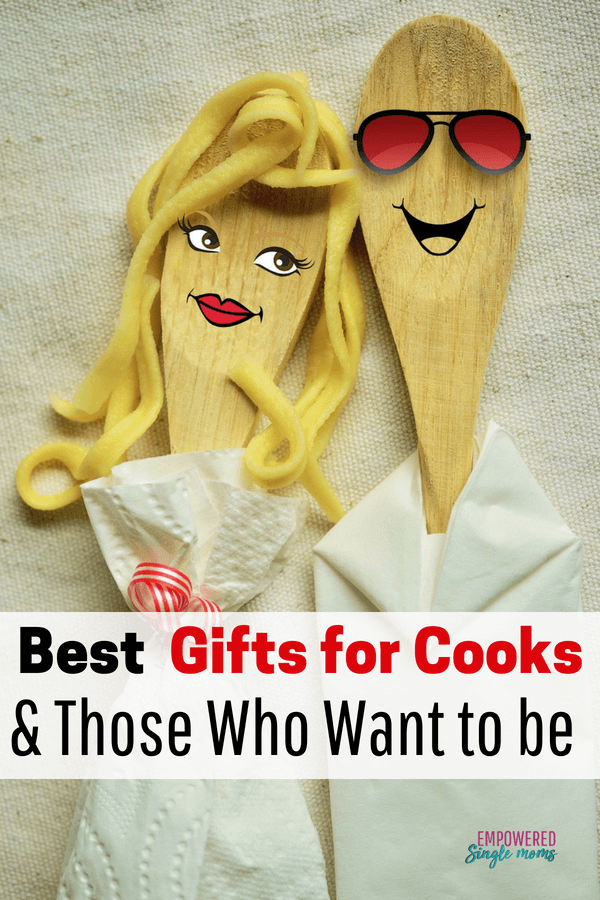 My Favorite Cookbooks
This is my newest cookbook and it is quickly becoming my favorite. The recipes are quick, easy and full of flavor. This is a perfect cookbook choice for the experienced cook or someone who is learning to cook. One of the first recipes I tried was a pasta dish for my vegetarian son. We both loved it and he declared it a date-worthy dish. When I asked what he meant he took a picture of the recipe and said it was "fancy enough" that it would impress a young woman that he was a good cook and be an acceptable alternative to a restaurant meal. It only took a few minutes to prepare, so that made it something he definitely wanted in his repertoire.
My current favorite recipe from this cookbook is a pizza recipe that you can make in about 20 minutes. I've added my own variations to this and it is my current favorite pizza.
The downside to this cookbook is that most of the main dishes have meat, so it is not the best choice for the vegetarians and vegans will find almost nothing they can eat in this cookbook. If you are a meat eater this recipe book is sure to please.
Tiffany King, the author of Eat at Home Tonight also has a fabulous meal planning service, if that is more your style take a look at it here.
I have been using this cookbook for almost 20 years. This is a fantastic cookbook for anyone who wants to eat healthy.  All of the recipes are vegetarian and there are many vegan recipes in this recipe book. Even if you eat meat this is a fantastic cookbook for you.
This cookbook introduced me to roast vegetables, which is my favorite way to fix vegetables. My favorite recipe from this cookbook is a macaroni and cheese recipe that you don't need to boil the macaroni. I usually add vegetables to boost the health benefits.
I have the original How to Cook Everything cookbook and it is my go-to cookbook when I know what I want to make and I need a recipe. I would buy the 10th anniversary edition if I didn't already have the original. Bittman has several other cookbooks so if you want something more specialized check out his other cookbooks. His recipes taste great and are easy to follow.
I love fruit flavored vinegar and olive oil to make a salad dressing for a salad with fruit and greens. It is also excellent over vanilla ice cream or drizzled over chicken breasts.
Funny Gifts for Cooks
Tools for Cooks
An Instant Pot was my Christmas present to me last year. I decided to buy it when I was at a friend's house and she had 2. If you decided to get an Instant Pot as a gift or for yourself here is a free resource to get you started. Instant pots are great for anyone who needs to get a meal on the table fast and sometimes forgets to plan ahead.
I don't have an air fryer, but my sister tells me they are fantastic and she uses hers all the time. If I had one I would love to try this recipe for parmesan chicken tenders, Greek stuffed chicken breasts or Chick-fil-A copycat recipe.
A ninja blender is totally different than a regular blender. If you like green smoothies or making your own hummus a ninja blender makes all the difference. Before I got my ninja my green smoothies were like eating chopped grass, but the ninja pulverizes the greens and makes the smoothy a beverage instead of a salad in a glass. It is my second favorite kitchen appliance.  Look here to see my favorite kitchen appliance.
An immersion blender is fantastic for pureeing soup or making gravy and cleans up in a snap. My cousin who is a professional chef says he wanted one since the first time he saw my mom use one and now he has several. When you use it you can make a smooth sauce easily.
You use silicone sheets in place of parchment paper. I don't have any, but I was having dinner at a friend's house the other day and she had some. They are on my Christmas list now.
A wood spatula may seem an odd gift, but I had my eye on one for a long time. They  look pretty, but I wondered how functional they were until I got one. The one I have was a gift from a man I dated briefly. He is a woodworker and made one for me. It is beautiful and it is my go to spatula. It was a much more unique gift for a cook than flowers.

The one I have is a simple hand-held tool, but this one looks much better and more versatile. If you are looking to cut down on carbs this tool is perfect.
I love my grill pan. It makes grilling vegetables so much faster and easier. This one is similar to the one I have had for a few years. It makes grilling vegetables a snap, much faster than having them on the grill separately or on kabab sticks.
Other gift guides:
Unique Gifts for Men Who Have Everything
Gifts for Creative People and Those Who Want to Be
Frugal Gifts People Actually Want to Receive
Gifts for Single Moms That Will Make Her Life Easier
Fun Secret Santa Gifts for Co-Workers