Do you need help Finding unique gifts for men who have everything? Look no further. Here are the best gifts for guys when you need a Christmas, birthday or Father's Day gift.
Whether it is my dad, brother, partner, coworker or adult son I think it is hard to think of cool gifts for guys.  It seems like if they want something they buy it. Or if it is something for their hobby they have it already.
In the rare case when a man in my life wants something for his hobby I usually need major help. I not only need him to tell me what he wants; I need a picture.  I need to show the guy at the sporting goods store what it is so I don't come home with walleye lures for the muskie fisherman or the wrong kind of saw. Who knew there could be so many different kinds of saws. It is okay to take a picture of the wanted gift to the store, but not very surprising to the receiver.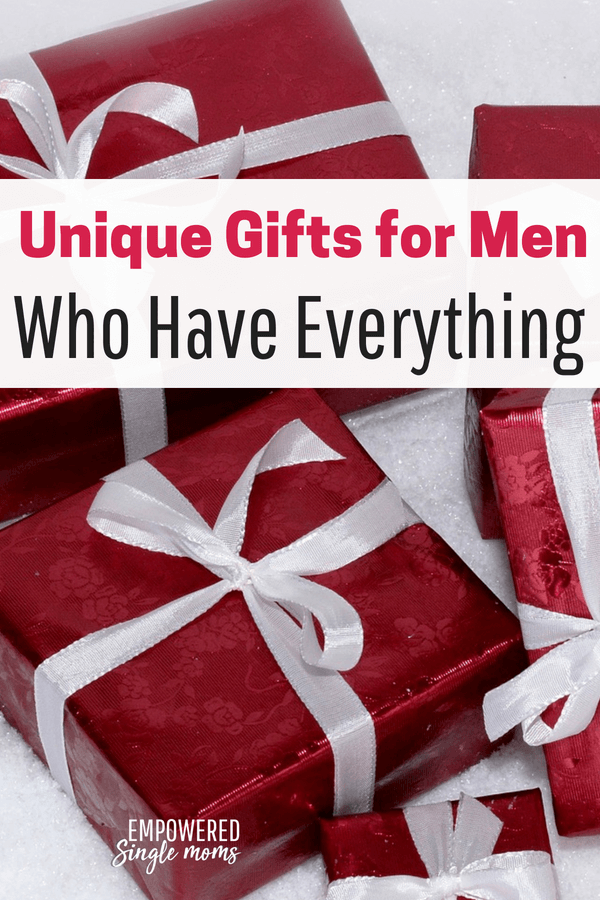 In an attempt to help you out I told the men in my family I wanted some help with gift ideas to share with you for the men in your life.
It should have been an easy question right? Not so much, the original answers went something like this, no response at all, "it has to fit the man you can't just say a gift is for any man."  "Have him make a list and pick something."
Not very helpful. Ok, all that did was confirm why men are hard to buy for.
After more conversation and asking some male friends, I got a little more help. "Something for hunting, fishing or golf that covers any man I know." However, I must warn you 3 of the men I asked are not into hunting, fishing or golf, so sometimes that works sometimes not.  Two who are into hunting & fishing have every conceivable accessory made for hunting & fishing, except for possibly a new boat and another gun. Not that I think either is necessary and both are way out of my budget, but what can I say.
Finally, the most helpful advice "Men love gadgets. Gadgets for the bathroom & kitchen are a no-brainer for a single guy." Once we got the conversation started the guys were much more helpful. Without further ado here is the list we came up with for you:
This post contains affiliate links, which means that if you buy a suggested product I will earn a small commission. Read the full disclosure policy here.
Cool Gifts for Sports Fan
Tickets for a sporting event when his favorite team is playing, bonus points if they are playing their arch rival
The jersey of his favorite player, like this one to make it special be sure it is his favorite player
Lounge pants themed with his favorite team
Socks themed for his favorite team
Team hat baseball or stocking hat like this one or these:
Gadgets for Guys in the Bathroom
I must admit my first thought when this was suggested was, "Huh? What are you talking about bathroom gadgets, but I did some searching and I found some fun gift idea for the men on your list. These are perfect for the men who have everything because no one really needs them, but they are unique gifts for guys who have everything. I bet he'll love these gadgets.
Lights
Probably only if he is single. I doubt the woman in his life would appreciate this. This is definitely a gadget for a guy who has everything.
More Bathroom Gadgets for Guys
Who knew you could find so many gadgets for a bathroom.
You Can't Go Wrong When a Gift for a Man is a Tool
Is there a tool he wants, some kind of special saw or something for a project he is planning. That would be a unique gift for your special man. Most men have a favorite brand of tool, so pay attention to that too. You may have to get specific directions from him on this one unless he has a buddy who can help you out.
I put multi-purpose credit card tools in my college son's stockings one year and one son proudly told me he had used it 3 times the first week. I couldn't find the one I bought, but it was like this one.
More fun gadgets for guys who have everything
  Coupons Gifts for Guys You Can't Buy
Make his favorite dessert
Cook his favorite meal
A day with no chores
Kitchen Gadgets for Guys
Ninja Blender, it is head and shoulders above other blenders, perfect for smoothies, homemade hummus, and salsa. This is a great gift for a single guy, who doesn't have a well-stocked kitchen.
Smaller kitchen gadgets
Chopper
3. Meat Thermometer, great for grilling
4.  Meal Planning Service
This a great choice for a single guy or a guy who wants to learn to cook. Try this one or make grocery shopping a breeze with this.
More Fun Gifts for Men Who Have Everything
Tickets to a play or concert
Nonsports related lounge pants are a tradition in our family
A favorite top-shelf liquor or craft beer, depending on his preference
Does he collect anything, add to his collection
Accessories for his hobbies, you'll probably have to ask him or a buddy who does the hobby with him, if he hasn't dropped a hint.
For a hunter or fisherman, these socks are extra warm and he probably won't think of them himself.
For the dad or grandad take a picture of the kids or grandkids decked out in something that connects with him. Is he into motorcycles? Dress them up in biker gear. Is he a hunter take a picture of the kids in camo with a couple of his guns. I know it isn't the family photo the ladies might choose, but it is a gift.
 Books like this one that is on the list of one of the men in my life.
Gift cards make great stocking stuffers
Audible is also a great way to give books, Try Audible and Get Two Free Audiobooks
Office accessories like these
Unique Gift for Him to Make Life Easier
House Cleaning or Handyman Services
Do these things yourself or pay for this service to do it for you.
Maybe guys are easier than I thought. Try some of these ideas and let me know what the man in your life thinks. I'd love to hear about it.
If you need to mail some gifts try Amazon Prime and shipping is free in the United States.
If you are still making your list of ideas, pin this for later here.
Related Posts:
11 Gifts to Delight Your College Student
Frugal Gifts People Actually Want to Receive
Over 37 Gifts for Creative People
Gifts for Single Moms to Make Life Better and Easier
Fun Secret Santa Gifts for Coworkers