Your 60th birthday is a big milestone for any woman. Even if you don't usually get your mom birthday gifts this may be one of the years to make the effort and remember her on her birthday.
By the time a woman is 60 she probably has all the stuff she wants or needs. For sure skip the vintage 1960 Tshirts, signs and wine glasses. It is a rare woman who is going to want to be reminded of how old she is.
She knows she is 60, but she probably feels more like 40 and a part of her would like everyone else to think of her that way too, so don't give her all kinds of kvetch with 60 or the year of her birth on it.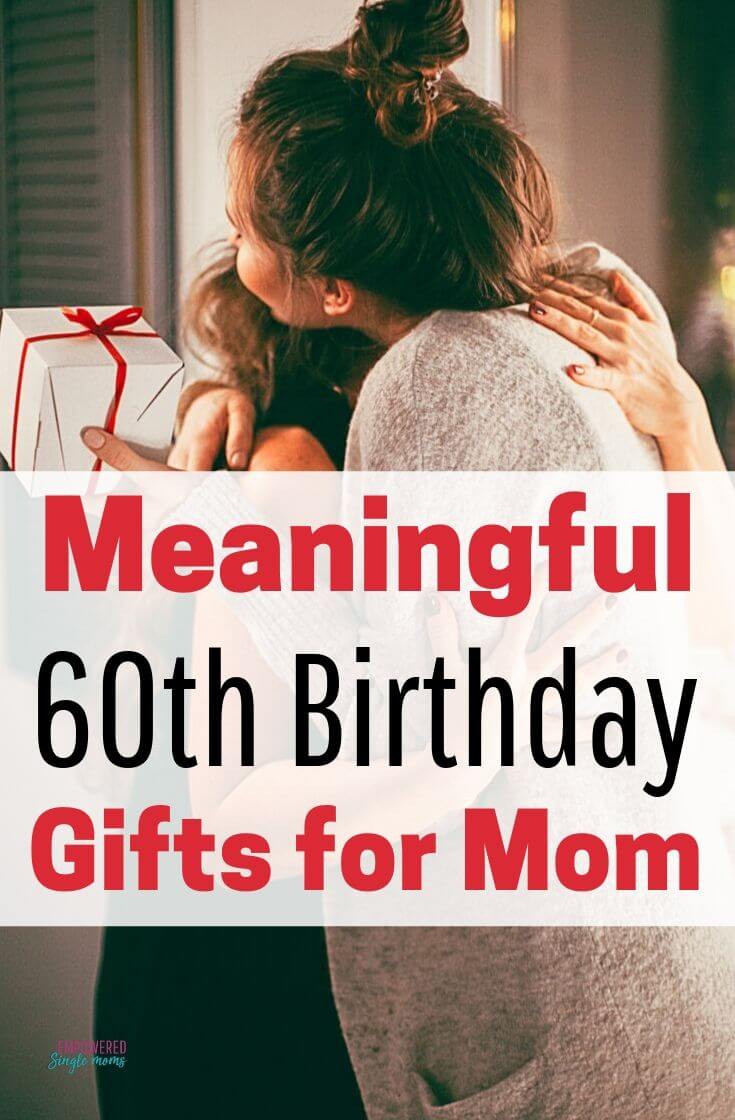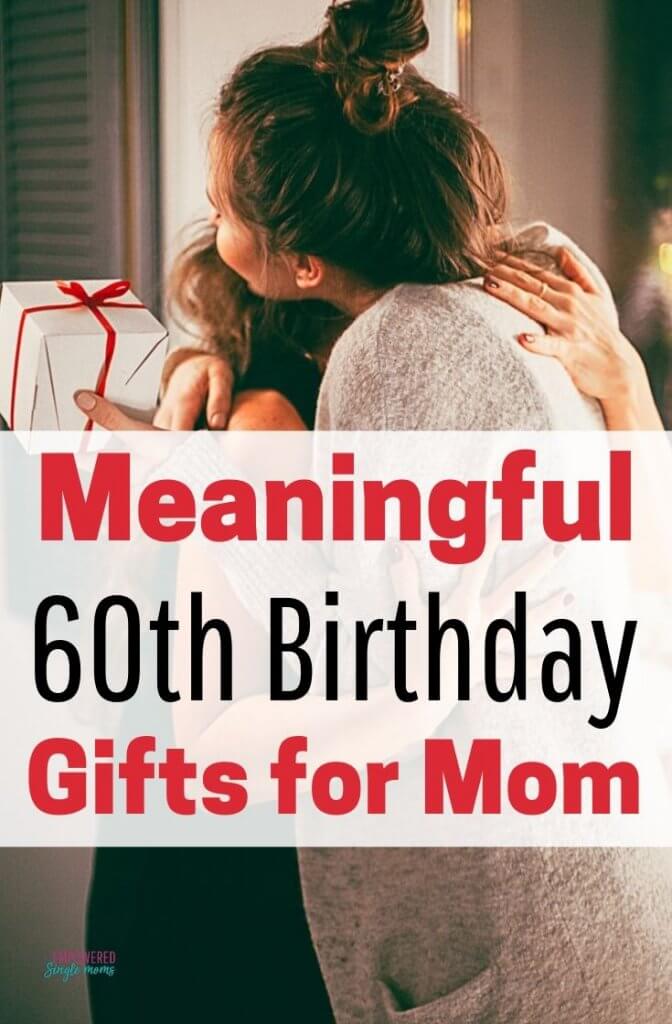 This post may contain affiliate links, if you buy a suggested product I will earn a small commission. We are a participant in the Amazon Services LLC Associates Program, an affiliate advertising program designed to provide a means for us to earn fees by linking to Amazon.com and affiliated sites." Read the full
disclosure policy here
.
If you live close to your mom deliver the flowers in person. When you live far away and won't be seeing her on her birthday have them delivered to her office. If she is taking her birthday off deliver them a day or two early. She will get to enjoy them all day and brag about what a thoughtful, considered kid she has, which will be as much of a gift to her as the actual flowers.
This is probably one of my favorite ideas on this list.
As a 60 year old she knows she isn't young, but she doesn't want to look dowdy. She would probably love some tips on how to look stylish while still dressing her age because after all, she isn't 30 or 40 anymore. In my opinion, legging never look good as pants. Nobody wants that kind of a rearview. By age 60 leggings look ridiculous as pants even if she is in tip-top shape, but if you've ever been to Target where I live some ladies haven't gotten the memo.
Do your 60 year old mother or friend a favor and get her a consult with a personal stylist so she can look her stylish self at the age she is.
I love my stylist. She chooses trendy clothes that fit for my casual business work setting and I don't look like I am trying to be 20 years younger than I actually am. Sign up to try the service here.
Experience Gifts for Her 60th Birthday
By the time she is 60, she values experiences a lot more than things. There are so many options from huge trips to small local experiences. One of us celebrated her 60th year when we did a sister's trip to New York City. My sister-in-law hiked the Camino Santiago trail for her 60th birthday. Another friend's husband had always wanted to hike the Inca trail to Machu Picchu she agreed to do it with him for his 60th birthday.
Experiences that last a few hours are a wonderful gift to give your mom for her milestone birthday. Sharing your time with her to have the experience together is what will really be meaningful.
Tickets to a Play, Concert, Sporting Event, or Festival
What your mom probably values more than anything is quality time with you. Get her tickets to something she would like to do and go with her to the event.
She probably has a favorite massage therapist and a gift certificate for a massage would be lovely. Pick her up after the massage and take her to lunch or dinner and you will definitely hit a home run with the gift.
Manicure, Pedicure Gift Certificate
Get her a gift certificate for a manicure and or pedicure and go with her to have one yourself. It is a great opportunity for you to both get some pampering and visit.
What is a good 60th Birthday gift for a woman?
Several of my friends are raving about this wine club and I'm looking forward to trying it.
Because at 60 she finally has time to read again.
Gifts to Support Her Adventure
A couple of my friends have traditions that on someone's 60th birthday the siblings get together for a few days at the place of the birthday person's choosing. I love this idea.
If she is planning an adventure for her 60th birthday think about something that would be helpful or add to the trip? For a hiking trip moleskin is a great way to avoid blisters, shows your thoughtfulness and something she may not have thought about getting for herself. A hydration backpack is another great option if mom is planning a hiking or biking experience to celebrate being 60 years young.
If she doesn't have a nice camera go in with your siblings and get her one to take with her for her epic adventure.
Crossbody Bag
One of my nieces had this crossbody bag which was the perfect bag for a city adventure. Shortly after we got back I had lunch with a friend in her 60s and she was using this very bag as a purse. The bag holds way more than I thought. My niece had her money, phone, light jacket and umbrella in her bag and there was plenty of room. This bag comes in so many different colors you are sure to find one to fit your mom's personality.

Books to Plan Her Next Adventure
Now that she is 60 she probably has more time and flexibility to travel and have experiences, so getting her a book to armchair travel or plan her next trip is a thoughtful gift.
60 Things to Do When You Turn 60 is a fun and thought-provoking book for anyone in their 60s,
Mom will love pictures of her kids and grandkids. You can share pictures and videos from your phone to her frame. It is the perfect way to share pictures with your mom.

Fun Cup
She used to think of 60 as old, but she probably doesn't feel old, at least not most days. Here is a cup that probably expresses how she feels. Get it for her and let her know you agree.
What Do You Write in a 60th Birthday Card for Mom?
Share a special memory you have of her. Tell her how much you love her and the things you do that make you think of her and appreciate her. One of the times I always think of my mom is when I make homemade bread. I remember her buying flour in 25-pound bags. I loved baking day because that meant bachelor bread for lunch and homemade cinnamon rolls for afternoon coffee time. Share your special memory of your mom with her in her card, she will cherish it for years.
Memory Shower
Send out a request to her friends and family and ask them to all write down a special memory of your mom. Present her with the bundle of memories to go through in the weeks to come. We share stories of people as we remember their life at funerals, but how much more special to let the person hear the impact she has made on other's lives.
Personalized art is a fun tribute for a special event like a birthday, anniversary or retirement.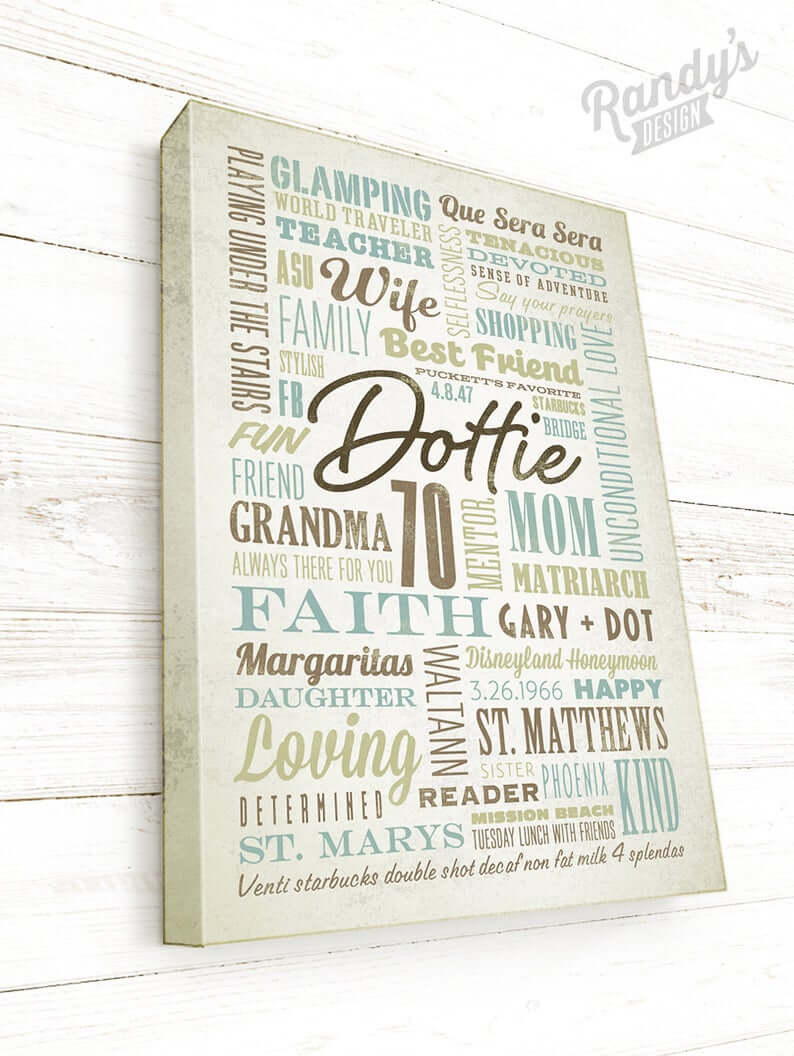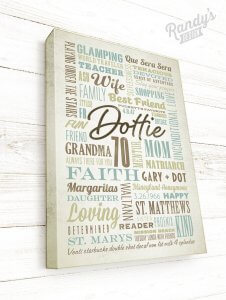 Get this birthday card as a way to look back on how much the world has changed since she was born. It is a fun way to reminisce.

Decorations for Her Party
If you are having a party to celebrate Mom's birthday a photo booth is a fun idea, so you will have lots of pictures of her with the family for her to remember the day. Paper plates and napkins will make clean up easy on everyone. The real purpose of the day is to be together to celebrate her.
Make your mom's 60th Birthday special by giving her a day to remember. Whether you have a party and invite her friends and family or do something special to commemorate the day with just the two of you there are so many ways to make the day memorable for her and let her know you love and care about her.
More Gift Guides
Best 50th Birthday Gift Ideas for Women Who Have Everything
Gift Ideas for Kids Who Have Too Many Toys
Unique Gifts Ideas for Men Who Have Everything