We took cousin and sister's trips when our kids were elementary, middle school and high school age.
Our families were spread over 4 states so one of the ways we stayed connected and gave the cousins the chance to get to know each other was to go on sister's trip and bring the kids.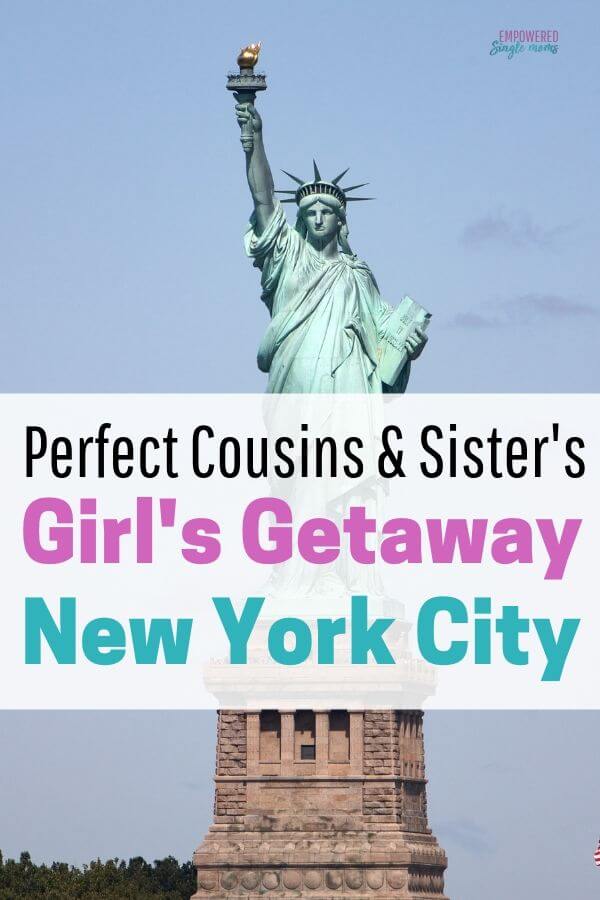 This post may contain affiliate links, if you buy a suggested product I will earn a small commission. We are a participant in the Amazon Services LLC Associates Program, an affiliate advertising program designed to provide a means for us to earn fees by linking to Amazon.com and affiliated sites." Read the full
disclosure policy here
.
The sisters would meet somewhere for a long weekend with our kids and include my brother's daughter. It was a kids and women's trip no dads/husbands.
The trips were all about kids activities amusement parks, swimming in hotel pools and other kid-friendly fun. It was fun, but exhausting wrangling 6-8 kids. Early on we decided going out to restaurants was not the best eating option.
Related: How to Afford Travel as a Single Mom
Girl's Getaway to New York City
The girls have grown up and this year we decided to take a girls' getaway to New York City. We chose New York city because one of my nieces lives there and agreed to be our tour guide. She preordered tickets, planned out when we would go where to maximize our time and made sure everyone got on and off the subway at the right stops.
We had an amazing time. It was so great to be wrangled instead of the wrangler. This time we left our sons home and it was a girls trip.
Local's tip: We stayed in Brooklyn a car service from the airport was cheaper than a taxi or Uber. Uber is a good price if you are staying near Central Park.
Get my list of what to be sure to pack here.
Day 1 New York City Getaway
Everyone arrived and we checked in to our Airbnb. Our Airbnb was a beautiful New York City brownstone. This was my first stay in an Airbnb and it was so much nicer than a hotel.
Once everyone got to our home for the long weekend we explored my niece's Brooklyn neighborhood. We walked the Brooklyn Bridge and had New York pizza.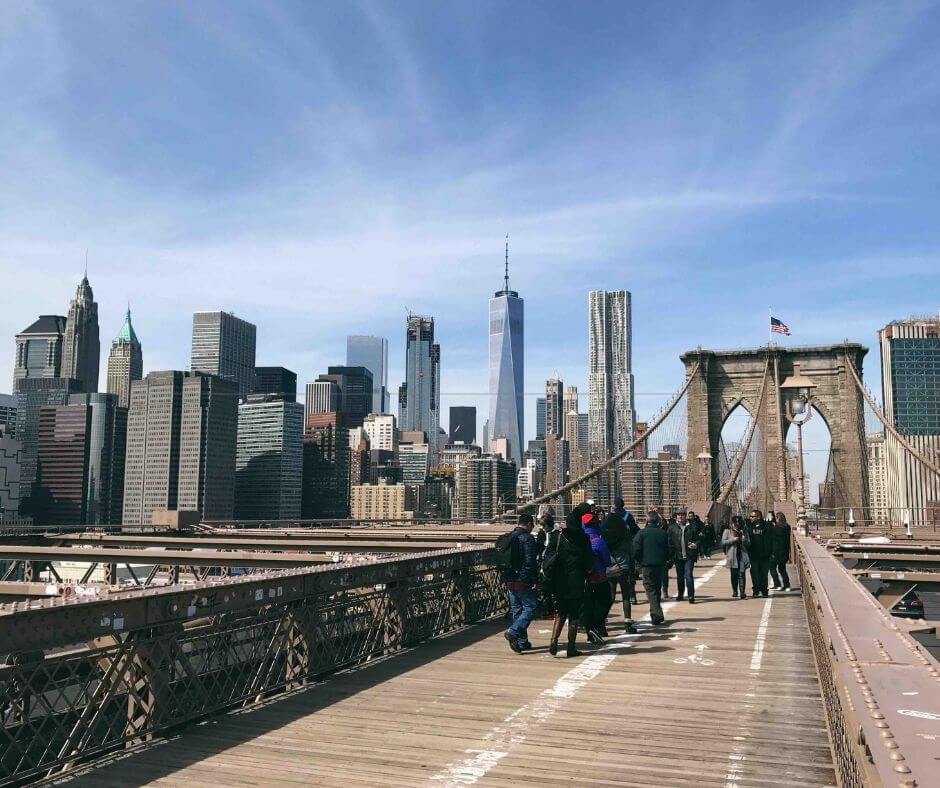 Local's tip: We stayed in Brooklyn a car service from the airport was cheaper than a taxi or Uber. Uber is a good price if you are staying near Central Park.
Day 2 Sisters' Getaway New York City
We started the day with bagels and cream cheese from a local bagel shop. My choice lox and cream cheese of course.
Our first out of the day was a free trip on the Stanton Island Ferry where we were able to get a wonderful view of the skyline and Statue of Liberty.
Lunch was street food on Wall Street. Some of the group did a little shopping. I spent my shopping time window shopping at the original Tiffanys. It is beautiful and elegant.
Next up was the 9/11 Memorial. This was emotional for all of us. There were pictures, film clips and items from that horrible day.
We ended the day by ordering in and eating at the Airbnb. It was fun to have the time to just relax and catch up.
Day 3 Cousin & Sisters' Trip New York City
Lunch at Smorgusburg. Smorgusburg is a group of food trucks that park different places on Friday, Saturday and Sunday.
I choose a Brazilin dish, which was good, but my sisters had lobster rolls and I think they were the best choice. One of my nieces had chicken strips, another cajun shrimp, another a huge donut. I had maple lemonade which was fabulous.
Next on the agenda 3 of us went to Harry Potter and the Cursed Child. The play is in 2 parts. We went to the first play at 2:00. After the first play, we all went to dinner at Juniors where the star of the show was the cheesecake.
The second play started at 7:30. The Harry Potter plays were amazing. The set was gorgeous. The special effects were magical. The acting was unbelievable.
The other part of the group spend the afternoon at the New York Botanical Gardens, met us for dinner and the went to the play, Mean Girls.
Day 4 Girls Trip New York City
We had breakfast at Carlo's Bakery. I had never heard of this place, but this was one of the nieces top choice. It is a restaurant of the Cake Boss. I had a chocolate cannoli and it was amazing. One of the best things about traveling with a group is that you get to try things you would never think of on your own.
We stopped at the New York Public Library which has some gorgeous paintings. The architecture is beautiful. There is also a small gift store. Be sure to allow a little time to shop, because the items are interesting and it was probably my favorite gift store.
Then on to Rockefeller center and get a view of the city from Top of the Rock. On to Metropolitan Museum of Art, MET.
Day 5 Girls Getaway New York City
We started the day with a carriage ride around Central Park. It was amazing to see all the green space in the middle of the city.
Museum of Modern Art (MOMA) was one of the highlights for me. My favorite painting Van Gogh's Starry Night is there and it was even more amazing to see the original. The most surprising was the Jackson Pollock paintings. The pictures look like nothing but scribbles, but the originals are inspiring and striking. There are also amazing Cezannes and Picassos.
Then we went back to my niece's to pick up our bags and off to the airport.
A girl's trip is a great way to connect with family or friends. No one needed to cook or clean their house before or after everyone arrived. We saw the sights made wonderful memories and reconnected.