Is your friend, sister, mother or wife turning 50? These are 50th birthday gifts for women that will make you her hero.
Let's face it by the time a woman is 50 if she wants something she either has it or can go buy it. But all women like gifts. Gifts tell us someone is thinking about us. They tell us we are special, cared about and loved. So even though a 50 year old woman doesn't need things she loves getting something.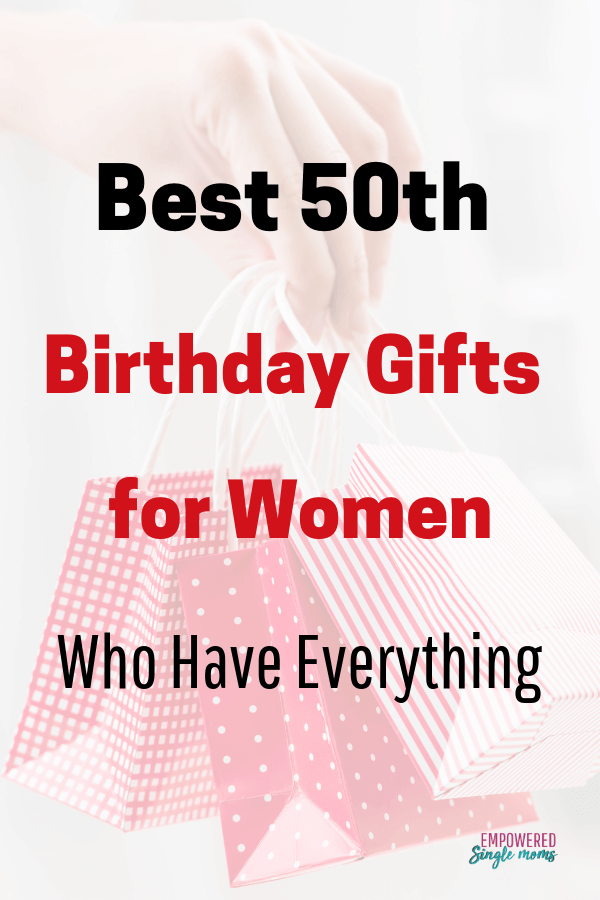 50th Birthday Gifts for Woman to Forget About
First of all what not to get. I would skip the Tshirts like this one that broadcasts a woman's age or the corny wine glasses that say what year she was born. Also, skip the silly books like this. These things are the classic 50 year old gift, but not really appreciated and will probably end up at the thrift store or be regifted.
This post may contain affiliate links, if you buy a suggested product I will earn a small commission. We are a participant in the Amazon Services LLC Associates Program, an affiliate advertising program designed to provide a means for us to earn fees by linking to Amazon.com and affiliated sites." Read the full
disclosure policy here
.
Even though a woman is 50 she probably feels 30 or 35. The last thing she wants is to be reminded that she is getting old.
Gifts to Maker Her Feel Pampered
1. Gift Certificate for a Massage
Does she have a favorite massage therapist? Be sure to get the gift certificate from that massage therapist.
Or a foot massage machine like this one

2. Tickets to a Play or Concert
Can you find a concert one of her favorite bands is giving? How about a play? You could go all out fly to New York City and get Broadway tickets or get tickets to the local community theater play depending on your budget.
3. Fun or Pretty Stemless Wine Glasses
She probably has regular wine glasses, but does she have a special set of stemless wine glasses? The ones in the middle are great for a woman with smaller hands. There are all kinds of fun sayings etched in wine glasses or get something really pretty like the stained glass inspired wine glasses.
From one-time single bottle wine gifts to massive full-case wine subscriptions, presents for all budgets. Browse through wine delivery gifts. Several friends are raving about this wine club.


Sometimes it's hard to hit the balance of looking like you have style, but are not trying to look 20 years younger than you actually are. A personal stylist can help with that and it also saves her a ton of time searching through store after store finding nothing she likes.
50th Birthday Gifts for Readers
If you know there is a book she is wanting to read by all means get it. Here is one of my favorite inspiring books for quick stories about inspiring people. I am listening to this one now. If you need more ideas for books I put togehter a list of the 10 Best Self Help Books for Women
6. Books
If she is a reader and you don't know what she might want her are some other fun book ideas:
Suggest she downloads the free Amazon.com – Read eBooks using the FREE Kindle Reading App on Most Device
For something fun and educational try 50 Things to Do When You Turn 50 or 1969 the Year that Changed Everything.

Listening to books is a great option if she commutes to work or wants to work out, but has trouble with staying motivated. Both commuting and working out are more pleasant while listening to a good book.
I even find listening to a good book helps me stay motivated to clean house one of my least favorite chores.
With a subscription to Audible, she can pick out her own books.
Funny 50th Birthday Gifts
Cozy Gifts
I have these and they are my favorite slippers ever. I actually wore out my first pair. I hate having cold feet and these keep my feet nice and warm.
9. Sleep Shirt
10. Robe

50th Birthday Party Gifts for Women
11. Travel
Depending on your budget it could be a night in a nearby town, a weekend getaway or splurge on a trip of a lifetime. If you have a small budget give her a book to inspire her travel bucket list.
If she is a grandma she will love a picture of the grandkids and it will mean even more if it is a picture of her with them. Another great idea would be a special photo from a trip she has been on.
She will love displaying pictures of her adventures, kids or grandkids. She can share pictures and videos from her phone to her frame. It is the perfect way to share the highlight reel of her life.

14. Bath Bombs
Make your own or buy them here.

This subscription box is a fun gift for a woman who likes to garden. The boxes are fun, creative and include everything you need for your next garden project.
50th Birthday Gag Gift Ideas for Women
Honestly, I am not big on gag gifts, but some people love to give them so I'll include a few. Skip the adult diaper cake. You might think it is cute but it is really a waste that will just fill up the landfill. If you want to get a gag gift try one of these.
Fifty Rocks
A bag of 50 rocks, these inspirational rocks are a fun choice or packages of pop rocks and a cute sign that says 50 Rocks.
Fifty Sucks
A bouquet of 50 suckers and a sign that says 50 Sucks
Birthday Card for 50th Birthday
This birthday card is a fun way to reminisce about the year she was born and reflect on how much the world has changed.
Ideas for Party Food
Easy, Cheap Finger Food to Feed a Crowd
A woman's 50th birthday doesn't need to be sad at all. It can be a day to celebrate her and dream of what she wants the next phase of life to look like now that her family responsibilities are probably a little lighter and her kids are on their own.
Ideas for a Man's 50th Birthday
Unique Gifts for Men Who Have Everything
More Gift Ideas:
Self Care Package Ideas for Single Moms
Meaningful 60th Birthday Gifts for Mom
Frugal Gifts People Actually Want to Receive
Best Gifts for Cooks and Those Who Want to Be
21 Helpful Baby Shower Gifts for Moms (Not Baby)