Here are the best life planners for a busy working single mom. A planner will make it possible for you to get organized and stay organized not forgetting where anyone has to be when.
A planner will also help you stay focused on your goals for the month. There are several options to consider in picking out a planner. Do you want a dated, undated or bullet journal type life planner? Do you need a planner that lets you schedule by the hour or will open blocks for each day work for better for you?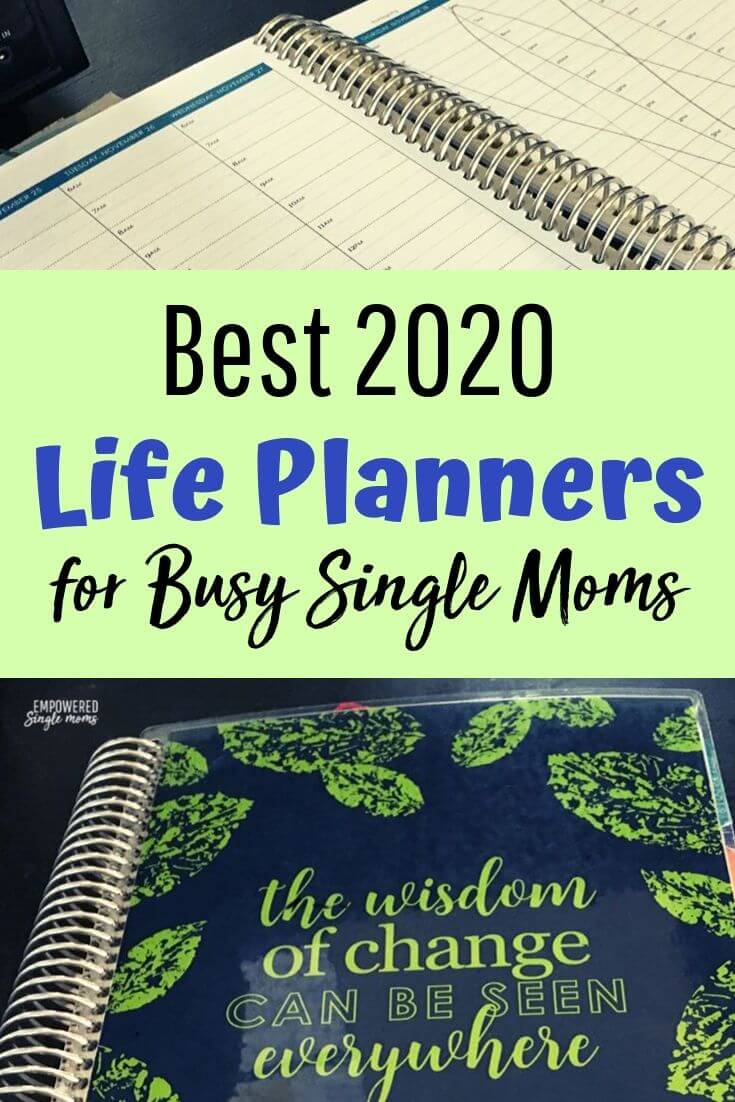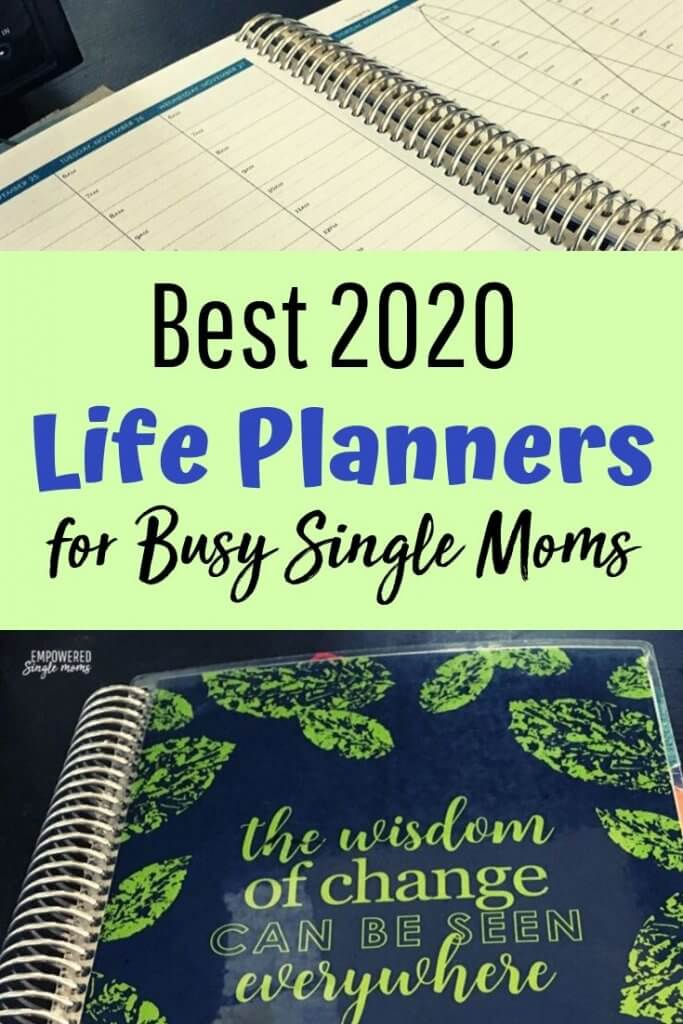 This post may contain affiliate links, if you buy a suggested product I will earn a small commission. We are a participant in the Amazon Services LLC Associates Program, an affiliate advertising program designed to provide a means for us to earn fees by linking to Amazon.com and affiliated sites." Read the full
disclosure policy here
.
I prefer a planner with the dates and times of the day already filled in. Being a therapist I schedule by the hour, so large open blocks for the day don't work for me at all. Those are the two things I need.
I used to use a boring black schedule book and that is okay, but I much prefer a pretty book with inspirational quotes. The one I used this year is in the picture above and I absolutely love it.
Since different people like and need different things in a life planner I found a few ideas for you to choose from.
I've used this planner before too. It beats a boring black schedule book. Mine had the dates filled in, but I couldn't find one with the dates already filled in for you. The thing I like about this planner is there is a lot of focus on goal setting and checking in with how you are doing with your goals.
Panda Planner's design is based on proven principles from positive psychology and neuroscience with the goal to help you become happier and more productive simply by using the planner.
Pro: I love the goal-setting element of this planner to keep you on track
Con: You need to fill in the dates, months, etc. I prefer my planners with all of that already filled in.
This one looks lovely and as a bonus the gold edtion includes a gold pen to make you feel extra classy. Wisdom planner is hardcovered. This one has an hourly, daily, weekly, monthly and yearly section. It also includes a goal planner element.
The covers on this planner are lovely and they have several choices of inspirational says for the cover.
Pro: I like the inspiring sayings on these planners. Some of them have a beautiful gold pen and a place to keep the pen with the planner
I haven't used this one, but it looks like a fantastic option.
Erin Condren Planner
This is the planner I have. I have been wishing for it for years and finally this year I splurged and got it.
There are two options of where to buy the Erin Condon Planner. The first is on the Erin Condren Site This is my preference, because of all the beautiful ways you can personalize your planner.
Another option is to buy your Erin Condren Planner from Amazon. The advantage of this is that you will get your planner faster. If you forgot to plan ahead and need it in only a couple of days then getting it from Amazon is the best option for you.

Pro: I love all the options for personalizing. There are so many beautiful options. I am able to schedule hourly appointments in mine, which I need, but there are other options if you don't want that. I love all the options for covers from bright and cheery to calm and peaceful, inspiring sayings or fun pictures of your kids or adventures all can be on the cover.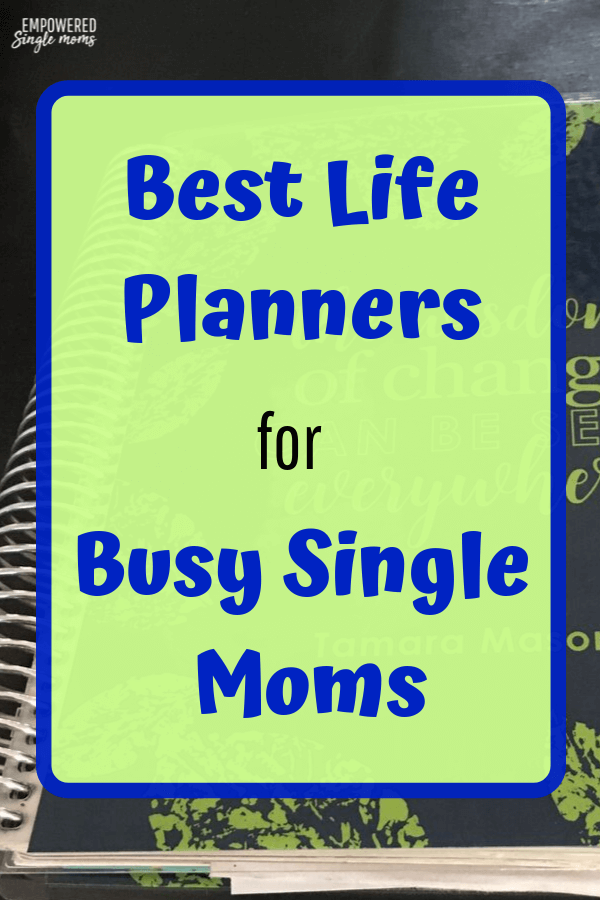 If you are a creative bullet journal gal then this is the planner for you.
This daily, weekly, and monthly planner tracks up to 6 full months in intricate detail to help manage your personal, work, or academic schedule, to beat procrastination, focus on what's important, improve productivity, live with passion and be your best self. It gives you a simple system for organizing your schedule and making the most out of every day, week and month.
Designed with a minimalistic, task-friendly style, this agenda daily planner feature extra 50 blank doted (bullet style) notebook pages for notes, 16 perforated pages, 2 page spread for weekly planning / review, goal setting with a flexible layout plan to help you frame your goals.
Pros: If you want a bullet journal planner this is the one for you.
Cons: I need more structure in my planner and don't prioritize the time for all the fancy bullet journal options, so this one definitely wouldn't work for me.
Other Tools to stay organized
This is a great way to track your spending and saving. There are lots of apps and ways to do spreadsheets on your computer, but I am more of a pencil paper gal when it comes to budgets. If you are looking for more budget help I love the Cash Fueled System.
This is such a pretty little book to keep track of everything that it makes the whole process of budgeting less painful. It has definitely helped me keep track of my finances. I may even get 2 next year one for personal stuff and one for my second business. Luckily I have a bookkeeper to keep track of my psychotherapy business and she uses a computer program and I couldn't run that business without her.
We always had one of these on the refrigerator with powerful clip magnets when the kids were growing up. It was the easiest way for everyone to see what was going on. I had the parenting schedule and kids' activities all in one place. At the height of our busyness, I had it color-coded with each kid's activities highlighted in different colors. If you have more than 2 kids, color coding is probably a must. It will certainly made my life easier.
I strongly encouraged the kids to be responsible for putting their own activities on the calendar. Sometimes that worked and sometimes it didn't. If we had the same thing every Wednesday like church I would fill in the top Wednesday of the month and draw an arrow down the rest of the month. I am all about efficiency.
Related: Single Mom Budget Your Way to an Amazing Life
Keeping Your Home Organized When You Don't Have Time