I love coming home to a clean and organized home. It is so peaceful. Everything has a place and everything is in its place. Unfortunately, this is not my life–yet. If you struggle with organizing your home as much as I sometimes do, I have some ideas to help you declutter our life.
Sprint Toward Tidy
I finally came up with an idea to help keep the clutter at bay. As with most of the ideas and tricks I used to juggle my myriad responsibilities as a single mom, this organizing idea was born out of desperation.
Let me introduce you to the 10-minute pick-up. When my kids were home, the house would regularly descend into disastrous conditions. Once a week, I would set the timer for ten minutes and we would make it a game to see how much clutter we could clear before the timer went off. The boys and I raced around putting things back in their places.
This post may contain affiliate links, if you buy a suggested product I will earn a small commission. We are a participant in the Amazon Services LLC Associates Program, an affiliate advertising program designed to provide a means for us to earn fees by linking to Amazon.com and affiliated sites." Read the full
disclosure policy here
.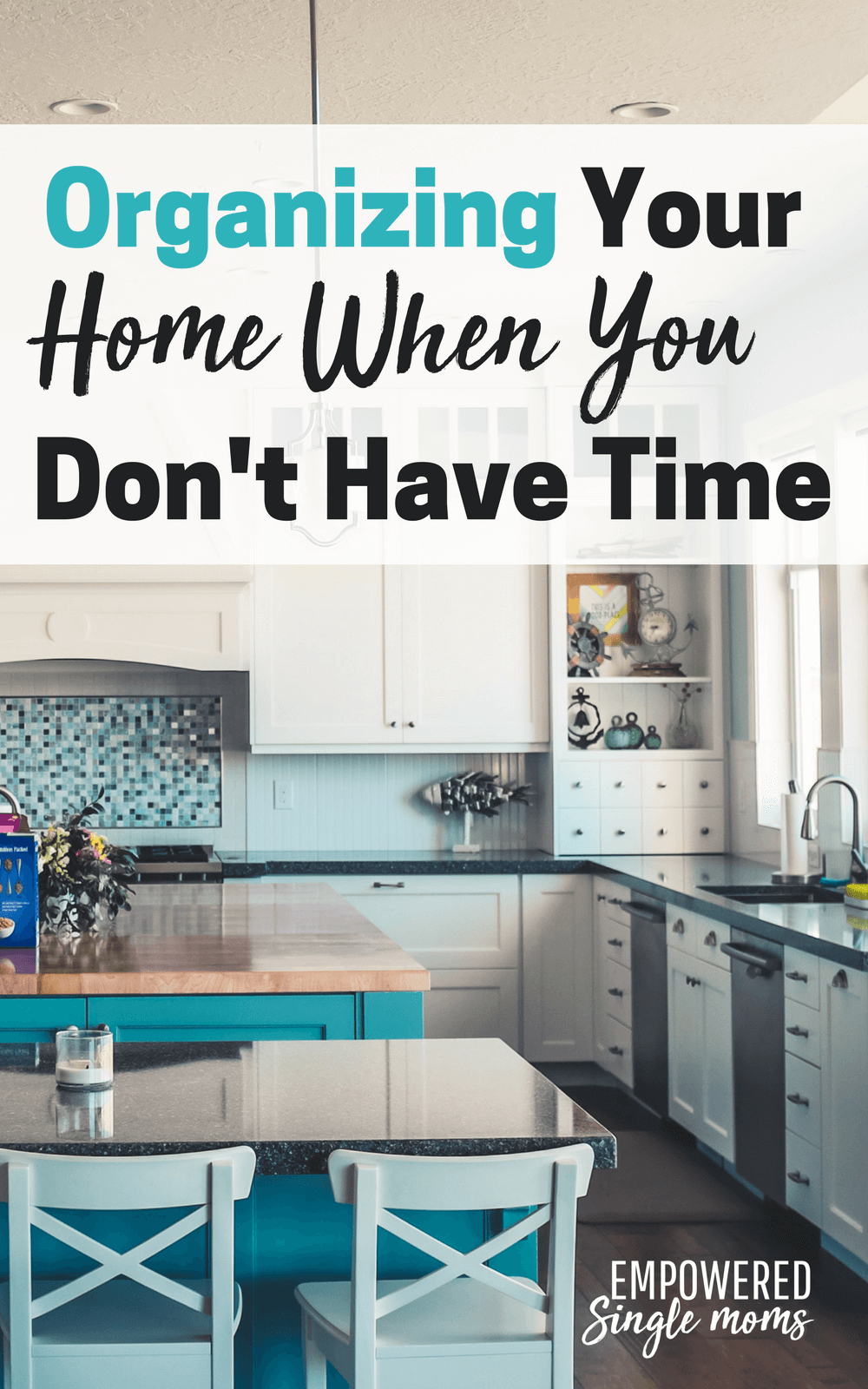 This game had a variation on Friday nights. We would order pizza and then work on cleaning and decluttering until the pizza was delivered. This really helped, because by Friday night the house was usually in disarray. We all looked forward to the Friday night pizza tradition, so no one complained about a little work. Besides, when the pizza arrived, we could all relax for the rest of the night.
If I had been thinking, I might have tried to make the ten-minute pick-up part of our nightly routine. However, the game may not have been as much fun had it been a nightly occurrence.
Disorganized Homes Are a Common Problem for Single Moms
You & I am not the only single mom who struggles with clutter and organization. The poll in our private Facebook group, Empowered Single Mom Tribe, shows that keeping the house clean and organized is the top concern of single moms in our group.
The following tip comes from my friend Tammy, who is a professional organizer. Imagine you have a hula hoop. Hold it up and take care of the mess within the circle. Too often, people become overwhelmed by organizing their homes. Tackling one small area at a time makes a big task manageable. You can read another of Tammy's tips here.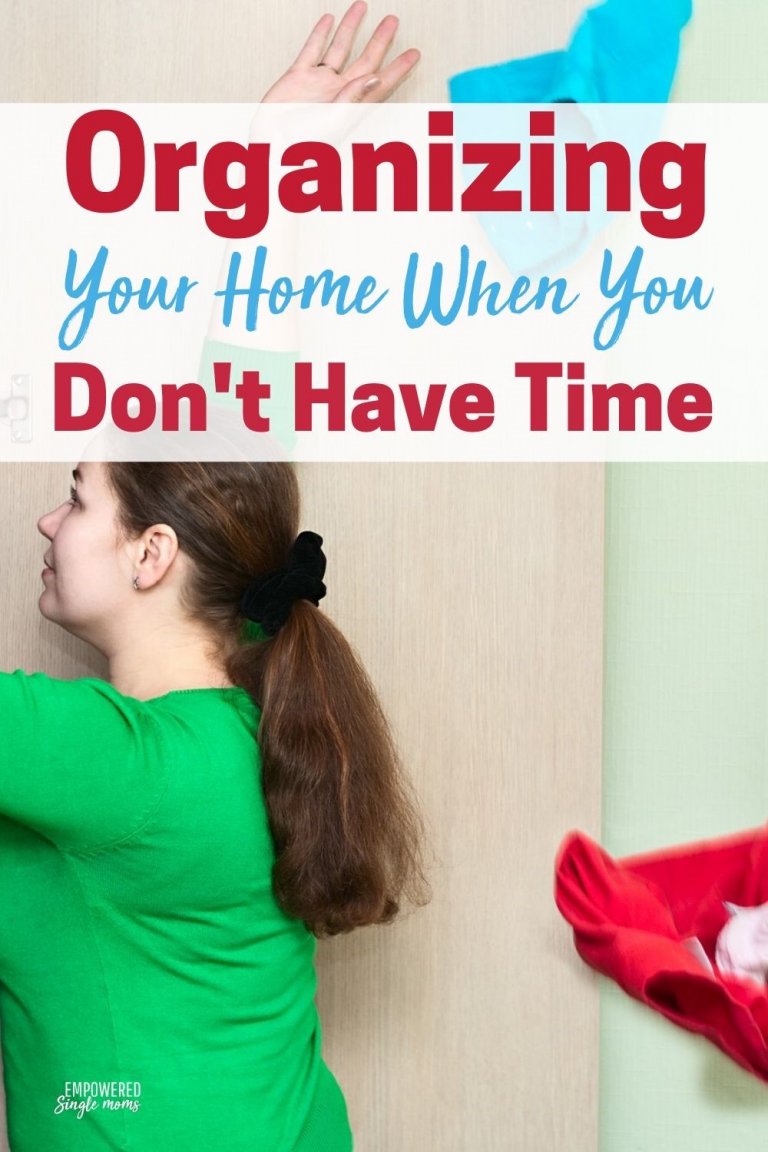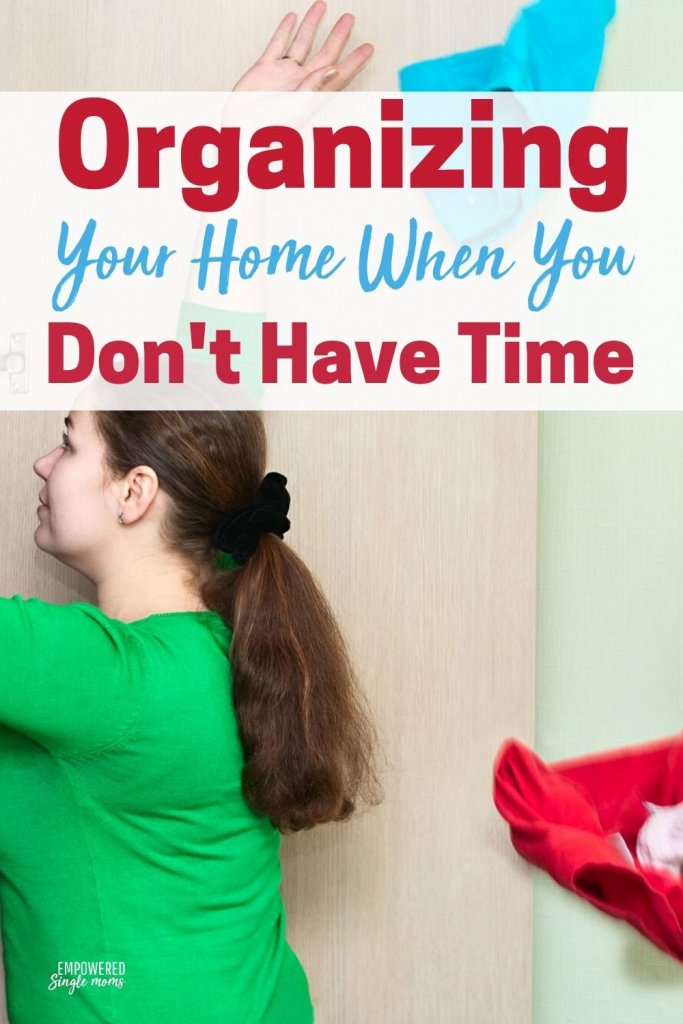 Organizing Your Time Helps Organize Your Home
Having a place for everything and keeping everything in its place keeps your home organized. That is always my goal, but I often fall short. Consider that having routines helps keep life manageable. I developed an evening routine that helped me a lot. (Especially since I am not a morning person.)
Here are a couple of routines other moms use that will inspire you to find a routine to help you organize your home and life.
Best Life Planners for Busy Single Moms
10 Smart Ways to Be a Productive Work at Home Mom
15 Ways to Organize Yourself to a Better Life
Tools Make Organizing Your Home Easier & Faster
Like many jobs, keeping your home organized is easier with the right tools. In medical offices, we would never dream of trying to keep all those files organized without some sort of filing cabinet. You need some tools to organize your home too. Here are a few items that look like they would make organizing easier.
Wooden crates are a great way to keep things organized. You can see the ideas I collected to decorate with wooden crates here.
Use Organization or Tradition to Cut Paper Clutter
When I first got divorced, I lived in an apartment. When I was finally able to buy a house, we had something wonderful in the backyard: a fire pit. That gave me an idea.
We moved in the summer and each of my sons had brought along a box of their school papers and notebooks from the previous year. I had a vision of my new house being overrun with boxes of school papers and notebooks, filling an entire room by the time they left for college. I suggested we have an end of the school year burning party. They could invite their friends over and everyone could burn their notebooks and paper from the year.
The party was such a hit that the tradition continued all the way through high school. Sometimes we wouldn't get around to having it until sparklers were on sale for July 4th, so sparklers became part of the celebration. Other moms have other ways to keep the paper monsters from filling up the house.
The New Way to Reduce Kids Clutter (and Still Keep Their Memories)
The Secret to Finally Organize and Declutter All the School Paperwork
Keeping the house organized and clutter-free is a common first-world problem. I even have more than one book about it, but Marie Kondo's is my favorite. One of the tips I picked up from her is to hold an object and ask yourself if it brings you joy. I love the idea that if something is worthy of taking up our space it ought to bring us joy
How to Organize Your Home Room By Room
Since many of us, including myself, struggle with organizing, I decided to ask some of the bloggers I know for their best home organization ideas. The women were generous in sharing their tips. I hope you learn as much about how to keep your home organized as I did.
Organize Your Home in 2 Minutes
The Best Place to Begin Organizing Your Entire Home
5 Easy Ideas for Making Your Home More Kid Friendly
Whole House Organization and De-Clutter Checklist
Office Organizing Ideas
How to Get Rid of Paper Clutter at Home
The Quick and Easy Method of Purging Household Clutter
Organizing Ideas for the Family Room
Kid Friendly Living Room the One Piece of Furniture You Need
Get Organized at Home with These 5 Unique Organization Tips
One Genus Hack That Will Change the Way You Store Puzzles
5 Simple Tips to Organizing Your Playroom
How to Organize the Kitchen
Organize Your Way to Less Food Waste
Then there super challenging situations like staying organized when your family is sick.
Small Bedroom Organization
Clever Ways to Organize a Small Bedroom on a Budget
Pulling It All Together
The real test will be putting all this great information into practice. I hope you are able to take these tips and stick with them. Find what works for you and your family–and give yourself some slack. If my past is any predictor of the future, I will improve for a while and before long I will fall back into some of my old cluttery ways. This is why I strongly prefer friends who give me a warning of at least a half hour before stopping by. It gives me a chance to do a half-hour pick-up, and if they stay out of the bedrooms they will never have a clue what things looked like when they called!