Being a single mom is not easy. When I first became a single mom, I wished for a guide to show me the way–or better yet, a fairy godmother who could make it all better with a few magic words.
Unfortunately, there was no fairy godmother to magically make everything okay, and I didn't really have a guide either. I muddled through. There were many struggles along the way, but I made a good life for us all. You can make a good life for yourself and your family too.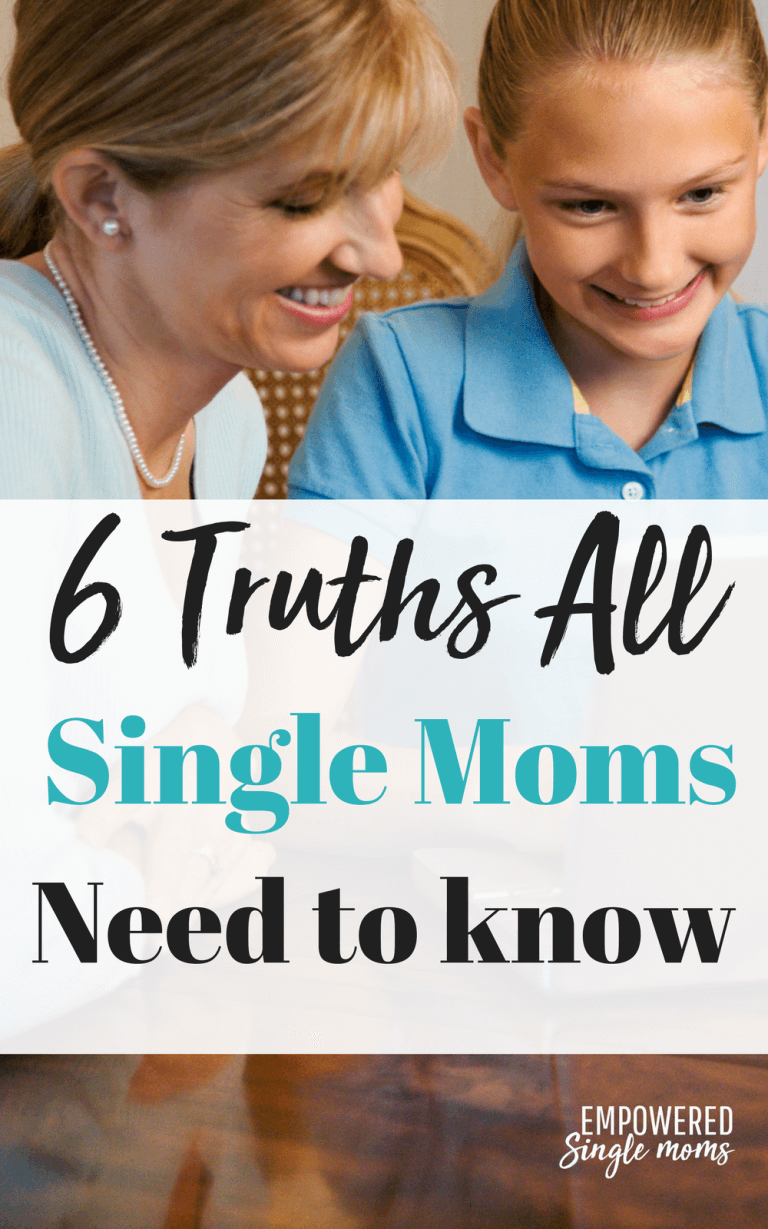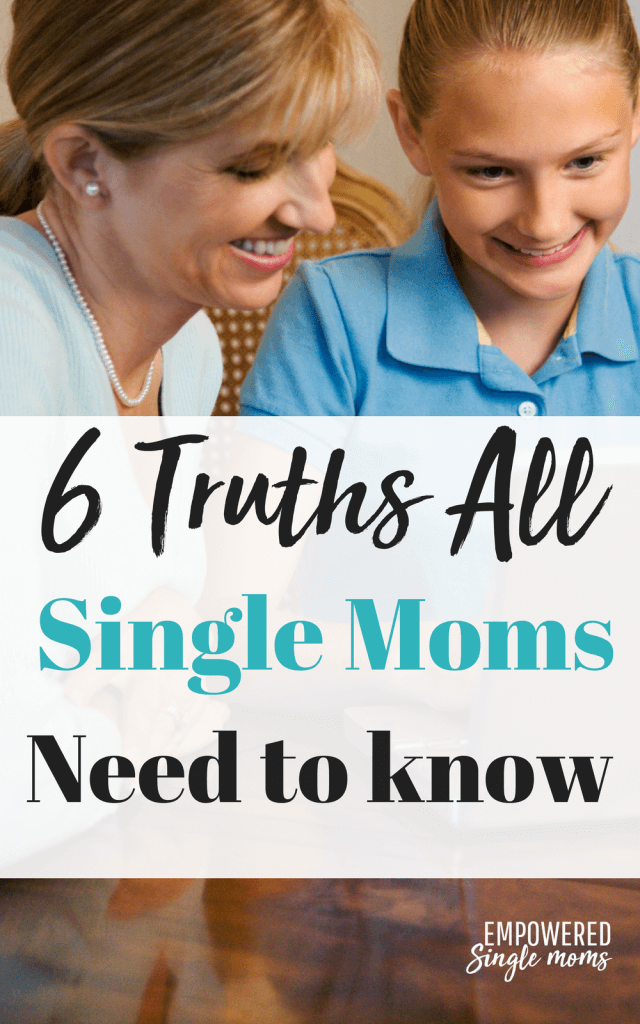 This post may contain affiliate links, if you buy a suggested product I will earn a small commission. We are a participant in the Amazon Services LLC Associates Program, an affiliate advertising program designed to provide a means for us to earn fees by linking to Amazon.com and affiliated sites." Read the full
disclosure policy here
.
Although I can't be your personal guide, let me give you some tips to make rebuilding your life easier. Here are six truths. Recognizing these truths will help you cope with being a single mom. I wish someone had given me these tips when I first separated from my husband.
1. Life Will Get Better
Take time to grieve the loss of your relationship and the loss of your dreams. Trust that this difficult time will be over and being a single mom will get better. You will be able to have a good life again. It will take time, planning, and hard work, but it will happen. You will be happy again.
For more inspirational truth:
Inspiring Quotes for Single Moms When You Need to Be Strong
2. Don't Expect to Do It All Alone
You are the only adult in the home, but you still need other adults. Do you feel like you are a single mom with no help? Don't believe it. You may not be getting help from the people you believe "should" help you, but there are people willing to help. Asking for help is difficult, and you will need to master it.
You have a support system and you will probably need to strengthen that support system. Take time to be with friends. If you are in a co-parenting situation, spend some time with other women friends when the kids are with their dad.
If there is no other parent, do you have other family members nearby? Maybe the grandparents would enjoy some special time with your darlings.
If your extended family is not an option, who can you trade time with? You could give another mom a night off and she could give you kid-free time. Do you have neighbors, your children's friends' parents, or church members who could provide some emotional support or practical help?
Related: Making New Friends After Divorce is Part of the Adventure
If you have faith in God, this is a good time to strengthen that faith by spending time in prayer. I know you don't have a lot of extra time, but it is important to tend to your spiritual self too. My friend Sarah has a great resource to feed your soul when your time is in short supply.
3. It Is Your Responsibility to Build a New Life
Health
Your first priority is to take care of your kids, but part of caring for your kids is caring for yourself. Building a new life for your family is up to you, and you will not be able to do it if you are depleted due to a lack of healthy food, exercise, and sleep. Make sure you are getting what you need so you can give your kids your best.
Money
You need a plan to financially support your family. If the job you have when you get divorced can do that, fantastic; if not, you will need to make adjustments. Even if you are getting money from their father, plan to earn enough to provide for you and your children's needs. Depending on money from someone you have little or no influence will only add stress to your life.
If you are not earning enough to provide for the family's needs, you need to cut your expenses and/or increase your earning potential. You can earn more by working more or work at something that pays more. If you need to go back to school to get more qualifications, plan how to do that.
Related: Can a Single Mom Start a Business
Build Anew
Don't dwell on what was supposed to be. Create a new vision for the life you want, because the life you had when you were with the kids' dad is over. Accept that being a single mom is not what you planned, but you can make a new plan and life can be wonderful again. You are responsible for making it happen.
Related: How to Create an Amazing Inspiration Board and Why Single Moms Need One
4. You Need a Healthy Stress-Management Plan
I know time is short, but the life of a single mom is stressful and you need to learn to manage it.
Exercise is a fantastic way to manage stress, anxiety, and depression. There are many options, but exercise doesn't need to be elaborate. A brisk 45-minute walk is one of the best stress relievers and does wonders for your mental health. Make time in your schedule to exercise. Exercise alone, with the kids, or with a friend. How doesn't matter; just do it.
Related: More Than 30 Easy Ways to Practice Self-Care
5. A Man is Not a Plan, but Dating Can Be Fun When You Are Ready
Maybe you will meet someone else, get remarried, or build a life with a partner. But don't depend on that. Once you are able to take care of yourself, it can be fun to date.
How will you meet someone?
You could meet someone at work, but usually, mixing work and dating is a bad idea for obvious reasons. Then there are your kids' activities, which can be good places to meet someone, but you-know-who is there too.
You are busy. You go to work, your kids' activities, and home. No one is going to come knocking at your door to ask you out. (Ok, Ok. I have heard of that happening a couple of times, but one woman was over 60 and the other was over 70. The potential suitors were widowed men who had no idea how to feed themselves. The women were excellent cooks. The men really were looking for someone to take care of them.)
Even if you are a bona fide, tiara-topped, ball-gown-bedecked princess, that call from Charming Castle probably isn't coming. Besides, is the prince even able to take care of himself? You don't need another person to look after.
Online Dating
Consider online dating. I mean honestly, online dating makes sense. A virtual space is probably ideal for your situation. Be smart about online dating. Take commonsense precautions to protect yourself and your children. Have fun and make some new friends, learn about different professions and hobbies, go dancing, and share a meal with an adult. If something more happens, consider it a bonus.
Here is more information for you on dating when you are ready.
6. Other Women Have Divorced or Widowed and Went on to Live Happy, Fulfilling Lives
Do you remember when you were pregnant and then delivered your darlings? I don't know about you, but one of the ways I made it through the months and then the hours was to remind myself that women had been dealing with pregnancy and having babies since the beginning of time and at least in modern times, most of them survive it.
Becoming a single mom is not a cause of death. Sometimes, you may feel like you cannot go on, but you can and you must. Other women have made it through this and so can you. Remember, whether you think you can or you think you can't, you are correct. Believe you can. Know you will. Dream a new dream and build a new life.
I made a private Facebook group just for you where single moms share support and encouragement. We would love for you to join us in Empowered Single Mom Tribe.