A friend called me crying. She could barely speak. "My husband wants a divorce and I still love him." Her life had become a nightmare and she needed to know how to survive the pain.
She knew he had been a little distant, but she thought he was just having a rough time at work. Never in her wildest dreams had she suspected he wanted a divorce.
She was confused, angry, and scared. Her husband had been the primary financial provider for the family for the past few years while she worked part-time and focused on taking care of their children.
This post may contain affiliate links, if you buy a suggested product I will earn a small commission. We are a participant in the Amazon Services LLC Associates Program, an affiliate advertising program designed to provide a means for us to earn fees by linking to Amazon.com and affiliated sites." Read the full
disclosure policy here
.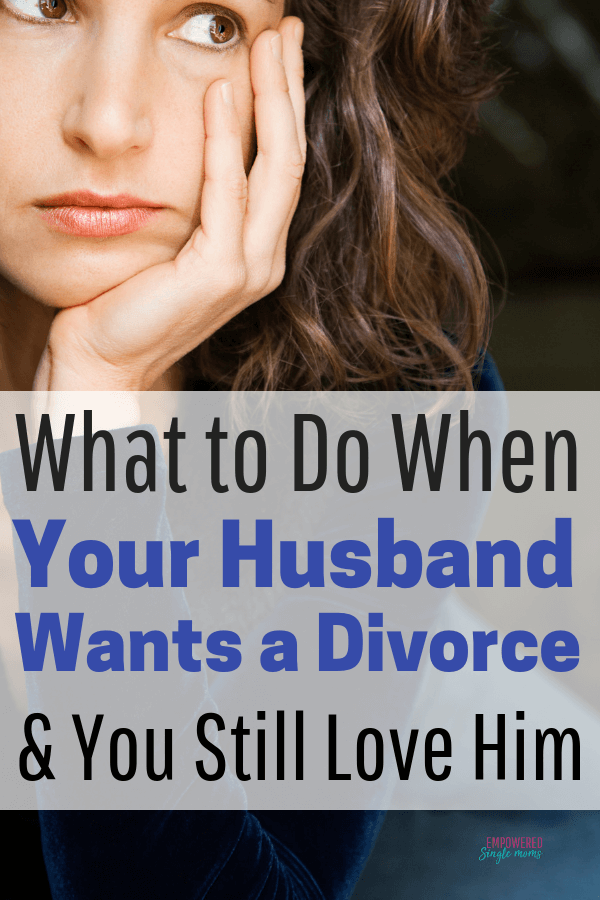 She had pleaded with him to go to counseling. What could be so bad that they couldn't work it out? He refused. He was done being married to her. He swore there was no one else; he just didn't love her anymore.
This situation is devastating. Maybe your husband will change his mind, but he probably will not. You need to figure out how to move on.
As BetterHelp affiliates we may receive compensation from BetterHelp if you purchase products or services through the links provided. This blog provided educational information it is not a substitute for therapy. If you are in need of professional help I recommend BetterHelp. They will match you with a therapist that you can meet with you in a video session, email or on the phone for an affordable monthly price. To find a mental health provider near you look on the Psychology Today website. This post contains affiliate links see the full disclosure & privacy policy here.
What Not to Do When You Love Your Husband but He Wants a Divorce
If you find yourself in the position of my friend who said, "My husband wants a divorce and I still love him," your natural inclination may be to chase after him. This is one of the worst things you can do.
Do not give in to your desire to chase him. A forced love will never last. Never beg for love. Never beg for attention.
Why Chasing Doesn't Work
In relationships, there is a distancer-pursuer dynamic. The person who wants more distance is the distancer, moving away from the pursuer physically or emotionally.
The pursuer wants more connections and pursues the distancer by calling, texting, and attempting to initiate time together. This causes the distancer to feel smothered and want even more distance.
As difficult as it is, at this point the best thing you can do is allow the distance. Your distancer husband will not want to be closer to you if he is trying to get distance and you continue to work to keep that from happening.
I am not saying the distance will bring him closer, but chasing him will drive him further away.
Think of the films you have seen of the lion chasing the gazelle. The gazelle wants distance. The more the lion chases the gazelle, the harder the gazelle runs.
Chasing causes distance, the opposite of what you are hoping for. Besides, do you really want to catch someone who doesn't want to be caught? A lion will capture dinner, but you're probably only capturing a few minutes of begrudgingly permitted attention.
To Move or Not to Move
Just because your husband wants a divorce and you still love him, that doesn't mean you have to make it easy for him. You do not need to be the one to move out. Let him do the heavy lifting (literally and of finding another place to live and learning how to live alone).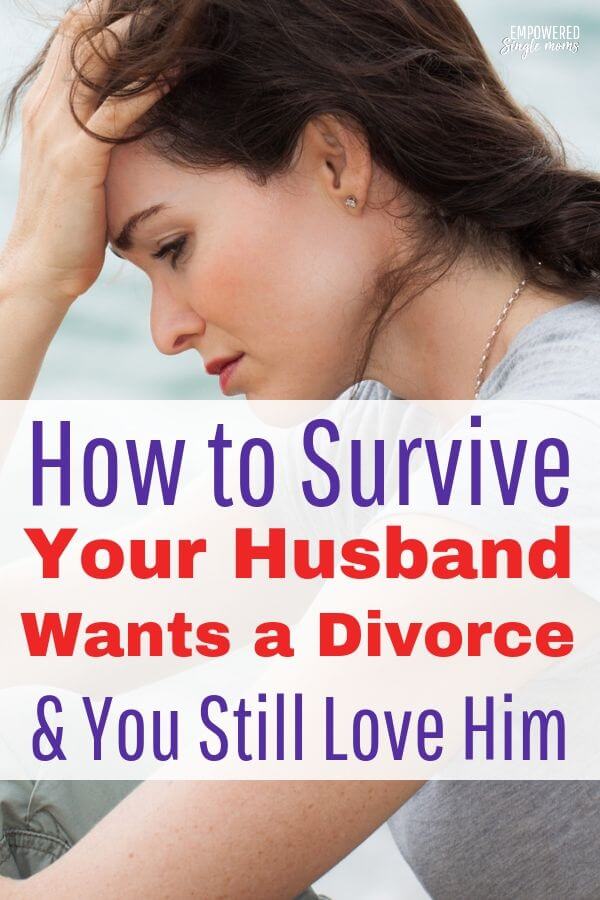 What to Do When Your Husband Doesn't Want to be Married
Evaluate Your Part in the Situation
What is your part in the unraveling of your marriage? Does your husband have legitimate concerns? Don't dwell on these things to feel bad about yourself or increase any sense of self-loathing you have.
Rather, ask yourself if there is a way for you to use his concerns to become a better, stronger person. Are you angry too much? Are you a blamer? Should you take more responsibility for your own happiness?
Don't work to make yourself a better person for him. Make yourself a better person for yourself and your kids.
Be Realistic
When your marriage is ending but you do not want it to end, you tend to dwell on all the wonderful times in your marriage. I am sure there were fantastic times, but there were also not-so-good times.
Your husband may have many wonderful qualities, but he also has annoying habits and things that make him less than perfect.
Move beyond this craving to have him back by focusing on what was not ideal about him and your marriage. Stop romanticizing what you had. Focus on the negative parts of your past life to help you move on and build a new life.
More Resources: 29 Inspiring Books to Read to Heal Your Broken Heart
20 Best Calming Gifts for People with Anxiety
My husband wants a divorce. What are my rights?
The best way to know your rights is to consult with an attorney. An attorney can advise you on your financial and custody rights.
It can be helpful to review a book to have a basic understanding of divorce law before meeting with an attorney. The laws vary from state to state, but there are books (like this one or this one) that explain divorce law in each state. A basic understanding of divorce law will save the attorney's time and your money, and you will be able to ask more specific and intelligent questions.
What to Do When Your Husband Wants a Divorce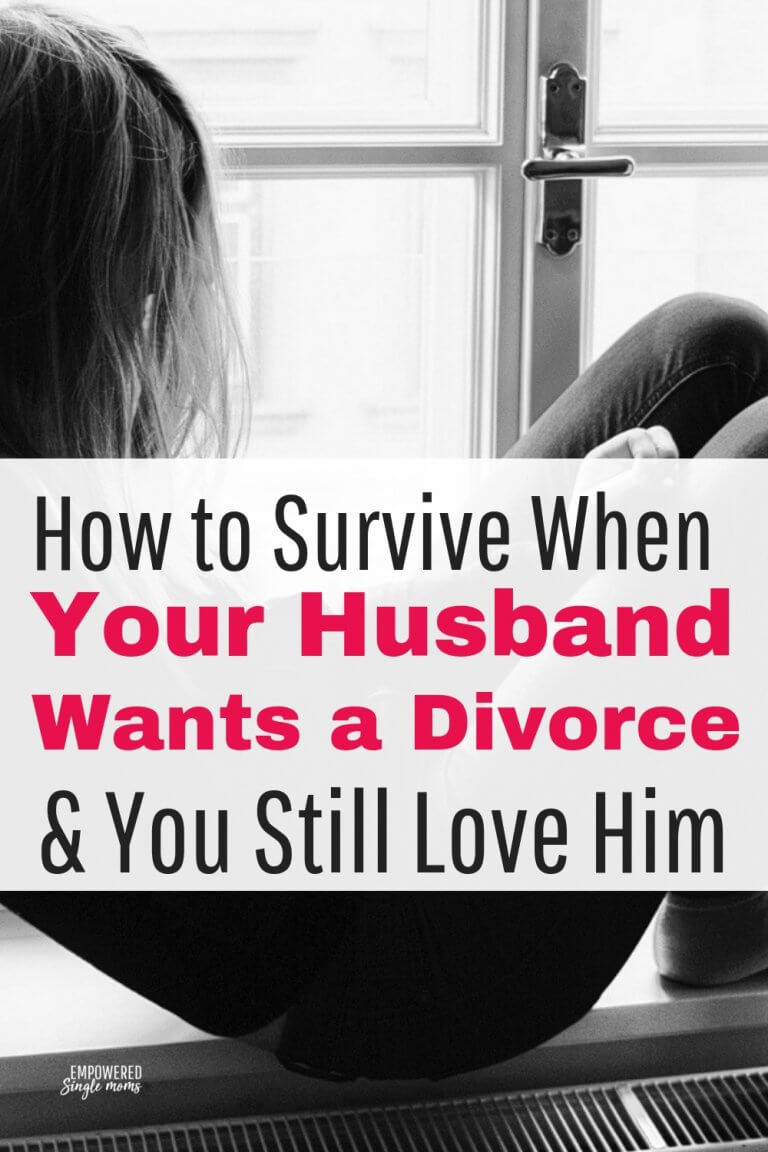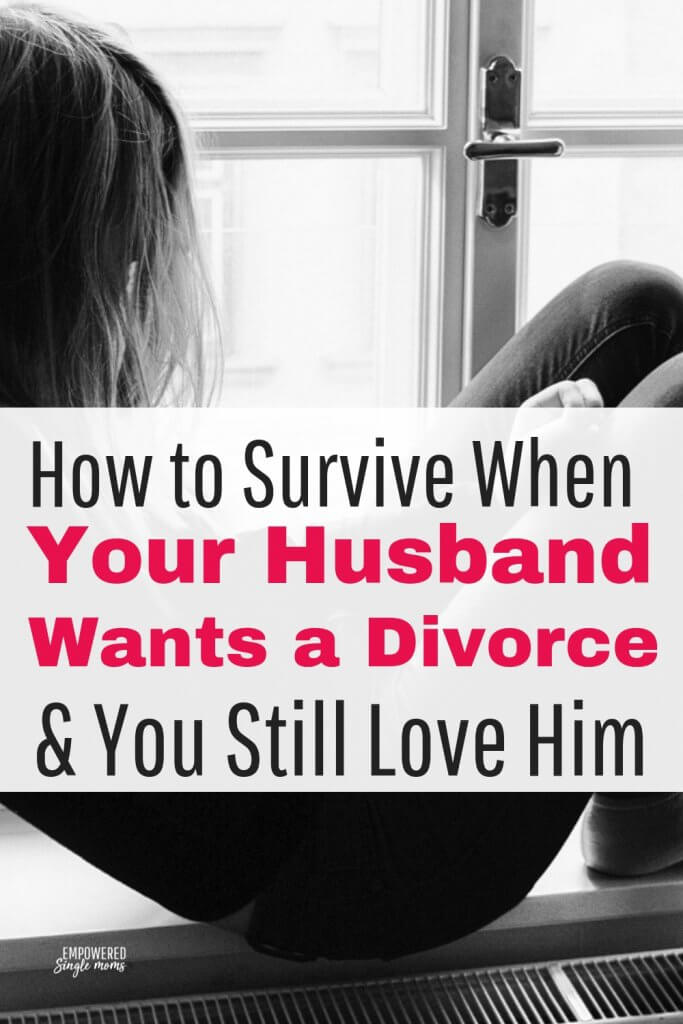 Hire a Great Attorney
You are going through an emotional disaster. The law, as it pertains to divorce, is probably a mystery to you. You need an expert to guide you. Get references for an attorney and find a great one who you can trust.
However, do not follow your attorney's advice like a blind sheep. You know your husband. Think critically about the advice you are getting from your attorney and consider how your husband will react.
Remember, your attorney may be able to predict what most men will do, but you are probably better at predicting what your man will do in certain circumstances.
Consider what seems morally right. In the long run, it is in your best interest to maintain a good working relationship with your spouse even after divorce. You have children together and will be in each other's lives for many years to come.
For more ideas on how to survive:
Thriving a Single Mom's Guide to a Happy, Positive Life
Self-Care Kits for Single Moms
How to Get What You Want in Divorce Mediation
How to Make Your Own Self Care Plan
How to Deal with Loneliness After Divorce
Finances After Divorce
Finances are one of the first areas in which you will need to find some stability.
Your husband may be willing to financially support you for the short term.
You probably feel like he owes it to you, but this is not a viable long-term plan for many reasons. As an adult, it is a dangerous thing to be financially dependent on someone else. When that someone else is divorcing you, you are in a very precarious position.
You may or may not be entitled to child support. It is very common for parents to equally share parenting time. When this happens and parents make the same income, there often is no child support.
Even if child support is ordered, frequently the noncustodial parent doesn't actually pay the child support.
You need to have a plan that makes it possible for you to financially support yourself and your children's basic needs without child support.
Even if you are awarded child support and it is paid, the day will come when your children leave home and you need to be able to financially support yourself.
Clever Ideas to Make Extra Money for Single Moms
A New Dream After Divorce
An emotional tsunami has devastated you and your life. You need to figure out a new normal.
You need to grieve, but you also need to build a new life.
If you feel like your dreams are dead, I have some tips for you in How to Make an Amazing Inspiration Board and Why Single Moms Need One. Following this process will get you dreaming again and help you figure out long- and short-term goals beyond surviving today.
Related: How to Get Over Your Ex (& What Not to Do)

Do You Want More Individualized Support?
I provide coaching services. A great time to get coaching services is when you are getting a divorce you don't want and you need to rebuild your life. Give yourself the gift of coaching. More information about Tamara's coaching services here.
This blog post is educational and not a substitute for therapy. If you are in need of professional mental health services I recommend BetterHelp. They will match you with a therapist that you can meet with you in a video session, email, or on the phone for an affordable monthly price.
Related: Single Mom Inspiration: Yes Life Will Get Better
Songs About Perseverance Through Heartbreak