Divorce mediation is stressful. These do's and don'ts of divorce mediation will make it much more likely that you will get what you want from the divorce mediation process.
I've talked with many parents going through the divorce process. Usually, divorce mediation is recommended as a way to come to an agreement about child custody and the division of property, child support, and possibly spousal maintenance.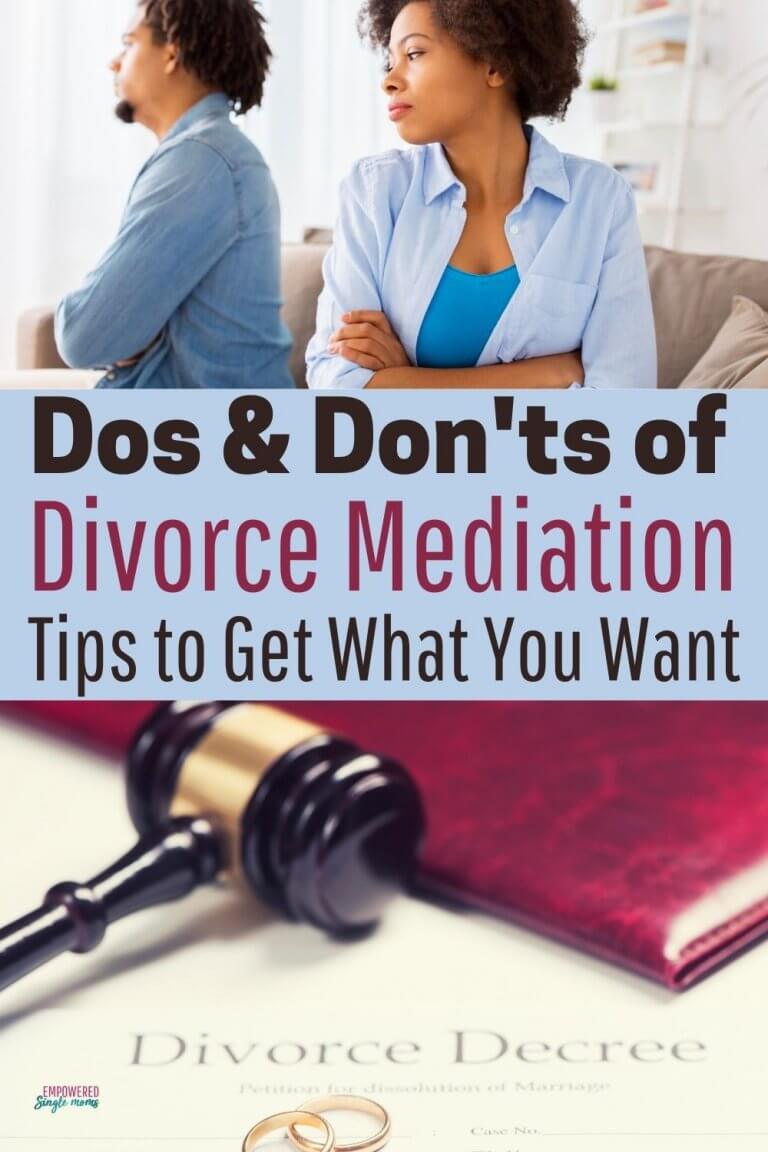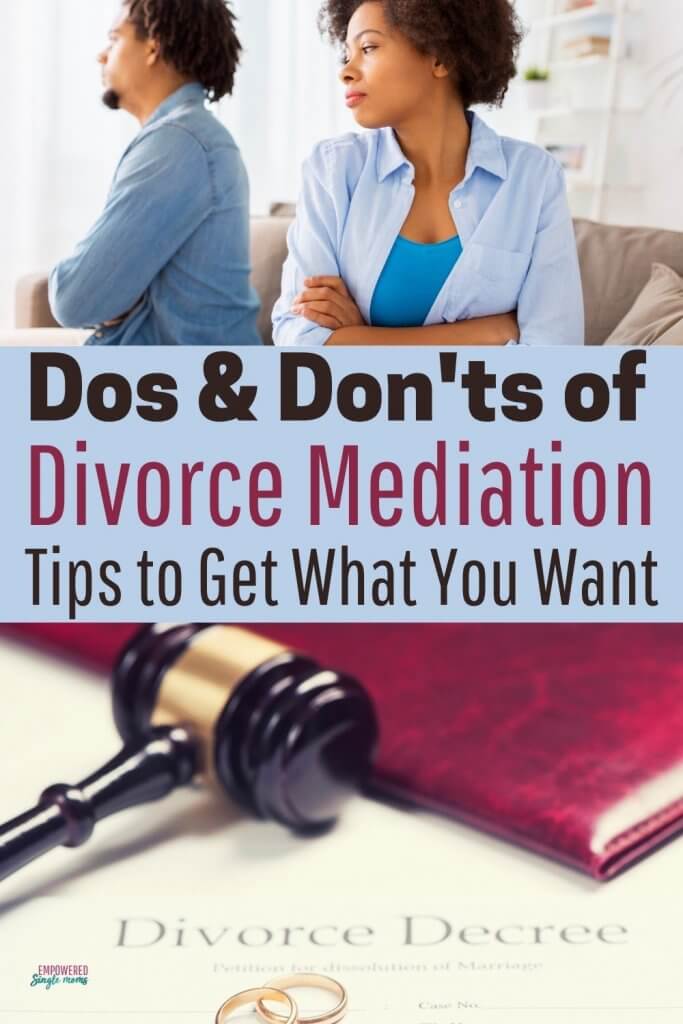 This post may contain affiliate links, if you buy a suggested product I will earn a small commission. We are a participant in the Amazon Services LLC Associates Program, an affiliate advertising program designed to provide a means for us to earn fees by linking to Amazon.com and affiliated sites." Read the full
disclosure policy here
.
Divorce mediation can be confusing. It is important to be prepared because the decisions that are made during mediation will affect you and the children for years to come. I want you to be as prepared as you can be. I've seen that there are a few things that can make the process easier and more likely that you will get what want. There is also something you should not do during meditation.
I will start with the things you want to do to put you in the best possible negotiating position.
1. Have the Right Attitude in Divorce Mediation
The best thing to do is to work for a win-win situation in divorce mediation. No one likes to lose and if one of you feel like you are losing everything you are much more likely to end up back in court which will cause added stress and cost valuable time and money.
If it is not possible for both of you to get everything you want in the process work towards each of you getting what is most important or having a fair outcome.
Think about what is important to your children. Here is some great advice from kids whose parents are divorced.
2. Come Prepared
Know your financial assets including the income you both earn and any investments. Know your financial liabilities including all debts from cars, home, credit card and any loans the two of you have. Your attorney will probably give you a checklist. Have copies of these documents and look them over. Here is a helpful divorce mediation checklist to download if you don't already have one.
Know your children's activity schedule and consider what their activity schedules will most likely look like in the upcoming years. Know your likely work schedule and your soon to be ex's likely work schedule. These will be important in scheduling parenting time.
Activity and work schedules will have an impact on what parenting time will look and feel like. Ideally, each parent will get some weekend time that is more relaxing and some school nights.
3. Know What You Want in the Divorce Settlement
There are 3 broad areas to consider parenting schedule and decision making about the children for things like medical decisions and activities. The next to areas are related to finances. Asset & liability distribution and monthly income in the form of child support or spousal maintenance.
Many states currently lean towards relatively equal parenting time unless there are safety concerns. It is best for the children to have a relationship with both parents and time together is necessary to build a relationship. It will also be easier for you to earn a good income if parenting time is shared. Shared parenting is easiest if you both live in the same school district.
Consider how you would like the parenting time to be divided. Do you want the option to be able to move out of state or out of the country with the children? Do you want your spouse to have the same options?
Something to keep in mind is usually easier to create a cooperative co-parenting relationship if one of you is not providing a monthly income to the other one. It is a better situation to handle financial support with equity in a home, retirement money or some other form of a lump sum upfront payment if this is at all possible.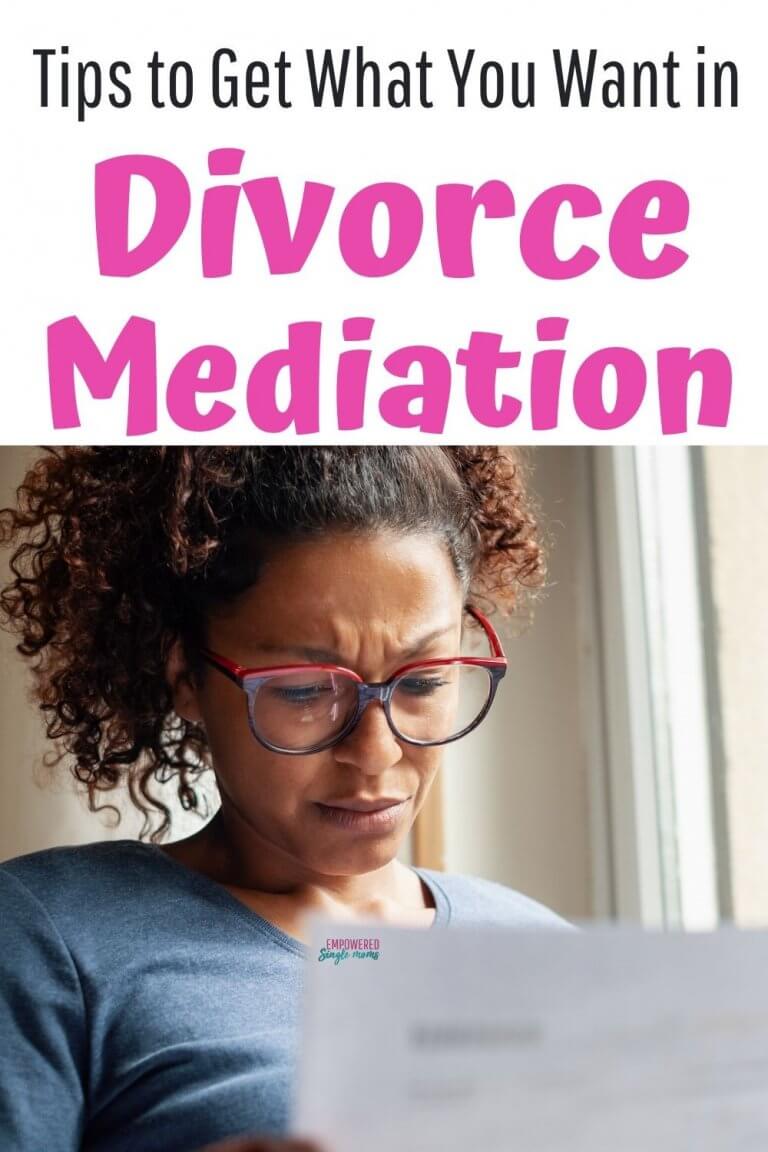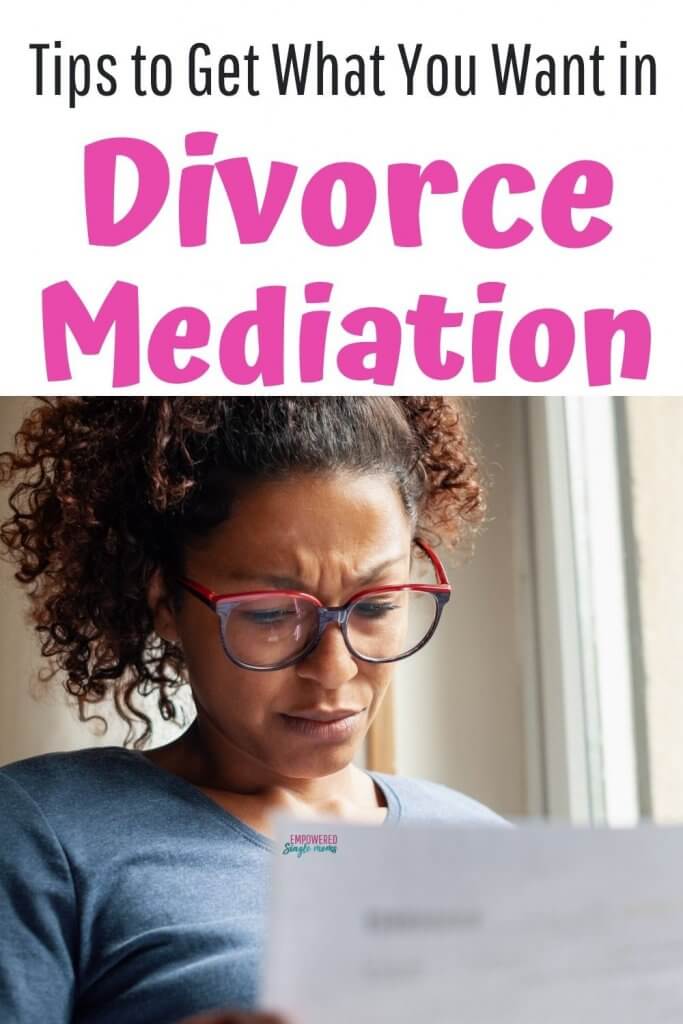 4. Know What Your Spouse Wants Most in the Divorce Settlement
Your attorney may know what most people want or what most people would do in a certain situation. However, you are the expert at knowing the person you are in the process of divorcing.
Think about what is most important to him. What does he really want? What image does he want to present to other people?
5. Speak up and Show up in the Divorce Mediation Process
This is no time to be a shrinking violet. Know what you want and firmly say what it is. When it comes time to negotiate know your priorities, know what things are your deal breakers. Know what you are willing to be flexible on. Your soon to be ex is like someone you are doing business with. Be respectful, but stand up for yourself and don't expect him to be looking out for anyone except himself.
Related: How to Get Over Your Ex (and What Not to Do)
Important Don'ts in Divorce Mediation
Most importantly do not use the mediation process as a way to punish your spouse or seek revenge for wrongs he committed during the marriage. This is counter productive. If you are punishing or vengeful the chances of him being this way are significantly higher and this will waste valuable time and money say nothing of the added stress.
Remember strive for a win-win solution. Know what you want parenting time to be like. Be prepared by knowing your financial situation. Know what is most important to you and what you are willing to negotiate. Know what is most important to your spouse will be useful in getting what you want.
Thriving a Single Mom's Guide to a Positive Happy Life is a fantastic resource in rebuilding your life. Once you have an agreement sometimes your partner doesn't pay the child support he is court ordered to pay. Get the strategy here to not be stressed when your ex owes you money.