These calming gifts for people with anxiety are so helpful. Give them to yourself if you struggle with anxiety or give them to an anxious friend.
Anxiety is one of the most common mental health problems people suffer from. Anxiety causes increased irritability, sleep problems and limits possibilities in life.
What is Anxiety?
Anxiety is worry. It turns into a disorder when you spend excessive time worrying and find it difficult to stop worrying. People with an anxiety disorder often have muscle tension, have difficulty sleeping, and difficulty sitting still.
This post may contain affiliate links, if you buy a suggested product I will earn a small commission. We are a participant in the Amazon Services LLC Associates Program, an affiliate advertising program designed to provide a means for us to earn fees by linking to Amazon.com and affiliated sites." Read the full
disclosure policy here
.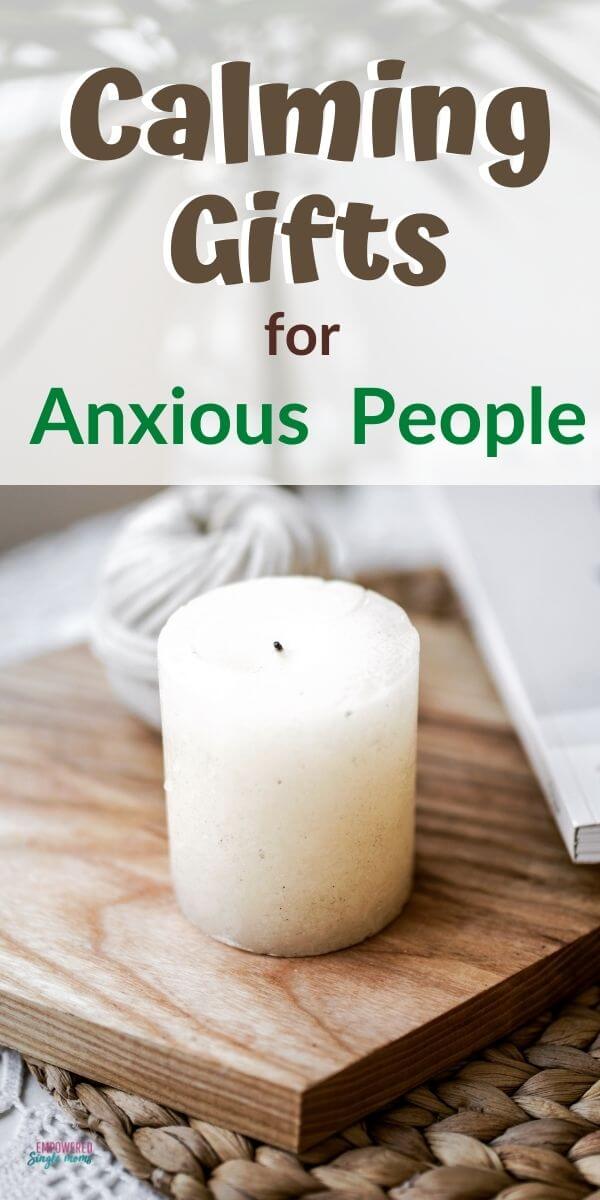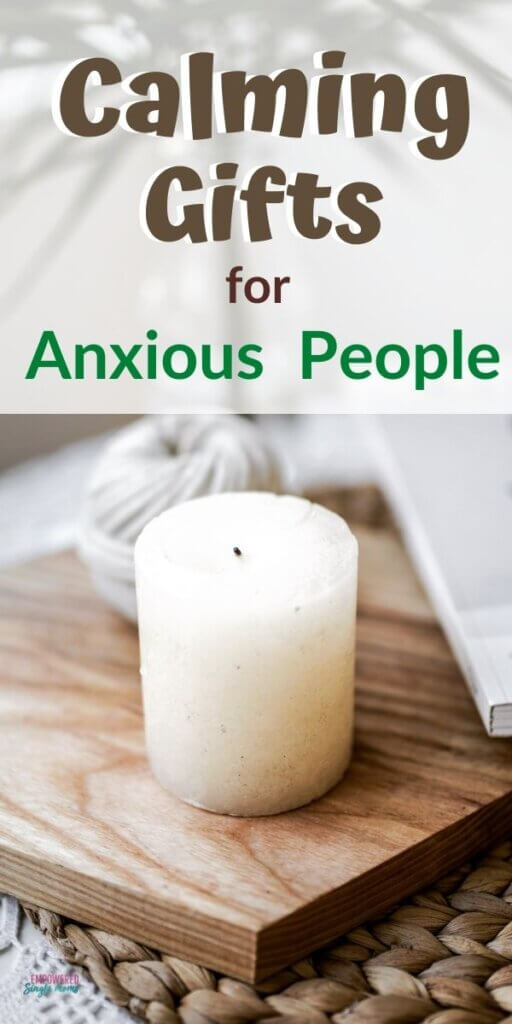 Sometimes an anxiety disorder turns to panic when a person may have chest pain, dizziness, and trouble breathing. When anxiety turns to panic it often limits the things people do or places people are able to go comfortably.
As painful as anxiety is there are many tools that can help people with anxiety gain control of their anxious feelings. Here are some of the gifts that can soothe an anxious mind.
Gifts to Soothe Anxiety
Calming activities are tools that can soothe a person who struggles with anxiety.
A warm cup of tea can be very soothing. These teas are specially formulated to reduce stress and anxiety.
A warm bath is a great way to relax. Add these calming, scented bath salts or bath bombs to turn your bath into a spa treatment and it is even more relaxing.
Adult Coloring Books
Coloring is a relaxing activity. Coloring gives you something to focus on that is calming. It gives you enough to focus on that you can clear your mind and stay in the present, which is one of the keys to letting go of anxiety.
In the moment you are okay and can relax. When you start thinking negatively about the past or future you feed your anxiety.
Colored Pencils to make your pictures beautiful.
They are like popping bubble wrap that never runs out of things to pop.
Stress balls are relaxing and these are even better because they have motivational says on them.
Relaxing Gifts
Instant deep muscle relief to relax the tension and reduce stress and anxiety.
Weighted blankets are a great solution at the end of a stressful day cuddling up with a weighted blanket will ease anxiety and increase a sense of calm and well-being. These blankets are also a great solution for restless sleepers.
The weight is calming for both kids and adults, but be sure to check the weight chart to get the right weight.
Relax on the "bed of needles", release tense muscles, and increase relaxation.
Affirmations to Keep You Calm
Affirmations are a great way to support calming thoughts. You can use posters, journals, calendars, or even mugs with inspirational stress and anxiety reducing affirmations. Get some ideas for inspirational quotes here and here.
This journal has inspiring quotes, soothing exercises, and writing prompts. Journaling is a proven method of reducing anxiety and these exercises can make a huge difference in calming your anxiety.
A daily boost of positivity and inspiration.
Connecting spiritually to something larger than yourself reminds you that you do not need to carry the weight of the world on your shoulders.
If journaling is something you find helpful, but you aren't sure how to get started get these 25 Creative Journal Prompts for Self Discovery or Journal Prompts for Depression and Anxiety.
Meditation Tools to Reduce Anxiety
Is an app that is like having your own private meditation teacher.
This bohemian style pillow is great for meditation or just sitting on the floor relaxing with the kids.
Gift Boxes to Calm Anxiety
If you want someone else to put together a gift box for your anxious friend try one of these done for you gift boxes.
Creative tools to help you improve your mental health and improve your self-care.
Curated by therapists to reduce stress and increase self-love and joy.
Gifts for Anxious Kids and Teens
Books for Kids and Teens to Reduce Anxiety
A surprising number of kids suffer from anxiety.
What to Do When You Worry Too Much
This is one of my favorite books for kids with anxiety. I've used it for kids I see in my therapy practice for years. It is suitable for kids 6-12 years old with anxiety, but some of the exercises are great for teenagers with anxiety too.
Sometimes I Worry Too Much But Now I Know How to Stop is a book best for kids 5-10 years old with anxiety.
Therapy for Anxiety
If you are the one with anxiety and you need more than these elf help tools Better Help is a great option to get therapy in the comfort of your own home. Try it out here.
More Gift Guides:
Unique Gifts for Men Who Have Everything
Frugal Gifts People Actually Want