You will love these clever storage ideas for small bedrooms. These are the perfect solutions for bedrooms in small houses and apartments.
One of the things that often happens when you get divorced is that you move into a smaller place at least for a while.
Save Storage Space by Decluttering
The first thing to do when you have a small space is to get rid of anything extra. If you have less stuff you need less storage space.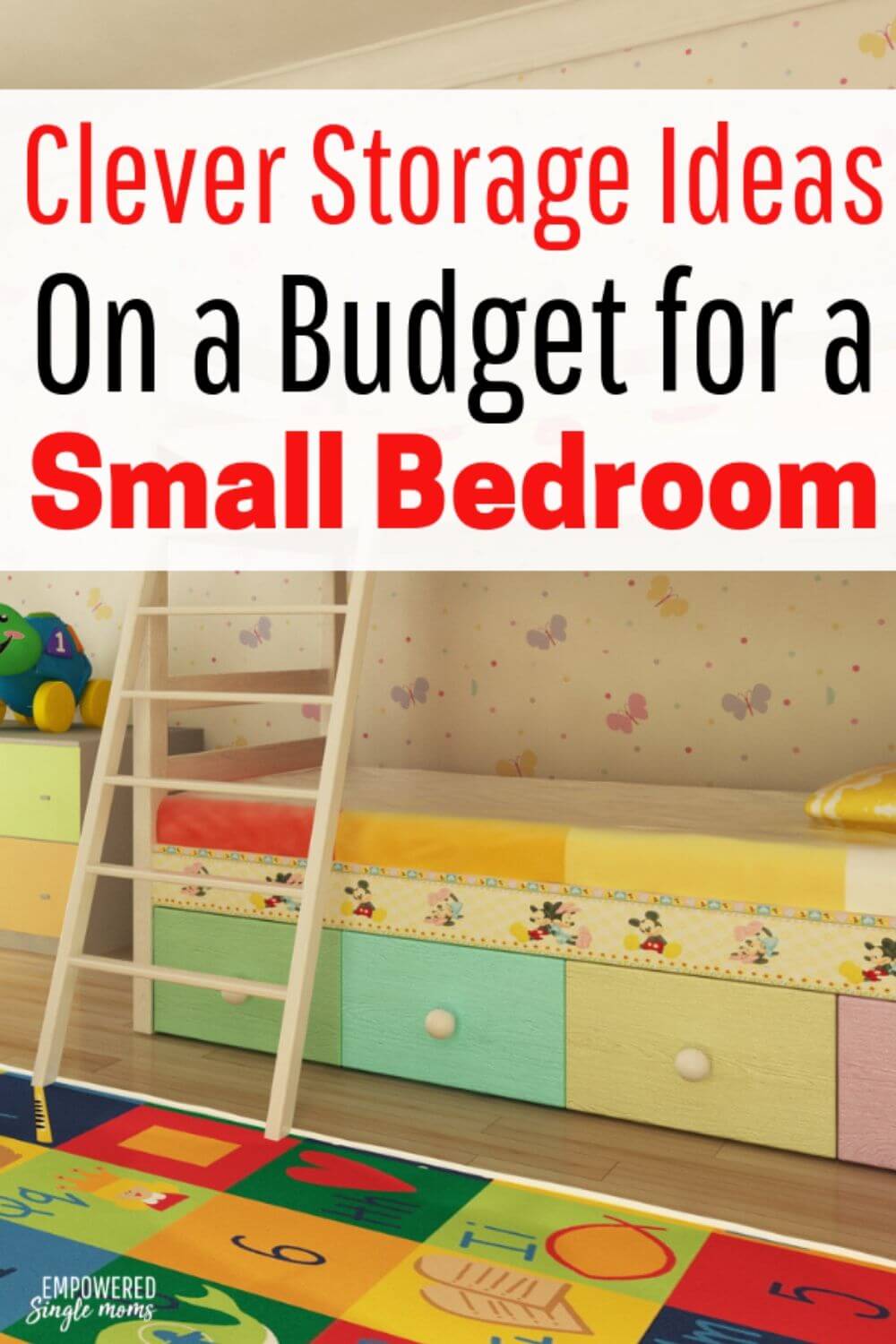 This post may contain affiliate links, if you buy a suggested product I will earn a small commission. We are a participant in the Amazon Services LLC Associates Program, an affiliate advertising program designed to provide a means for us to earn fees by linking to Amazon.com and affiliated sites." Read the full
disclosure policy here
.
This is a great book on decluttering. I love her motto of only keeping what sparks joy.
A bookcase headboard is a traditional way to add storage in a small bedroom. You may even be able to skip the nightstand if you use a clip-on lamp to save space.
Another way to have extra storage is to use crates to make your own bedroom furniture. You can use crates to make a headboard, bookcase, floating shelves or toy storage area.
Closet organizers are a fantastic way to maximize space in closets. This is a great organizer to make extra room in your closet for clothes and other storage.
Cube organizers are a fantastic way to hide little toys or other things you aren't sure where to store.


Get more ideas on organizing your space room by room when you don't have time to organize.
Using furniture to do double duty is a way to save space. This nightstand is storage and a place to put the book you are reading before bed. The basket on this one gives it a clean look.
Beds take up a lot of space in bedrooms, but there are things that you can do to make more effective use of the bed. You can store things in under the bed storage containers, have shelves under the beds or even put a dresser under a loft bed.
Loft beds Provide Floor Space and Storage Space
Loft beds are the classic way to make more floor space in a dorm room, but they are great for any small bedroom. You can put a desk under a loft bed or bookcases or storage shelves.
Loft beds are only one way to add storage under bed drawers are also a great way to add bedroom storage. This queen size bed is a great option for adults and teenagers.
Bunk beds are a traditional way to save floor space in kids' rooms. This one goes one step further with an under bed drawer for clothes or toys.
If you already have beds there are a lot of options for under bed storage.
Storage benches are another excellent way for a piece of furniture to play double duty. These storage benches make good seating and are an excellent place to store toys or extra bedding and blankets when they aren't needed on the bed.
There are several other tools to save space in small bedrooms including compression storage bags, pants hangers, or shoe organizers.
Shoe organizers are a wonderful way to use a closet door for storage. They can be used for more than shoe storage. In a child's room, they are great for storing little toys (maybe a collection of stuffed animals). They also make a good place to store lingerie.
Remember when you are short on space choosing furniture that plays dual roles is a great way to add extra storage space in small bedrooms. You can find ideas for how to decorate on a shoestring budget here. If you are renting here are 9 ideas to make a rental feel like home.