Inside: Why I signed up for Liberty Health Share and dropped my health insurance.
I rarely get sick. Until this spring in the last fourteen years, I'd missed about five days of work due to being sick. I rarely have a need for health insurance even though I have always had it.
This post may contain affiliate links, if you buy a suggested product I will earn a small commission. We are a participant in the Amazon Services LLC Associates Program, an affiliate advertising program designed to provide a means for us to earn fees by linking to Amazon.com and affiliated sites." Read the full
disclosure policy here
.
The Day I Decided to Sign Up for Liberty Health Share and Drop My Health Insurance
It started out on a Friday afternoon, one of those beautiful spring days that is perfect for a lunchtime walk. On Friday afternoon I usually catch up on paperwork, but I really didn't feel up for it after my walk, so I went home.
I went to bed a little early that night and the next day I had a fever and ached all over. It was late Saturday afternoon before I made it down to the kitchen to make some toast.
Sunday was a little better and I actually made it to the couch by about noon. I ventured out to the store to get some cold & flu medication and then back to bed.
By Monday I felt so much better I ate a little breakfast and started a load of laundry. Thankful to be feeling pretty much myself, I went to work.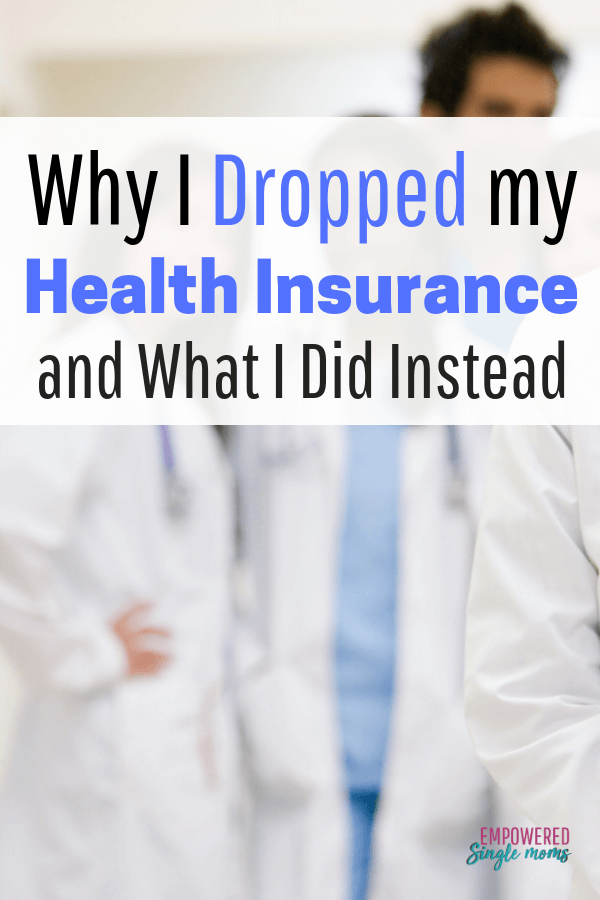 Unfortunately, I was not doing as well as I thought. An hour or two later I passed out three times on my way from my office to the bathroom. I scared my office partner enough that he told me he was calling the ambulance. I tried to talk him out of it when I came to, but he wasn't having it.
An Expensive Mistake
When the EMTs got there, I refused to get in the ambulance. They said they couldn't make me, but they were none too happy. They started doing tests right there in the hallway.
When they told me my blood pressure was almost nonexistent, I agreed to get in the ambulance.
While I was in the rig I must have looked unhappy. After getting an IV started the EMT asked me what was wrong and I said, "I am feeling sick about how much this ride is going to cost me." He said something mildly reassuring, but the cost was my biggest concern.
When I got to the ER they did all kinds of tests to make sure I hadn't had a stroke or a heart attack, even though I told them I often pass out when I've had a fever.
I was extremely dehydrated. Even though I had tried to drink water while I was sick, obviously I hadn't managed to drink enough. I had also been taking cold medicine to deal with the aches, and that contributed to my dehydration.
That was a really expensive mistake, so remember if you or the kiddos get the flu, drink lots and lots of water. Don't be like Tamara and end up in the ER.
Related: Ultimate Guide to Making Ends Meet for Single Moms
Alternative to Health Insurance When You Don't Get Insurance Through Your Work
Since I am self-employed, I buy my own health insurance. At the time my deductible was around $7,000, so to my great dismay, the ambulance ride and most of the ER visit were out of pocket. My premiums were more than $700 per month for an individual policy.
This whole experience prompted me to explore other options. A couple of months later I saw an article about Liberty Health Share. I had heard one of my blogging mentors and her family had Liberty Health Share. When I messaged her, she explained what a great experience they have had with the plan.
I reviewed the decision guide to see if Liberty Health Share would be a good option for me. It isn't for everyone, because it is not health insurance and there is a waiting period to cover preexisting conditions. There are things it doesn't cover that most insurances do cover.
In fact, it is not insurance. Liberty Health Share is a ministry, so there are also some rules members need to follow in order to qualify, like no smoking. None of the exclusions or rules were a problem for me and the cost savings are enormous, so I dropped my health insurance and signed up for Liberty Health Share.
My premiums are less than half the cost of premiums for my health insurance. The non-share portion, which is similar to the deductible, is also a fraction of my health insurance premium.
Because it is not health insurance, the same guarantees do not exist. However, I have heard no complaints and only good reviews from folks I've talked to who use a health share account.
The idea is community sharing of health expenses. You contribute money to others' medical expenses and others' will contribute money to cover your health care expenses if and when you need it.
I have called them to check on a couple of things and they have always been very helpful in answering my questions.
If you live in the United States and need to buy your own health insurance check out Liberty Health Share It may be a good option for you and your family.
You can read more about Liberty Health Share here, and if you have questions they are happy to talk to you about it on the phone.
Be sure to tell Liberty Health Share Tamara Mason suggested you check them out.
Oh, by the way, I decided I would get a flu shot this year. I called to check if Liberty Health Share would cover my flu shot and they do. It was my first flu shot ever, but I want to minimize my chances of another ambulance ride.
Related Posts
How to Save Money Every Month as a Single Mom
Easy, Creative Ideas to Make Extra Money