Inside: When divorced parents compete it is painful and heartbreaking for everyone. Learn what to do instead. These tips work whether your ex is a Disney dad, Disney mom or not.
When Divorced Parents Compete It Hurts Everyone
One of the biggest fears a lot of single moms have after divorce is "Will I lose my kids to their dad". This is an even greater fear if he is a Disney dad. When every visit feels like a trip to Disneyland you feel inadequate and like you will lose them to him.
I hated feeling they might like him better or like their time with him better. What if they decided to live with him full time. I mean, after all, boys need their dad. Sometimes I cried about it and even lost sleep.
This post may contain affiliate links, if you buy a suggested product I will earn a small commission. We are a participant in the Amazon Services LLC Associates Program, an affiliate advertising program designed to provide a means for us to earn fees by linking to Amazon.com and affiliated sites." Read the full
disclosure policy here
.
Looking back I can see all of those concerns were a waste of time, energy and emotion, but at the time my fears were so terrifying.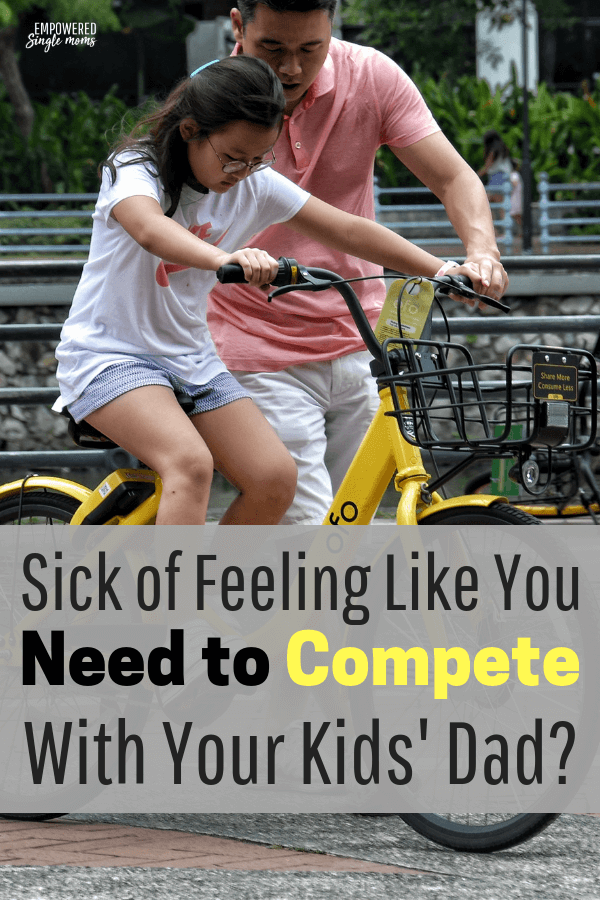 When we compete with our ex, it sucks the life out of us and hurts us as a people and as mothers. Worst of all it puts kids in the middle and they feel like a rope for tug of war. Keep your children out of the middle of your divorce. They deserve better.
Don'ts for Competitive Feelings Towards Your Ex
Some single moms deal with the fear of losing their kids by trying to block the relationship between the kids and their dad. Don't give in to this temptation it is a terrible thing to do to your kids. Ideally both your home and dad's home feel like their home. Do your best to support this.
The exception to having two homes is if there are safety concerns. Remember just because you don't agree doesn't mean the kids are not safe. Be honest with yourself are they safe with him? If yes support the idea of 2 homes.
Another temptation is to try and get your kids to pick sides and be on your side so you don't lose them. This is hurtful to them too.
I know it is tempting especially when your spouse had an affair and that is part of why you are no longer together. You want him to get the blame (he may even deserve the blame). This is not helpful to the children. Keep your children out of the middle of your divorce.
I know it is so scary and heartbreaking to feel after losing your marriage you will lose your kids too. You worry they will want to be with their dad full time because he is more fun.
Or you worry they will like his home better because they have fewer rules. Maybe he isn't as concerned about them eating vegetables or doesn't have the limits you do on their screen time.
You are their mother and you have a special place in their hearts and lives. Kids need more people in their lives to love and support them not less.
You may know this and believe this in your heart of hearts it is true kids can't have too many people to love them. It is still difficult to deal with those feelings of jealousy towards the other parent.
Here are some tips to help you get through this.
Be Your Best You as a Single Mom
It is frustrating and heartbreaking to feel like you are competing with your ex or his new partner for your kids' loyalty and love.
Instead of being a divorced parent competing for love and attention focus on being the best person & mom you can be. Use this time to journal and discover who you are as a single person.
Remember you are more than a mom. You have hopes, dreams, and goals. Use the time when your kids are with their dad intentionally. It is a great time to explore what your dreams and goals are for this chapter of life.
Use the time away from your kids to rest, rejuvenate and connect with friends. Then when the kids are back with you, you will have the emotional and physical energy to focus on them.
Related: 25+ Fun Things to Do By Yourself, When Your Kids Are With Their Dad
How to Make Your Dreams Come True
Focus on Quality Time During Parenting Time
I know your finances are probably tight. Spending intentional time with your kids when you have them is more important than spending a ton of money you don't have.
Family meals are an important and regular way to spend intentional time as a family. Make it a priority to all sit at the table and have a meal several times a week when you have the kids with you. Meals don't need to be fancy you just need to be together.
Make use of time bringing them to and from school or their activities. Do chores or errands with one child at a time as they get older so you can have that time together. These snippets of time are opportunities for conversation.
Family vacations make fantastic memories. It could be a night or two in a hotel. You could go on a camping trip. Try making visiting out of town extended family a special adventure.
Another option is a staycation. Plan several days of staycation when you sleep at home, but do special things during the day.
Out of the routine times are special opportunities for making memories or developing traditions.
Related: How to Have Amazing Conversations with Your Kids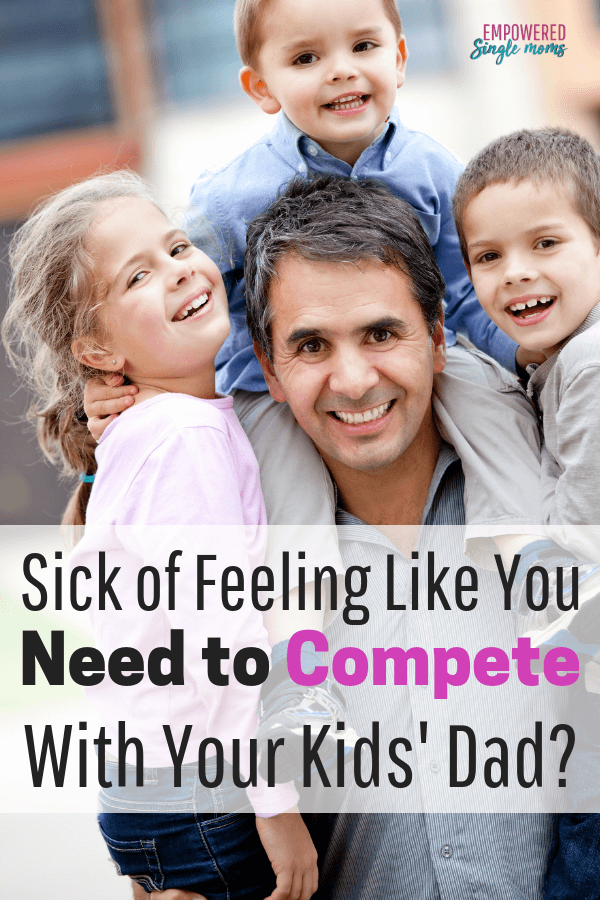 Have Single Parent Family Traditions
Some of these family traditions may be the same as when you were a two parent home. Others may be a little different due to your family situation. Some traditions may be weekly others holiday traditions.
One of our favorite family traditions, when the kids were at home, was Friday night pizza and a movie. It was born out of my exhaustion, but the kids looked forward to it and it continued with some variation into their high school and even visits during college years.
One Christmas tradition that is still meaningful is pajamas as the "first gift" on Christmas.
Then there are the special foods we have on holidays, that the kids have come to expect. Part of our family Christmas and Thanksgiving celebration is playing board games.
When we moved into our house we started a tradition of having a homework burning party.
None of these traditions cost much money. They didn't take a lot of extra time. The traditions made special memories that solidified the feeling of being a family and having a home.
Related: Do You Know How to Have a Fun & Cheap Single Parent Christmas?
It is normal to feel competitive or jealous towards the other parent. You can learn to deal with these feelings. Focus on being the best person you can be. Focus on quality time with your children. Give them your time and attention when they are with you.
I started Empowered Single Mom Tribe a private Facebook group just for you. We share support, information and encouragement. It would mean a lot to me if you joined us here.
Keep your children out of the middle of your divorce. Kids need more loving people in their lives not less. Support the idea of them having two homes, your home and dad's home are both their home.