After my ex-husband and I separated I had to face this fact: with one income instead of two, Christmas can be really expensive. I worried about the typical expenses: traveling to see family (especially when they live far away), gift buying, decorating, more gift buying, and purchasing special food.
I had some choices.
Wallow in depression and resentment.
Go into debt trying to replicate the Christmases we had with two incomes.
Accept it as a challenge.
I chose to think of having a fun and inexpensive single-parent holiday as a challenge. Consider the following to maximize your efforts and resources.
This post may contain affiliate links, if you buy a suggested product I will earn a small commission. We are a participant in the Amazon Services LLC Associates Program, an affiliate advertising program designed to provide a means for us to earn fees by linking to Amazon.com and affiliated sites." Read the full
disclosure policy here
.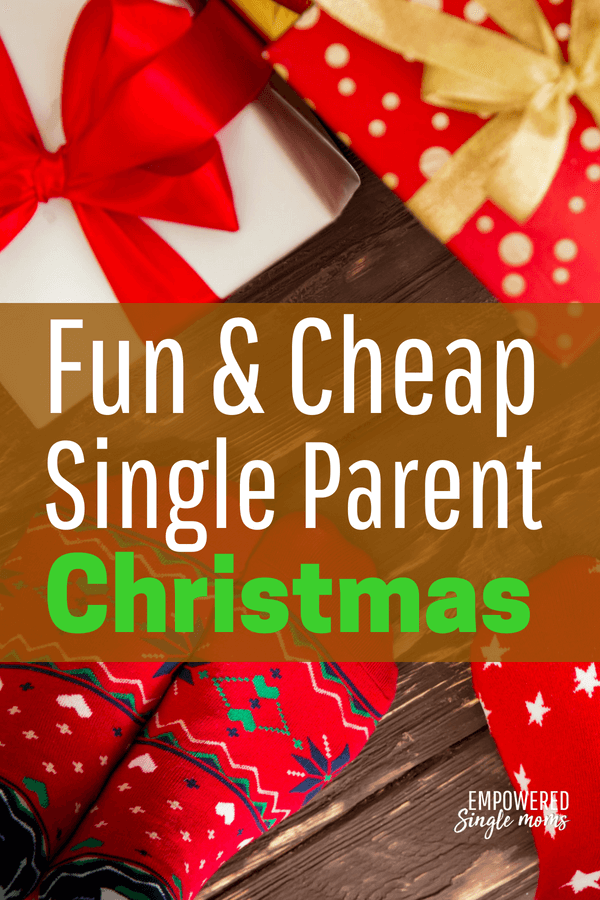 Who
Christmas is a great time to reconnect, so by all means celebrate with extended family if you are able to. If you live far from family like we did and it doesn't work to travel at Christmas, take heart. The holidays are the most expensive time of the year to travel. You can save a bunch of money by planning to travel at another time of the year. Spend some of your holiday planning a great family vacation with your kids.
Even if you are not able to physically be with extended family, you can include extended family in your celebration with phone calls, Skype, or FaceTime. Make these interactions part of your gift opening time or share your holiday excitement with extended family when the day is drawing to a close.
Another option is to make Christmas memories with your friends. Who else isn't able to be with family for the holidays? It can be nice to celebrate with a close friend or a group of friends. Consider inviting everyone to join you for a holiday get-together. If these options don't work out, don't dismay; there is sweetness in small family gatherings too.
Related: What to Do if You are Feeling Depressed and Lonely at Christmas
Cheap Single-Parent Holiday Gifts
Buying gifts for a long list of people is expensive. Luckily, there are many options to help you save on gift buying. I come from a family of six siblings. We started drawing names when we were fairly young. We set a budget and exchange gifts. When spouses joined the family, they were added to the gift exchange. Instead of exhausting ourselves (and our wallets) shopping for and buying a costly list of items, we each focus on choosing one meaningful gift within our budget.
Some of my friends who have big families play a game called "white elephant." There are different ways to play this gifting game, but essentially everyone brings an unlabeled, wrapped gift and guests take turns opening them. Others can "steal" the gift you opened. Tailor the game to your family. Some families encourage everyone to bring silly novelty gifts, inexpensive gift cards, dollar-store items, or items they want to re-gift.
Special Gifts
Making gifts is a heartfelt way to make the holidays more economical. My aunt always brought a tray of homemade candy as a Christmas gift. Each family received a tray of these wonderful treats for Christmas. Making candy or cookies can be labor intensive, but homemade goodies are special gifts to share. A word of caution: Be mindful of the receivers' dietary restrictions. I gave chocolate to a coworker for several years before I learned that she was diabetic and she was too polite to inform me she never ate the chocolate. Oops! By the same token, if you know someone is trying to lose weight, cookies and candy are not a thoughtful gift. This may seem obvious, but it happens more often than you might think.
Get Crafty
Some of my friends have a wonderful tradition of giving a homemade ornament to all of their nieces and nephews at Christmas. It takes time but very little money, and their ornaments are absolutely beautiful. My boys made two of my most adored ornaments in kindergarten. They are simple wreaths made with puzzle pieces and their kindergarten pictures. If you want to try making ornaments, here are some easy salt dough ornaments to get you started. The handprint Santa is my favorite. Doing crafts with your kids could even be a new family Christmas tradition.
For years, I cherished a nativity scene that was made out of clothespins. It eventually wore out due to little hands lovingly arranging and rearranging the pieces just so, but it saved my more fragile set from getting broken by the kids. Because we had loved the clothespin nativity so much, the next year we made homemade sets for the kids' cousins' families. They looked something like these, but with wise men and shepherds too.
Need more ideas? I collected some ideas to get you started here. To maximize your budget, choose a project that requires materials you already have on hand.
Experiences
Another alternative to buying gifts is to focus on an experience. One of my favorite memories from young-adulthood is when we would all work on putting together a jigsaw puzzle at Christmas. It was a way to work together and we came and went from the project throughout the weekend. Part of the tradition I have with my kids is playing a family game. This was last year's favorite.
I know a family who takes turns having all of the siblings work together on a project that needs to be done at their house instead of buying gifts. At Christmas, they schedule a time to get together and do the projects. The host family is in charge of buying the supplies and feeding the crew. It costs the givers time but no money.
One of the sweetest gifts I received after having a baby was a gift certificate for babysitting from a grandma experienced with premature babies. Why not give the gift of two or three hours of babysitting to friends or family in town? The receiver gets a few hours off to do errands or have fun without kids, and your kids get a special playdate.
More than anything else, grandparents want pictures of and time with their grandkids–bonus points if you give them pictures of the grandparents and grandkids having fun together. Schedule a playdate with Grandma and Grandpa and let them make some memories together. Framing a nice picture or making a calendar of special moments is very economical.
Gifts That Help
When money is tight, you may also think about what helpful gifts to receive at Christmas. Do your kids really need more toys? Often your family wants to get them something, so think about this: do your kids want to take music lessons, go to camp, or be involved in dance or a sport? Consider asking for something that would help facilitate those activities. Many grandparents are willing to give the gift of an extracurricular activity, lessons, or part of the fee for camp. Why not put those things on their Christmas lists? Or if your family is more into giving stuff, why not ask for special equipment or clothing the kids need for an activity?
For you, are there projects that you want help with? Put those on your Christmas list. I have been given the gift of help setting up a number of things on my phone and computer. These tasks would have taken me hours to figure out by myself. A family member was able to do it in a fraction of the time and actually enjoyed doing it. If you have teenagers or you are tech savvy, give the gift of tech support to your loved ones. You could do the task for them or give Grandma and Grandpa a lesson in tech. If you want some more ideas for your own Christmas list check out this post on gifts for single moms.
Extra Ways to Keep Holidays Cheap
Cut your costs by being creative with wrapping paper. One summer, I painted the kids' feet red and green and let them walk on a roll of newsprint paper I got super cheap at the local newspaper. The wrapping paper looked like this. It was cute and way cheaper than the store-bought stuff. If you can't find newsprint, try this.
For small gifts, you can use some of the artwork your kids made throughout the year. There are also many creative projects to do with brown kraft paper if you are a crafty person.
Remember, the best way to have cheap single-parent holidays is to keep the focus on relationships and experiences, not on buying stuff. Thoughtful gifts of time, handmade items, or experiences keep the holidays warm, personal, and memorable.
I designed some Christmas Coupons you can use to give experiences. You will find these coupons in the resource library as a thank-you gift when you subscribe to my newsletter.
You might also enjoy:
Fun Matching Family Pajamas for Your Christmas Morning Photo Shoot
The Insights You Need to Make Single Parent Holidays Wonderful
Christmas Gifts that Build Connection
Fun Secret Santa Gifts for Co-Workers
This post is part of the Secrets of Success by Single Mom Bloggers series. This month we all give you secrets related to holidays as single moms. Be sure to check out what the other moms have to say.
Do you know another single parent who would enjoy this article? Please share it with him or her.
Pin this post to refer to later, here's the pin.
I made a group just for you to share ideas and encouragement. Join us in Empowered Single Mom Tribe.