Creative things to do when you are bored and why it is important to make time to be creative.
To be honest I think the last time I was bored was when I was in high school. I don't think of my self as creative and honestly, I am jealous of some of my more creative friends.
Sometimes trying to be creative leaves me feeling "meh". I know from working with really creative people it is super beneficial for their mental health to create. I realized it is good for my mental health too.
Creativity is a great way to boost your self-esteem, reduce anxiety and improve your mood.
Using your creativity gives you a chance to be totally in the present moment which gives you a chance to relax your body and calm your mind.
Creating something beautiful whether it is a visual art, written word or another form of creative expression is good for improving your view of yourself.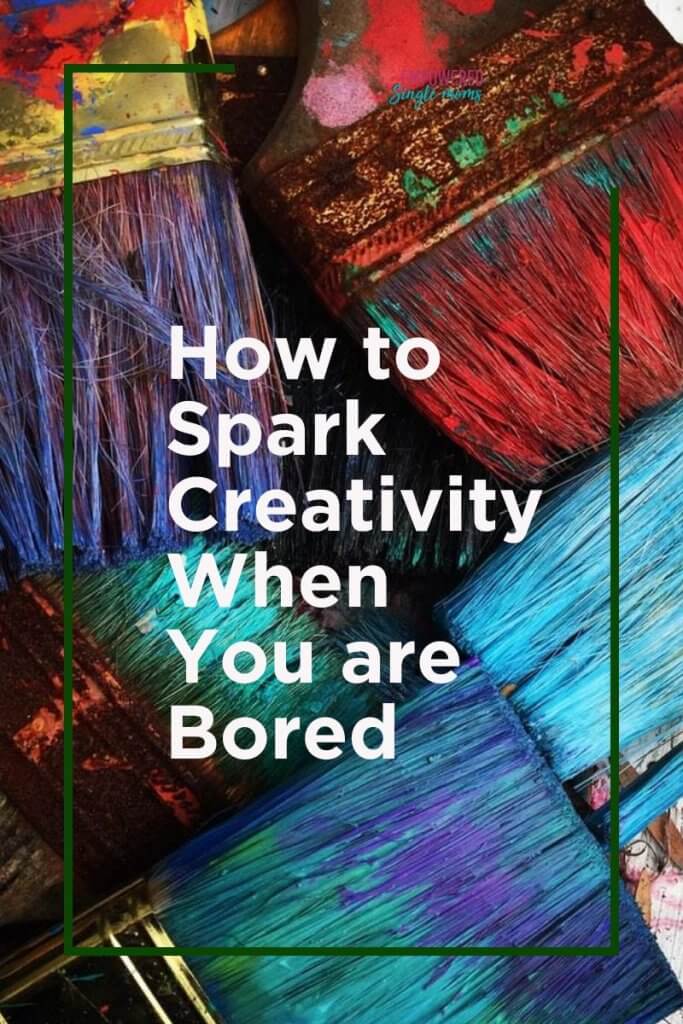 This post may contain affiliate links, if you buy a suggested product I will earn a small commission. We are a participant in the Amazon Services LLC Associates Program, an affiliate advertising program designed to provide a means for us to earn fees by linking to Amazon.com and affiliated sites." Read the full
disclosure policy here
.
Creative Things to Do at Home
Try a new recipe
Do a theme meal based on another country's cuisine. Here is a great cookbook to try international cooking with your kids.
Color in an adult coloring book
Paint a room
Make vision board
Write a story or start a blog
Decorate your front porch on a budget
Plan Single Mom Family Pictures
Easy Craft Ideas to Sell
Open and Esty shop and make DIY magic with unique craft supplies. Or just try some of these easy craft ideas to decorate your own home or give as gifts for friends and family.
Wall Hangings or framed fabric Art
Painting for the unartistic
Try your hand at making a dirty pour. Here is a favorite I found on Etsy.
If you want to try your hand at doing your own dirty pour checkout this tutorial on YouTube
Creative Things to Make
Kids' Halloween costumes (easy no-sewing required)
Snowman or a snow sculpture
Sandcastle or a sand sculpture
Make your own photo gifts
Fun Creative Things to Do with Kids at Home
Over at 3 Dinosaurs, she has all kinds of fun ideas for doing art with cookie cutters. Check out this apple cookie cutter painting.
Make your own homemade play dough. I like this recipe because it is easy and I love the fun smells. You can also use essential oils to make your play dough smell fantastic.
Make a list of Things to Do Near Me
I live in a small town and here are some of the creative things to do near me. See if any of them are near you or make your own list of creative things to do near me.
Line dancing
Ballroom dancing
Escape Room
Go to Wood Carving Festival
Go to Chain Saw Carving Festival
Act in Community Theater
Build set in Community theater
Pottery Class
Painting class
Jewelry making class
Basket weaving class
Quilting class
Make a scoring card and taste test different the same food at different restaurants.
You could try pizzas, burgers or muffins. Create your own special pizza, burger or muffin recipe.
Rate your towns different playgrounds
Do you have a state or national park near you. Most have interesting ranger lead activities.
Try geocaching
I am surprised by how many ideas I was able to brainstorm.
Related:
Fun Activities for Teens to Do When They Are Bored
Gifts for Creative People and Those Who Want to Be
How to Make Fun Happy Family Memories as a Single Mom