How single moms can make happy family memories.
For me, one of the hardest things about getting divorced was losing the possibility of a "normal family." I lost the dream of the happy couple with the house, two kids, family meals, and family vacations with another adult as a partner.
A lot of the grief of divorce is grieving the dream of what you planned to have.
This post may contain affiliate links, if you buy a suggested product I will earn a small commission. We are a participant in the Amazon Services LLC Associates Program, an affiliate advertising program designed to provide a means for us to earn fees by linking to Amazon.com and affiliated sites." Read the full
disclosure policy here
.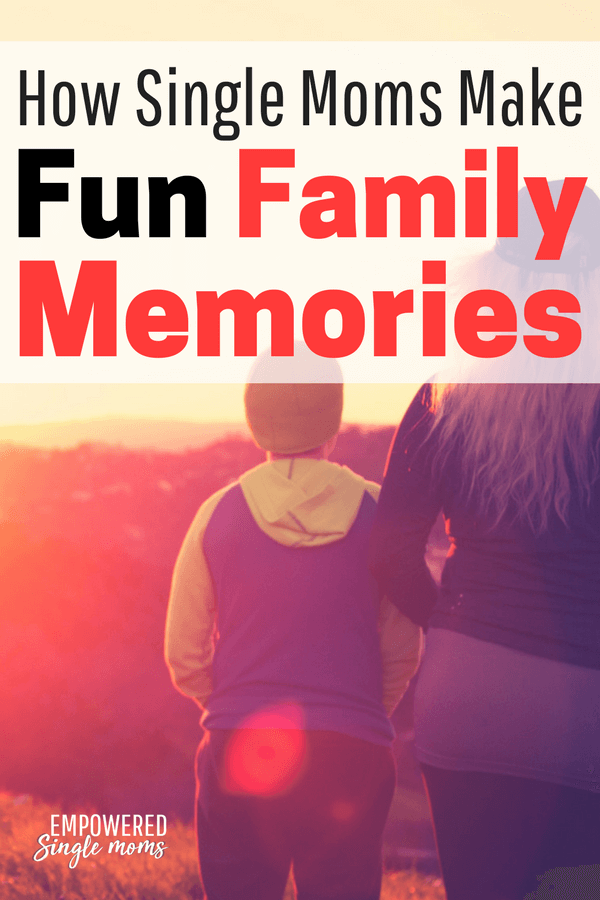 Well, you and I can either sit and cry about what we don't have or we can decide what we want and go about building that life. There are many ways to build happy family memories.
Daily Family Memories
Daily rituals are a great way to build family memories. You can have a special way to wake up the kids, like a song or a quick back rub. It can be as simple as driving your kids to school and sending them off with "Have a great day! I love you!" or making a hot breakfast.
After-school snacks can become a special memory, even if you aren't there to greet the kids when they come home. Stock the fridge with something special or make a quick phone call when you can't be home.
Making dinner together is a great way to connect. Your child can help you or they can keep you company and tell you about your day while you make dinner.
At dinner, you can encourage conversation by banishing electronics from the table. Sharing the high and low of the day is a great way to spark conversation. You can also encourage everyone to share what they learned during the day or pick table topics. Hopes and dreams make fun table topics, but so does "Would you rather be an elephant or a tiger?" or whatever else you dream up.
Playing a game, putting puzzles together, or going for a walk or bike ride all make better memories than everyone sitting in the same room staring at electronic devices. You may not have family time every evening, but you can make it a habit once or twice a week.
Stories and prayers are a great bedtime routine that creates memories.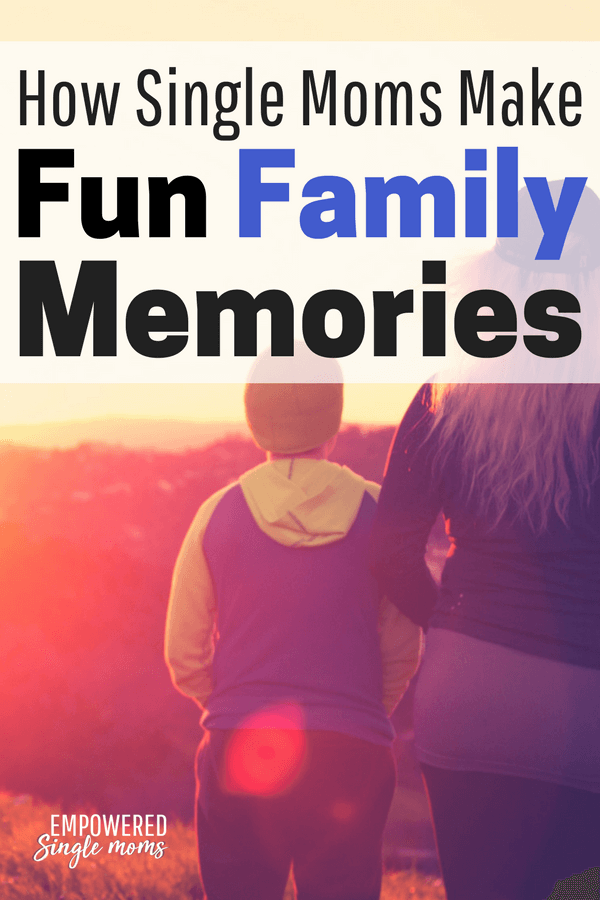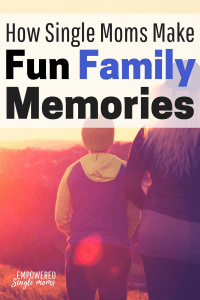 Weekly Family Memories
Have a weekly game night (we like this one) or a weekly pizza and movie night or a weekly family slumber party where everyone sleeps in the living room.
Weekends are perfect for big breakfasts. You can also use weekends to pre-cook meals for the week ahead. When kids participate, it becomes a family memory.
Related: Fun Things for Teens to Do in the Summer
Special Event Family Memories
Holidays will be different when you are a single parent, but they can still be special. Here are some ideas for a single-parent Christmas and Mother's Day.
You can also have special meals or traditions for birthdays. When the kids were younger I had a special cake book and let them pick the cake I made. When their friends slept over, and often on Saturdays, it was time for banana, chocolate chip pancakes.
Leaf raking in the fall is a great opportunity for memory making. Jumping in the leaves makes the work easier and more fun.
Is there something particular to where you live? We would make an occasion out of guessing when the ice would cover the lake and another occasion in the spring when the ice went off the lake. The winner got to pick a place to go out for dinner.
We developed our own tradition of having a homework burning party during the summer. The kids had friends over and burned all their old homework from the school year. The party usually included hot dogs and s'mores over the fire. If it was after the first of July, we had sparklers too.
Plan a special single mom family photoshoot or make a no-sew Halloween costume.
If you are crafty you could try a family craft night or make your own gifts for Christmas and birthday presents.
Related: Family Christmas Traditions to Start for $5 or Less
Frugal Gifts People Actually Want to Recieve
Fun Matching Family Pajamas for Your Christmas Morning Photo Shoot
Childhood Memories of Making a Home
Divorce can mean moving–sometimes more than once. The kids usually have little say in where or when the moves will happen. But, if you give kids some control over their space, they will remember for a long time. When we moved into our house, I let the kids pick the colors for their rooms. I was an even cooler mom when I let them choose colors for the basement. Later when the bedroom colors seemed too little-boyish for one son, he repainted and decorated his room with music symbols.
Travel Memories
Family vacations are a great way to make family memories. You can travel with just you and the kids or travel with another single mom and her kids as vacation partners. You can also vacation with extended family. There are a lot of ways to afford travel as a single mom.
If a week seems like a lot to tackle by yourself, try starting with one night or even a day trip. Anything out of the norm can become a special memory. You can even try a staycation and be a tourist in your own town, saving hotel money by sleeping in your own bed.
Display vacation photos around the house as reminders of the family memories you made.
Kids Activities
Supporting your kids in their activities will build family memories. Whether they are performing in a play or a concert or playing a ball game, knowing you are cheering them on is a memory they will treasure (even if they are teenagers and pretend they don't notice).
You are also teaching them the importance of being there for those you love. Even if they take it for granted that you will be there, they will notice that not all parents are there. Don't feel guilty if you can't attend every single event, but do come to the things you are able to. It won't go unnoticed.
There are so many ways to make family memories. Focus on what is possible and not what is missing. One advantage is that you are the only adult, so you have a lot of power over developing family traditions and family memories. Make the most of your opportunity. You and your kids will be glad you made the extra effort.