I love collecting fun activities for teenage boys and girls to do to bust boredom when they are stuck at home. There is no need for them to spend all day watching screens with all the ideas to keep them busy you will find here.
Updated December 2020
If you have a 13, 14, or 15 year old you are probably in search of fun activities to keep them from getting bored. These fun activities for teens can be done alone, with friends. Some of them are even great ideas for parent-teen time or as a whole family. I've got you covered with ideas for when you need to social distance or under normal times rainy, wintery, or summer days.
This post may contain affiliate links, if you buy a suggested product I will earn a small commission. We are a participant in the Amazon Services LLC Associates Program, an affiliate advertising program designed to provide a means for us to earn fees by linking to Amazon.com and affiliated sites." Read the full
disclosure policy here
.
A bored teen can be a dangerous thing. Bored teens need fun activities to keep them out of trouble.
As a single mom, boredom is one of the things I worried about. With only one adult in the home, it becomes more complicated to make sure a bored teen doesn't turn to the wrong things to keep busy.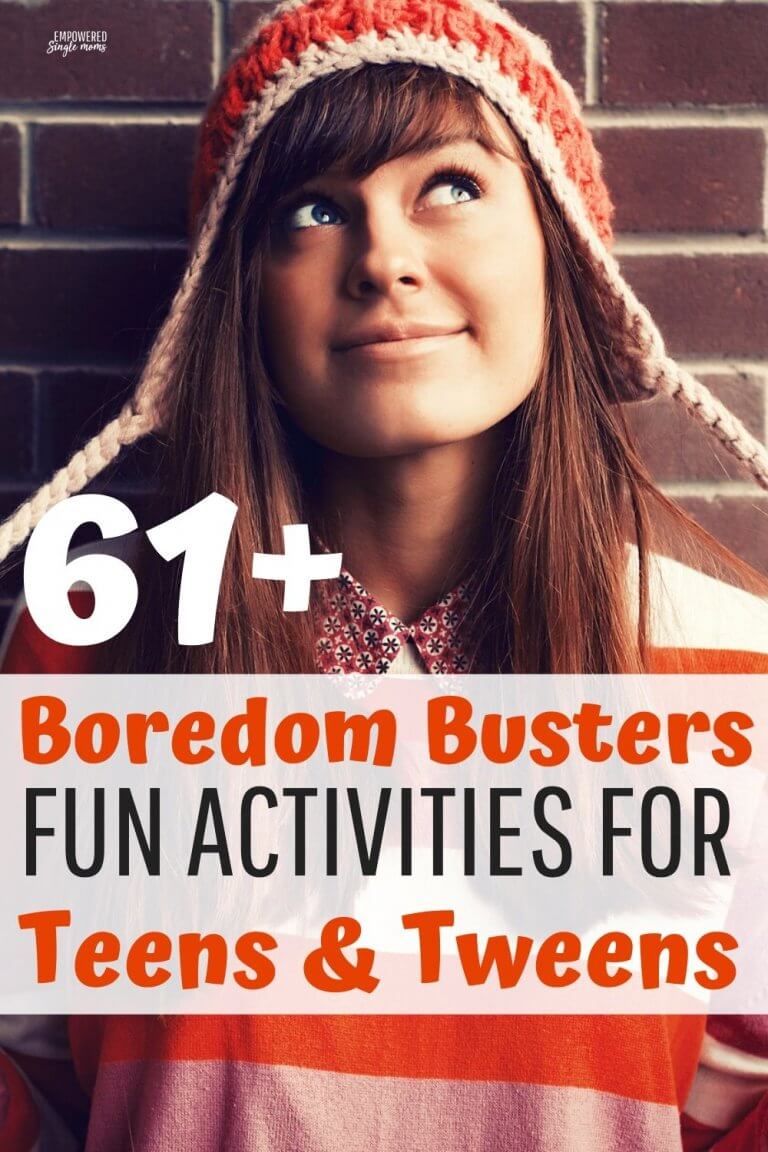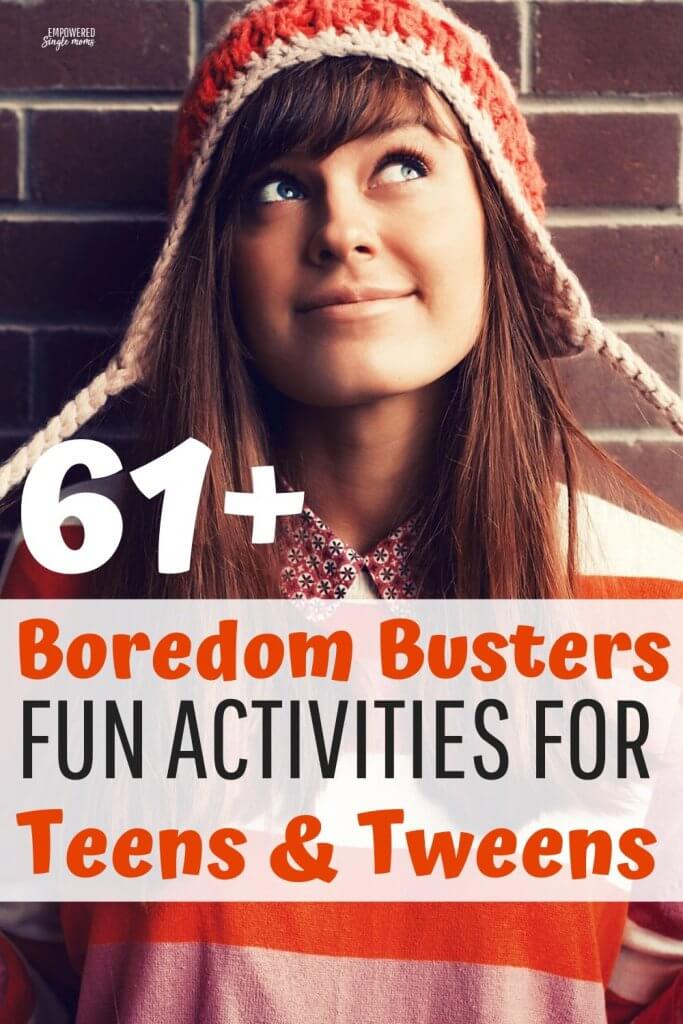 There are so many ways a bored teenager can go wrong. They can spend endless hours in front of a T.V., computer, or phone screen vegging out.
They can watch videos or play games that reinforce values you are totally against. It's not too hard to find things online that devalue women, encourage violence, or even glamorize suicide.
Then there is the fact that too much screen time equals isolation and very little exercise. Studies show that too much screen time correlates with increased risk of depression in teens.
Of course, there are far worse uses of a teenager's time than bingeing on screen time. They may be making babies. Maybe flirting with delinquent behavior is keeping them busy. They could be experimenting with alcohol and other drugs. What is a mom to do?
It is easier than you might think to limit their screen time. These activities will bust the boredom, keep teens off their screens, and give them healthier options than baby making or drug use.
Related:
How the Best Parenting Rule Ever Will Change Your Life
Things to Do for Bored Teens
Try a fun craft project. When a teen expresses his creativity not only is he not bored it also reduces anxiety and improves a depressed mood. There are lots of other indoor activities for teens to do besides craft projects for them to express their creativity, connect with other family members or friends.
Creative Activities for Teens and Tweens
Fun activities for teenagers to do when they are stuck at home.
Write a story or start a novel
Draw a picture
Color free coloring sheets with watercolor pencils
Make suncatchers and add a splash of color to your windows
Learn to paint a picture
Knit a hat, socks or a scarf
Learn to play an instrument
Make a music video
Decorate your room
Crochet a stylish neck warmer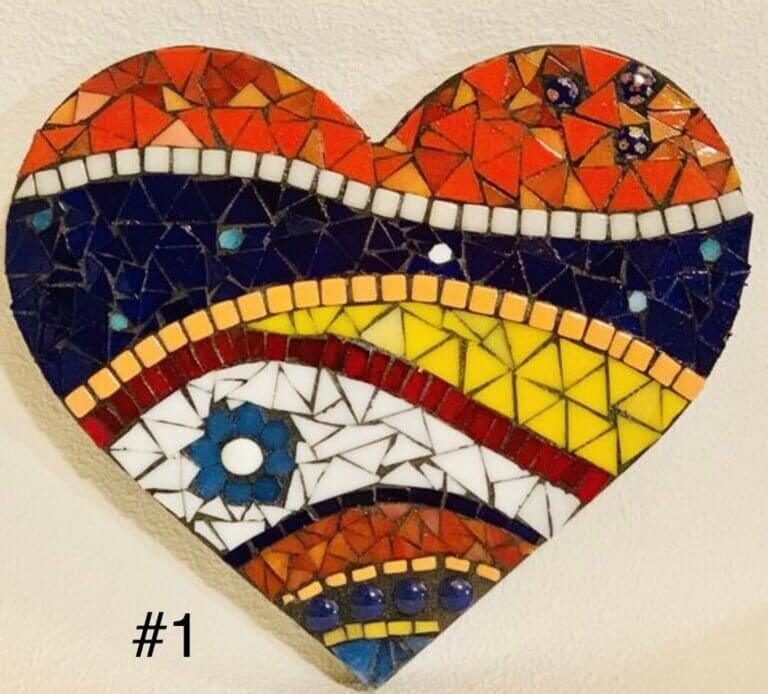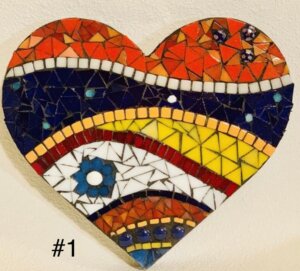 12. Get a Craftsman Crate–a new project every month with all the tools you need to create it
Fun DIY Activities for Teens
When kids can't leave the house these are some great ideas for them to have fun and stay busy instead of bored and crabby.
Learn origami
Make a tie blanket to use or donate to a homeless shelter
Create frameable art with National Park Coloring Pages
Make soap
Sew cloth napkins
Build something using wood (You can get free plans online to build almost anything: birdhouses, shelving, tool boxes, etc.)
Assemble a model dragon
Make paracord bracelets
Crochet
Make your own coffee table photo book think of the possibilities: a memoir of a beloved pet, a special family vacation, a book about extended family or even a family recipe book with pictures of the family.
Need even more ideas for crafts? Check out these easy Crafts to Make, Sell or Give.
Related: How to Have Amazing Conversations with Your Kids
Boredom Busters for Family When You are Stuck at Home (Especially Great for Single Parents)
What can a teenager do at home?
Try some of these fun indoor activities. These are interesting things to do a rainy or cold day when all you want to do is stay inside.
Fun Indoor Activities for Teens
Try some of these activities when tweens and teens are bored and need to stay in the house.
Read a book
Make a pie
Make cookies
Prepare dinner for the family
Bake bread
Make a bucket list of 100 things to do in their lifetime
Put together a jigsaw puzzle
Learn to draw
Paint a picture
Try a wooden 3D puzzle
Make a Lego creation
16. Read stories of people who will inspire you

If you are looking for productive activities for your teens 15 Productive Activities for Teens (Plus 1 Bonus Activity for High School Seniors is the answer for you.
Related: Family Game Night Ideas for Tweens & Teens
Fun Summer Activities for Teens
Summer is a great time to have fun and be productive. Favorite summer activities for most teens are pursuing outdoor hobbies. Most outdoor activities are a fun way to get some exercise in the summer. Exercise improves your mood and reduces anxiety. No wonder most people like to play outside.
Get a job! It can be fun to earn money and spend time with friends while working.
Go to summer camp (There are camps for sports, music, and church to name a few.)
Canoe
Kayak
Sail
Mow the lawn (This may or may not be fun for them, but it will be fun for you to have it done.)
Bike
Fish
Go to a playground and pretend to be a little kid again
Wash a car
Play disk golf
Grow vegetables in a home or community garden
Volunteer for local charities
Related: Old Fashioned Fun Family Activities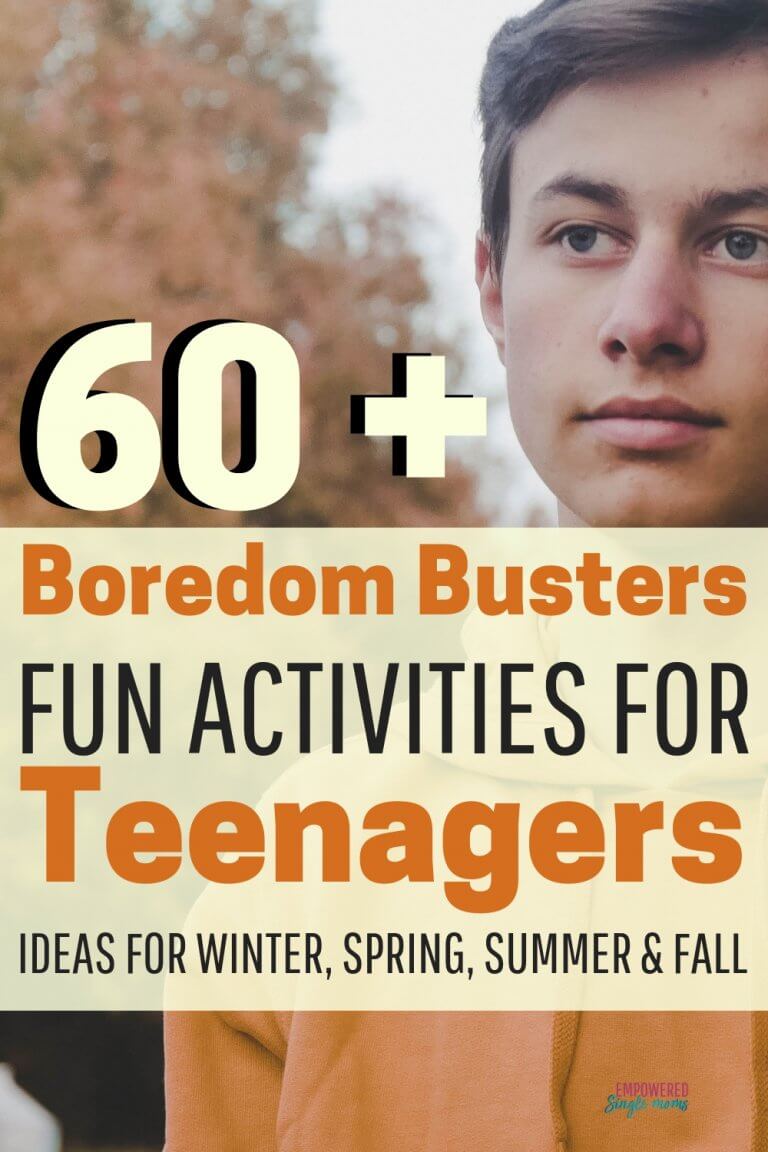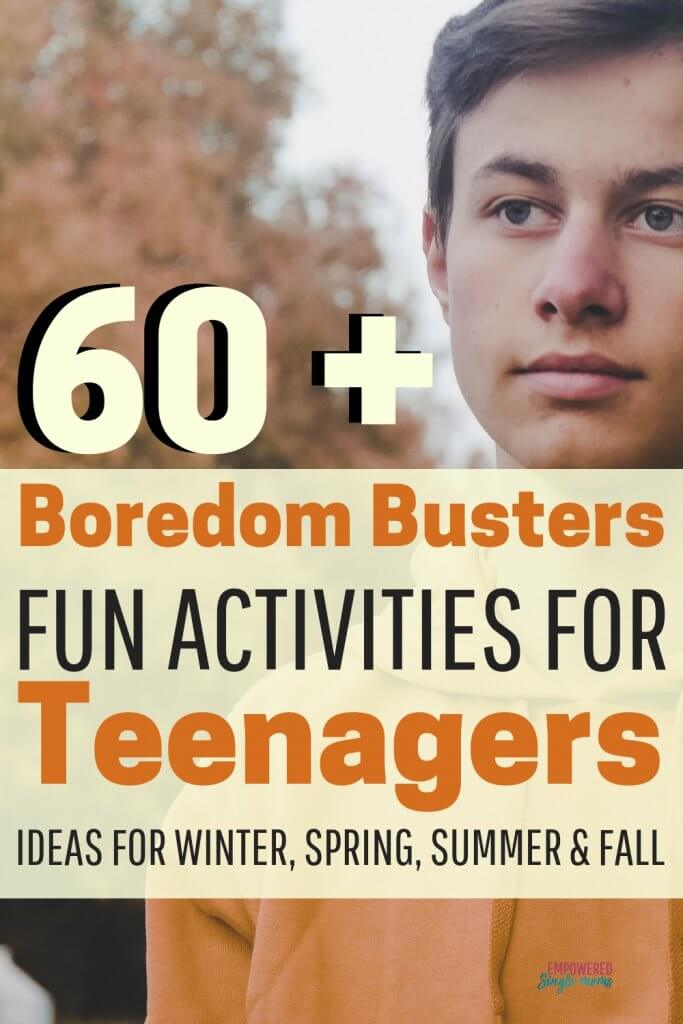 Fun Group Activities for Teens in the Summer
Capture the flag
Play soccer
Swimming at a lake or pool
Sandcastle building competition
Croquet
Flag football
More ideas: 55 Fun Things for Teens to Do in the Summer
Group Activities for Teens in the Winter
Ice skating
Sledding
Snowshoeing
X-country skiing
Downhill skiing
Building a snow fort or sculpture
Learning to read the stories in the snow
Making a snow angel
Checking out activities at local state or national park
Things to Do on a Day Off From School
If your kids have taken the time to make a bucket list it will be much easier for them to come up with some ideas on how to spend their days off from school whether it is summer vacation or an unexpected day week or month of no school.
Time at home is a fantastic opportunity to develop creativity, build relationships, exercise or practice a skill. If your kids don't have a bucket list challenge them to make one. Once they have a bucket list they can choose something on the list and take a step towards reaching that goal or dream.
Challenge Your Teen or Tween to Do a Bucket List
You probably don't want to show your tweens or teenager this list of ideas. When a mom gives a teen an idea, its value is often reduced significantly, so don't hand them over a list of ideas.
Instead, challenge them to come up with a list themselves. A fun activity is to come up with a bucket list of 100 things to do in your life. You might even do that yourself and then compare parts of your list or have a family goal-setting session.
Related: 25 Creative Journal Prompts for Self Discovery
The benefit of a 100 item bucket list is to get beyond the mundane and expected. It is a challenge to think about all the things you might like to do in your life.
Once it is written down, it becomes closer to a goal and you are more likely to focus on ways to make it happen or take advantage of opportunities that become available.
Related: What I Learned Parenting Teenage Boys
What to Do Next
Once the bucket list is written down, challenge your teen to take a step toward reaching that goal. Here are some ideas for a bucket list item and the first step:
Run a marathon–Sign up for a 5K
Compete in a triathlon–Bike 10 miles
Eat Mexican food in Mexico–Use an app to start learning Spanish
Read the Bible cover to cover–Try this plan
Get your driver's license–Study for the test
Learn to play an instrument–Sign up for lessons & set a goal of 100 minutes of practice per week
Write a book–Set a goal to write 500 words a day
Hike the Pacific Crest Trail–Walk 3 miles a day
Learn to cook or bake a favorite dish–Find a recipe and make a grocery list of ingredients
Eat vegetarian for a year–Plan a trial month of vegetarian meals or plan 3 months of meatless Monday meals
Organize your room–Start with one shelf or a hula-hoop-size area.
Redecorate your room–Pick a new color for the walls.
It is good for everyone to dream about what is possible. If your teenagers are dreaming of writing a book, getting a PhD, hiking the Pacific Crest Trail, or learning to make an exotic dish, it is much less likely they will be using their time getting into some sort of trouble.
If you need inspiration on how life-changing doing a bucket list can be for your teenager, check out John Goddard's story here. He made what seemed to be an impossible list at the age of fifteen and accomplished most of it.
Make a Plan, Make a List
Thinking about what your teen likes to do, what will get them moving outdoors, and what will keep them occupied and out of trouble when they have to be indoors is a great start for making a plan to stave off teen boredom.
Having a plan is imperative because you don't want kids to default to staring at screens, so sit down and discuss with your kids how they will use their free time.
Talk about goals, experiences, and, perhaps most importantly, fun! As good as the teenage mind is at finding undesirable pastimes to fill dull moments, I think you'll find that it's also good at accomplishing remarkable things.
Related: Professional Advice for Single Moms Raising Sons