Do your teens need some ideas for productive activities to keep them busy instead of bored?
These 15 ideas are just what you need. If you have a high school senior be sure to take a look at bonus #16 just for kids who want to go to college.
Looking for ideas for your teens to do at home? Skip to numbers 8,9,11,12, 14, and 16.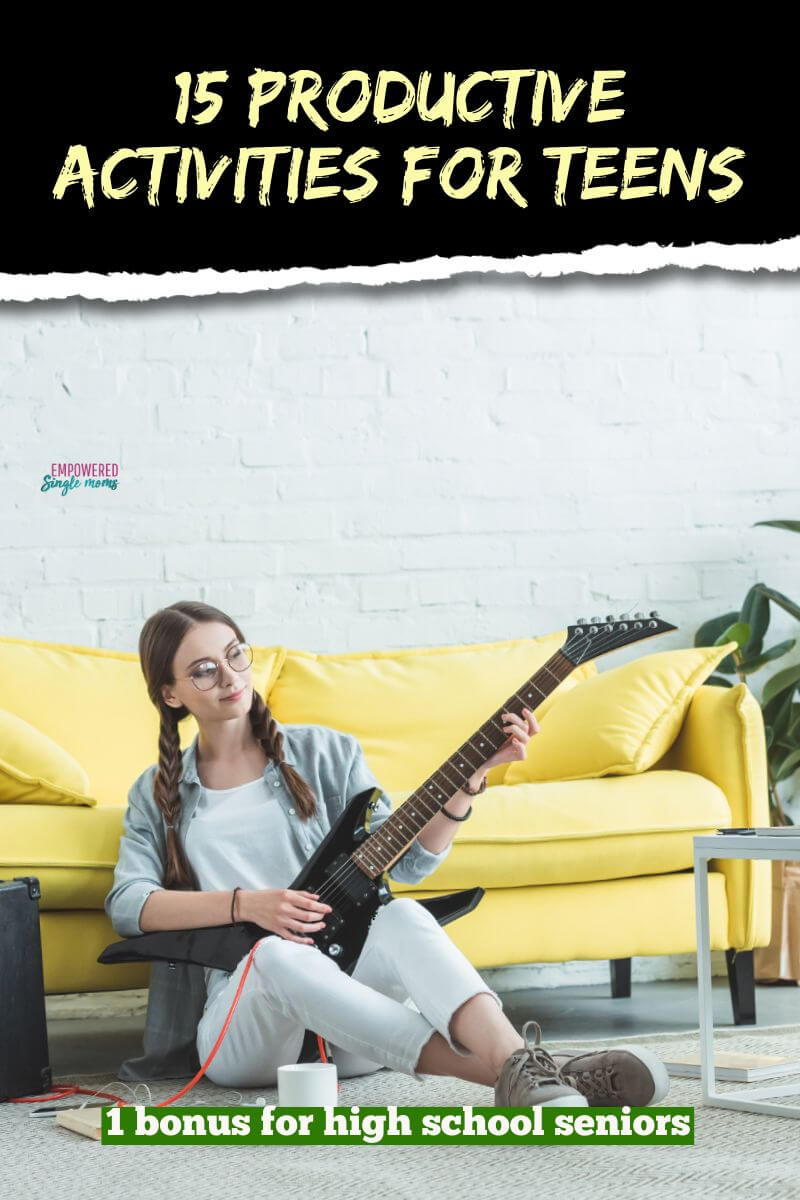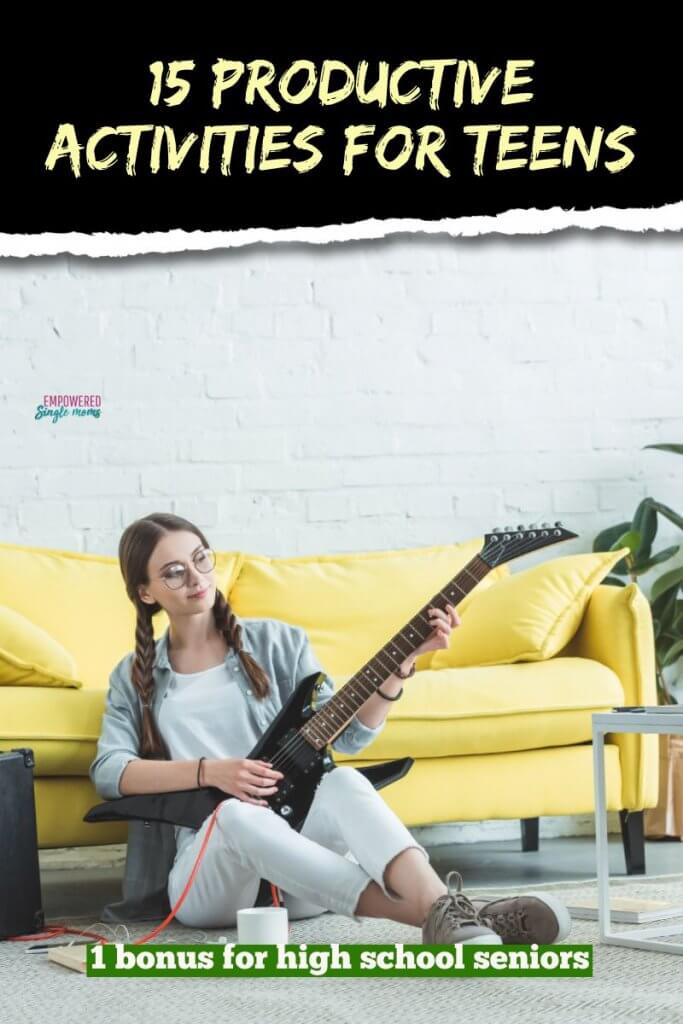 I remember the day I turned cable off at our house. The kids had been warned two or three times that they needed to be more productive that summer. They were both in high school, but it seemed they were spending their days looking at screens while I was at work. I warned them that they needed to do something productive or they would lose the T.V.
This post may contain affiliate links, if you buy a suggested product I will earn a small commission. We are a participant in the Amazon Services LLC Associates Program, an affiliate advertising program designed to provide a means for us to earn fees by linking to Amazon.com and affiliated sites." Read the full
disclosure policy here
.
Well, the third day in a row I came home and it was obvious that they had been watching T.V. all day I turned the cable off. If your kids need something productive to do here are some options.
1. Get a job
A job can teach teenagers how to get along with authority, which is a life skill that s/he will need in his/her adult life. Some jobs provide a skill like customer service, cooking, cleaning, carpentry or many other possibilities.
2. Do yardwork
Teens can do yard work for the family home or make extra money by doing yard work for neighbors or adult friends of the family. If you go to church this can be a great place to connect with families who are interested in trading money for your teen's labor
3. Go for a walk
Another great frugal physical activity to relieve stress. Geocaching can add to the fun of going for a walk. Get some fun geocaching swag and teens can be on their way to hunt for treasure.
4. Clean house
Again this can be done for the family or for extra cash.
5. Take music lessons
Making music is something that can be enjoyed into old age. Learning music takes discipline and delayed gratification both things that will serve your teenagers well as they become adults. Music can be practiced for the sheer pleasure of making music, but it can also become a way to earn some extra money once you reach a certain skill level. Weddings, anniversary parties, funerals, and churches are often looking for special music and are willing to pay someone to play. There are also restaurants and bars that hire people to play music.
6. Practice sports
Team sports require teamwork. All sports require practice, self-discipline, and determination to become skilled. Physical exercise is great for your mental health reducing anxiety and improving mood. Exercise is a great stress reliever.
7. Ride bike
Being outside and doing physical activity both reduce stress. Teenagers can have fun with friends or family riding bike which is a healthy way to connect. When riding at dusk or after dark be sure they have headlamps or at least reflectors.
8. Do yardwork
Teens can do yard work for the family home or make extra money by doing yard work for neighbors or adult friends of the family. If you go to church this can be a great place to connect with families who are interested in trading money for your teen's labor.
9. Read
Reading is a way to learn about people, places and things you haven't experienced first hand. Read a book or get a family Audible subscription and listen to your books.
10. Learn a new Language
Learning a new language can come in useful in your teens' future career, make travel to a new place more interesting and helps them understand that different people see the world differently. You can learn a lot about how people think by learning their language. A friend of mine is going to Europe this summer and using this program to learn some of the language.
11. Go to summer camp
Summer camp is a great way to make new friends and learn. There are camps that focus on learning a sport, learning a language, learning music, Bible camps, and scout camps to name just a few. Activities range from survival skills, spiritual growth, horseback riding, ropes courses, biking, backpacking, canoeing, sailing and so much more. Whatever your teenager is interested in I am sure you can find a camp that focuses on that.
12. Learn computer skills
Computers are the future. Learning a programing language or how to set up a website and make it look pretty are both great hobbies.
13. Make something
Arts and crafts are a fun way to express yourself, but you can also make things to give as gifts or sell them to friends, family or at an art fair to make extra money. I put together some ideas of easy crafts to make, give or sell to get you started. Have a craft day with your kids and make some fun family memories.
Your teen could make a coffee table photo book think of the possiblilitess. S/he could make a book documenting the life of a beloved pet, a special family vacation, a book about extended family or even a family recipe book with pictures of family.
Related: Massive List of Boredom Busters for Families When You are Stuck at Home
14. Start a business
Making crafts, mowing lawns, babysitting, computer skills, and cleaning house can all be turned into a business. Your teen needs to figure out what s/he is selling, price the product or service and then advertise to get business. Having entrepreneurial skills provides security and stability in our changing world.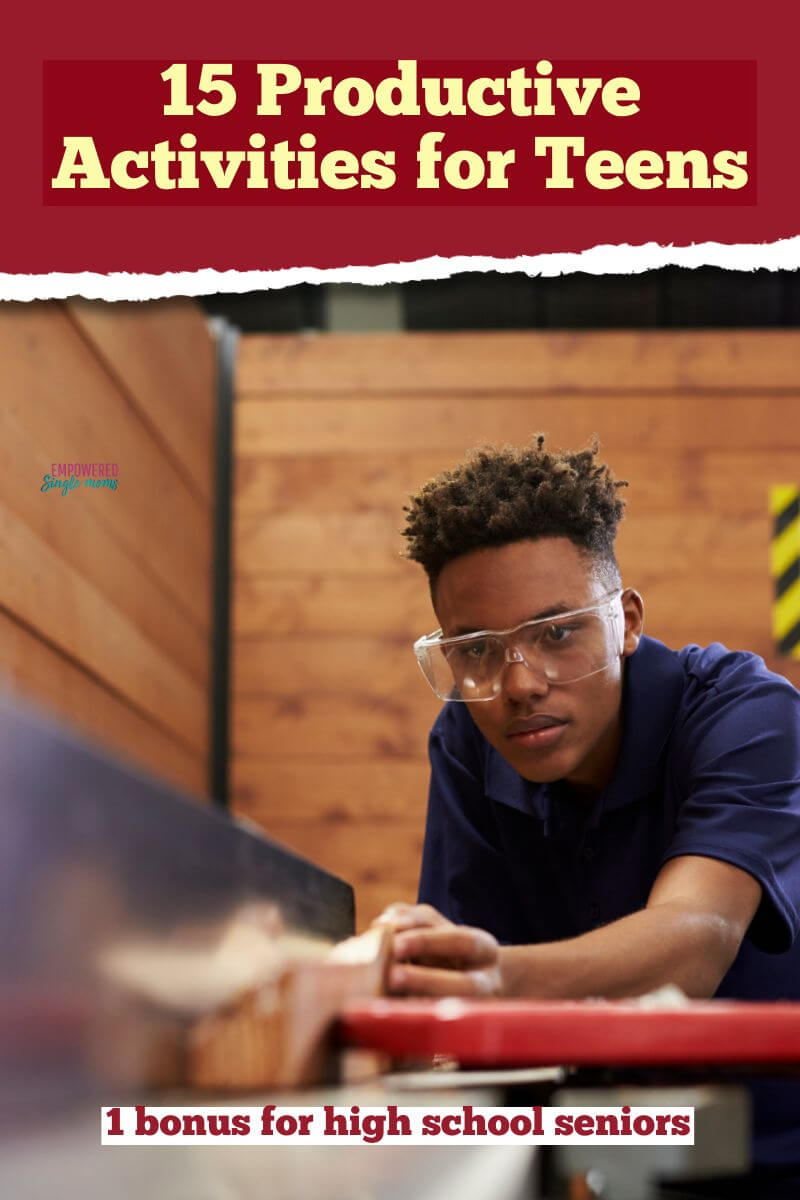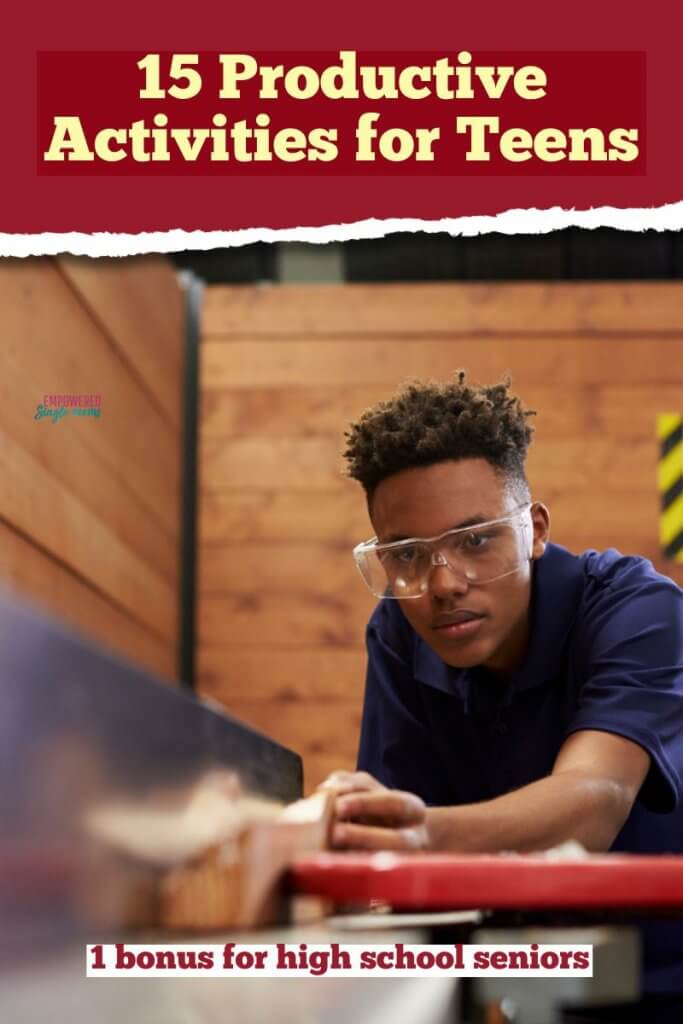 15. Start a blog
A blog is a great way to practice writing skills. It can even turn into a business. Many people make a full time living with a blog, but it is a long game. It is also a good way to practice search engine optimization skills. Get my advice for beginning bloggers here and avoid the mistakes I made.
16. Connect with family
In healthy families, you can count on each other. Let your teenagers know that family is important by encouraging them to connect with family members. They can call or video chat grandparents, aunts or uncles from out of town. Or do a project with a family member who lives close by. I still remember when I interviewed my grandmother about her life. Having a family game night or playing games with a sibling is a great way to connect with family.
17. Bonus idea for seniors in high school: Apply for scholarships.
Applying for scholarships as a senior has the potential to earn kids hundreds of dollars per hour. Start with the college or technical school and then move on to other funding sources. One good source for this is the high school guidance counselor another is the college admissions office. The third source of college and graduate school funding is government financial aid. Fill out the FAFSA to see if your student qualifies for grants or government-insured loans.
If your teens are spending too much time interacting with a screen show them this list and have them pick out one or two of these productive activities to try this month. Evaluate how it went at the end of the month and let them decide if they want to try something new or dig deeper into the new activity.
I learned so much raising teenage boys. Here my top 10 lessons from raising teenage sons.
Learn abroad
Immerse Education Essay Contest is a scholarship contest for study abroad. Available to students 13-18. The Immerse Education Essay Competition offers applicants the opportunity to win a 100% scholarship to participate in an Immerse summer program in Oxford, Cambridge, or London.
More ideas for teenagers:
Fun Things for Teens to Do in the Summer