These frugal meals will make your budget meal planning as easy as boiling water.
I have been getting bored with making the same old things like burritos, pasta, sandwiches, and salads. Some new healthy meal plans on a budget were in order.
I have been eating a little too much bread and pasta. It was time to hunt for some new budget recipes and I was successful. Some of the recipes I found are even paleo and whole 30.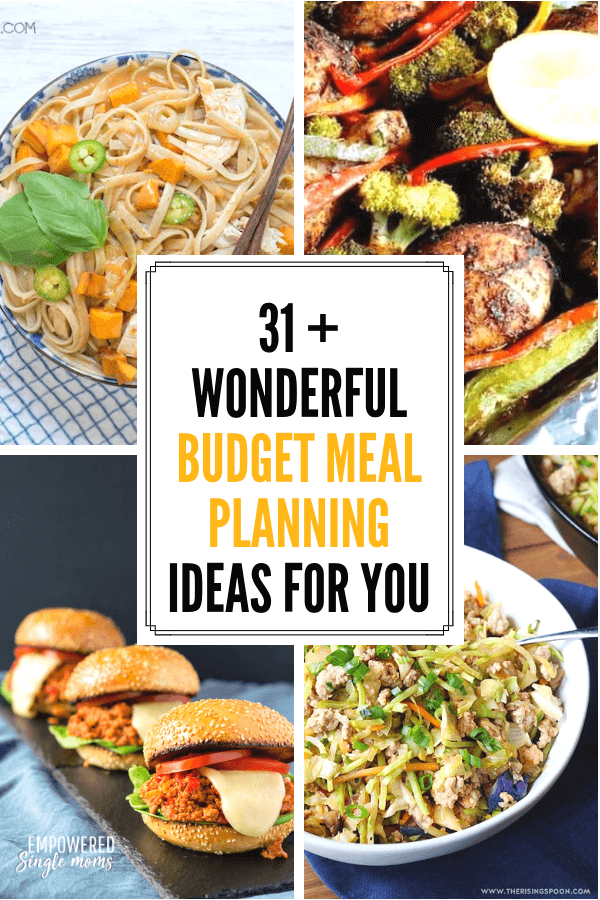 This post may contain affiliate links, if you buy a suggested product I will earn a small commission. We are a participant in the Amazon Services LLC Associates Program, an affiliate advertising program designed to provide a means for us to earn fees by linking to Amazon.com and affiliated sites." Read the full
disclosure policy here
.
I went to my favorite place to get new ideas for frugal meals. "Where is that?" you ask, Pinterest of course. Check out my Pinterest boards here and follow me while you're there to keep up with my latest inspiration.
I had so much fun collecting new recipes that I decided to share them with you.
I got a little carried away collecting new healthy, budget recipes, so instead of one article, I decided to write a budget meal planning series. This is the first of three.
I go through the process of how to save on food here and how to save money on groceries here.
Related: Food in a Flash
If combing Pinterest for meal planning ideas, going through the recipes and making your grocery list isn't fun for you or you just don't have the time. Eat at Home is a great meal planning service.
She does the work of making easy, budget meal plans for you. She makes it super simple to eat at home which is so much cheaper than going out. I love her recipes and the options she has to individualize it for your lifestyle.
Check out Eat at Home here. Eat at Home has meal plan options for traditional meals, wholesome traditional meals, InstaPot/Slow Cooker and No Flour, No Sugar.
Now for the recipies I collected to share with you.
Budget Meal Planning Ideas with Chicken & Turkey
I was surprised by how many different ways there are to fix chicken. It is almost endless. Here are some of my favorites.
Way better for you than the processed things you get at the store.
Easy Crispy Oven Baked Chicken Thighs
Super Easy Sheet Pan Chicken and Vegetables
Roasted vegetables are my family's favorite way to eat vegetables. If you haven't tried it this recipe will get you started.
Baked Ranch Cheddar Bacon Chicken
Southwest Cauliflower Rice Bowl
Asian Chicken Noodle Soup Sweet Potatoes
15 Minute Chicken Tortilla Soup
If you are looking for a great cookbook you can't beat, Dining On A Dime Cookbook. You can get it as a regular book or as a digital book.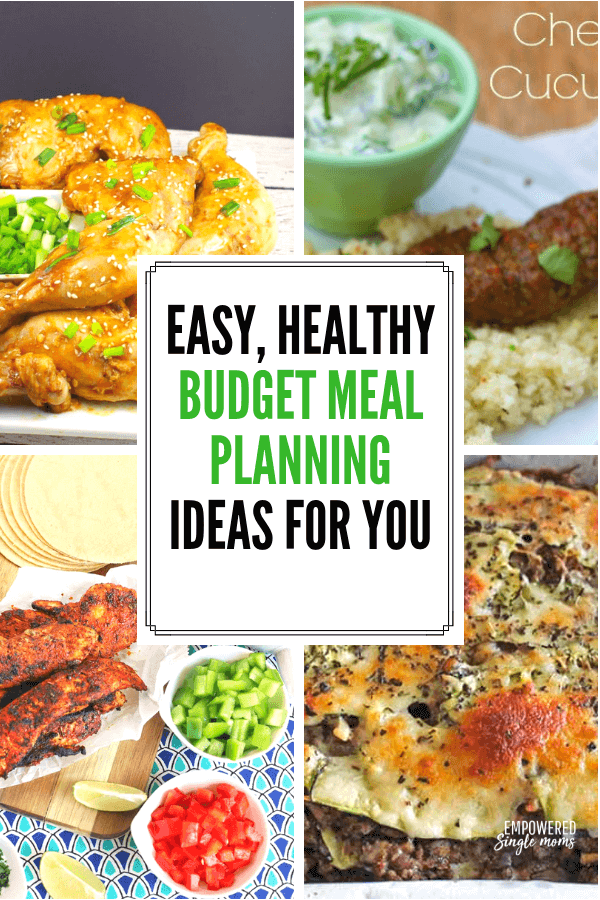 Related: How to Make a Cheap Grocery List When Money is Tight
Frugal Beef Meals for Your Budget Meal Planning
Watch for ground beef to go on sale and buy a family pack. It freezes like a dream.
Chelo Kababs and Cucumber Yogurt Salad
This is really different than anything I've made but looks so yummy. I can hardly wait to try it.
Pork
Hungarian Meatballs with Cauliflower Rice
Fish
Asian Pan Fried Salmon Patties
Vegetarian Meal Planning Inspiration
A lot of families have one or two days a week that they go meatless, which is a great way to reduce what you spend on food. These vegetarian recipes are built around some of the best choices for budget meal planning beans, pasta, rice, potatoes, and eggs.
One Pot Spinach and Tomato Pasta
Falafel is one of our favorite vegetarian meals.
Related: 77 Cheap, Easy, Good Tasting Lentil & Bean Recipes
Side Dishes
Spaghetti Squash with Butter and Parmesan
5 Ingredient Italian Pasta Salad
This salad is hearty enough on a summer evening it could be the main course.
Tomato Bruschetta on Sundried Tomato and Olive Bread
More Ways to Save Money
161 Poverty Meals Eat Healthy When Money is Tight
How to Make Ends Meet a Single Mom's Ultimate Guide to Frugal Living
Healthy Cheap Crockpot Meals, Inexpensive InstaPot Meals, and Frugal Vegan Meals.
17 Comforting, Savory Soup Recipes for Your Instant Pot