Inside: Easy, healthy, cheap crockpot meals and inexpensive InstaPot meals will give you the inspiration for frugal meal planning on those days when your time is in short supply.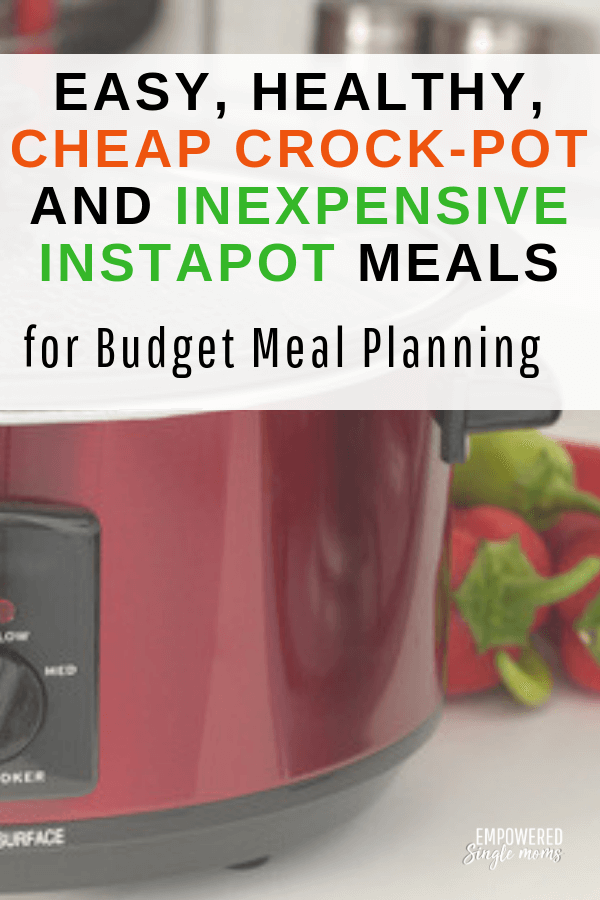 I have been eating a lot of pasta and sandwiches lately. I need some new healthy meal plans on a budget. What is a woman to do?
This post may contain affiliate links, if you buy a suggested product I will earn a small commission. We are a participant in the Amazon Services LLC Associates Program, an affiliate advertising program designed to provide a means for us to earn fees by linking to Amazon.com and affiliated sites." Read the full
disclosure policy here
.
I went to my favorite place to get new ideas for frugal meals. "Where is that?" you ask, Pinterest of course. Check out my Pinterest boards here and follow me while you are there to keep up with my latest inspiration.
I had so much fun collecting new recipes that I decided to share them with you.
I got a little carried away collecting new healthy, budget recipes, so instead of one article, I wrote a budget meal planning series for you.
One of the things I discovered is almost endless ways to make chicken, which is a fantastic ingredient for healthy budget meal planning. You will find many of those recipes in 31 Budget Meal Planning. Ideas for You to Try
Going Vegan for a meal or two a week is another great way to save money on meal planning. You will find some interesting healthy vegan recipes here.
I go through the foundations of how to save on food here.
Related: 19 Awesome Ways to Save on Groceries
You will find more meal planning resources in my members only resource library. Become a member of the community and get access to the resource library.
If combing Pinterest for meal planning ideas, going through the recipes and making your grocery list isn't fun for you or you just don't have the time. Eat at Home is a great meal planning service.
She does the work of making easy, budget meal plans for you. She makes it super simple to eat at home which is so much cheaper than going out. I love her recipes and the options she has to individualize it for your lifestyle.
Check out Eat at Home here. Eat at Home has meal plan options for traditional meals, wholesome traditional, InstaPot/Slow Cooker and No Flour, No Sugar
Inexpensive InstaPot Meals
I am just learning how to use my InstaPot, but I know a woman who has two and uses them both several times a month. Another friend of mine says she now makes most of her meals in her InstaPot.
Whether you're just figuring out how to make inexpensive meals in your InstaPot or are a pro like my two friends these recipes will inspire you.
Low Carb Insta Pot Salsa Chicken
InstaPot Chicken Thighs with Balsamic Vinegar
Instant Pot Hamburger Soup Recipe
Smoky Lentil Sloppy Joes (directions for both Instant Pot & Crockpot)
Dining On A Dime Cookbook is a great cookbook if you are looking for more cheap meals. You can get it as a regular book or as a digital book.
Related: 17 Comforting Savory Soups to Make in Your Instant Pot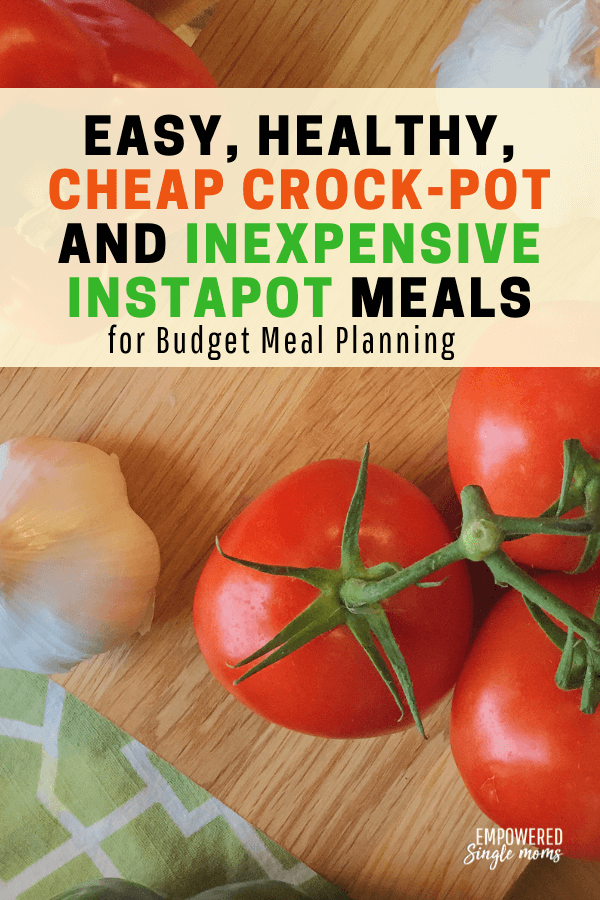 Frugal Crockpot Meals
Easy Slow Cooker Garlic Parmesan Wings
Slow Cooker Turkey Meatballs (Paleo & Whole 30)
Crockpot Chicken Fajitas (Paleo & Whole 30)
Slow Cooker Apple Sauce Chicken
Slow Cooker Lentil Sweet Potato Chili
What are your favorite Instapot and crockpot recipes? Have you tried a new one recently let me know? I am always looking for cheap crockpot meals to start at lunch or before I go to work in the morning.
It makes the evening so much easier to come home to a hot meal and a house that smells like home cooking.