These free printable budget worksheets are the tools you need to make ends meet as a single mom.
In my early days as a single mom, it wasn't easy to have enough money to get the bills paid. When my car needed work or some other irregular expense came up it was a cause for major stress.
I know you and I are not the only ones who have trouble budgeting our money. I often work with single moms or couples on budgeting in my psychotherapy practice. Not having enough money to make it until the end of the month is a huge stress for families.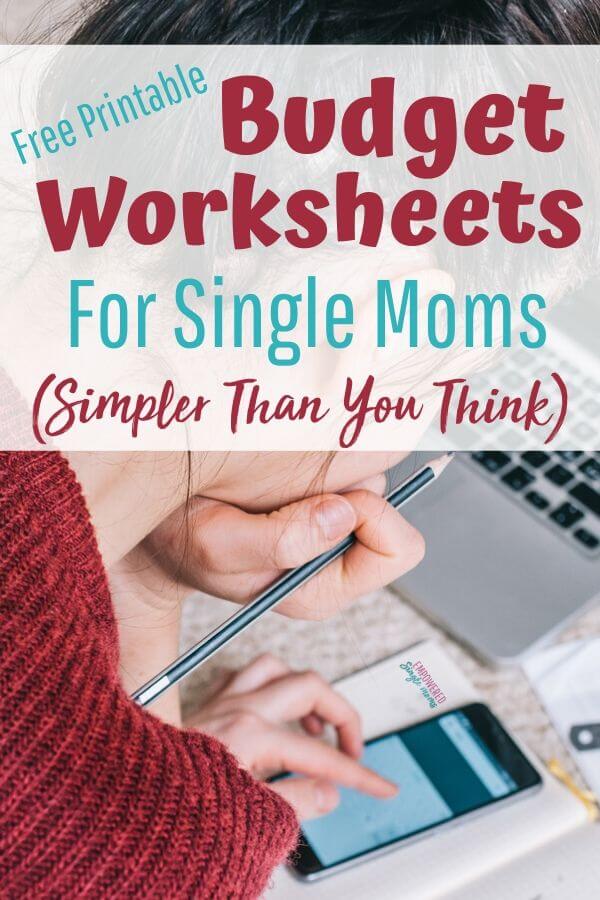 This post may contain affiliate links, if you buy a suggested product I will earn a small commission. We are a participant in the Amazon Services LLC Associates Program, an affiliate advertising program designed to provide a means for us to earn fees by linking to Amazon.com and affiliated sites." Read the full
disclosure policy here
.
There are many things you can do to cut expenses or make extra money so that you can make ends meet on a tight budget. Too often when money is tight you do all the right things to save in one area like groceries or not buying expensive lattes.
Then without even considering the cost, you are paying way more in rent or a mortgage than you can afford on one income. You would need to skip a lot of lattes to make up even a $100 savings in rent.
That is why it is so important to have a budget and prepare for financial emergencies. An expense spreadsheet will help you look critically at how you are spending your money and where you can cut your expenses.
Free Printable Budget Worksheets
One of the first things I do when helping someone get control of their money is to give them a printable budget worksheet. Different budget templates have different focuses.
Zero Sum Budget
The theory behind a zero sum budget is to make the decision about where every dollar goes before it comes in to your account.
Dave Ramsey is the grandfather of budgeting to pay off debt. He has a debt snowball concept where you pay off your smallest debt and keep snowballing your progress until you are living debt free. He even discourages getting a car loan.
Dave Ramsey has several free budget printables to help you in your journey to making ends meet.
For more information and encouragement get his book or even take his class. Many churches offer Financial Peace University class. One of his sayings is,
Live like noone else so you can give like noone else–Dave Ramsey
Live Save Spend Repeat by Kim Anderson
One of the things I like about Kim's system is that she stresses having a budget to help you be able to make your dreams come true. Her attitude towards budgeting makes it seem more about making sure there is money for fun in your life. Of course there are trade offs and you can't do everything all the time, but it is more motivating to me to not do something now so I can have more fun later.
Live Save Spend Repeat budget printables
She has an inspiring story of how she paid off debt, moved closer to family and her husband quit his engineering job to become a YouTuber. She will inspire you to dream big too.
This budget sheet is simple and straight forward and just the basics. I found it on a government website.
50-30-20 Budget
The 50-30 -20 rule was developed by Senetor Elizabeth Warren. The basics of a 50-30-20 budget is to divide after-tax income, spending 50% on needs, 30% wants and 20% savings. You can read more about the 50-30-20 budget here.
How Start Budgeting
Get a blank budget template
Estimate what you are spending in each category now
Decide how you want to change the way you are spending money
Keep track of how you spend your money
Compare how you planned to spend your money and how you actually spent your money
Adjust your budgeting plan
Repeat steps 2-6 monthly. If you need more detailed help on setting up a zero based budget you can learn how to have a cash fueled life here.
1. Get a blank budget template
You can choose one of the ones above or get a budget book like this one that I use. I've tried using budgeting sheets, but they tend to get lost. I find it much easier to keep track of my budget worksheets since I started using a booklet to keep them all in one place.
2. Estimate what you are spending in each category now
The easiest way to do this is to go through your checkbook and credit card receipts for 1-3 months and divide what you spent into categories. This will be a good way to get an estimate. It won't be 100% acurate if you also buy things with cash, but it will give you a place to start.
3. Decide how you want to change the way you are spending money
Once you have an estimate of how you are spending your money decide what you want to change. Do you need to earn more, save more, spend less in certain categories. As a single mom it is important to have an emergencey fund. If you have no savings start with a goal of having a $500 emergency fund, then build it to $1000. Once you have $1000 emergency fund focus on getting any consumer debt paid off and stop using credit cards unless you can pay off the balance every month.
4. Keep track of how you spend your money
Now that you have a plan keep track of how you spend your money by writing it done in a budgeting book or using an app to keep track.
5. Compare how you planned to spend your money and how you actually spent your money
It is important to compare what you planned to do with what you actually did. Was your plan realistic?
6. Adjust your budgeting plan
If your budget plan and your actual spending where 100% on point you are amazing. Make a plan for next month. If not look at what you want to adjust and make a plan for next month.
Budgeting is hard mental and emotional work. If you need support to make it happen for you join the Empowered Single Mom Life Coaching Community where other moms like you are overcoming struggles and meeting their goals.