A vacation at home or a staycation is a great option when money is tight as a single mom.
Single moms can take two different kinds of staycations either a family staycation or a vacation at home when kids are with their dad.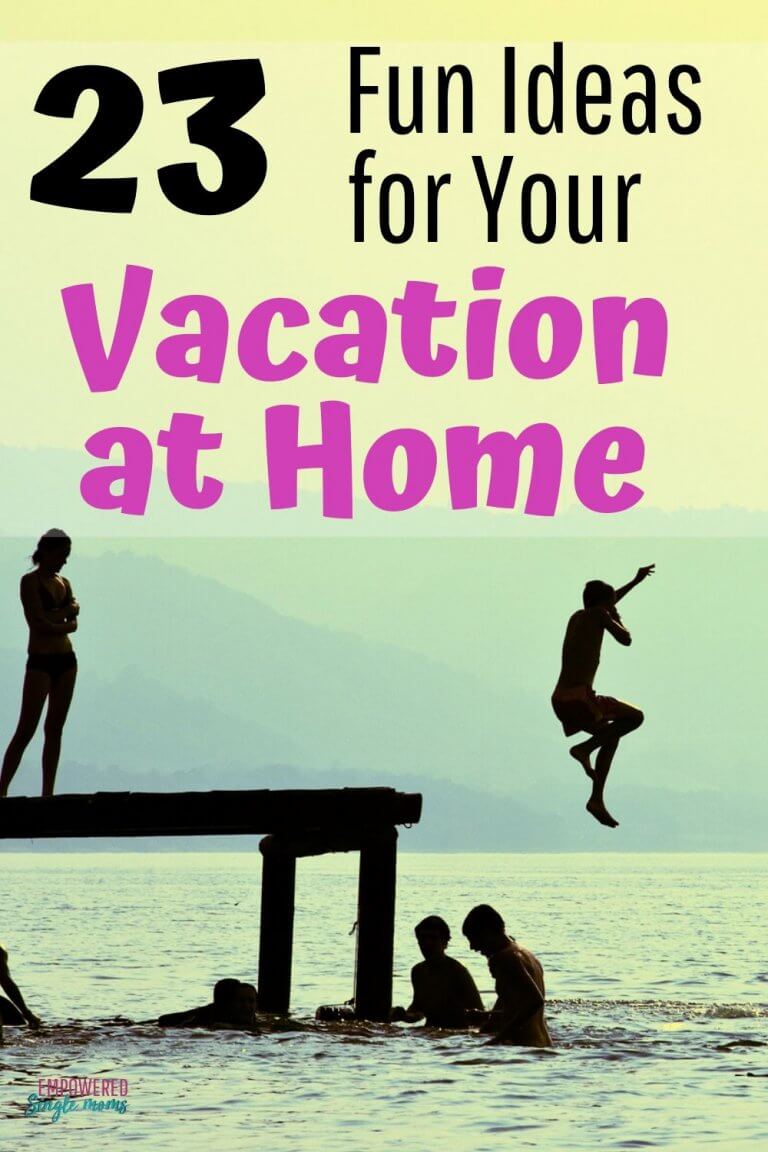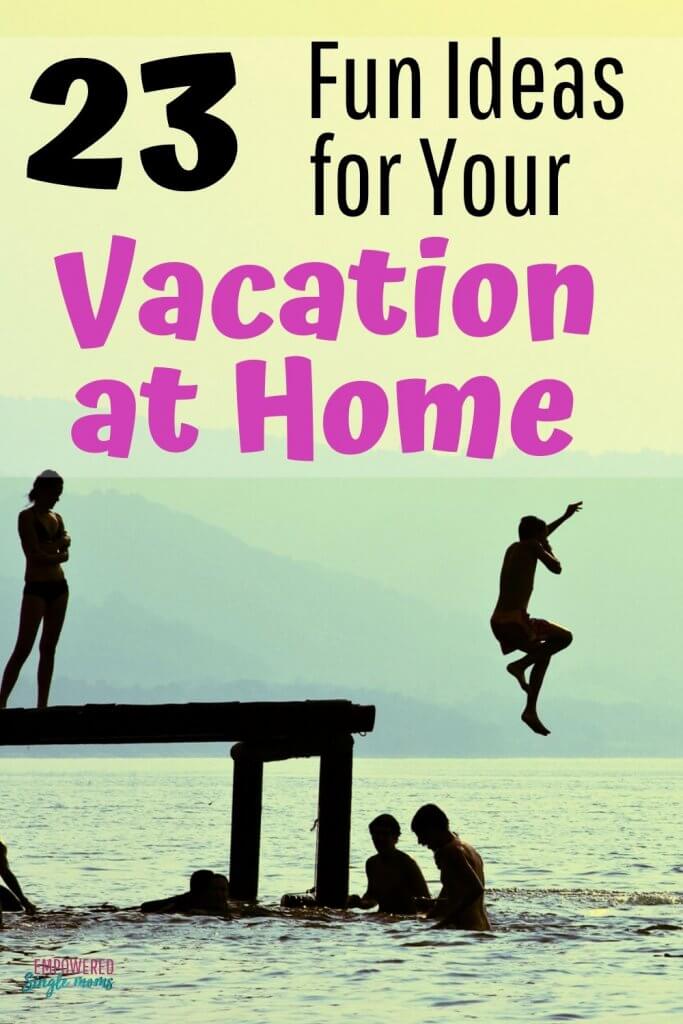 How to Enjoy Vacation at Home
1. Create Anticipation it is part of the fun of having a vacation. Even though you are staying home for vacation mark the time on your calendar and count down the days.
This post may contain affiliate links, if you buy a suggested product I will earn a small commission. We are a participant in the Amazon Services LLC Associates Program, an affiliate advertising program designed to provide a means for us to earn fees by linking to Amazon.com and affiliated sites." Read the full
disclosure policy here
.
2. Make a Budget. It is important to know exactly how much money you have to spend on your vacation whether you are flying to an exotic location and staying in an all inclusive resort or staying at home in your own bed. Knowing your budget gives you a framework.
3. Do research. Stop at the chamber of commerce to find out about local events and attractions. As a bonus, many visitors' centers have books with coupons. Save on activities, spas, restaurants, and events near you at Groupon
4. Write out a schedule for your vacation at home around a local festival, fair or event. Do some research about what tourists do in your area. You don't need to limit yourself to just your town taking day trips is a great way to spend your staycation
What to Do For Vacation When You Can't Leave Home (Added June 2020)
We love to go to escape rooms as a family. It is fun to work together to solve the mystery. Etsy has so many fun escape room kits that you can play at home. This is a fun activity to do at home and you are supporting small businesses.
2. Eat Ethnic
Depending on your budget and where you live you can go to an ethnic restaurant or cooks something from a different country. If you decide to go out remember lunch is usually a more economical meal out than dinner.
3. Yard Games
Spend a day or parts of several days playing yard games like Bocce ball, crochet, soccer, volley and badminton outside.
4. Hunt a Killer
Hunt a Killer is another fun game to play as a family. You can apply to be a detective to solve the most recent crime here.
5. Marathon Board Game
Plan an inside day and play a board game like Monopoly or Risk that takes a long time to finish.
The purpose of a vacation is to rest, relax, and enjoy family time or time alone to rejuvenate. Spending your vacation at home saves money and energy. No spending part of your vacation traveling to get to your destination. No suitcases to pack. The key to making a staycation work is to focus on having fun and getting out of your regular routine.
What Should I Do On a Vacation in Your Home Town?
1. Museum
If you are lucky enough to live near a world class museum by all means plan to go. Most people will be able to find a county history museum or quirky museum close enough for a day trip
2. Living History Site
These are a really fun way for kids to learn about history. The guides are dressed in period costumes and take on the persona of someone who lived during the time being portrayed. Here in northern Minnesota, we have visited a logging camp and a fur trading camp. When I lived in Iowa we went to a living history farm. In North Carolina, we went to an American castle.
3. Live Music
We have free music on Wednesday nights at the lake front in the summer and on Sundays at the state park in the summer. If you are having a mom only staycation check out the local bars and plan to go out with girlfriends. There is everything from dance bands to folk music available for the cost of a soda or glass of wine.
4. See a Performance
Summer is a great time to find a community theater production or summer stock theater production. If this is a family vacation look for a children's theater. If you live in a bigger city you can find a professional production, check Groupon for special deals. You may be able to find an orchestra, gymnastics, aerial arts, ballet or modern dance recital. Check out local music studios for recitals.
5. Zoo
Early summer is a great time to check out the zoo when you are more likely to see new baby animals. Before you go check for special programs and plan your mix of walking and sitting to watch shows or ride the train around the zoo based on the age and stamina of your children. Many larger zoos will take more than one day for younger children.
6. Art Gallery
Many art galleries have children's activities. With children in tow a smaller art gallery or a portion of a larger gallery will be more enjoyable. A couple of ways to make an art gallery more enjoyable for everyone is to ask your children to pick their favorite painting and why. You can also do a simple scavenger hunt and make a list of things for them to look for. Farm animals, different colors and ships are sure to be found.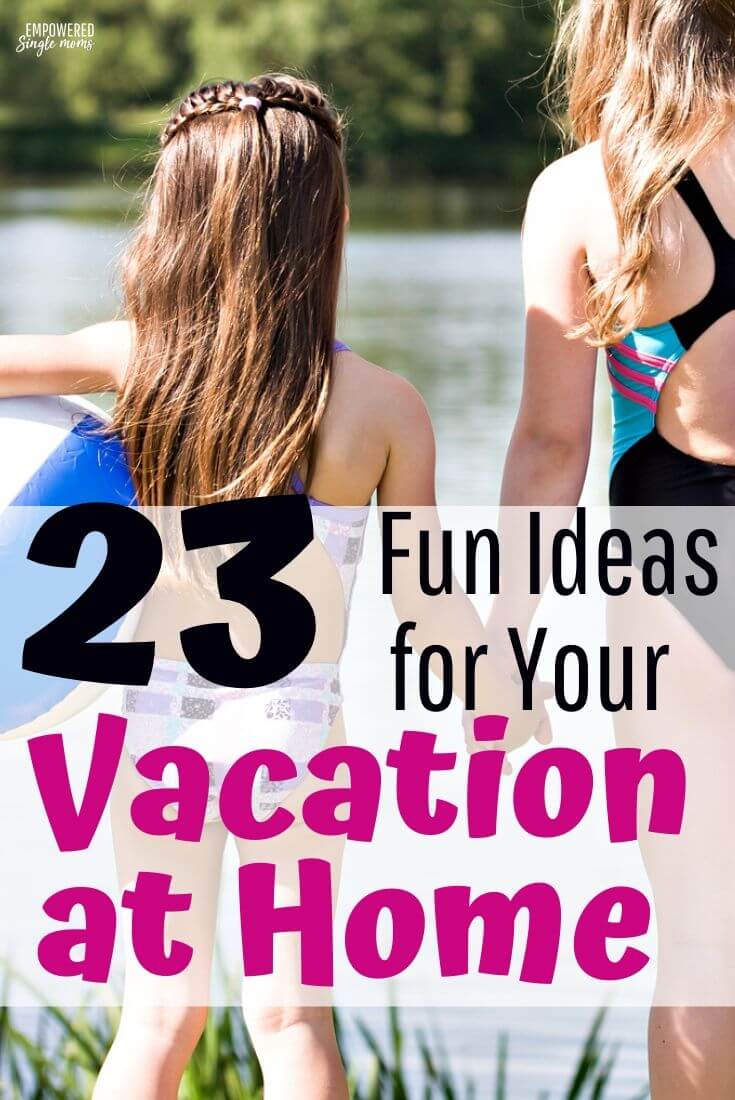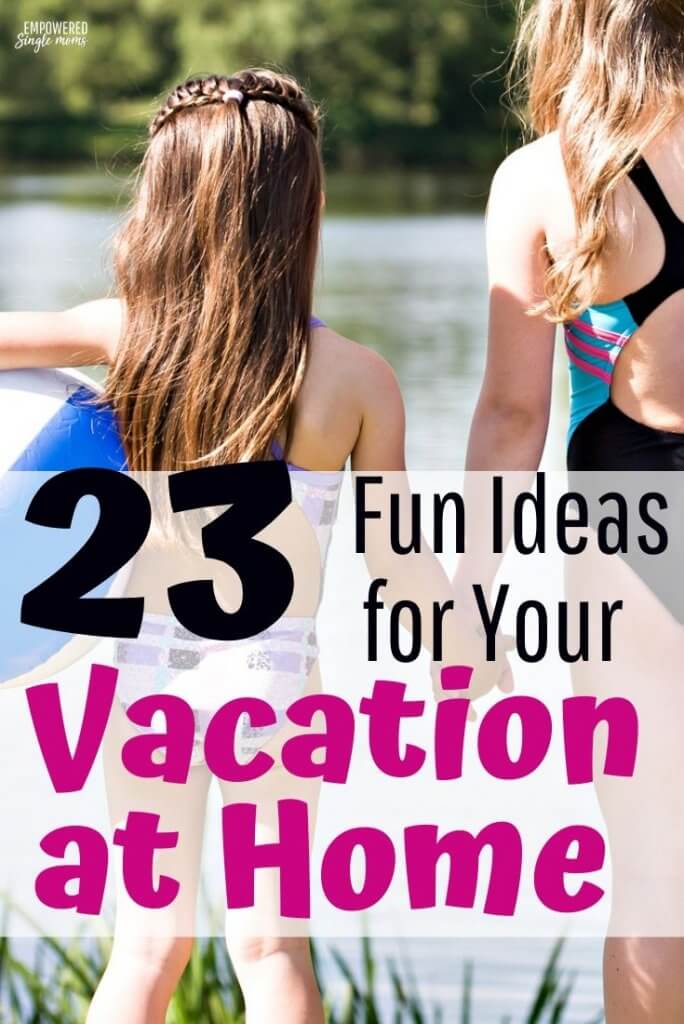 7. State or National Park
State and national parks often have junior ranger programs with activity books for kids to fill out. There are also wonderful park ranger or naturalist programs, so check out what is available during your vacation week and plan accordingly.
8. Golf
A game of golf or golf lessons is great for a family with older kids or as an activity for a mom only staycation.
9. Learn Something
There are a variety of classes offered through community education and local companies. swimming lessons, canoeing, kayaking, and arts and crafts classes are all possibilities for a family vacation.
For a mom, only vacation a cooking class or dance classes if you have a partner or a friend who is interested are good choices.
10. Amusement Park or Carnival
If you don't have an amusement park most people will be able to find a county fair or local festival within an hour or two that has a carnival set up sometime during the summer.
11. County or State Fair
County and state fairs are great for listening to music groups, going on rides and seeing farm animals.
15. Local Festival
Check at your local visitors center to see when and where there are local festivals and plan your vacation around attending one. Maine has a lobster festival, northern Minnesota has blueberry, chainsaw carving, wood carving, Wisconsin has an apple festival to name just a few.
12. Go to a Game
Go to a minor league baseball game, a preseason football game or a local soccer or softball game.
13. Go to the Movies
You can go to a matinee, find a theater that has a reduced price night often Tuesday or Wednesday or have a movie marathon at home and watch all of the Harry Potter movies or have a Disney marathon Starting with Snow White and the 7 Dwarfs, which was made in 1938 and choosing a few more recent ones. It is interesting to see how Disney movies have changed over the years.
14. Swimming Pool or Water Park
Summer is all about the water. This is another great opportunity to pack a picnic lunch and spend the day in the water.
15. Spa Day
This is perfect for a vacation day without the kids. A manicure, facial, pedicure and massage are all options for a spa day to pamper yourself. Groupon deals of the day
are a great place to look for a deal on a spa treatment. There are often coupons for 50% off of spa services. I learned about Groupon from my sister and she lives in a very little town but has used Groupon when she is out of town for work which happens frequently.
What Can You Do on a Vacation with No Money?
What if money is so tight you really have no money to budget for your vacation? Here are some fun things to do for free. You can find more ideas for making your money last until the end of the month here.
1. Go to the beach
Pack a picnic lunch and go spend the day playing in the water and building sandcastles.
2. Ride bike
There are many miles of trails made from old railroad grades, which are very flat making them easy for even the youngest rider. Bike out ways being liberal with water breaks, then have some snacks or lunch and head back home.
3. Hike
Looking for animals and flowers make a hike a fun way to spend time in nature. If your children are too young to hike a hiking stroller or backpack makes it possible for them to be included. Maybe you can borrow one if you don't own one.
4. Geocaching
This is a fun free activity for the whole family. You can learn more about geocaching and how to find caches near you here.
Related: How Single Moms Can Afford Travel
What have you done on a staycation? What would you add to this list?