A hot cocoa bar can be as simple or complicated as you like. When you keep the toppings and add ons simple it is a fun, frugal way to add festiveness to any winter get together.
There are so many great times to have a hot chocolate bar. Decorating the Christmas tree, after a hayride, after trick or treating, a baby shower, a wedding shower, a night playing board games or charades are all great opportunities for a hot cocoa bar. The kids would love a hot cocoa bar for Valentine's Day breakfast.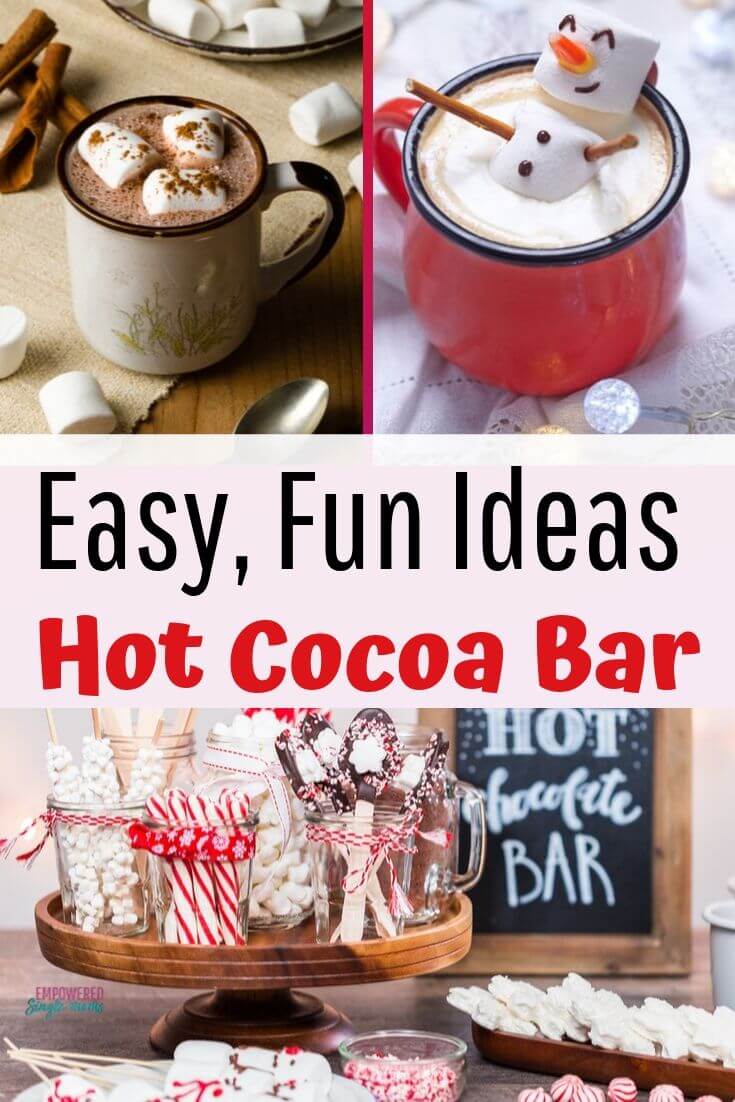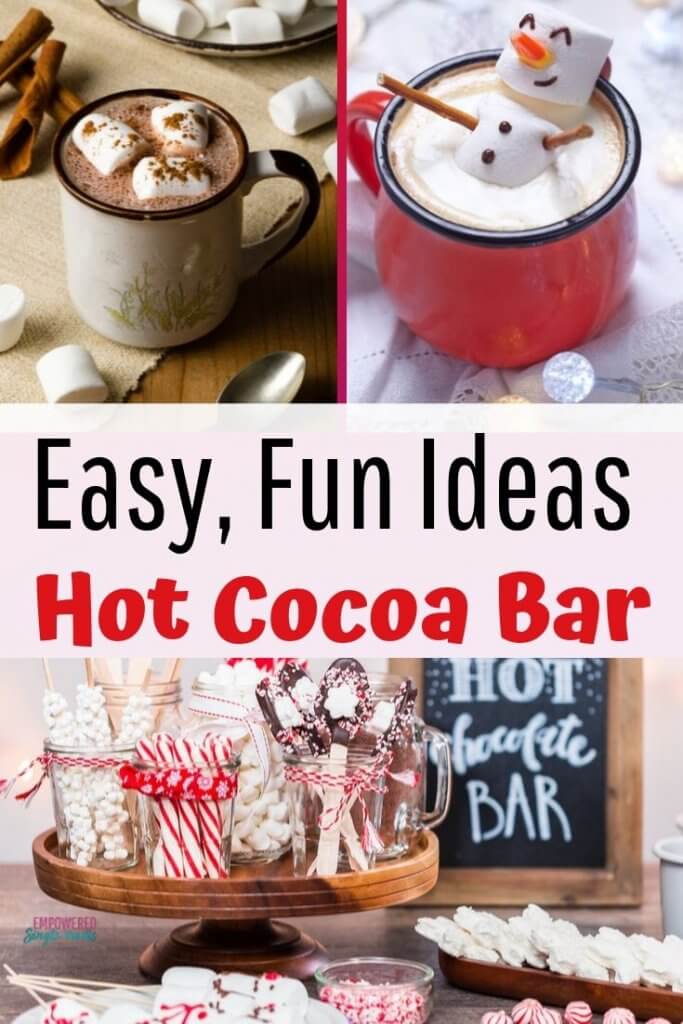 This post may contain affiliate links, if you buy a suggested product I will earn a small commission. We are a participant in the Amazon Services LLC Associates Program, an affiliate advertising program designed to provide a means for us to earn fees by linking to Amazon.com and affiliated sites." Read the full
disclosure policy here
.
Here in northern Minnesota it starts snowing in October and often doesn't stop until May. Fishing opener (a major holiday for some) is mid-May and some years there is still ice on the lakes for opening weekend. With 7 months of winter, we have lots of time for a hot chocolate bar.
I have fond memories of having a hot cocoa bar. Growing up our church youth group would go out Christmas caroling one night in December. The last house was at a grandparent age couple's house. They never had kids of their own, but always hosted us for Christmas cookies and a hot chocolate bar. It was a memorable way to end the night.
Options for Hot Cocoa
Sometimes I make my hot coca with the recipe on the Hershey's cocoa box, if you do this you can try real maple syrup or honey instead of sugar for the sweetener to give your hot cocoa a little different taste. I would skip this if there are kids at the party, who don't like anything that doesn't taste like they expect or have some sweetened with sugar and some with maple syrup or honey, so people can try a little of each.
Honestly l usually just buy chocolate milk and make my hot chocolate by heating up the milk, super easy that way, rich and chocolatey. When I was in college the hot cocoa was usually made with a powdered mix boughten or homemade with powdered milk. You can also buy K-cups if you are only having a few people over for hot cocoa.
How do you keep hot cocoa hot?
If you start with milk you can heat it up on the stove and put it in a crockpot to keep it warm or start early and heat it up in the crockpot. A soup ladle is probably the easiest thing to use to serve it.
Another option is to make a hot chocolate mix with cocoa, powdered milk and sugar and let guests mix the powder with hot water that you can keep in a thermos or large 32 cup coffee urn. You probably don't want to use a thermos or coffee urn that has been used for coffee, because coffee seems to permeate anything it has been in and you don't want your hot cocoa that tastes like coffee. Unless of course, you want more of a mocha taste to your hot cocoa.
What do you put on a hot cocoa bar?
Whipped cream from a can or make your own
Crushed peppermint candy to sprinkle on top or candy canes for stirring
Chocolate Curls
Flavored coffee syrups hazelnut, vanilla, cherry, caramel, and peppermint are all yummy choices
Cinamon sprinkle it in with the cocoa if you are making it from scratch or sprinkle a dusting on top of the whipped cream
Cinnamon sticks for stirring
Ginger powdered or crystalized
Carmel sauce or hard caramel squares
Cayenne pepper or chili powder, be sure to also add cinnamon for Mexican hot chocolate
Chocolate syrup to drizzle on top of the marshmallows or whipped cream
Toasted coconut
Star anise
Sprinkles (get the color that goes with the holiday you are closest to)
Marshmallows
Who Knew There are So Many Different Kinds of Marshmallows
You can certainly keep it simple and use plain white marshmallows, big or small or dress it up a little with some colored marshmallows. But why stop there, because there are so many more fun choices for marshmallows.
Try making your own marshmallows and flavor them or cut them into fancy snowflake shapes with this recipe from Martha Stewart if you have the time and inclination.
You could use marshmallow, pretzels and candy melts or frosting to make snowmen to float on top of the hot chocolate.
If you aren't into fussing with making your own marshmallows you can buy marshmallows in lots of different shapes and colors. Traditional bird Peeps make a fun hot cocoa topping even if it isn't Easter you can find them on Amazon. Don't limit yourself to birds though. There are so many different kinds of Peeps, hearts for Valentines Day, snowmen for winter, trees for Christmas, monsters, and ghosts for Halloween.
How about some pink or heart shaped marshmallows for a Valentine's Day Hot Cocoa Bar

Add-Ins to Spike the Grownups Hot Cocoa
Peppermint Schnaps
Kalua
Butterscotch Schnaps
Cinamon Schnaps
Baileys
Red wine
I thought of this after having chocolate wine the first time. Have you ever tried chocolate wine? It is very rich, so a small glass is all you need.
What to serve with your hot chocolate bar?
The perfect go-to with hot chocolate is cookies or bars of course. I especially like the chocolate and mint bars. Angel food cake with or without the strawberries is another sweet that goes well with hot cocoa. A dried fruit and nut mix is another good option with hot cocoa. It gives you a hint of saltiness with the sweetness of the chocolate.
A popcorn bar is another fun idea to go with your hot chocolate. It is another cheap, easy way to serve a crowd.
Have you ever heard of chocolate cheese? I hadn't until I stopped at a cheese factory near Milwaukee, WI on a trip back from Chicago. I was so intrigued I had to try it. If you can find chocolate cheese it would be absolutely decadent with hot chocolate.
If you can't find the chocolate cheese aged cheddar and gouda would make a good pairing with hot chocolate too.
Fresh homemade pretzels are another good choice with a hint of saltiness, especially with a cheese sauce for dipping the warm pretzels.
Now it is your turn. What are your favorite add-ons to hot cocoa? What is your favorite snack to go with hot cocoa?
More Memory Making Ideas:
Family Christmas Traditions to Start for $5 or Less
How to Have a Magical Christmas on a Tight Budget
How to Make Happy Family Memories as a Single Mom