A breakup journal can be so very healing. Use these prompts to get over a broken heart.
A divorce or a breakup is painful even. The ending of a long term relationship is a loss to grieve if you were left or the leaver it is still a loss of the dream of what could have been and what actually was.
I remember getting divorced and sitting for hours staring into space with a pen and journal in my lap. Sometimes writing and other times just staring. Eventually, I made it through and got to the other side of heartbreak. Journaling was one of the tools I used to heal.
I want to show you how to use journaling as a tool on our journey of healing too.
This post may contain affiliate links, if you buy a suggested product I will earn a small commission. We are a participant in the Amazon Services LLC Associates Program, an affiliate advertising program designed to provide a means for us to earn fees by linking to Amazon.com and affiliated sites." Read the full
disclosure policy here
.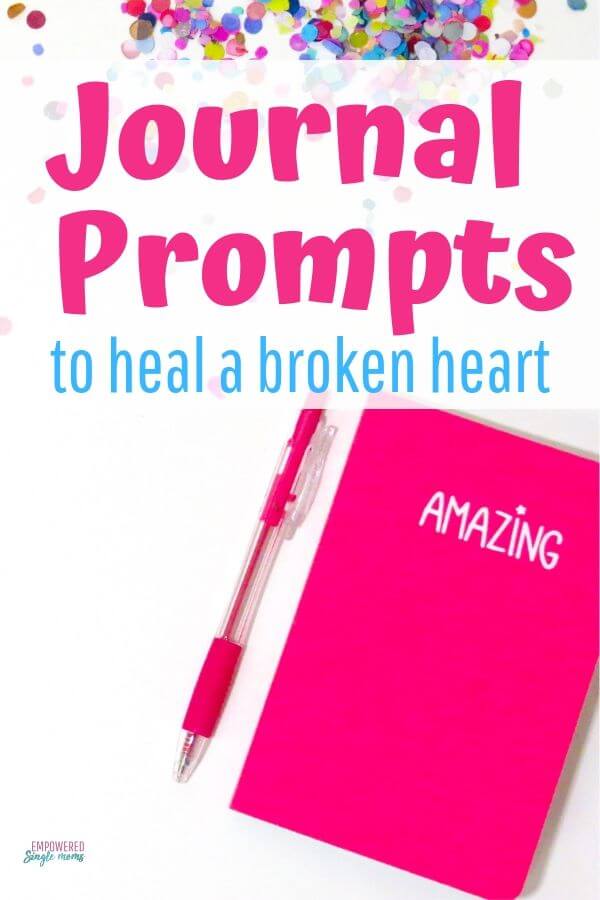 Why Take Time Before You Start Dating Again
It takes time and work to heal from a relationship. If you start dating or having sex with someone new right away you don't have the time to heal.
Too often a rebound relationship often makes it probable that you will end up in a same song second verse type of relationship. You need to take time to heal before you get into another relationship.
Journaling is a fantastic tool to heal, grow and thrive.
Journaling helps you get your thoughts out of your head so that the same negative thoughts don't kee spinning around in your head trapped in a never ending loop. It gets the thoughts out of your head and on paper.
Journaling is a safe place to explore what you are thinking and feeling. The best journaling is only for your eyes. You don't need to share it with anyone and it is better to journal with the idea that no one else will see what you write.
Going from being part of a couple to a single person is a great time to evaluate who you are at this time in your life.
When we are part of a couple we often emphasize the part of ourself that fits with the other person. A breakup or divorce is a great time to reevaluate your life and figure out who you are now. How are you different now than before the relationship?
Journal Questions to Heal a Broken Heart
Here are the journaling prompts to get you started in your journey to get over your breakup, so go ahead have a good cry and then get out your pen and paper and get started.
Evaluate what was good about the relationship.
What do I miss about my ex and life with him?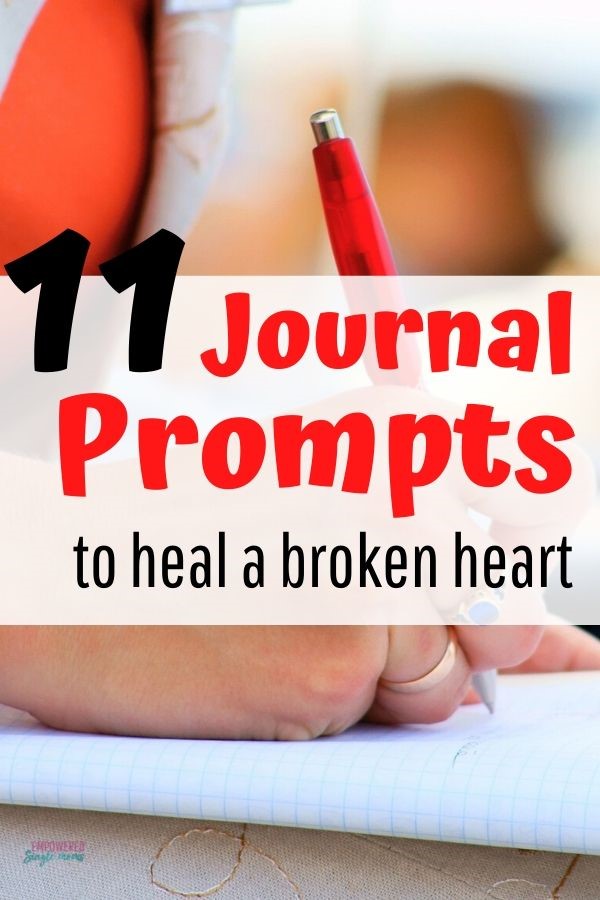 Journal about what it is good to leave behind.
When you are missing him and tempted to get back together with him read the answers to these questions. Then decide is the relationship really worth another try?
What did I not like about my life with him?
What do I not like about him?
How did being with him limit my life?
What is better about my life without him?
Explore what you learned and what the opportunities for growth are.
Hard times and challenges have within them an opportunity to learn and grow. One of the books that helped me learn that is Every Thing Belongs by Richard Rohr. Focusing on how you can grow gets you out of the victim mentality that can poison your life. Try to think about hard things happening "for me" instead of "to me".
What did I learn from the relationship?
How did I grow? How can I grow from this breakup?
Journal about your hopes and dreams.
Make a bucket list of 100 things you would like to do in the next 20 or even 40 years.
What do I want my life to be like 3 years from now? 5 years from now?
Focus on Gratitude
3 things I am grateful for–you could do this every day
3 things that bring me joy
These are great journaling prompts to start with after a breakup. I put together journaling prompts for self-discovery for you to get to know yourself even better. These journaling prompts will help you be less depressed and more hopeful. If you want a journal to walk you through finding your strengths and developing a plan for your next chapter in life this journal is for you.
Read one of these books on building confidence and journal about your insights.
Optional Tools for Journaling
There is something about journaling with pen and paper that taps into your brain in a way that using a computer just doesn't. Find out more about the benefits of journaling with pen and paper here. You could just get a notebook or composition book to journal in, but I really like using a special journal to explore my thoughts.
If you like to express yourself with drawing and writing a bullet journal is a good option.
Fun pens aren't necessary but are nice to have.
What Else Will Help You Heal After a Breakup?
Journaling is not the only way to get over a breakup. Two other fantastic ways to heal are music and books. The Empowered Single Mom Tribe helped me put together a list of songs and books to help heal from a breakup.
Music
Songs About Perseverance Through Heartbreak is where you can find the songs the Empowered Single Moms recommend. Music is a fantastic way to heal or cheer you up when you are down.
Books
29 Books to Read When Your World is Falling Apart and Your Heart is Broken is the list that the Empowered Single Moms put together.
Related: 12 Books You Will Want to Read When You First Become a Single Mother
Inspiration to Help You Heal
31 Affirmations Cards get these to remind you you are a great mom and great person.
Inspiring Quotes to print off and put up on the refrigerator or frame to remind you of your strength.
Thriving a Single Mom Journal guides you through identifying strengths, setting goals and making a plan to reach those goals
Single Mom Support Group
I have a private Facebook group Empowered Single Mom Tribe I made just for you. We share information, support, and encouragement on our journey as single moms. Join us and know you are not alone. What you are feeling is normal. Life will get better and easier. We will be there with you to encourage you in the hard times and celebrate your successes and joys with you.
You can get through this break up to a better place. Now you have the tools you need to heal with journaling, music for your playlist and self-help books to encourage you and help you make it through.
Need More Help with Getting Over Your Break-up?
Therapy will do wonders for you, if you don't have a therapist and you are feeling stuck in depression and anxiety make an appointment with a therapist as soon as possible.
This blog provided educational information it is not a substitute for therapy. If you are in need of professional help I recommend BetterHelp. They will match you with a therapist that you can meet with you in a video session, email or on the phone for an affordable monthly price. To find a mental health provider near you look on the Psychology Today website.
Related: How to Survive the First Month as a Single Mom
Single Mom's List of Positive Affirmations to Build Confidence