Eggs recipes are easy, cheap and kid friendly meals for dinner, breakfast, and lunch. This article is part of a series 19 Foods to Make a Cheap Grocery When Money is Tight list.
I've put together many ideas for you to cut your grocery bill, but one of the key ways to minimize spending on food is to plan your meals around cheap, healthy ingredients. There are so many options and eggs definitely need to be on your list of cheap foods to use. Here are 10 of my favorite egg meals and several of them have multiple variations.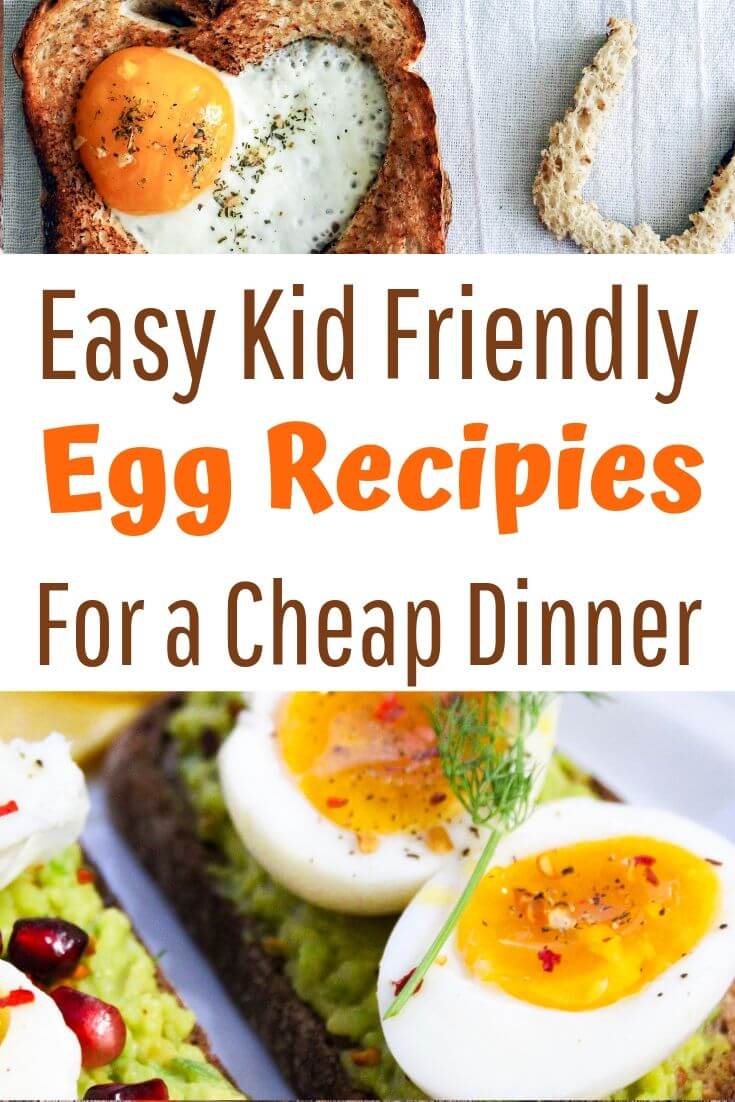 Another thing I like about a meal planned around eggs is that most of these meals can be on the table less than a half hour after you get home from work, so you have time to sit down at the table and have a family meal, before leaving again to get someone to their evening activity. Get Food in a Flash to help you stay focused on planning meals with cheap ingredients.
This post may contain affiliate links, if you buy a suggested product I will earn a small commission. We are a participant in the Amazon Services LLC Associates Program, an affiliate advertising program designed to provide a means for us to earn fees by linking to Amazon.com and affiliated sites." Read the full
disclosure policy here
.
Kid-Friendly Egg Recipes for Breakfast and Dinner
1. French Toast
I usually reserved french toast for a weekend brunch, but growing up we would sometimes have it for dinner. Beat a few eggs, add a splash of milk and I like to sprinkle in cinnamon and a little vanilla. Dip your bread in and fry it in a frying pan or griddle.
Sides: bacon is always good and I like apples stated in a little butter with cinnamon and brown sugar. Any fruit is good.
This meal doesn't have any vegetables unless you add a green smoothie, so if the kids are a little hangry while you are making dinner, put out some raw vegetables for an appetizer or make sure you have a big salad tomorrow.
2. Bread Pudding for Dessert
This is kinda like a baked french toast, but with a little more sweetener. Cut the bread in cubes and add dried fruit and cut up apples. It makes a good cheap dessert with vanilla ice cream or whipped cream and is a good way to use up dry bread or the crusts if no one at your house likes bread crust.
If you want an actual recipe this is a good one. I would add some chopped apples or blueberries if they are in season or you have some frozen ones on hand.
3. Fried Egg Sandwich
I especially like mine on an English muffin, but toast works too. You can have a plain fried egg or add any of the following: cheese, bacon, ham, lettuce tomatoes, spinach.
Sides: sweet potato fries, mix sweet potatoes and regular potatoes for hash browns, raw vegetables, a lettuce salad, fruit.
4. One-eyed Jack
Cut a hole in the bread put it in a hot frying pan and crack an egg into it. Toast the extra cut out of bread in the frying pan. You can be fancy and use a cookie cutter to make a shape, but I usually just made a square.
Sides: same as a fried egg sandwich.
Easy Egg Recipes for Dinner or Brunch
5. Quiche/Frittata
About the only difference is a quiche usually has a crust (a froze pie crust works fine for this and who has time for homemade pie crust unless it is a special occasion. Well if you are making your own pie crust I applaud you they do taste better, but when the kids were home it just didn't happen for me). Both have beaten eggs, a little milk, and sauteed vegetables and cheese. My frittatas are mostly vegetables with just enough eggs in the recipe to hold it together. Traditionally you cook it in a frying pan without stirring the eggs and finish it off under the broiler. If you want more through ingredients and directions here is an example. She calls it a frittata, but it is really more a crustless quiche due to her method.
For vegetables in the quiche or frittata, I use any of these I have on hand or remember to pick up at the grocery store: mushrooms, red, yellow or orange bell peppers, onion, spinach, or broccoli. You can add ham or bacon if you want to, but it is not necessary.
Sides: salad, fried potatoes, and sweet potatoes or if you are making it in the oven sweet potato and regular potato oven fries.
6. Omelet
An omelet pan makes this easier. Fill the omelet with vegetables, cheese and or meat.
Sides: Toast & fried potatoes.
7. Sweet Potato & Kale Hash
A friend told me about this a couple of years ago and it is inspired. Chop up the sweet potato and a bunch of kale and some onion you can add a little sausage or leftover brat or skip the meat. once the vegetables are cooked add about one beaten egg per person. My kids wouldn't have eaten this until they got a little older, but sweet potatoes were one of their first foods, so let them pick the kale out if they don't like it.
8. Hard-Boiled Eggs
Honestly, I don't like hard-boiled eggs unless they are made into potato salad or creamed eggs on toast, so my poor children didn't know they could be eaten. At about age 10 one of them discovered this at a friend's house when his mom served them for breakfast. He learned how to make them and would occasionally make one for himself.
Sides: avocado toast, toast, raw vegetables or put them on a salad
9. Kid-Friendly Egg Salad
Chop boiled eggs add a little onion, celery, salt, pepper, mustard, and mayonnaise. You can make a sandwich with it or use it as a dip for raw vegetables. If your kids don't like onion use onion powder instead of onion. That will give you the flavor, but not the pieces of onion or texture that may cause them to fuss.
Sides: Raw vegetables and fruit.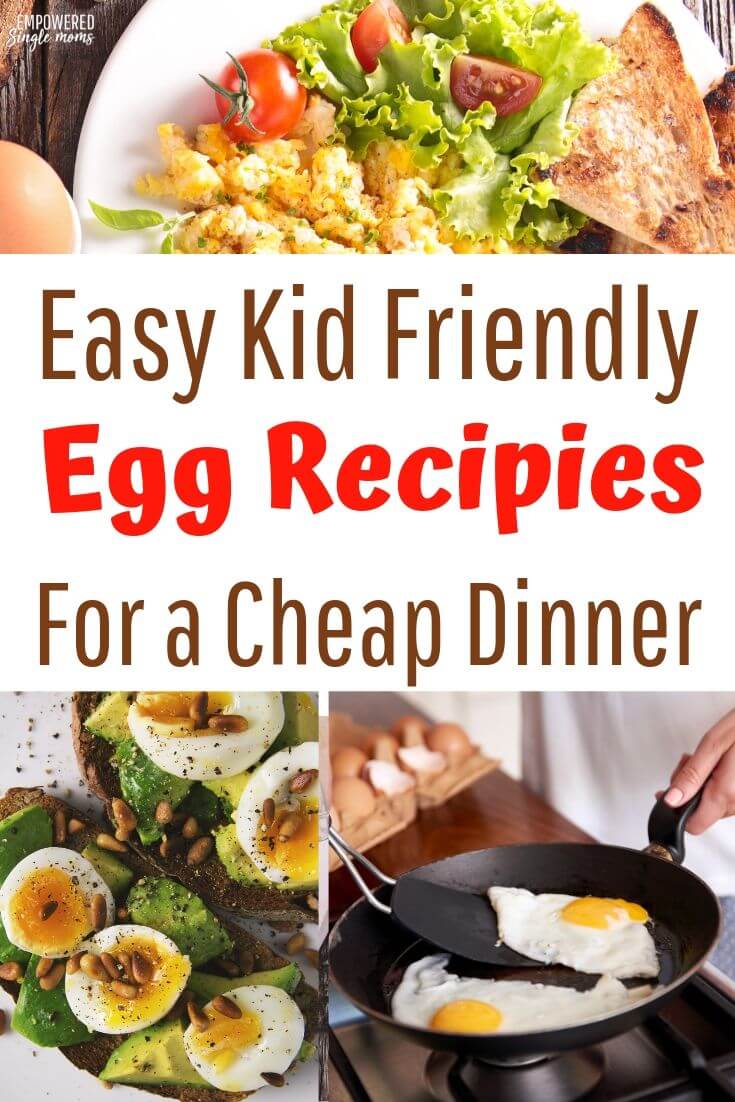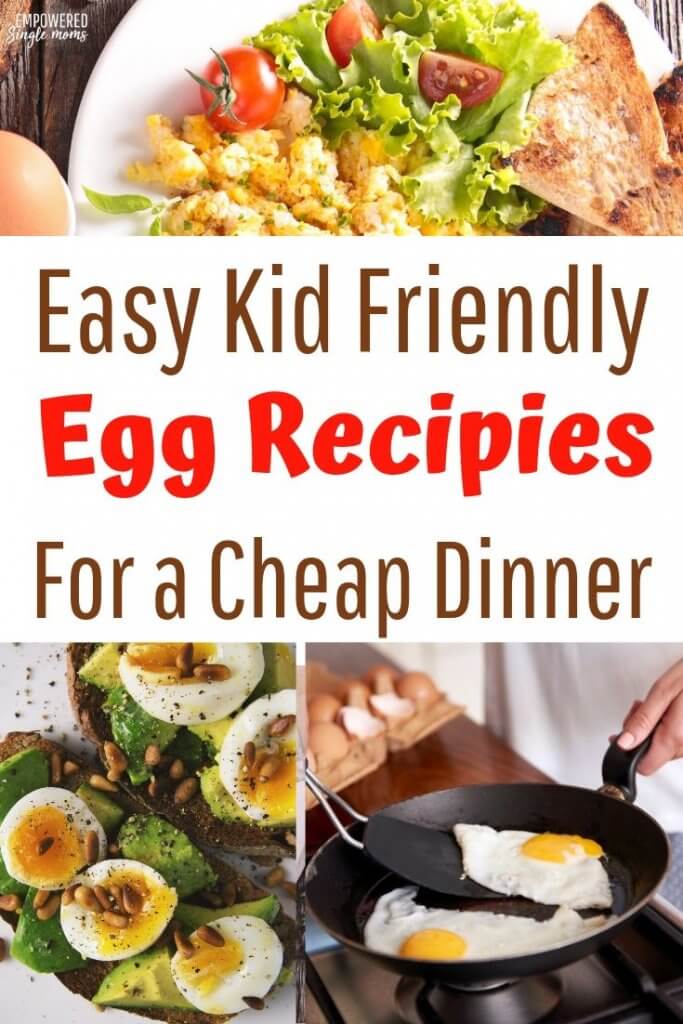 10. Creamed Eggs on Toast
Boiled eggs and a few sauteed onions in a white sauce. I usually add cooked broccoli or asparagus. You could also add spinach.
Sides: I consider this a complete meal, but you can add fruit, a green smoothie or fried potatoes and sweet potatoes. If the kids don't like vegetables in the creamed eggs serve raw vegetables on the side.
Cheap Kid-Friendly Egg Meals with an International Flair
11. Egg Burrito
Saute bell peppers and onions, scrambled eggs put them in a tortilla top with salsa, sour cream, and cheese. Wrap the tortilla and enjoy.
Sides: potatoes or rice, salad or raw vegetables
12. Fried Rice
Saute whatever vegetables you have on hand that the kids will eat. Carrots, celery, onion, mushrooms, bell peppers, cauliflower, snap peas, broccoli, corn, water chestnuts and bamboo shoots all work great. Garlic, sesame soy sauce, and ginger are good for flavor, but you don't need to use all of them. I always add some onion. Mix sauteed vegetables and add beaten egg the amount of egg varies but I use less than one egg per serving.
Sides: bread and salad
13. Egg Drop Soup
Warm some chicken or turkey broth homemade is best, but canned will do. Don't even think about those bullion cubes for this broth. You can use a vegetable broth if you are a vegetarian. Thicken it with a little cornstarch. Beat some eggs about one per person and put them in the broth stir until egg is cooked. Add a little sesame oil, soy sauce and or ginger for flavor. If your kids will eat mushrooms you can add a few fresh sauteed or better yet a few dried mushrooms and wait until they rehydrate before serving.
Sides: sandwich and salad
What are your favorite ways to have eggs for dinner?
If you want more ideas for cheap, healthy meals besides eggs there are over 161 more ideas here.