Pork roast is one of the cheapest meats to buy. If you watch you can usually find it on sale for less than $2 per pound for boneless pork loin. A pork shoulder roast can be found for even cheaper.
I am always looking for how to meal plan with delicious, cheap ingredients. You can make delicious meals with poor people's food.
This post may contain affiliate links, if you buy a suggested product I will earn a small commission. We are a participant in the Amazon Services LLC Associates Program, an affiliate advertising program designed to provide a means for us to earn fees by linking to Amazon.com and affiliated sites." Read the full
disclosure policy here
.
Planning ahead and batch cooking is one of the ways I was able to get dinner on the table in less time than stopping for fast-food. Get more ideas on how to get dinner on the table faster than drive-thru in Food in a Flash.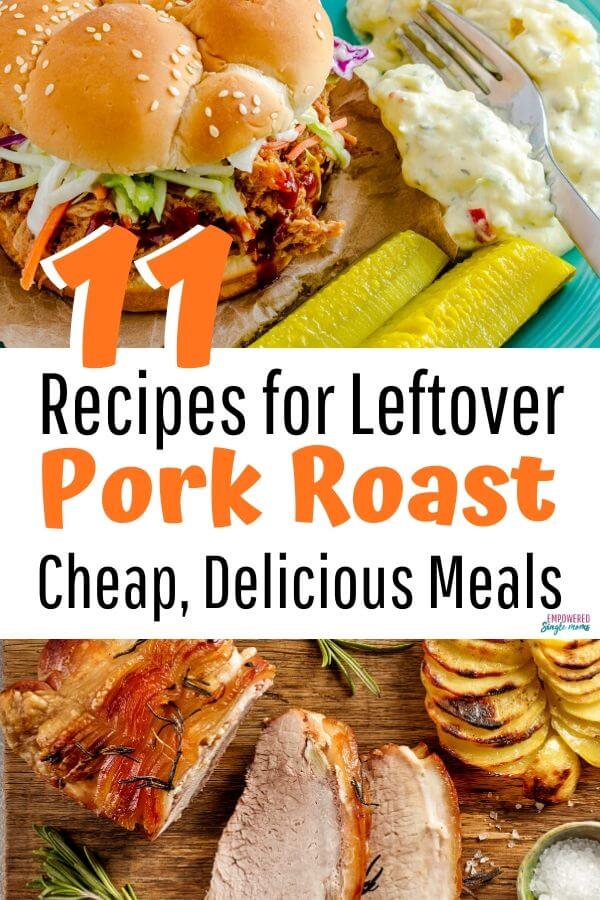 I think you will be amazed at how many different meals you can make with leftover pork. I am all about batch cooking meat and freezing it to use later.
Pork loin roast has about the same calories as chicken breast, according to My Fitness Pal there are 120 calories in 4 oz of pork loin roast.
Pork roast is easy to make in an InstaPot, crockpot, oven or electric frying pan. It takes the same amount of effort to make a large or a small pork roast. I always plan for leftovers when I make a pork roast.
How Do I Cook a Pork Roast?
There are a lot of ways to make pork roast the first time. One way is to make a traditional pot roast with carrots, potatoes. Add salt, pepper, onion and you have a delicious first meal. My favorite way to make pot roast is in the oven. This is a great meal for a weekend. When I was growing up Sunday "dinner", noon meal after church was always beef or pork roast pot roast.
If you have a pork loin roast it is delicious fixed on the grill a great option in the summer to avoid heating up the house. Pork loin roasts are best cooked by indirect heat on the grill to avoid having them dry out. Brush the roast with some barbeque sauce, Italian dressing or just pepper an onion salt. Soy sauce, a little bit of molasses and spices also makes a great marinade for pork.
A dry rub is another good option for grilling pork. An easy rub is paprika, brown sugar, cumin, pepper, chili powder, onion & garlic powder. If you don't have all of these spices no worries just use what you have.
On a weeknight, a crockpot is my favorite way to cook a pork roast. Before you leave for work put a partially frozen pork roast in with a half to three-quarters of an inch of vegetable broth or water. Add onion and seasonings like garlic, salt, pepper, cumin, chili powder or paprika. Another option is less water and a generous amount of your favorite barbeque sauce.
What Do I Serve with Pork Roast?
With pulled pork or any pork sandwich, my favorite side dishes are oven roasted potatoes either just white potatoes or a combination of white and sweet potatoes and coleslaw.
Pot roast already has carrots and potatoes as a side. You can leave it at that or add a salad or fruit to round out the meal.
Cut up carrots and potatoes with salt, pepper, and butter wrapped in foil and cooked on the grill are a great side with grilled pork. A broccoli or chop salad is another great side dish for any kind of pork roast, especially pork roast the first time or one of the sandwiches.
Related: Single Mom's Ultimate Guide to Making Ends Meet
Easy Recipes for Leftover Pork Roast (Great for Single Parents)
1. Pork Fried Rice
Stir fry vegetables you have on hand like carrots, broccoli, water chestnuts, cauliflower, mushrooms, or bamboo shoots. Add garlic, onion, and ginger (if you have ginger or you can leave it out) for flavor. Season with toasted sesame oil and soy sauce. Add cooked rice and when everything is almost done add and egg and continue to stir until the egg is done.
You can skip the toasted sesame oil if you don't have any, but just a little really adds to the flavor and it is worth having. I keep mine in the refrigerator and it lasts nearly forever.
2. Sweet and Sour Pork
Stir fry bell peppers, carrots, and pork. Add a small can of pineapple chunks. Make your own sweet and sour sauce or save time and use this one.
3. Pork Quesadillas
You can add sliced bell peppers and or black beans to the quesadillas if you want to. These are great with mango salsa.
4. Cuban Sandwich
Make this with ham, pork roast, mustard, swiss cheese, and pickles. Cuban rolls, Italian bread or hoagie rolls are all options for the bread.
5. Chili
This is best if the pork is in cubes rather than shredded. Add canned crushed or diced tomatoes, and beans. I like black beans the best, but chili beans are good too. Add some chopped green peppers, chili powder, and cumin. Cook on top of the stove or in the crockpot.
6. Barbequed Pork Sandwich
Buns make the best bread for barbequed sandwiches. Fried potatoes and a salad are great accompaniments to barbequed pork sandwiches.
7. Pork burritos
Saute different colored bell peppers and onions for one or two minutes then add slivered or shredded pork. serve in tortillas with cheese and lettuce. Different colored bell peppers have different flavors, so take that into consideration wh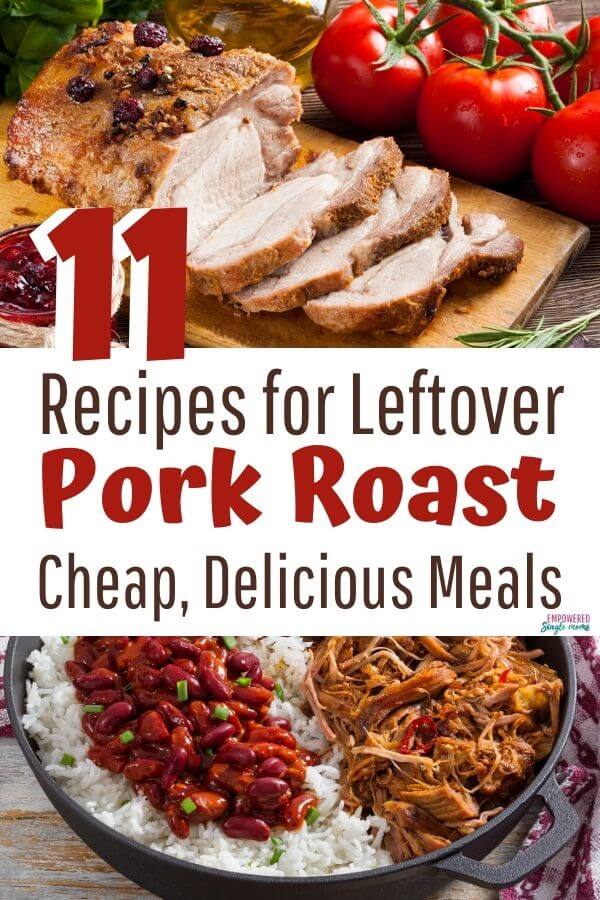 8. Stuffed Sweet Potatoes
This is probably the easiest meal on the list. Bake the sweet potatoes, split them down the middle add warm cut up pork roast and a dollop of light sour cream. Add a vegetable salad to round out the meal and you are done.
9. Moo Shu Pork (weeknight version)
Stir fry sliced mushrooms, a bag of coleslaw mix, a few green onions and leftover pork roast. Season with soy sauce and toasted sesame oil. Serve in a tortilla or serve as a moo shu bowl. Drizzle hoisin sauce and or plum sauce over the top or spread on the tortilla before wrapping it. Don't skip the sauce you need it for flavor.
10. Barbequed Pork Pizza
Naan bread is my favorite pizza base for this, but you can use a premade pizza crust or even make your own crust if you have the time. Spread a little barbeque sauce on the crust, add the pulled pork. It is even better if you add mushrooms and sliced bell peppers. Top with mozzarella cheese and bake until heated through or the dough is cooked if you make your own crust.
11. Pork Roast Hash
Stir fry leftover potatoes, carrots, chopped onion, and leftover pork roast. when it is about half heated add leftover gravy from the pot roast and cook until hot. You can also add peppers and or mushrooms to this.
This post is part of a series How to Make a Cheap Grocery List When Money is Tight.
More Resources to Cut Food Costs
Food in a Flash gives you a plan to get dinner on the table faster than going to your favorite fast-food restaurant. It saves you time getting food on the table so you have time for what is really important. This post on pork roast is one of the sections in Food in a Flash get the rest of the ideas here.