42 fun indoor activities for kids at home instead of screen time.
There are many things that keep kids stuck at home. It could be school vacation, the weather or other unexpected events.
Here in northern Minnesota it starts snowing in October and our last snowstorm is usually in April, sometimes even May. That means a good 6 months or more of winter.
When it's 45 below zero (this is not an exaggeration) it is a lot of work to pack the kids up to go do something away from the house, that has given me a lot of experience keeping them busy at home inside.
This post may contain affiliate links, if you buy a suggested product I will earn a small commission. We are a participant in the Amazon Services LLC Associates Program, an affiliate advertising program designed to provide a means for us to earn fees by linking to Amazon.com and affiliated sites." Read the full
disclosure policy here
.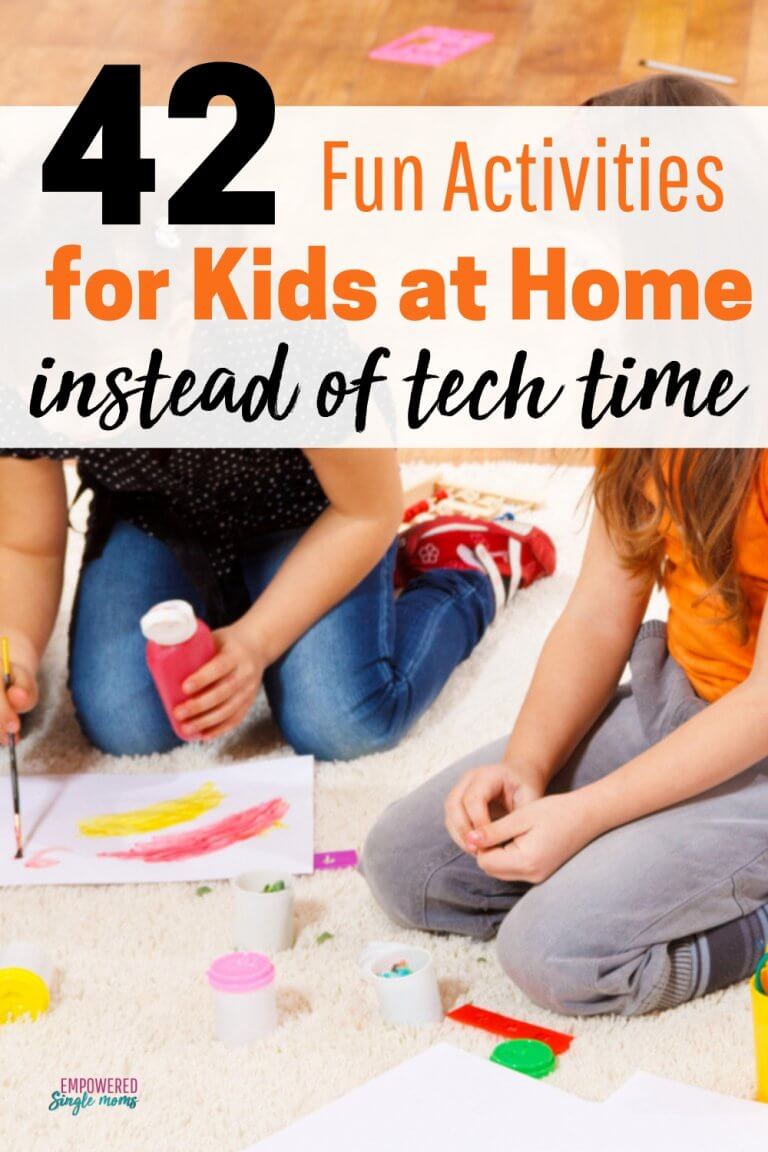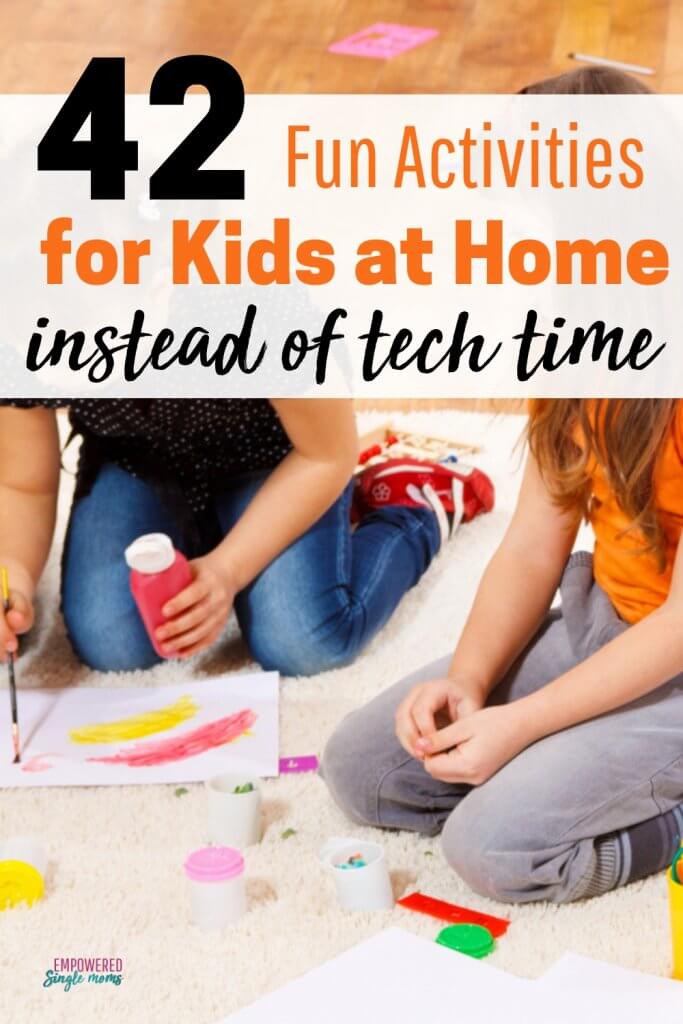 Even when spring Spring can be rainy and even summer has its rainy days, so it is a little easier to go out and about, but being a small town the options are limited. It really helps everyone's mood to have some fun activities to do at home.
There are many dangers to too much screen time. Too much screen time limits creativity and is a detriment to developing social skills and imagination.
Instead of turning on the television or letting the kids play computer games try some of these creative, fun activities.
Fun activities at home will cut down on whining and bickering. Pin this post here, so if you are at a loss for ideas to bust the kids' boredom you have a go-to resource.
Stay at Home Activities for Kids on Rainy or Cold Days
Besides long winters not all summer days are nice to be outside. We do have days where it is cold and overcast or even days where we get a hard downpour.
Bake cookies
Read a book
Play a board game
Make a tent with blankets and camp inside
Put a puzzle together
Make a fort with blankets and a table
Play volleyball with a balloon
Play dress up
Let them paint the walls with water brushes and paint rollers
Do a scavenger hunt
Make something new with Legos you already have
Build a house with empty boxes
Put on a play by acting out a favorite story
Make hand shadows
Make homemade pizza
Cover a plastic table cloth with shaving cream and make roads for matchbox cars
Use an app to learn a language
Make a coffee table photo book of a family trip, beloved pet, extended family or special event.
Crafts for Kids to Do at Home Indoors
These activities can be done inside when it is cold or rainy and outside when the weather is nice. I actually prefer painting projects be done outside on the patio when the kids were younger. The mess was much easier to deal with.
Make play dough that smells awesome
Paint a picture
Color a picture
Knit or crochet a dishcloth
Finger paint
Paint rocks
Make a fairy garden
Tie-Dye a T-shirt
Make a photo book of a special trip, special pet or grandparents
More easy crafts to make for gifts or to sell here.
Ways to Stay Active Inside the House
It can be a challenge to stay active when you are stuck inside. Everyone gets a little cabin fever when they are stuck inside and that can make for a really crabby house. Staying active helps keep everyone less stressed and less irritable. Try some of these activities to keep active when the kids are stuck inside on a rainy summer day. Even wors are the stretches of over a week when the temperature here in the north country is below zero for over a week at a time.
Yoga
Musical Chairs
Indoor freeze tag
Related: Boredom Busters for Families (Awesome Ideas for Single Parents)