Winter is always a good time for self reflect. Because of the COVID 19 pandemic social distancing in place he winter of 2020-2021 will give most of us even more opportunity for self reflection.
In my psychotherapy practice social distancing, mask wearing and people being sick with COVID-19 has significantly increased many people's anxiety level.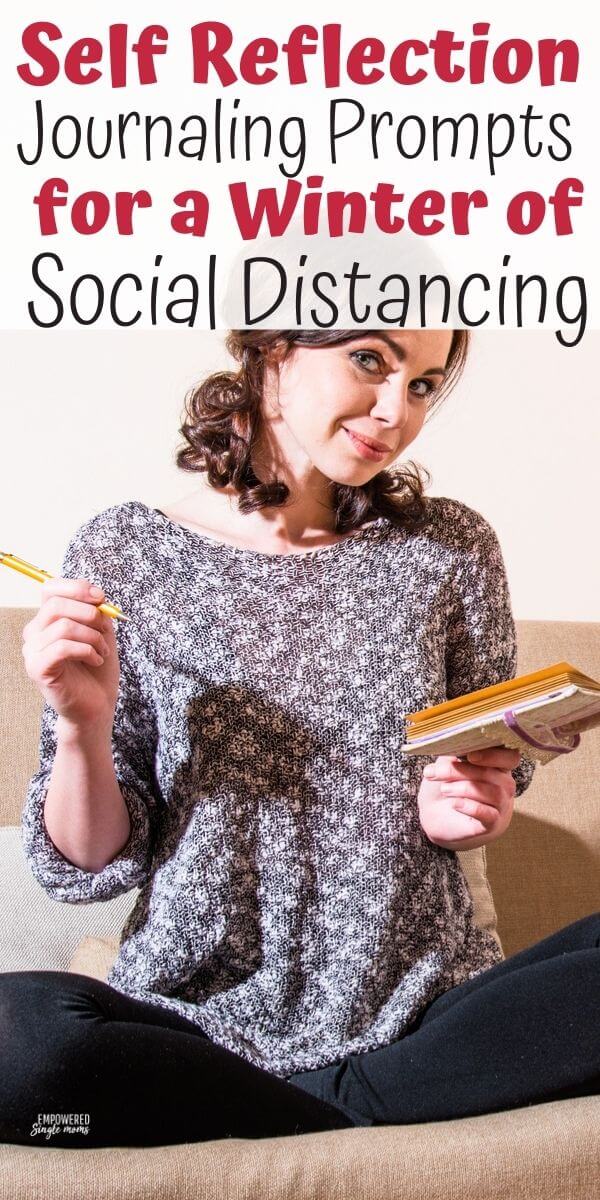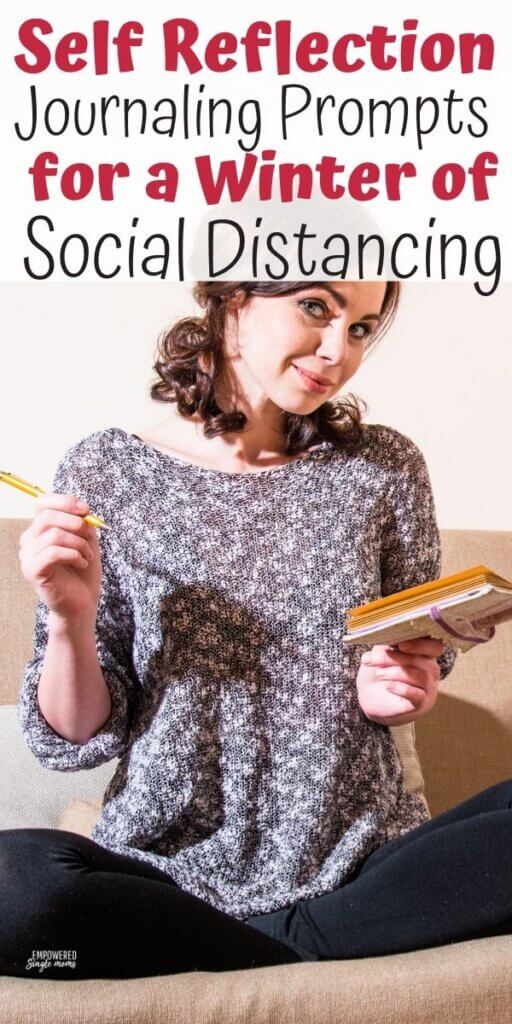 Now that it is getting colder opportunities to socialize outside here in the north country are being limited or coming to an end for people who are adhering to the social distancing recommendations.
This post may contain affiliate links, if you buy a suggested product I will earn a small commission. We are a participant in the Amazon Services LLC Associates Program, an affiliate advertising program designed to provide a means for us to earn fees by linking to Amazon.com and affiliated sites." Read the full
disclosure policy here
.
Journaling has gotten me through many hard times in my life. It has also helped me grow personally and professionally. You can journal in any notebook, but I usually like to have a journal with an inspiring saying on it for my self-reflection. I've put together some reflections and journaling prompts to help you make this unusual time a time of growth and self-reflection.
Journaling Prompts Inspired by a COVID Quote
Inspiring quotes are often a great jumping off point for journaling.
David Williams was quoted in a New York Times article about COVID-19 as saying:
"With Covid-19, we are all in the same storm. We are not all in the same boat. Some boats have holes that leak, and some boats are more vulnerable."

David Williams, Harvard Professor
I've been thinking about this quote since I first heard it. It provides many things to think about.
What are the advantages of my boat in this storm?
How can I help others in boats more vulnerable than mine?
How can I band together with other boats so we are stronger together?
Reflections on Winter
Here in northern Minnesota many people struggle with Seasonal Affective Disorder and become more depressed in the winter months when light is limited to the hours most people are at work and many days are overcast. We often have stretches of many days of below zero weather.
Even with these challenges not everyone dreads winter. The cross country skiers look forward to the first big snow. The ice fishermen look forward to the lakes freezing hard enough to drive on and the hardcore ice fishermen look forward to camping out overnight in their ice house as the ice house villages sprout up on area lakes.
Exercise is a great mood booster but can be more challenging during winter months. It is especially challenging the winter of 2020-2021 with many gyms closed and in-person exercise classes are not happening.
Last winter I started learning Spanish and taking guitar lessons. My guitar is coming along and winter will give me more time to practice.
Journaling Prompts for Winter
What fun activity can I set aside time to do during this winter?
How can I use the gift of extra time this winter?
How can I stay physically active this winter?
What lesson can I get from nature as I reflect on the gifts of snow and cold?
How to Connect?
One of the difficult things about isolation is loneliness. It can be a challenge to stay connected when our normal ways of connection are disrupted. Even when you are physically distance there are ways to connect emotionally from a distance.
Who do I want to connect with and how can we connect?
What new people and activities would I like to try during a time when my normal routine is disrupted?
How can I connect more deeply to my spiritual self?
How could my life be different with a stronger spiritual life?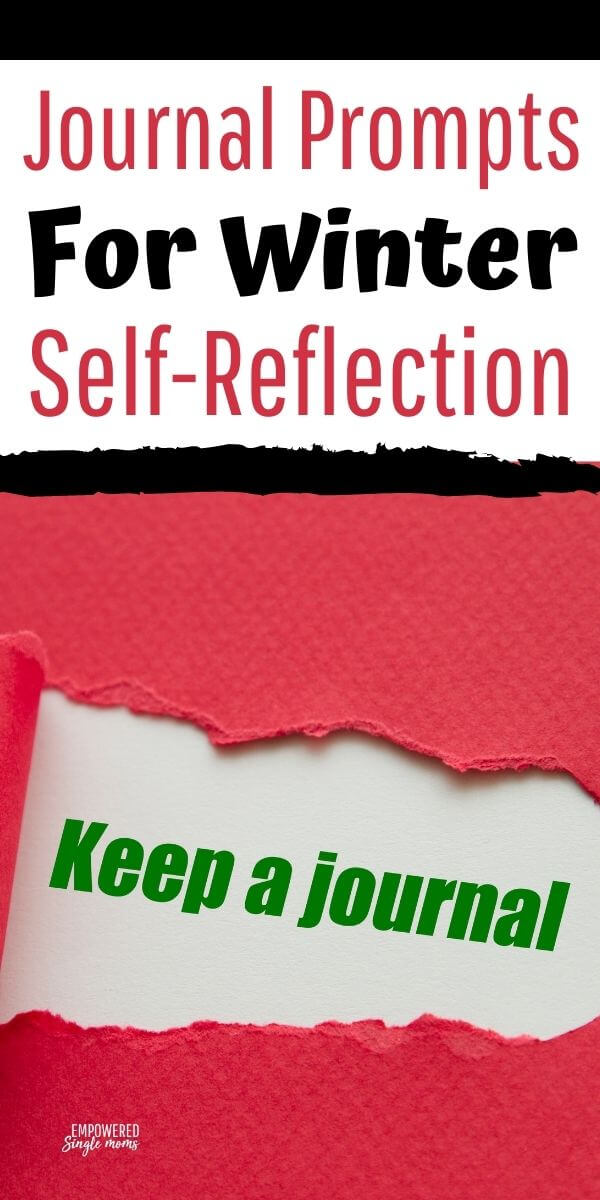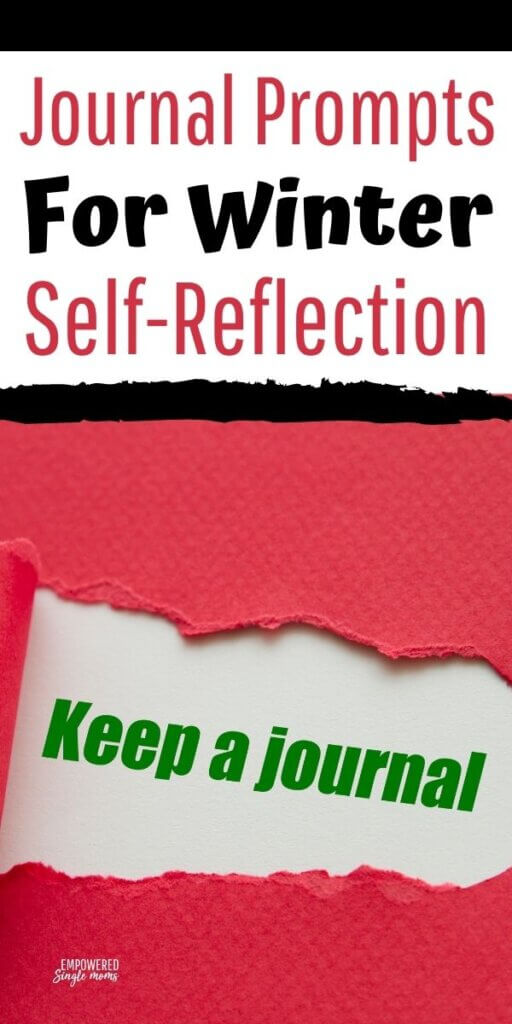 What We Focus on Grows
Many people are struggling with anxiety during the COVID 19 pandemic. This is understandable as loved ones become sick and people wonder if their own health is at risk. Jobs have changed and many businesses are going through changes.
Some businesses have closed during this unusual time, however many businesses have started during this unusual time and many established businesses have pivoted in a way that has been beneficial.
Late this summer I stopped by my office to drop something off and one of my office neighbors a holistic health provider was moving out. We got into a discussion about what she was doing next. She said her business was now almost totally virtual. They were shutting the satellite office and had plans to move to a location independent business model so that she and her husband could spend part of the year traveling. The social distancing during the pandemic has been a catalyst for reorganizing her business so that she could cut her overhead and have more location flexibility. Her family is excited about the possibilities of working from other parts of the country in their RV.
Many things that in the past were mostly in person have switched to offering online classes music lessons and yoga are two that come to mind. Again these were opportunities for the businesses to cut overhead and increase location flexibility.
Some resteraunts are offering meal kits for people to cook at home. This is a new income stream for them. Many people are making and selling face masks.
Life is not what it is suppose to be it is what it is and how we respond makes all the difference.

Virgina Satir, Family Therapist
Journaling Prompts for Self Reflection on Choosing Your Thoughts
The way we think about things can change how we feel about those things.
How can I grow from this experience?
How can I respond to this current situation in a way that furthers my life purpose?
If this situation I am struggling with were happening for me not to me why might that be?
How can I use this time to reorganize my priorities?
Hygge Inspired Journaling Questions for Winter
Hygge is a word that has become popular the past few years. Sometimes it is translated coziness. But the Danish word means more than that it is an attitude of comfort, courage and joy. It is more than candles and fuzzy blankets.
What do I need to be happy?
How can I choose to be content in my current circumstances?
What can I be grateful for?
Think about a person or culture who looks at the world differently than you do. How are our worldviews different? How are they similiar? What can I learn from how that person or culture sees the world differently?
If you are at a time of transition in your life here is a journal that guides you through identifying your strengths and designing a plan to build a new life.