I grew up in South Dakota and have visited Mount Rushmore many times. Whether you agree that a mountain should be carved up for a monument or not, there is a lot to learn from visiting Mt. Rushmore.
1. Plan
This post may contain affiliate links, if you buy a suggested product I will earn a small commission. We are a participant in the Amazon Services LLC Associates Program, an affiliate advertising program designed to provide a means for us to earn fees by linking to Amazon.com and affiliated sites." Read the full
disclosure policy here
.
First, it is an amazing feat. The beauty of the mountains and the carving are awe-inspiring. It is stunning to look at the carving and imagine the amount of planning and effort it took to make it happen. Possibly more amazing is when you drive on nearby Iron Mountain Road there are several tunnels that perfectly frame Mt. Rushmore. Both carving the mountain and planning the road took a great deal of planning.
2. Stay Flexible
If you visit the exhibit hall at Mt. Rushmore you will see several models of the carving. One of the interesting things about this is that the models are different than the actual carving. Notice in the picture of the Rushmore model there are buttons below Washington's lapel. There are no buttons in the final carving. Gutzon Borglum, the chief sculptor behind Mt. Rushmore, planned Washington's coat one way, but in the final carving it is different.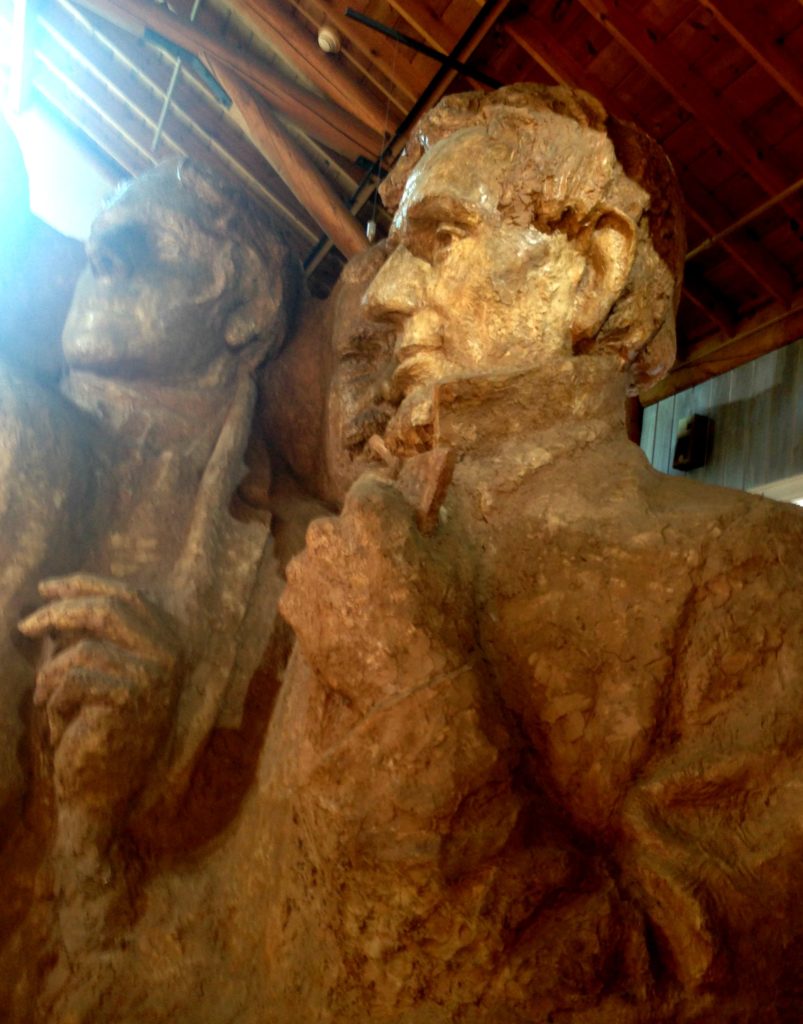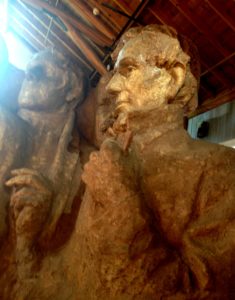 Jefferson's and Lincoln's hands are prominent in the model, but no hands are visible in the actual carving. According to the exhibit, the granite in the mountain did not have the integrity to maintain the carving of the rest of the structure. Even though Borglum had planned and made several models, he did not stay wedded to his plan; he was flexible and adapted to the conditions.
Federal funding was pulled and the mountain was declared done before Borglum's full vision was completed. It could have more closely matched his models, but someone else declared it done. We never know when our time will be up on a project or when our lives will end. Borglum did not live to see the carving declared finished.
3. Have a Vision that is Bigger Than One Person
One person could not have carved Mt. Rushmore. It took fourteen years and 400 people using dynamite and jackhammers to carve the mountain. Borglum died in March 1941 and the project was not finished until October 1941. Borglum's son Lincoln oversaw the completion of the project. There are many things that one person alone cannot do. Sometimes we quit a project before we start because we cannot do it alone and we lack the time or skills. We know raising a child takes a village. Other pursuits may take a village too. Don't stop your dream before you start. Seeing the carving challenged me to envision something that was more than I could do alone.
4. Ask for Help
Asking for help can be a good thing. Borglum was the artist, but according to the history of Mount Rushmore the vision actually started with historian Doane Robinson, who envisioned a huge attraction that would draw people from all over the world to the Black Hills. Robinson envisioned Wild West heroes, but Borglum convinced him that presidents should be the subject of the carvings. It's just another example of working together and being flexible. When Borglum needed help raising money, Senator Peter Norbeck stepped in with a plan. Norbeck and many other people worked together to convince President Coolidge to support and fund the project, which you can read about here. If not for these concerted efforts, we would not have this amazing feat of engineering and art.
Mount Rushmore and the Black Hills are beautiful and inspiring in many ways. Having a vision gives life purpose. What inspires you to dream big? Who can help you achieve your big dream?