Learn this awesome problem solving model to empower kids and adults.
This was one of the first stories I wrote when I started the blog. It is such an important skill I updated the article in June 2020.
One of the joys of being a psychotherapist is learning new things. I often teach adults and kids to solve problems. Being a good problem solver is one of the most important life skills. Good problem solving skills makes life so much easier in getting along with people at home, work, and school.
A few weeks ago I was reviewing problem solving with one of my teenage clients and she gave me a great idea. In teaching her I thought about how to teach problem solving differently. She and her Mom were generous enough to let me share it with you.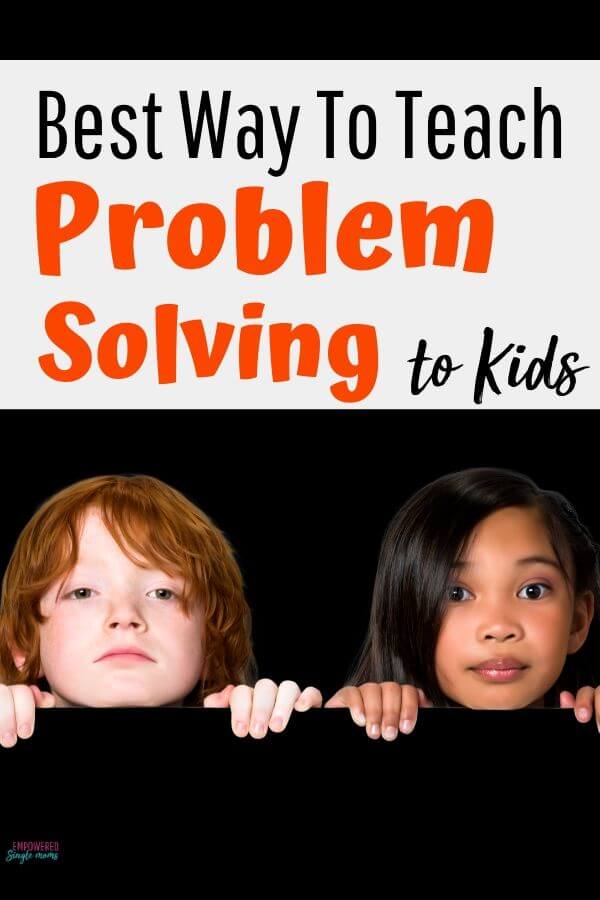 To Teach Kids to Solve Problems, They Must Know They Have a Problem
She started out by insisting that she had no problems. After several minutes of exploring for a possible problem. She gave a heavy sigh………….
She seemed to she decided she would play along and come up with a problem that would be impossible to solve and said, "I do not know what to feed the unicorn that lives in my back yard?. His name is Sparkles."
This post may contain affiliate links, if you buy a suggested product I will earn a small commission. We are a participant in the Amazon Services LLC Associates Program, an affiliate advertising program designed to provide a means for us to earn fees by linking to Amazon.com and affiliated sites." Read the full
disclosure policy here
.
I thought, "Ok I can work with that". Assuming she thought I would chastise her for her choice of a problem I proceeded as if this was a real problem.
What is the Problem?
The first step is defining the problem. In this case, "What do unicorns eat?". We do not want Sparkles to die. We want him to live a long and happy life.
Often with real problems that involve other people defining the problem in a way that everyone's concerns are recognized and everyone can agree on the problem is the most difficult step.
Kids Solve Problems by Identifying Options
The next step is defining the options or solutions. It is important to come up with at least three options often more options better than fewer options.
Don't be afraid to be silly. Sometimes silly options will spark and idea that you may not have thought about if you start evaluating options before you get several possible solutions on your list.
Stay in a brainstorming mode and do not evaluate the options yet, even if you don't agree with the other person's suggested option. Just list them and write down the possible option.
Even though this teen had initially been against the idea of reviewing problem solving she quickly came up
with 3 options: grass, candy corn, or meat. I think she was playing along because I was treating this like a serious problem and she was curious about where we would go with this.
Often when interacting with teens if we meet them where they are instead of insisting that they
meet us where we are living the process is much smoother and we are much more likely to get their cooperation.
How to decide?
The next step is deciding which option to try. We take each option and discuss the pros and cons.
In the case of feeding Sparkles, we evaluated candy corn, grass, and meat. The young lady had all of this information at the tip of her tongue, so she must have done her research. I did not ask her where she came up with the information, so we will need to trust that she knows what she was talking about.
In evaluating the options here is what she reported: In the case of candy corn, Sparkles is magical, so he may enjoy candy corn, who doesn't like candy corn. On the other hand, Sparkles may die from candy corn…..not good. As for grass it might be good for Sparkles or he may die……that seems like a big risk. Lastly meat, it might be good for him or he may vomit, causing a smelly mess.
She Picked a Solution
Obviously meat is our first choice. It is the only thing that will not cause death. We agreed to giving a small amount of meat, to begin with, it would be best to minimize the vomiting if that happened. No one wants a smelly mess or sick unicorn.
Kids Solve Problems with Practice
I complimented her on her cleverness with coming up with a problem
that would help her remember the process. A more mundane problem
would make remembering much more difficult.
She rolled her eyes in the classic teen girl's way and said, "I was trying to be sarcastic". I told her it was the best problem I had ever heard to teach the process and would like to share it with you. Confused she agreed that was fine, if I remembered, "the unicorn's name is Sparkles and he is a dude". Her mother also agreed I could share the story with you.
I usually start with POW, when teaching problem solving: what is the PROBLEM, what are the OPTIONS and WHICH OPTION. The entire process is EMPOWER.
If you are curious about what the other letters stand for in the EMPOWER method check out these articles.
The First Step to Solving All of Your Problems will tell you what the EM stands for.
Three Steps to Good Grades gives you the answer to what the second E and the R in the EMPOWER problem solving method stand for.