You can survive a family road trip and even make the car time part of the adventure.
Maybe you are going on vacation or visiting family out of state or both. After all, road trips are part of making summer memories! But are you worried that it will be miles and miles of sheer chaos?
Recently, a friend with a preschooler asked how I handled road trips when my kids were younger. I thought you might be interested in the answer too. Since both my family and the kids' dad's family lived over 600 miles away when they were growing up, I have a fair amount of experience in this area.
This post may contain affiliate links, if you buy a suggested product I will earn a small commission. We are a participant in the Amazon Services LLC Associates Program, an affiliate advertising program designed to provide a means for us to earn fees by linking to Amazon.com and affiliated sites." Read the full
disclosure policy here
.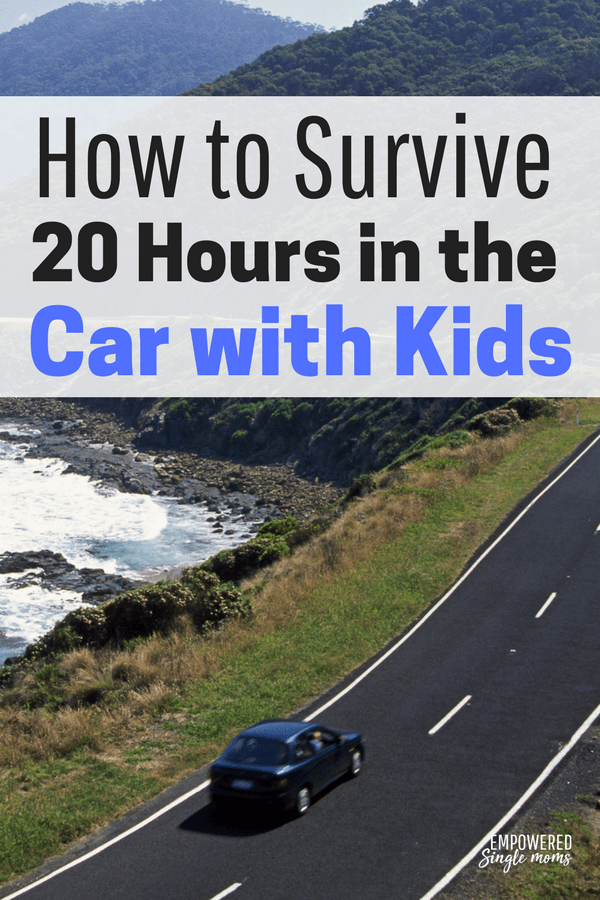 Survive a Family Road Trip by Starting at the Right Time
One of the best ways to have harmony in the car is to encourage sleep. Start the trip in the early afternoon. If the children are still regularly taking naps, start the trip about nap time. Yes, they will be a little crabby, but sleep will soon follow.
If they are not nappers, early afternoon is still the best time to start a long car trip. You drive for a few hours and then get out and play hard. A two-story playland, a park, or an elementary school playground are all great choices. The more climbing, the better.
Then have something to eat. This is a good time for carbs. With any luck, the young ones will fall asleep and you will have a long stretch of peace and quiet.
Survive a Family Road Trip with Books
If there are two adults or a child who reads, road trips are a great time to read books out loud. I read at least one of the Harry Potter books out loud on a family road trip. If you are the only reader and you need to drive or the other reader tires easily, audio books are a good alternative. You can easily pick these up from the local library. There are several places to find free or Dirt-Cheap Books.
Survive a Family Road Trip with Car Games
One of my favorite car games is mutual storytelling. One person starts a story and after a sentence or a phrase, passes it to the next person. Here are some openers to get your creative wheels turning:
Once upon a time, there was a unicorn who lived in the field behind the house. One bright summer day…
The little dinosaur woke up tired and crabby, because…
The young inventor had tried and failed 1,000 times in his quest to invent…
It is also fun to use openers about places you are visiting.
Minnesota Story Starters
It was an amazing day because when John went to the lake, the loon told him…
When we got up in the morning, you would not believe that during the night the raccoons had left…
Because I am from South Dakota, the Black Hills was a common place to visit.
When we got to the top of Mount Rushmore, we looked in the cave behind the faces. When we got there we heard a strange sound…
More Car Games for Long Road Trips
Try other car games like keeping track of how many states you see a license plate from during the trip or finding the letters of the alphabet on signs. Be creative!
Trivia games are another fun way to pass the time. Everyone can come up with their own trivia questions or you can play a trivia game like, I Should Have Known That or Family Feud.
Survive a Family Road Trip with Conversation
Surviving a family road trip can bring you all closer together when you use it as a time to converse. It is natural to finish planning the trip or ask about what the best part of the day or week was and why. You can start dreaming about your next family trip on the way home.
Or, talk about hopes and dreams. In the car, you are all together and teenagers are often more open if they are sitting next to you or behind you and you are not looking at them with your undivided attention. If your kids are old enough to write, a travel journal can become a family keepsake. They can write about the trip or anything else that might be going on in the family. A family artist could even add drawings of what you have seen on your trip.
If you are on the way to see family, it is a wonderful time to tell stories about the family members you will be visiting. The kids may even follow up with a question to the subject of the story. It might be a perfect time to tell stories about your own childhood. It is amazing to young children that their parents were once children.
Surprise the Kids
I would sometimes pick up inexpensive treats or toys for the road trip, wrap them, and put them in a special bag. The kids can then choose a wrapped gift to open. If you disguise the gift by putting it in a box, choosing which gift can be part of the fun.
The gifts do not need to be elaborate. Getting a gift is always a treat and a boredom buster. A deck of cards, a card game, or an I Spy book can keep kids occupied for hours. A new set of colored pencils to draw with is fun too. Once the kids could read, we would often stop at a bookstore en route and let them choose a new book. If it was garage sale season, we might let them have a couple of dollars to shop at a sale and pick out their own treats.
Last Resort to Survive a Family Road Trip
Many families' go-to activities during family road trips are movies and electronics. If you are going on a long trip, you may want to add an iPad or movie to the mix; however, those things don't encourage interaction. It is fine to use electronic games or movies to a limited extent, but there are many other things to do that can increase your connection with the littles or not-so-littles in your life.
Remember, it will not be long and your children will be driving and won't be interested in a family road trip. Make use of this time when they are captive in the car to connect and make memories. A little bit of screen time on a long trip is nothing to feel guilty about.
Do you have a favorite way to survive long family road trips?
If you found this post helpful please share it.