Use a variety of tools to teach the children in your life a growth mindset.
It is the attitude everyone needs to reach their full potential. A growth mindset is one of the characteristics of most extraordinary people.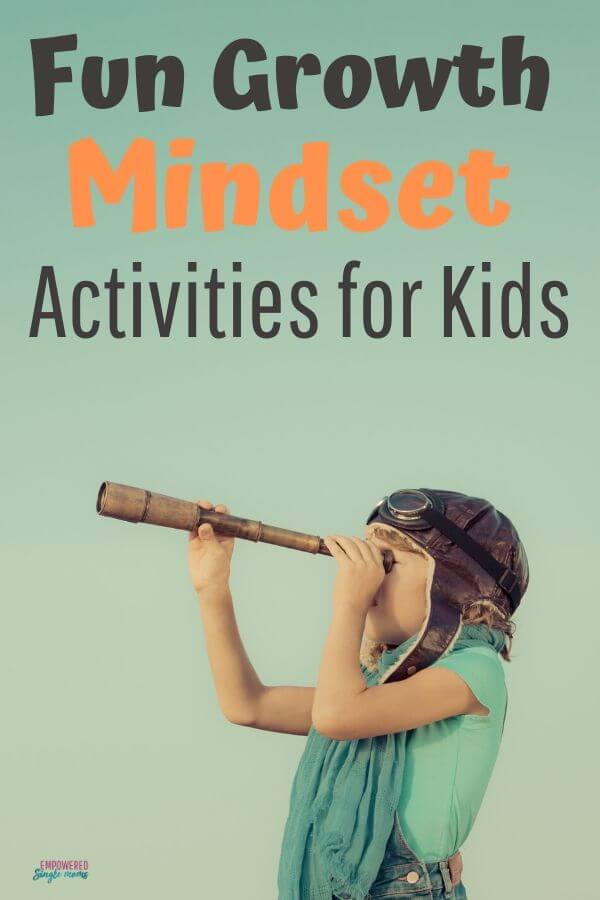 Fear of Failure
A child I was working with hated to fail. When his elementary classroom started a system of card flipping when the kids made a mistake it changed his experience of school from one of something he looked forward to into a place where he worried about doing something wrong. He was an excellent student with good behavior so getting reprimanded by the teacher was not part of what happened to him at school.
This post may contain affiliate links, if you buy a suggested product I will earn a small commission. We are a participant in the Amazon Services LLC Associates Program, an affiliate advertising program designed to provide a means for us to earn fees by linking to Amazon.com and affiliated sites." Read the full
disclosure policy here
.
I wasn't sure what to suggest, but I knew something had to change. He had to have the experience of a mistake being something positive. I tried explaining how it is normal to make mistakes and the only people who don't make mistakes are the ones that do nothing, but he was having nothing of it.
Finally, I came up with an idea. His mom could reward him for getting his card flipped. They rarely had fast food and McDonald's was one of his favorite places to eat. His mother agreed he could go to McDonald's for dinner as a reward for getting his card flipped.
He was appalled at the idea. What kind of adults were we rewarding him for mistakes? But in a few days, he made an honest mistake and forgot his homework at home. He was rewarded with a dinner at McDonald's and getting his card flipped ceased to be a problem for him. You can read more about the McDonald's intervention here.
Growth Mindset Concepts
People have a tendency toward either a growth or fixed mindset, but a growth mindset can be taught. The main concepts in a growth mindset are learning through failure, success comes from putting in the effort, embrace challenges, and keep going. Carol Dweck did groundbreaking research on a fixed and growth mindset.
You can use a variety of tools to teach a growth mindset.
Videos About Turning Failures into Success
Videos are a favorite way to teach kids a new mindset. One of the elements of a growth mindset is to teach that mistakes are part of the process of learning not something to be avoided. One of my favorite ways to teach this is to talk about famous failures. This video does a great job of sharing about famous failures. These stories are great reminders of famous people who have failed and went on to achieve great things.
Fun Books That Teach Growth Mindset
I Can't Do That Yet by Ester Pia Cordova
Enna often says she can't do things. One night she has a dream and sees all the different things that are possible in her life. She starts to envision herself doing all kinds of different things and that builds her confidence. She learns the growth mindset and starts saying "I can't do that yet". This book will help the girls in your life build their confidence too.
Vashti's teacher tells the class to make a mark and see where it goes. Vashti is reluctant to do anything, but eventually makes a dot and it is the beginning of a journey to unlock her creative spirit.
Mistakes That Worked by Charlotte Folks Jones
Stories about things we use every day that were invented by accident. Chocolate chip cookies were invented when the baker at the Toll House Inn was out of baker's chocolate so chopped semisweet chocolate into little pieces to make her chocolate cookies and they came out as chocolate chip cookies. Learn how cheese, donut holes, potato chips, silly putty, X-rays and so much more first came to be.
Ricky the Rock that Couldn't Roll by Jay Miletsky
A book about a group of rocks that like to roll around except for the one that can't because he is flat on one side not round like the others. A book about friendship and perseverance
I Can Do Hard Things: Mindful Affirmations for Kids by Gabi Garcia and Charity Russell
Teaches kids how to use positive affirmations to build their confidence to do hard things like asking for help.
The Little Engine That Could by Watty Piper
This is a classic story that portrays the idea that whether you think you can or you think you can't you are right. The little train is able to get up an unbelievable hill because it just keeps going in spite of it being difficult.
What Do You Do With a Problem by Kobi Yamada
A story for anyone who has a persistent problem they wish would go away. It teaches you to look at the problem closely to discover it might be quite different than it appears to be initially.
If you're having trouble changing your habits, the problem isn't you. The problem is your system. Clear teaches you how to make small changes to get amazing results and why your old system didn't work. Here, you'll get a proven system that makes changing your life doable.
Problem Solving
I use the EMPOWER system to teach problem-solving the O stands for options. An important component of this is that there are always at least 3 options to solve a problem. This teaches that there is more than one way to handle a situation. When you get to the second E, evaluate if the first option didn't work you can pick another option or modify the option you tired.
Growth Mindset Posters & Coloring Sheets
Free Growth Mindset Coloring Sheets
These coloring sheets from Scribble Fun include sayings like: This is going to take some time and effort., If you can dream it you can do it and Choose to be happy.
Posters are a great visual reminder of growth mindset concepts. These are great for a classroom or your child's room. Frame them and they would look great in a kitchen or family room.
Coloring Sheets can be made into posters for your child's room and they get the benefit of focusing on the growth mindset concept when they are doing the coloring and when the sheet is displayed.
Remember the main concepts of a growth mindset are
Learning through failure
Success comes from putting in effort
Embrace Challenges
Keep going
Books, videos, and coloring sheets can help teach the concepts, but teaching by example and experience is what will really make the concepts sink in. All the words made little difference to the boy who was afraid to get his card flipped, but being rewarded for making a mistake and planning how to avoid the mistake in the future gave him an experience of a mistake being an opportunity to learn not a catastrophe.