My mindset was limiting my life. I believed I was in a no-win situation. My belief was there was nothing I could do.
I knew I wanted a change, but I thought I needed a job to provide medical insurance for myself and financial security for my family as a single mom.
I had been thinking about starting my private psychotherapy practice, but it seemed impossible to be self-employed as a single mom with no child support.
This post may contain affiliate links, if you buy a suggested product I will earn a small commission. We are a participant in the Amazon Services LLC Associates Program, an affiliate advertising program designed to provide a means for us to earn fees by linking to Amazon.com and affiliated sites." Read the full
disclosure policy here
.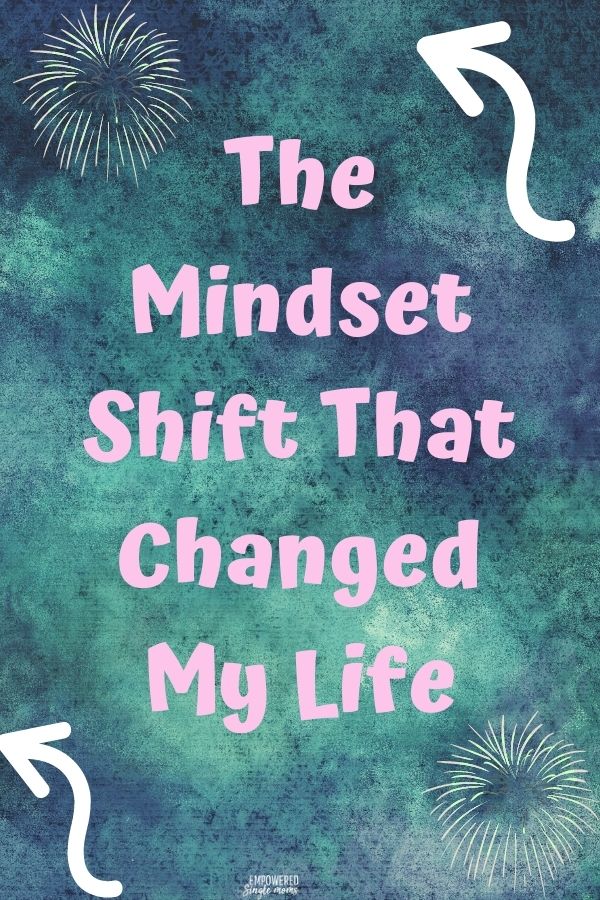 My Circumstances Changed and It Changed My Thinking
Then the unthinkable happened and I was unemployed. The question was no longer, "Can I make a change and leave my job?"
The question was "How am I going to support us?". My first answer was to get a job working for someone else. That seemed reasonable.
The problem was no one was hiring a clinical social worker in the town of 13,000 people that I lived in.
I felt like moving in the middle of my divorce was not an option, because it would disrupt the kids' ability to see both parents on a regular basis.
My Mindset Shift Changed My Question
First I stared into space, slept, and cried for a few days. Since I knew no knight and shining armor was coming to save me I had to save myself. It was really scary, but asking the question, "How am I going to make this work?" Was a much better question than "Can I make this work?"
Once I was able to change my mindset I was able to ask myself different questions. When I asked different questions there were different possibilities.
If you want to make more money in your business take the free 5-day challenge 5 Secrets to Build a Successful Business.
Self-Talk Determines Your Beliefs
If you want to change your life you need to change your beliefs. If you want to change your beliefs you need to change your thinking. One way to change your thinking is to change what you say to yourself.
By changing the questions we ask ourselves we change the answers we get. Here are some steps to change your thinking by changing the questions you ask yourself.
Powerful Questions to Change Your Mindset
Notice the thinking that is supporting the status quo
Write it down–sometimes just writing a thought down in black and white makes you realize it is not a rational thought. Or it might be a belief that served you as a child, but as an adult, it is not true and it no longer serves you.
Ask yourself is this true?–Really give this some thought.
Ask yourself if this were not true? What could be possible?–This is another question that is helpful to journal about and push yourself to think of as many possibilities as you can.
Make a list of all the things that might be possible if this belief were not true—have fun with this let your imagination run wild. Silly possibilities can lead to real solutions.
What are some other possible beliefs?
What is the evidence that some of these alternative beliefs are true?–For me thinking about a private practice there were other people I knew making a good living with a private practice.
If you could choose your belief what would you believe?
What would you do if this alternative belief were true?–Actions follow beliefs. If we do not believe it is possible we don't try.
Now, what will you do?
When you change the questions you change your internal dialogue. When you change your self-talk you change your beliefs.
Are your beliefs limiting you or supporting you in living your best life? If you don't like where your life is going change the map you are following by changing the questions you are asking yourself.
I found Big Leap a helpful book in changing my thinking. You can get the audiobook here for free.
Books are one of my favorite ways to find inspiration. Here are some other books I found inspiring.
Your beliefs and self-talk have a huge impact on how excited you are about life.
Not living your best life, because of limiting beliefs supports anxiety and depression.