Do you want to be excited about your life? Excited about the future? I work with people every day in my psychotherapy practice who are working to get excited about life again. You are not alone.
If you are in need of professional help to deal with depression or anxiety BetterHelp is a great resource. They will match you with a therapist you can connect with through video sessions, email or text messages.
As BetterHelp Affiliate, I may receive compensation from BetterHelp or other sources if you purchase products or services through the links provided on this page.
This post may contain affiliate links, if you buy a suggested product I will earn a small commission. We are a participant in the Amazon Services LLC Associates Program, an affiliate advertising program designed to provide a means for us to earn fees by linking to Amazon.com and affiliated sites." Read the full
disclosure policy here
.
When you have nothing to be excited about days and weeks drag by. Life feels boring, monotonous. If you struggle with depression or have been through a major loss like death or divorce just getting through the day can be exhausting.
There is a better way. You don't have to keep struggling to get through the day.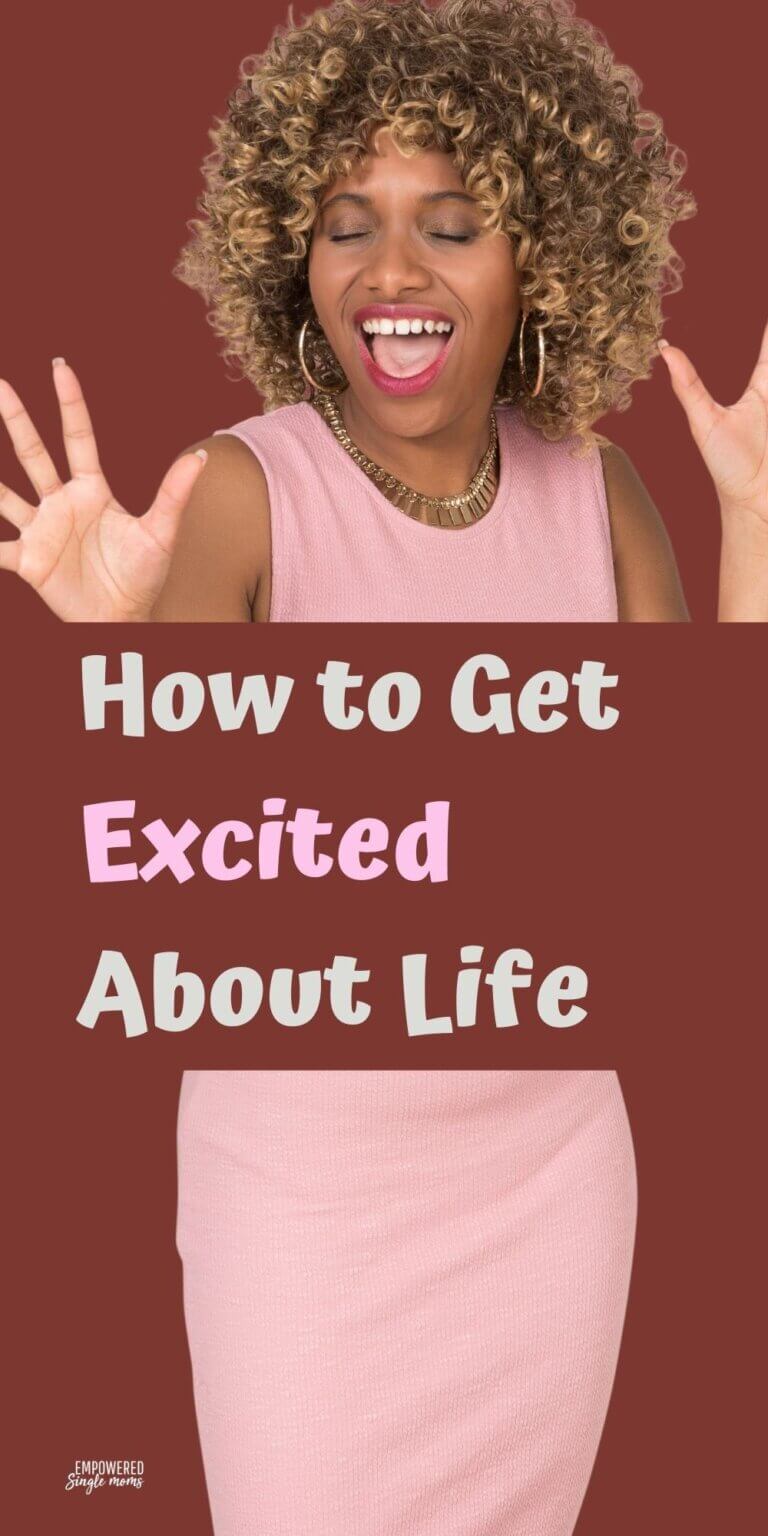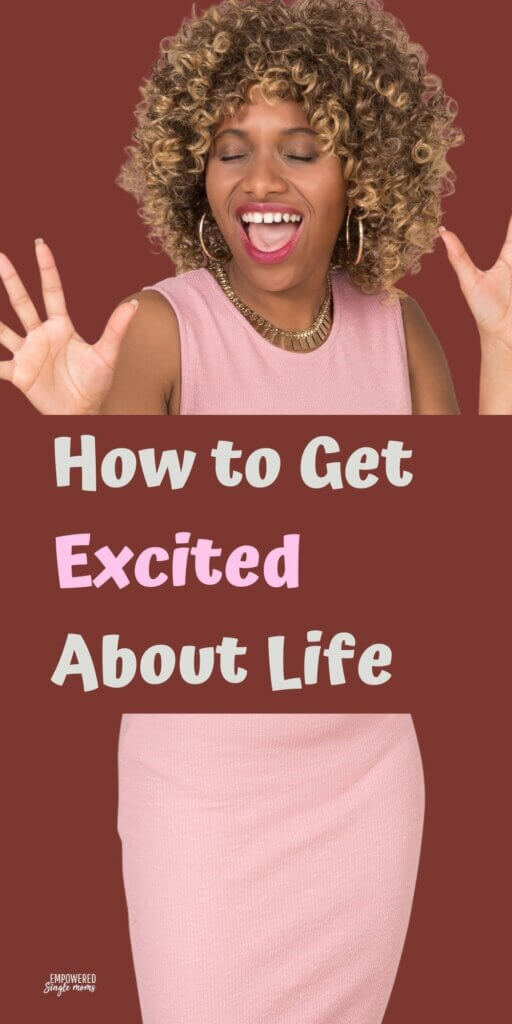 How Do I Wake Up Excited About Life?
When your life is full of drudgery and there is nothing to look forward to of course you don't want to get out of bed.
You need something to look forward to. Here are tips to create a life you love getting out of bed for.
What Makes You Excited About Life?
Make a list of times when you were happy and excited. Look through your list. You will probably notice some of the themes below.
1. Connecting to Your Life's Purpose
Where your skills and talents intersect with the world's need is where you find your purpose. You are the only you. The exact mix of who you are and your life experiences equip you to make a difference in a unique way.
When you use your gifts and talents to make the world a better place it makes life worth living.
2. Create a Dream You Can Be Excited About
If you aren't excited about your life take time to dream about the life you want to have. I like doing a vision or inspiration board to give me a visual representation of my dreams. Part of getting excited about a dream is believing it is possible.
3. Working Towards Goals
Turn those dreams into goals. Break the goals down into steps and make a plan to get from where you are to where you want to be. Having goals you are working towards gives you a sense of joy and purpose. It also gives you hope for a better future for yourself and your family.
4. Take Time for Fun
Life can be hard. You deserve to have fun in your life. All work and no play makes for a very crabby and difficult life. Make having fun a priority. Of course, there is work to do, but at least a few times a week take time to do something you enjoy even if it is only 15 or 20 minutes at a time.
5. Express Your Creativity
I've noticed that when artist don't take time to create they become apathetic, unhappy and even depressed. I think we are all more satisfied with life when we make time to be creative whether it be making music, writing or creating visual art.
Creating isn't about the product as much as it is about the process of creating something meaningful or beautiful. If you aren't very good at creating do it as a way to play. In time your creations will get better and there is something very rewarding about noticing improvement.
6. Let Go of Fear and Anxiety
Fear and anxiety robs your joy and drains your energy. It is not what happens that causes you to be fearful and anxious. It is the story you tell about what is happening that creates fear and anxiety.
If you don't like how you are feeling tell yourself a different story. Anything that happens or that might happen can have several interpretations. Choose one that adds excitement and meaning to your life.
Most of what you are anxious and fearful of will never happen. If something difficult does happen you are stronger and more resilient than you believe. Trust that you can handle what comes along on your life's journey.
7. Take Control of Your Thoughts
You can control what you think about. What we put our attention on grows. If you focus on how difficult life is your mind looks for proof of this and you see the proof every where.
Your mood reflects life being difficult and you become even more depressed and anxious.
But when you look for proof that there are helpers in the world and that life is filled with love, joy and peaceful moments you will find proof of that everywhere.
Anything that happens has more than one interpretation choose one that fills your life with joy and excitement. Even things that at first seem to be negative often turn out to be helpful as you move through life.
This is the core concept of cognitive behavior therapy a proven way to treat anxiety and
8. Connect with a higher power
I'm Christian so for me that is God. There are times in life when it is too much to carry alone. Having a spiritual life and a spiritual community gives you people to share the burden with.
9. Take time for Friends and Family
Relationships with other people can be one of the greatest sources of joy in life, but when we are busy it is often one of the first things to go in our busy schedule. People multiply our joys and divide our sorrows.
10. To Be Excited About Life Notice Delight
Start a practice of journaling about delight at the end of the day. It will help you notice things throughout the day that you can delight in. It might be a beautiful flower you saw out on a walk, being in the flow when you were working on a project or a delicious meal.
Little things add up and reflecting on them strengthens their importance.
Need More Help?
This post is informational and does not take the place of professional counseling or psychotherapy.
If you are in need of professional help to deal with depression or anxiety BetterHelp is a great resource. They will match you with a therapist you can connect with through video sessions, email, or text messages.