Are you wondering how people live their best lives? Living my best life means different things to different people. The first step to living your best life is to define what that means to you.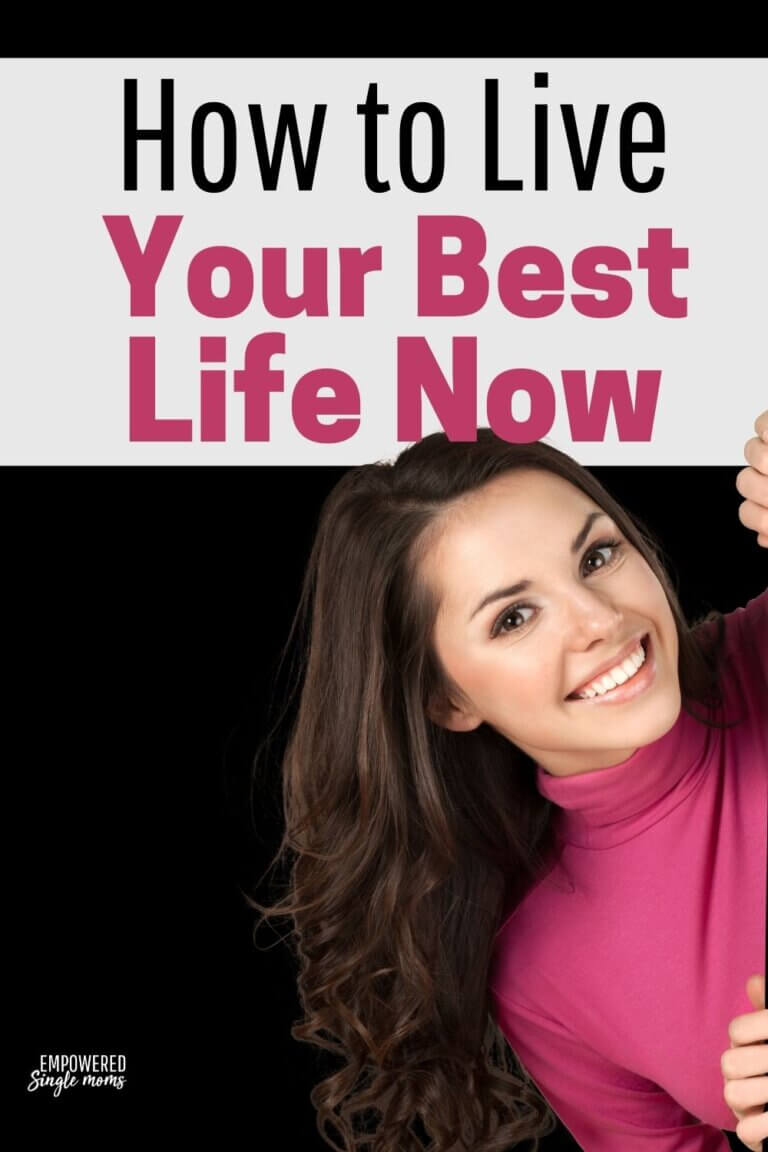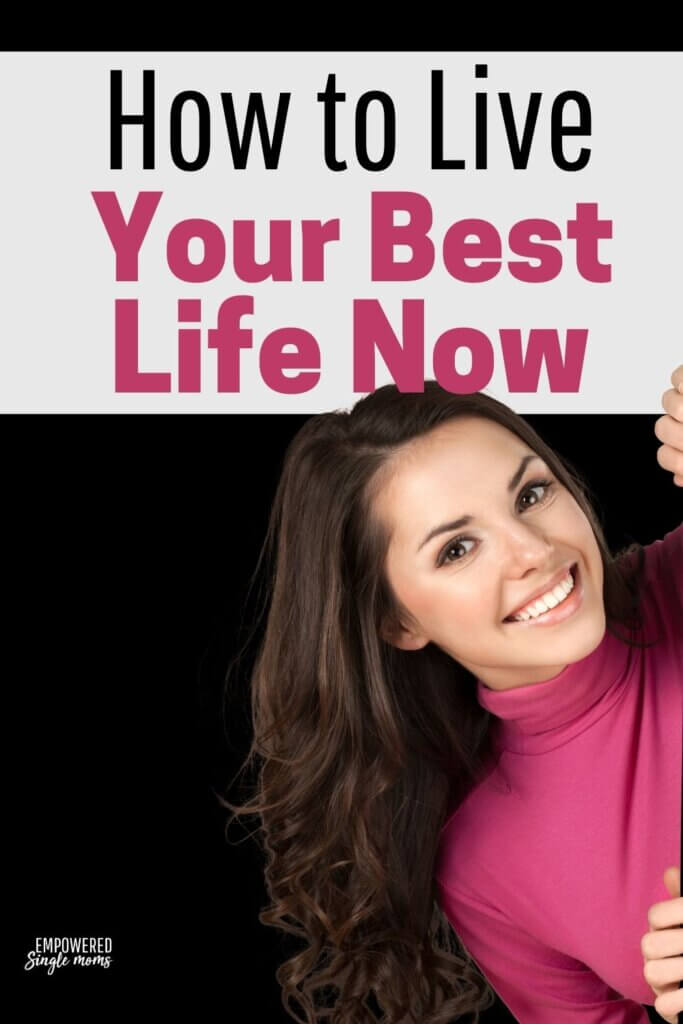 Get a Clear Vision of Your Ideal Life
The first step in building your best life is to have a clear vision of what your best life is for you. Not what other people think is the definition of success or happiness, but a life that is in line with your priorities.
Some things are common for most people, but other things may be very different in defining what your best life is.
This post may contain affiliate links, if you buy a suggested product I will earn a small commission. We are a participant in the Amazon Services LLC Associates Program, an affiliate advertising program designed to provide a means for us to earn fees by linking to Amazon.com and affiliated sites." Read the full
disclosure policy here
.
I asked the mamas in my private Facebook group, Empowered Single Mom Community what living their best life meant to them. Here are some of the things they said: no debt, not scrounging for food or rent money, 1 to 1 time with each of my kids, fulfilling work that brings joy, a life of positivity and love, faith over fear, living in the moment, a supportive community of friends and family, a life of my choosing that I don't need a vacation from, living in my dream home.
Make a Bucket List of Your Best Life
If you are feeling confused about what your best life is start by making a bucket list. What are the things you want to do in your life? What do you want to be remembered for at the end of your life? What experiences would you like to have? Are there places you would like to visit? Are there road trips you would like to take? What skills would you like to learn? What activities would you like to experience?
Once you've made a bucket list think about what your ideal day, week, and year would be like?
Financial Security is Part of Living Your Best Life
Money isn't everything, but it is something. You need money to meet the basic needs of life food, housing, utilities. Once your basic needs are met you need money to pay for the wants in your life. Be clear on the difference between wants and needs.
What amount of money do you need to live your best life?
A Guide Helps to See Other Options
I'm working with a client who feels like an imposter because she has an education and a successful business, but she grew up poor with alcoholic parents being told and believing she would not be successful.
Against the odds, she has built a successful life.
She prides herself in being a role model for the youth in her community. We started exploring what helped her see that a different way of life was possible and she identified an uncle who had a nice house. This helped her see it was possible for her to have nice things. She then identified a couple of friends she met in college and meeting their families seeing a different way of life.
But the first thing she said that inspired her surprised me. She said watching the Star Wars movies gave her a picture of people belonging and working together even when they were very different. As we explored other lessons from Star Wars she pointed out that Luke and Princess Leia were able to choose a different path than their father Dart Vader.
Their past informed them and had influence, but it did not control them. With the help of a wise guide, discipline, and hard work they were able to overcome their past.
Identify a guide
Who is doing what you want to do? Is there a person in your life? A person you heard about on the news or a podcast? A person you read about in a book or a character in a movie?
A coach is another great option. Follow me on Instagram to get more tips on living your best life.
The Best Version of You is on the Other Side of Your Comfort Zone
Sometimes we don't live our best life because we are afraid of moving outside our comfort zone. One of the easiest ways to move outside of your comfort zone is to get a clear vision of what you want your life to be like. Once you have that clear vision take small steps consistent steps to get from where you are to where you want to be.
Great changes in society and your life take moving out of the comfortable status quo. Moving from poverty to the middle class requires leaving your comfort zone. Leaving a safe job to start a business requires leaving your comfort zone. Even taking a trip requires leaving the comfort of your home to go on an adventure.
Limiting Beliefs That Stop You from Living Your Dream Life
You can identify your limiting beliefs by setting big goals and paying attention to your thoughts. The thoughts that tell you your dreams are not possible give you clues to your limiting beliefs. Your limiting beliefs will support staying the same. Limiting beliefs discourage risk-taking and moving out of your comfort zone.
Here are some common examples of limiting beliefs:
I'm not good enough.
I don't deserve…….
No one in my family or no one I know has……….
I can't……..
I'm not educated enough to be successful or I'm not smart enough.
I can't make people unhappy or uncomfortable. I need to be a people pleaser.
Healthy Habits vs. Bad Habits
One of the biggest determining factors of people who reach their goals and people who don't are their habits. Grand gestures are less important in succeeding than small consistent habits over time.
Having mental and physical health is a cornerstone of living your best life. If you are physically or emotionally unwell it takes up an enormous amount of resources in the form of time, energy and money.
Evaluate your emotional and physical health. Identify habits that you have and habits that you need to develop to establish and maintain emotional and physical health.
Four important habits to establish to maintain emotional and physical health are
Regular exercise
Enough sleep
Healthy food meaning a diet minimizing processed foods and maximizing fruits, vegetables and lean protien
Replace limiting beliefs with beliefs that support a growth mindset
Take concrete steps to replace bad habits with healthy habits.
In developing healthy habits simple things can make a big difference.
Relate: Mental Health Issues Single Mom's Face (& How to Solve Them)
Your Best Life is in the Present Moment
When you stay in the present you will achieve more and be mentally healthy. It is almost impossible to be anxious when you are present positive focused. Ask yourself am I okay now in this moment?
When you worry about the past or future you are missing the joy of this moment.
The good news is staying focused on positive thoughts every single day makes a positive impact on your attitude mental health and relationships. Does it take conscious effort? yes, it does but isn't a happy life with inner peace worth the effort.
How to Build Financial Freedom
I believe one of the best ways to have financial freedom is to build a business. There are so many kinds of businesses. You can sell a service or a product. Having your own business gives you so much potential for having multiple income streams. I think one of the best ways to build a business is to have multiple income streams and have at least one passive income stream.
Amazing things happen when you feel in control of your finances. Being a full-time entrepreneur may not be for you. Consider a side hustle. Being able to create money apart from working for someone else gives you freedom and flexibility.
Live Your Highest Potential
When you are connected to your purpose in life you are less likely to get mired in the chaos of life. Get connected to your own inner voice. Ignore the lives your friends are posting on their social media accounts. Focus on making a positive difference in the world and your own personal development.
Build a Support System
We aren't meant to do life alone. We all need the emotional support of friends and family. Make new friends and maintain relationships with old friends. Not everyone will be your best friends, but there is value in relationships.
Be open-minded about people who are different than you.
A life coach is a great mentor to have on your team. Follow me on Instagram for more tips on living your best life.